Moto Guzzi V9 Roamer and Bobber bikes have been recalled over an ABS issue that was identified more than six months ago, but there is nothing "sinister" about the apparent delay.
Technicians found the front ABS brake hose may rub against the engine's secondary air system connection, possibly resulting in a brake fluid leak.
When the issue was first identified in June 2017, affected models included the V7-III Racer, Stone and Special motorcycles and 97 V9 Bobber and Roamer models.
Australian importer PS Imports ordered new pipe mount brackets to fix the issue and most were fixed before the bikes were sold to the public.
The V7 III was officially recalled earlier this month. Click here for more details and the VIN list of affected bikes.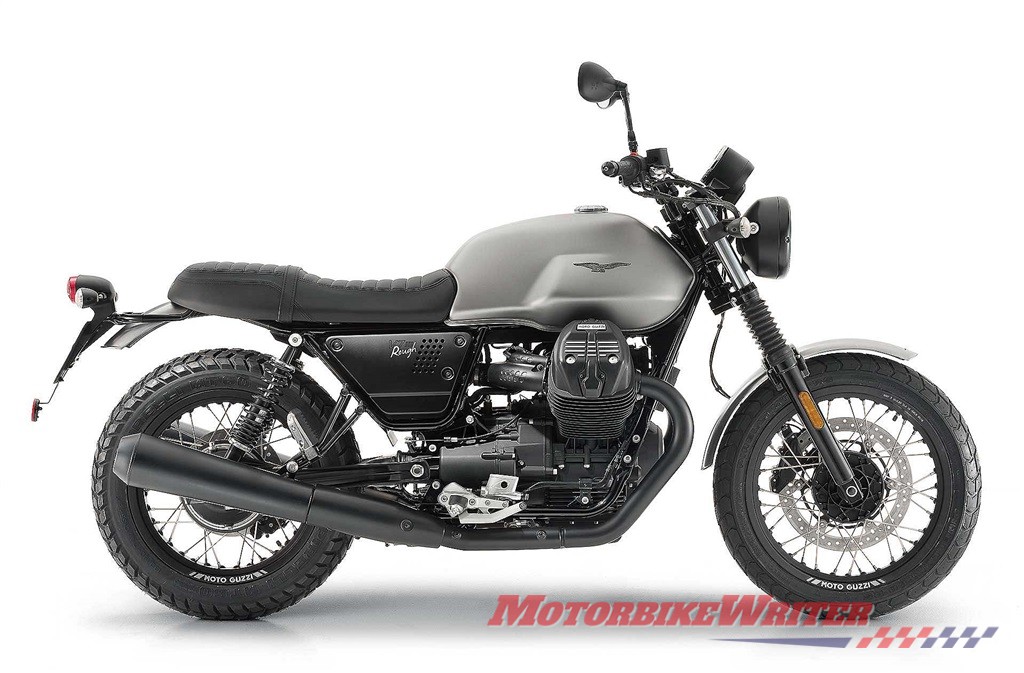 Roamer and Bobber affected
However, PSI technical manager John Hansen says a subsequent data update uncovered additional affected V9 bikes.
(Check the end of this article for the frame numbers of affected V9 models.)
He says repairs of the affected V7 models are 83% complete and V9 is about 46% complete.
"There are about 50 bikes still to do for both these recalls. Some that dealers will do immediately in the case of unsold bikes and others where customers will be contacted directly by their dealer or provided with a reminder notice by us," he says.
It has nothing to do with the current run of Brembo brake recalls affecting, Aprilia, KTM and Ducati.
Recall notices are issued by the manufacturer through a voluntary industry code under the ACCC.
Despite hundreds of recalls by various automotive manufacturers, none has ever been mandatory.  All have been issued by the manufacturer.
While any recall is not good news for the manufacturer, it shows that they are largely diligent in fixing problems.
If you believe there is an endemic problem with your bike that should be recalled, contact the ACCC on 1300 302 502.
To check whether your motorcycle has been recalled, click on these sites:
• USA
• UK
• Canada
Frame numbers of affected V9 models
Frame numbers
ZGULH0000GM000778
ZGULH0000GM000828
ZGULH0000GM000831
ZGULH0000GM000926
ZGULH0001GM000384
ZGULH0002GM000376
ZGULH0002GM000779
ZGULH0002GM000829
ZGULH0002GM000832
ZGULH0002GM000927
ZGULH0003GM000399
ZGULH0003GM000404
ZGULH0003GM000824
ZGULH0003GM000922
ZGULH0003GM001018
ZGULH0004GM000833
ZGULH0005GM000825
ZGULH0005GM000923
ZGULH0005GM001019
ZGULH0006GM000395
ZGULH0006GM000834
ZGULH0007GM000776
ZGULH0007GM000924
ZGULH0008GM000379
ZGULH0008GM000382
ZGULH0008GM000401
ZGULH0009GM000388
ZGULH0009GM000391
ZGULH0009GM000407
ZGULH0009GM000777
ZGULH0009GM000827
ZGULH0009GM000830
ZGULH0009GM000925
ZGULHA000GM000723
ZGULHA001GM000701
ZGULHA001GM000973
ZGULHA001GM001184
ZGULHA002GM000643
ZGULHA003GM000716
ZGULHA003GM000974
ZGULHA003GM001185
ZGULHA004GM001518
ZGULHA005GM001186
ZGULHA005GM001513
ZGULHA006GM000709
ZGULHA006GM000726
ZGULHA007GM000704
ZGULHA007GM000718
ZGULHA007GM000721
ZGULHA007GM001187
ZGULHA008GM000713
ZGULHA008GM000968
ZGULHA008GM000971
ZGULHA008GM001506
ZGULHA009GM000705
ZGULHA009GM000719
ZGULHA009GM001188
ZGULHA00XGM000700
ZGULHA00XGM000969
ZGULHA00XGM000972
ZGULHA00XGM001507
ZGULHA00XGM001510
ZGULH0000GM000375
ZGULH0000GM000389
ZGULH0000GM000392
ZGULH0000GM000408
ZGULH0001GM000398
ZGULH0001GM000403
ZGULH0002GM000393
ZGULH0003GM000385
ZGULH0004GM000377
ZGULH0004GM000380
ZGULH0005GM000386
ZGULH0007GM000373
ZGULH0007GM000406
ZGULH0007GM000826
ZGULH0008GM000396
ZGULH000XGM000383
ZGULHA000GM000706
ZGULHA000GM000737
ZGULHA001GM000729
ZGULHA001GM000732
ZGULHA003GM000697
ZGULHA003GM000702
ZGULHA003GM000733
ZGULHA003GM001512
ZGULHA004GM000658
ZGULHA004GM000711
ZGULHA005GM000698
ZGULHA005GM000703
ZGULHA005GM000717
ZGULHA006GM000970
ZGULHA007GM000699
ZGULHA008GM000727
ZGULHA008GM000730
ZGULHA009GM000722
ZGULHA00XGM000731