More:  2008 Moto Guzzi Griso 8V photos and specifications  |  See the wBW Moto Guzzi Griso review!
The Griso was first listed in the 2004 Moto Guzzi product catalog in the "Supersport" category, along with the MGS-01 Corsa and Serie.
The Griso is somewhat hard to categorize; it's sort of a cross between a cruiser ("techno cruiser) and sportbike.  Moto Guzzi says that the Griso is "Impressive as a muscle bike, as cool as a custom, essential as a naked bike, the Griso is the most innovative and radical member of the Moto Guzzi line. A motorcycle as unique as its rider."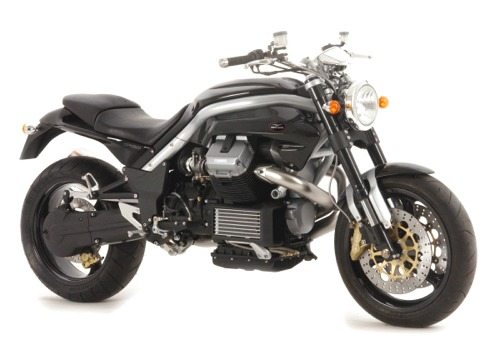 Moto Guzzi Announces the U.S. Release of the Griso
Moto Guzzi USA, manufacturer of the legendary "Italian Eagle" Moto Guzzi motorcycle and a pioneer of two-wheel vehicles, has announced the debut of the Griso 1100 in the U.S. market.  A unique and distinctive machine, the new Griso 1100's modern engineering and design delivers high performance and style that places it in a class all its own.
Completely redesigned for feel and performance, Moto Guzzi's renowned Italian racing heritage is clearly visible in the Griso's slim and streamlined frame, engine, fuel tank, and closely packed fins.  Built from extraordinary components, the Griso's power delivery is smooth and aggressive, with emissions and consumption reduced to a minimum.
"For the last 85 years, motorcycle enthusiasts have looked to Moto Guzzi for outstanding European motorcycle design and technical engineering," said Paolo Timoni, CEO and President of Moto Guzzi USA.  "The Griso is a distinctive machine, a masterpiece of design and a source of absolute riding pleasure"
A new category of motorcycle that Europeans call "Techno Custom," the Griso 1100's long and low power cruiser profile delivers a unique riding experience as stable as a power cruiser, as agile as a lightweight naked, and as powerful as a muscle bike.
With twin cylinders and electronic injection, the fuel-efficient and eco-friendly Moto Guzzi V-Twin engine (Euro3 and CARB-compliant), has been completely redesigned for the Griso 1100.  The new 1100 cc power unit incorporates innovative technical advances which ensure smooth power delivery as well as low noise and maintenance levels.  Its twin spark ignition and fuel injectors combine to deliver perfect combustion and consistent high performance.
The impressive exhaust system, with its twin header pipes, stainless steel triple chamber silencer and aluminum end plate also contributes to the unique character of the engine.
Even Guzzi's classic shaft drive has been totally redesigned for superior comfort and rideability.  The new patented CA.R.C. Compact Reactive Drive Shaft system for the Griso 1100 integrates the drive shaft inside the aluminum alloy swing arm to guarantee smoothness and precision.  The system delivers precise and jerk-free power, and eliminates the anti-shaft effect associated with conventional shaft drives.
The surefooted Griso also boasts a high performance braking system.  At the front are two 320 mm floating discs and two powerful calipers with four opposing pistons, while the back end is stopped by a single 282 mm disc with a floating caliper and 2 parallel pistons.  Grip is guaranteed by high performance tires, 120/70 ZR17" at the front and 180/55 ZR17" at the rear, both fitted on hollow three-spoke, aluminum alloy wheels.
The Griso 1100 will begin to appear in authorized Moto Guzzi dealers throughout the months of May and June 2006 at an MSRP of $13,490.
The Griso is available in Corsa red, the color of the legendary Moto Guzzi racing bikes, and classic Guzzi black.
Additional Optional Features include a fairing kit, soft panniers and a tank bag.  Photo courtesy Moto Guzzi USA.
Moto Guzzi Griso Technical Specifications

| | |
| --- | --- |
| Engine | 90º V-Twin 4 stroke |
| Cooling system | Air cooled |
| Displacement | 992 cc |
| Maximum power | 102 hp @ 8400 rpm |
| Maximum torque | 65 ft/lbs @ 7800 rpm |
| Gear box | 6 speed |
| Front suspension | USD fork, 43 mm completely adjustable |
| Rear suspension | Single sided swing arm with fully |
| Front brakes | Two Brembo Gold Series stainless |
| | 4 diversified piston caliper |
| Rear brakes | Single Brembo Gold Series stainless |
| Wheels | Front: 3" x 17" |
| | Rear: 6" x 17" |
| Tires | Front: 120/70 17" |
| | Rear: 200/50 17" |
| Overall length | 85.82" (2180 mm) |
| Width | 23.07" (840 mm) |
| Seat Height | 31.10" (790 mm) |
| Wheelbase | 61.41" (1560 mm) |
| Dry weight | 438.72 lbs (199 Kg) |
| Fuel capacity | 4.75 gallons (18 liters) |
| MSRP | TBA |
Other WebBikeWorld Motorcycle Brands Posts
wBW Motorcycle Brands Info