Motor Guzzi California has aded two variants to bring the range up to four … but there could be more coming!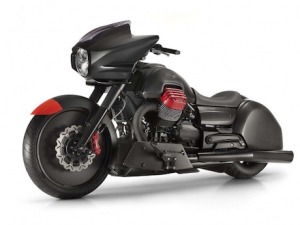 The Italian company revealed the Eldorado and Audace variants at the 72nd EICMA motorcycle show in Milan to go with their California Touring and Custom models. But they also revealed an ultra-mean MGX-21 concept model which could point to even more variants in future. 
Meanwhile, back to the production bikes. The Eldorado is an elegant and classy take on the Moto Guzzi California with white-wall tyres, laced wheels and big fenders. 
Audace is Italian for audacity or temerity and Guzzi has had the audacity to turn the beautifully chromed and traditional California into a blacked-out mean muscle machine.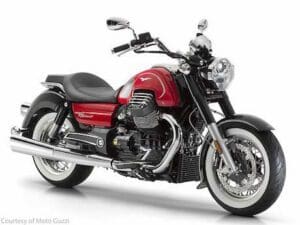 Both will come with all the hi-tech of the California including ride-by-wire, three-way adjustable traction control and three different engine maps – Turismo, Veloce or Pioggia, literally meaning tourism, fast and rain. Of course, they are powered by the 1380cc transverse 90° V-Twin with 120Nm of torque at 2750rpm through a shaft drive.
Australian importers John Sample Group have not yet confirmed details for next year's range, so they do not have prices or arrival date yet.
The heritage style of the chromed-up Eldorado should appeal to traditional cruiser riders in Australia and the US who like to ride low and easy. The wider seat sits 16mm lower than the standard California 1400 at 724mm and has a small pillion seat with rear floorboards and passenger grab handles.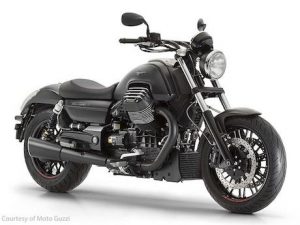 Up front it has pin striping on the tank. At the rear it is a little tidier and easier to clean with cartridge-style enclosed shocks, "gem shaped" taillight and rounded indicators.
While the Eldorado will appeal to the easy riders out there, the Audace looks ready for some wild street action with drag bars on pullback risers.
To match its racy attitude, Moto Guzzi has blacked out the performance-tuned exhaust, added a carbon fibre front fender, shocks with piggyback reservoirs, and drag mags shod with a slightly taller rear tyre. Despite the aggressive attitude, it comes with forward-mounted footpegs.
It also features a simple, round headlight and solo seat with mounts for a foldout pillions seat.