Touratech Adventure Dry Bag Review Summary
Touratech Adventure Dry Bag Image Gallery
There is no shortage of waterproof dry bags for motorcyclists.
But not all of them are truly waterproof and some aren't very good, no matter the list price.
Fortunately, the Touratech Waterproof Adventure Dry Bag is both waterproof and good.
Actually, "great" is the better word to use here.
Available in medium, large and extra-large sizes, the Touratech Adventure Dry Bag features a simple wide-mouth roll top design.
It also has compression straps all around and well-placed and very functional attachment and fastening points.
Reflective markings and an elegant uncluttered look complete the picture.
My medium yellow high-visibility Adventure dry bag has been full of clothes, mixed gear for travel and even groceries and a small cooler.
Properly packed and mounted to the motorcycle, there isn't much the 31L Touratech Adventure Dry Bag won't do, including keeping your gear absolutely dry.
There are other dry bags available with more features, including additional mounting and interconnection points.
Some will be more expensive and some will be cheaper but few will have the overall build quality, strength, functional simplicity and versatility of the Touratech Adventure Dry Bag.
And the fact that it is made in Germany by Ortlieb, a truly legendary name in waterproof gear, cannot or shouldn't be overlooked. The Touratech Adventure Dry Bag is a great piece of kit.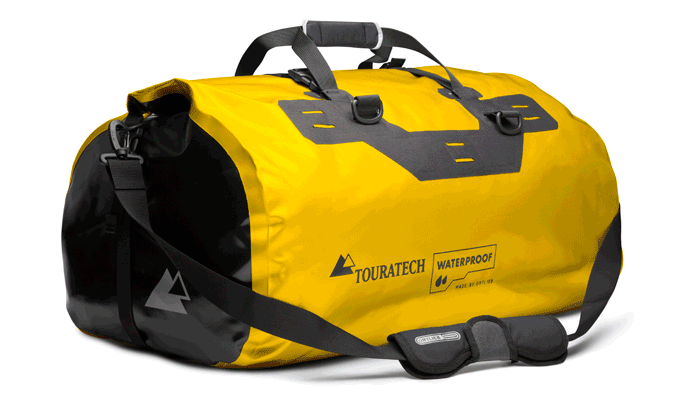 Introduction
Whether you travel near or far, luggage is a fact of life. And thankfully, it isn't hard to find something to suit every requirement, taste or budget, although this hasn't always been the case for two-wheeled enthusiasts.
And with the ever-growing motorcycle adventure travel segment has come a virtual explosion in products designed specifically for motorcycle use, with many of the pieces resulting from the fertile minds of riders.
But in narrowing down our requirements, we often need to choose and balance between a mix of hard, semi-rigid, soft or hybrid luggage that best addresses each rider's requirements, while not ignoring safety.
And while hard or semi-rigid luggage can be more protective in many ways to the contents of the bags, there are size, weight and cost factors (and others) to consider.
Consider also the equally tried-and-true soft luggage that is usually compact enough to be stored but also quickly expanded to the desired or needed capacity.
Touratech is no stranger to the motorcycling environment, so it is also no surprise that their product lines cover virtually any type of luggage one could envision, with lots of versatility for short or long adventures, both on and off the bike.
As the owner of numerous motorcycles over the decades and an avid two-wheel traveler, soft, hard and waterproof luggage is a requirement for me and that has included many Touratech products over the years.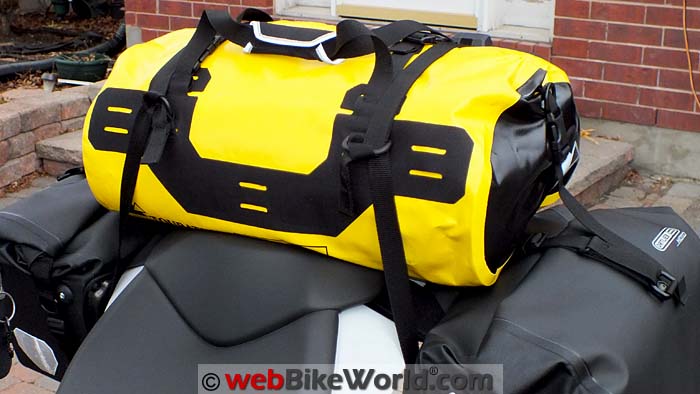 About Ortlieb
Ortlieb Sportartikel GmbH was started in 1982 by Hartmut Ortlieb, who developed the idea of waterproof seam-sealed luggage for bicycle touring. The products quickly became popular and helped start the waterproof luggage industry.
Today, Ortlieb is a worldwide company offering many different types of waterproof luggage, all still using the Ortlieb-developed high-frequency seam welding process and all manufactured at the company headquarters in Heilsbronn, Germany.
The Touratech/Ortlieb Partnership
Touratech has a history of (and a knack for) partnering with leading companies to co-brand products; an example of that is the Touratech Aventuro dual-sport helmet (review), manufactured by Nexx to Touratech specifications.
Another example of partnering is the brand-new Touratech Aventuro Mod flip-up dual-sport helmet (preview), first announced at the 2015 AIMExpo show (Report).
The Adventuro Mod is the Touratech-branded version of the SCHUBERTH E1 Adventure Helmet (preview) and it's currently in the webBikeWorld review queue.
This type of strategic (and tactical) partnering is excellent news for motorcyclists, as it helps offset development and production costs while increasing the availability of world-class products.
In 2016, Touratech entered a joint venture with Ortlieb to develop the new line of waterproof motorcycle luggage, sold under the Touratech Waterproof brand.
Ortlieb and Touratech have developed an extensive line of soft luggage, dry bags, stuff sacks, backpacks and accessories. The range even includes water storage bags and other campsite essentials like collapsible bowls.
Touratech said that each product has been "designed for motorcycle travel and has features and durability built to withstand the rigors of long-distance touring and the everyday commute to the office."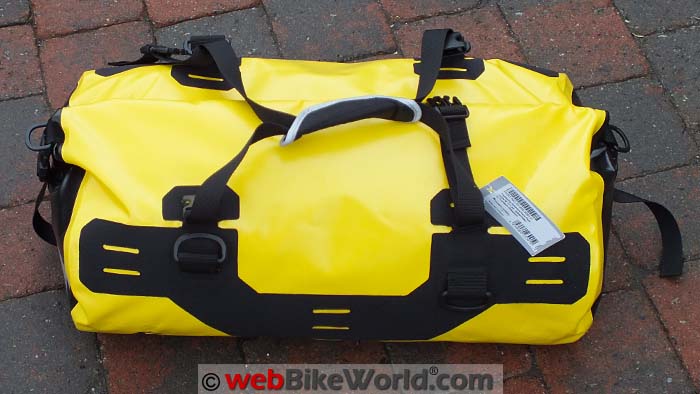 The Touratech Adventure Dry Bag
For this dry bag mini-series we chose three Touratech products, the 31 liter version of the Waterproof Adventure Dry Bag in this review and the Touratech MOTO Tank Bag and MOTO Waterproof Saddle Bags, which will be featured next in the series.
The Waterproof Adventure Dry Bag is available in three sizes: medium (31 liters), large (49 liters) and extra-large (89 liters) capacities.
Available colors include yellow, black, silver, orange, blue, red and "Dakar" (tan).
Touratech Adventure Dry Bag Details
The top-loading Touratech Waterproof Adventure Dry Bag in yellow is hard to miss, even though it has lots of company in what is now a well-represented industry segment, largely cemented by a burgeoning adventure-touring market.
The fact that the luggage is made in Germany by Ortlieb in a joint venture with Touratech gives the products credence right from the get-go.
The Adventure Dry Bag is constructed of tough abrasion-resistant PVC-free materials with bonded fabric overlays for straps, D-rings and pass-throughs.
I selected the 31 liter version yellow, although the "Dakar" (tan/sand) colouration would be a perfect match for the Sandrover tones of my BMW F 800 GS Adventure.
Measuring 29.9 x 54.1 x 26.9 cm (11.8 x 21.3 x 10.6 inches), the 31 liter dry bag is indeed pretty much perfect regarding size and capacity for use as a cross-seat duffel, rear rack bag or even on top of panniers on virtually any motorcycle…or anything else for that matter.
Whereas some of the other Touratech dry bags have a higher IP rating, the Adventure bag is IP64rated, meaning it should be fully dust- and water-resistant when sealed properly and not damaged.
And getting this dry bag sealed properly is easy; its large full-width horizontal roll top closure facilitates the orderly packing (or less than orderly stuffing) of essentials into its interior.
Built-in stiffeners mean that even and effective folding of the bag is a simple matter, which is important for achieving the desired waterproof integrity.
Side (end-mounted) adjustable compression straps and large fasteners make sure that the roll top secures tightly on each side.
Two more top-mounted tension straps provide further compression as needed, good when over-packing the soft things.
The Adventure Dry Bag also features additional loop straps, D-rings and flat slot attachment or slider points providing lots of options for compressing, securing or interconnecting the dry bag to or with something else.
A padded carry handle is created from joining the two side handles together, while a cushioned shoulder strap with quick clips makes transitioning to shoulder mode a cinch.
Mounted or dismounted, large bright 3M Scotchlite reflectors on the sides and reflective stripes on the carry handles and its bright yellow colouration keep the dry bag visible day or night.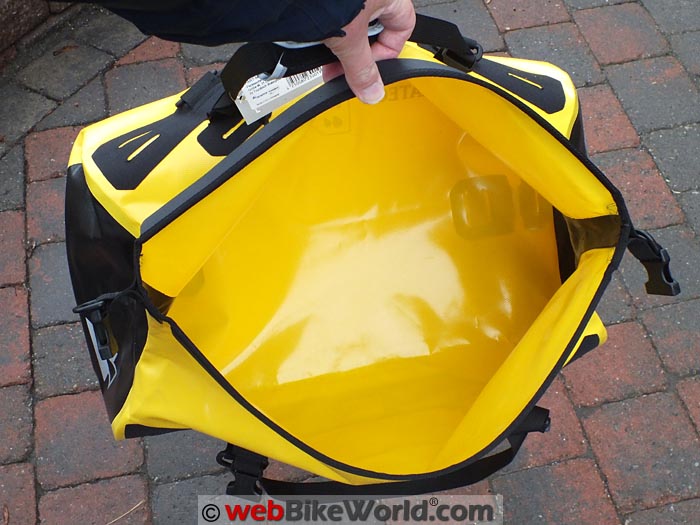 Motorcycle Mounting
Like most dry motorcycle luggage of moderate capacity and with similar mounting points, getting the 31L Adventure Dry Bag duffel mounted isn't a complicated activity overall, although one needs to appreciate both the platform and of course, the dry bag itself.
The multiple tethering and pass-through points allows the user to experiment to find both optimum positioning and means of securing the luggage to the bike.
Just remember that depending on how the bag is mounted, access to the interior via the wide-mouth roll top will or can be limited; there are no other access points as sometimes found on other brands of dry bags.
But a top-loading bag makes it easier to locate and access the contents, compared to an end-loading dry bag that may have to be completely unloaded to reach an item at the bottom.
Attachment Points and Straps
The Adventure Dry Bag has lots of attachment points, but it doesn't come with any mounting straps, something that should be appreciated when ordering, unless you already have a significant stash of straps available.
I do own a large number of various flat straps with fasteners, buckles, sliders or a combination of the above, so getting the Adventure bag secured properly isn't an issue, especially with several sets of tried and true ROK straps on hand.
Using a set of ROK straps or similar, secured to the D-rings on the Adventure Dry Bag is the simplest approach, especially with suitable frame or accessory points on the motorcycle for anchor or pass through, with a side/side strap approach working well.
An X-pattern strap layout that can allow the bag to shift or pivot should be avoided if at all possible; remember to be secure is to be safe.
The use of 2.5 cm (1 inch) strapping and adding Fastex-style quick release buckles and sliders is another inexpensive effective solution, with the strapping run through the pass-through points found on the bag and the fasteners added as a custom solution that can be left in place.
I often use or make short loop straps with fasteners that can, for the most part, be left safely attached to the motorcycle when any of the soft luggage is not mounted.
Other soft luggage providers and accessory resellers have similar pieces available, all to make your luggage fastening experience more enjoyable and safer.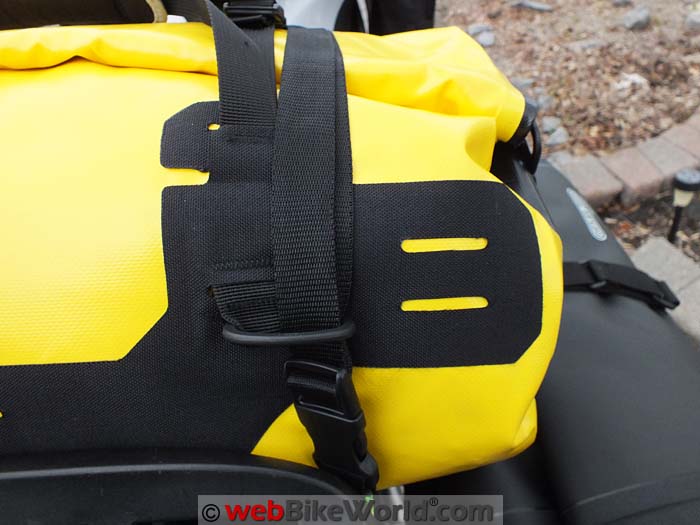 On the Road With the Adventure Dry Bag
Use of the medium-sized 31 liter Touratech Adventure Dry Bag isn't complicated. It is extremely easy to load thanks to its classic full-width top-loading roll top design, top lip stiffeners that facilitate an even rolling of the top.
Once the "lid" is rolled down, the long adjustable straps and side fasteners make easy work of securing the roll top.
Tightening the side and top straps serves to effectively compress the bag further, although one needs to be mindful of any hard items stowed inside, which is where the strength of the material used to construct the bag comes into play.
My Adventure Dry Bag has been in constant use since new, mounted on all of the motorcycles in my home fleet at various times.
It is most useful on the BMW F 800 GS Adventure as the essential off-road day bag for the minimalist approach. And with my newest bike, a BMW R 1200 R, the Adventure Dry Bag is the essential day-to-day (and weekend) back-seat bag.
And it hasn't let in one drop of moisture, either from the pressure hose as a variant of the webBikeWorld "Bucket Test" or being left outside in heavy spring showers in a strong wind or while mounted on the back of a motorcycle in wet spring riding conditions.
There is no denying that the Touratech Adventure bag is well-made and heavy-duty; it can almost stand on its own when empty but still be folded nearly flat when needed.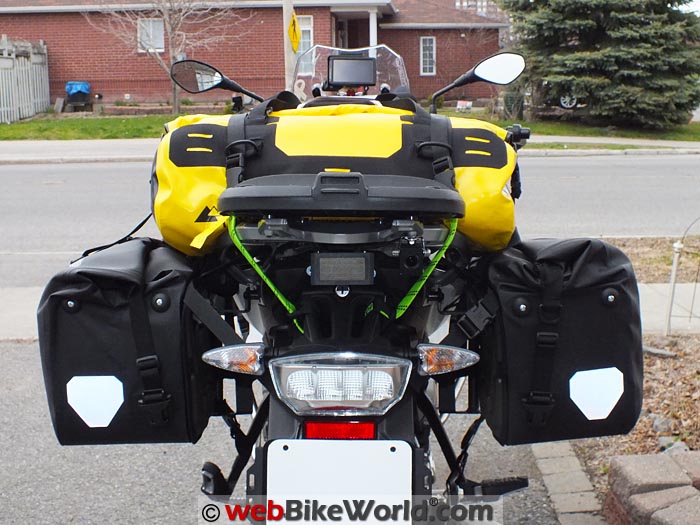 Conclusion
The Touratech Adventure Dry bag has a distinctive look, accentuated by the reflective markings and Touratech logo.
It offers lots of attachment options without looking cluttered due to excess strapping or ripple stitch segments, something a few of the other brands of soft dry bags are guilty of.
The Adventure Dry Bag has been full of clothes, mixed gear for travel and when needed, groceries — including a small cooler.
Properly packed and strapped on the bike, there isn't much the 31L Adventure Dry Bag won't do.
Between the five-year warranty covering manufacturing defects and the Touratech and Ortlieb names, the Adventure Dry Bag is a great investment, no matter where or how you roam.
And it's an excellent luggage complement when using the Touratech Waterproof MOTO Waterproof Saddle Bags (review).
In This Series:
▪ Touratech Adventure Dry Bag Review
▪ Touratech Moto Saddlebags Review
▪ Touratech Moto Tank Bag Review
w

BW

 Review: Touratech Adventure Dry Bag
List Price (2016): $104.95-$124.95
Made In: Germany
Colors: Black, yellow, orange, blue, silver, red, tan.
Sizes: 31L, 49L or 89L
Review Date: May 2016
Note:
 For informational use only. All material and photographs are Copyright © webWorld International, LLC since 2000. All rights reserved. See the webBikeWorld® 
Site Info page
. Product specifications, features and details may change or differ from our descriptions. Always check before purchasing. Read the
Terms and Conditions
!
Owner Comments and Feedback