More than 50 NSW, Queensland and Federal police who stopped a charity ride issued warnings, two minor drug charges and some defect notices.
Ride organiser and Hells Angels MC Brisbane Chapter member Jeff Ehlers says "a lot of taxpayers' money was spent and wasted for some very very minor offences".
"It was total abuse of police powers and responsibilities," he says. 
The club's 26th annual Good as Gold charity ride was roadblocked by the joint police task force on Saturday (March 3, 2018) as they crossed the border into NSW near Woodenbong.
Jeff claims police harassment includes:
Assaulting an Army veteran;

crossing double white lines to disperse their ride;

prolonged bike checks and incorrectly defected vehicles;

"illegal searches" without warrants; and

Drug and alcohol tests conducted in dangerously hot conditions without providing riders with water or a toilet break.
Police response
We contacted NSW Police Task Force Raptor and Queensland Police Task Force Maxima on Sunday and were told a comment would not be possible until during the week.
So far, only Queensland Police have responded.
They say notices to appear were issued to one person for drug driving and a 47-year-old woman for possession of a prohibited item and a drug utensil. She appears in Beenleigh Magistrates Court on March 28.
They also issued five Consorting Warning Notices for allegedly consorting with recognised offenders.
"During the operation in Queensland police issued a number of traffic infringement notices, conducted 85 intelligence street checks and 350 random breath and drug tests," Queensland Police say.
"The main object of the consorting legislation is the disruption and prevention of serious criminal activity, by deterring recognised offenders from establishing, maintaining and expanding criminal networks.
"The (Good as Gold) ride has, in the past, been linked to outlaw motorcycle gangs with members riding in previous years displaying club colours."
Hells Angels response to charges
Jeff says they had warned and ensured riders did not to display colours when riding in Queensland or entering premises in NSW.
"They did 85 motorcycle inspections. None of them were defective in Queensland until we crossed the boarder where 16 were, and some were brand new straight of the showroom floor," he says.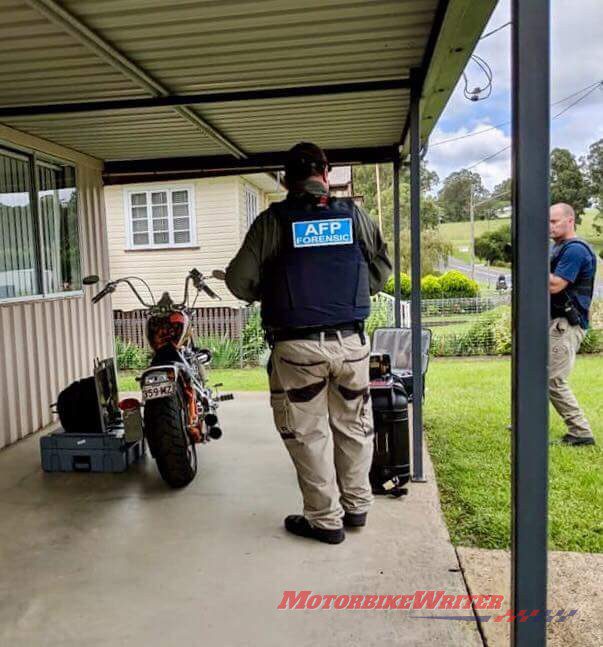 "They say they did 350 drug and alcohol tests; what, did they test everyone four times? Yet they also state they where 'random'.
"How is it random yet it a plan combined police operation?"
He says two of the consorting notices were issued to people not to consort personally with him.
"I am not a recognised offender," he says. "I do not have a criminal record."
He says the police response did not address the issues of his arrest for refusing to obey a police direction by going to the toilet and the assault on a veteran.
We are still awaiting the NSW Police response. Meanwhile, here is the NSW position on 1%er rides:
Former detective responds
Former detective and now Bond Uni criminology lecturer Terry Goldsworthy says this is "just a further example of police targeting members and suspected members of OMCGs". "In reality these types of operations follow along the lines of consorting laws and anti-association laws that we have seen implemented in the majority of Australian jurisdictions," he says. "Whilst good for public assurances that police are being active they do very little to target organised crime as a number of government reports have shown. "Police resources would be better utilised in targeting those actually committing criminal enterprises. "So rather then targeting people because of who they are, you target people because of what they are doing." Preparations are under way for a legal challenge. Anyone who witnessed what they believe is unacceptable behaviour from police in relation to the Good As Gold Charity Ride is asked to send an email with contact details to Chris Main of Alibi Legal or Magic at Biker Events Calendar. "This means any driving behaviour which you felt put your safety at risk, instances of deliberate obstruction, cases of offensive language, etc," Magic says.