Mini Versair Air Pump Image Gallery
High quality pump has a unique flexible and retractable air hose that is useful for filling a motorcycle tire.
The dual-action Mini-Versair pump works up to 20% faster than single-action pumps.
Regular webBikeWorld visitors know that we've been hunting for the perfect motorcycle tire air pump for some time.
The requirements are for the pump to be small, light, reliable, easy to stow and easy to use.
An air pump of some type is a necessity on a long-distance motorcycle tour.
Besides the frightening thought of a puncture on, say, a dark and stormy night (let's hope you have radial tires that will take a simple plug), a multi-day tour means daily tire pressure checks.
So our ideal pump would be able to fit in an easily accessible location, such as the top pocket of a tank bag or under the seat.
Since motorcycle tire air pressure is so crucial to the safe operation of the bike, a tire air pump is a "must have" tool. Every motorcyclist needs an air pump or a compressor in the garage, and there's no reason why a single pump couldn't work for everyday use also. And by the way, don't forget the air pressure gauge!
We recently conducted a review of a couple of small pumps, but we were less than thrilled at their performance for use with motorcycles. Most of the small hand-operated air pumps are designed for bicycle tires, which need high pressure and low volume. The valve stem on a bicycle tire is much more accessible than the valve stem on a motorcycle tire, mostly due to the motorcycle's disk brakes and heftier rim dimensions.
We were intrigued by the tiny Crank Brothers Power Pump (review); it is incredibly small and lightweight, which would be ideal for storing in a tank bag or even a pocket. Unfortunately, we just couldn't get it to work on any type of tire, which is puzzling.
The Mini Versair Air Pump
The folks at Planet Bike read the review and suggested we try their "Mini Versair" pump.
The Mini Versair is about 30 cm (~11-7/8″) long and weighs 210 grams (7-3/8 oz.) on the webBikeWorld scales.
That makes it bigger than the micro-sized Crank Brothers Power Pump, but still small enough to fit in a small tank bag like the tiny Marsee Rocket Pocket Tank Bag (review).
The Mini Versair even fits under the seat of a couple of different motorcycles. It comes with a plastic holder that's designed to fit on a bicycle frame, and there's a possibility that the holder could be adapted to fit on a motorcycle's frame with a little bit of creative engineering.
The Mini Versair can actually be used as a miniature floor pump. One end of the pump body has a foot that swings down and acts as a base for the pump.
The operator can then step on the base to hold the pump in a vertical position. This is a cool feature, but we found that it works better for bicycle tires with their much smaller rims, because the hose isn't long enough to stand the pump on the ground and reach up on to the motorcycle tire valve stem, which is a much longer reach due to the size of the rim.
But the pump can still be used as a hand pump. The valve stem on the Mini Versair is attached to a short length of air hose that retracts into the body of the pump. It can be pulled out from the body and rotated 360 degrees perpendicular to the pump, which adds a lot of versatility to squeeze it into a tight location.
Using the Mini-Versair Air Pump
We found that the Mini-Versair pump worked best when we rotated the motorcycle tire until the valve stem was 90 degrees from vertical and pointing towards the front.
The pump handle on the Mini Versair folds outward and has a softer rubber-like coating. It's shape fits the hand, making it easy to work the pump. Planet Bike claims that the pump's "unisex" design makes it easy to use for both male and female riders.
The Mini Versair will fit both Schrader and Presta valves by flipping over an adapter in the tip of the pump's valve stem. Since all motorcycles use Schrader valves, this is a one-time adjustment.
The valve adapters on most of these smaller tire air pumps is a very tight fit on the motorcycle's valve stem during the first several uses. They seem to go on tight and are sometimes very hard to remove until they get broken in.
Rotating the pump's adapter in an anti-clockwise direction as it's pulled off the tire valve stem sometimes helps. But after about a dozen or so uses, they seem to loosen up and are easier to insert and remove.
The Mini Versair has a small tab on one side of the valve adapter that is rotated 90 degrees to lock it on to the tire valve stem. It took about 8 pumps to add one PSI of air to a 110/80-18 motorcycle tire inflated to 30 PSI. It works smoothly and efficiently (which isn't always the case with small pumps) and it's about all you can ask for in a miniature hand air pump.
The valve adapter is about 50 mm (2″) long, which could be a problem on a motorcycle tire with a very tight space between the outer diameter of the disk brake rotor and the tire valve stem.
This isn't a concern on a bicycle tire, but you may want to check the clearance on your motorcycle's tire. Lack of clearance is one of the main problems we've found with any type of tire air pump. It can be difficult to insert and remove the air pump's valve adapter from the motorcycle tire valve stem without some knuckle-busting.
Other Features
The Mini Versair is similar in size to the Blackburn Mammoth Comp we reviewed previously, but it has a dual-action pumping system that fills the tire about 20% faster.
We like dual-action pumps and this is definitely a feature to look for. After all, why waste any hand movement!  You can tell if a pump is dual-action by holding a finger over the business end of the adapter whilst pumping in and out. If you feel air coming out the end during both strokes, it's a dual-action pump.
It's hard to tell in these photos, but the body of the Mini Versair is entirely covered in a thick, clear plastic tube. This provides some added strength and also prevents damage to the aluminum pump body.
Overall, the pump is a very nice piece of equipment that is made to Planet Bike's specifications with a very high level of quality. If someone like BMW made an air pump, this would be it!
The Mini Versair carries a limited lifetime warranty on defects in workmanship and materials. It's interesting to note that Planet Bike donates 25% of its profits to bicycle advocacy projects. They've donated over $200,000.00 since 1997!  Check out their website for more information.
Conclusion
The Planet Bike Mini Versair pump is the new champ and comes as anything to our ideal motorcycle tire air pump. It's light weight, easy to use, and works very well with it's dual-action pumping system.
The plastic parts seem to be of very high quality and it's got a unique design with it's fold out valve adapter. The flexibility of the adapter makes it relatively easy to fit on a motorcycle tire valve stem.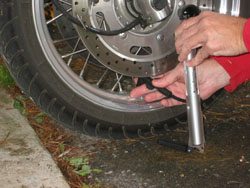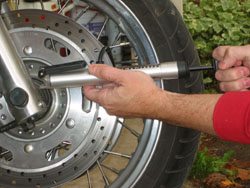 (L) The flexible and retractable hose on the Mini Versair isn't quite long enough to allow the use of the floor mount orientation. (R) But the short length of hose gives the Mini Versair added flexibility for use as a hand pump and with the motorcycle tire in various orientations.
w

BW

 Review: Mini Versair Tire Air Pump
Manufacturer: Planet Bike
List Price: $29.95
Colors: Silver.
Made In: Taiwan
Review Date: November 2004
Note:
 For informational use only. All material and photographs are Copyright © webWorld International, LLC since 2000. All rights reserved. See the webBikeWorld® 
Site Info page
. Product specifications, features and details may change or differ from our descriptions. Always check before purchasing. Read the
Terms and Conditions
!
Owner Comments and Feedback