A new French company, Midual, has reinvented the boxer twin and produced the Type 1 motorcycle which is one of the most expensive in the world at almost $200,000.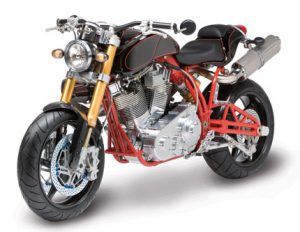 The only new motorcycles costing more are the one-off gold-plated, diamond-encrusted "Goldfinger" Lauge Jensen which sold for $850,0000 and the titanium-laden Ecosse Titanium RR at $320,000.
Midual showed two of its limited edition of 35 Type 1 bikes at the exclusive Pebble Beach auto show over the weekend.
The stunning handcrafted Midual Type 1 features a single-piece aluminium-cast monocoque frame, bespoke personalisation which includes 45 types of leather and 25 sand casting shades, and a luxury four-year maintenance program where the bike is picked up and taken back to the factory for service work. The bike will only be available to European owners.
Midual's Type 1 has been 15 years in development from when the boxer engine went on show in Paris at the Mondial de l'Automobile show.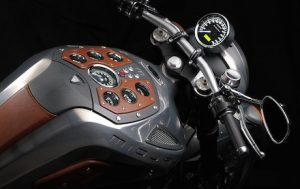 The 1036cc is tilted forward 25-degrees to keep the wheelbase short for more precise handling and remove torque snatch from the inline crankshaft. It is rated at 79kW of power at 8000 revs and 100Nm of torque at 5300rpm, which is well short 91KW and 125Nm of the latest boxer twin incarnation in the BMW 1200 models.
It features a single analogue speedo on the single round headlight, but seven small analogue gauges on the fuel tank set in leather.