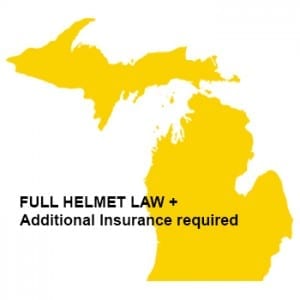 What is the Motorcycle Helmet Law in the State of Michigan?
There is a FULL Helmet Law in Michigan requiring anyone riding or operating a motorcycle to wear a helmet.
However, if choose to add $20,000 of additional injury coverage to your insurance policy (and carry proof with you), then you have the choice to wear or NOT to wear your helmet.
You must be over the age of 21 to make this choice.
Best Motorcycle Rides:
Now that you know the helmet laws in Michigan – what do you plan to do with that information? Go on a ride I presume.
Here are the top 3 motorcycle runs to take.
(Under construction – check back later this week)