Merlin Mahala Pro D3O Explorer Pants Review Summary
Review Summary
The Merlin Mahala Pro D3O Explorer Pants are retro-styled Cordura cotton pants with waterproof and thermal liners, D3O CE Level 1 knee and hip armor, and AA-level abrasion-resistant construction. If you want a pair of riding pants with protection and build quality, plus great retro styling, check out the Mahala Pro D3O Explorer.
Pros
Retro Waxed Cotton Styling
Multi-season flexibility
D3O CE Level 1 Armor at hip and knees
Waterproof liner included
Thermal liner included
Regular and Short sizes are available
Cons
Only Level 1 Armor
Ventilation
Hot for Mid-summer due to weight and ventilation
No reflective elements
No tall options
Waterproof liner 'sticky' inside
Merlin Mahala Pro D3O Explorer Pants Image Gallery
Review Summary
The Merlin Mahala Pro D3O Pant include a waterproof and thermal liner which make this a great choice for wet/colder weather.
Despite its multi-season versatility, the ventilation is average and it's a heavy pair of pants so it can run hot during mid-summer.
The Mahala Pro D3O Explorer Pants are more touring-focused and the AA-rated Cordura cotton fabric inspires confidence on longer rides. However, the pants lack CE2 protection.
About Merlin
Five passionate and experienced riders formed Merlin. From a small barn conversion in the British heart of automotive manufacturing, Merlin launched its first collection in 2012.
Merlin's goal from the outset came from personal experiences, wanting to break the norm and ultimately redefining what was possible at price points reachable for the everyday rider.
Today this core goal remains but has developed into rider focussed collections where, no matter your riding style.
When asked to review the Merlin Mahal Mahala Pro Explorer Jacket and Pants, I looked at the retro wax cotton styling and jumped at the chance to review it. The Merlin combo is retro styling with plenty of technology.
The Mahala Pro D3O Explorer Pants are stylish multi-season textile motorcycle adventure pants for around $430. It features a Reissa waterproof liner, a thermal liner,  and D3O CE Level 1 protection at the knees and hips.
I tested the combo on an adventure/touring bike (Husqvarna Norden 901).
I received the pants in May, ideal for testing the included waterproof and thermal layers.
Merlin Mahala Pro D3O Pant Features
The Merlin Mahala Pro D3O Explorer Pants have several features that offer protection from inclement weather and abrasion. The most notable are listed below.
Features
Merlin-exclusive Cordura cotton outer with water-repellent finish
Interchangeable waterproof and thermal liners
D3O LP1 knee and hip protectors included
Calf and ankle adjustment points
Accordion stretch above the knee
CE certified to EN17092 as a Class AA garment
Check out the Merlin Mahala Pro D3O Explorer Pants on the company's website for a complete list of features.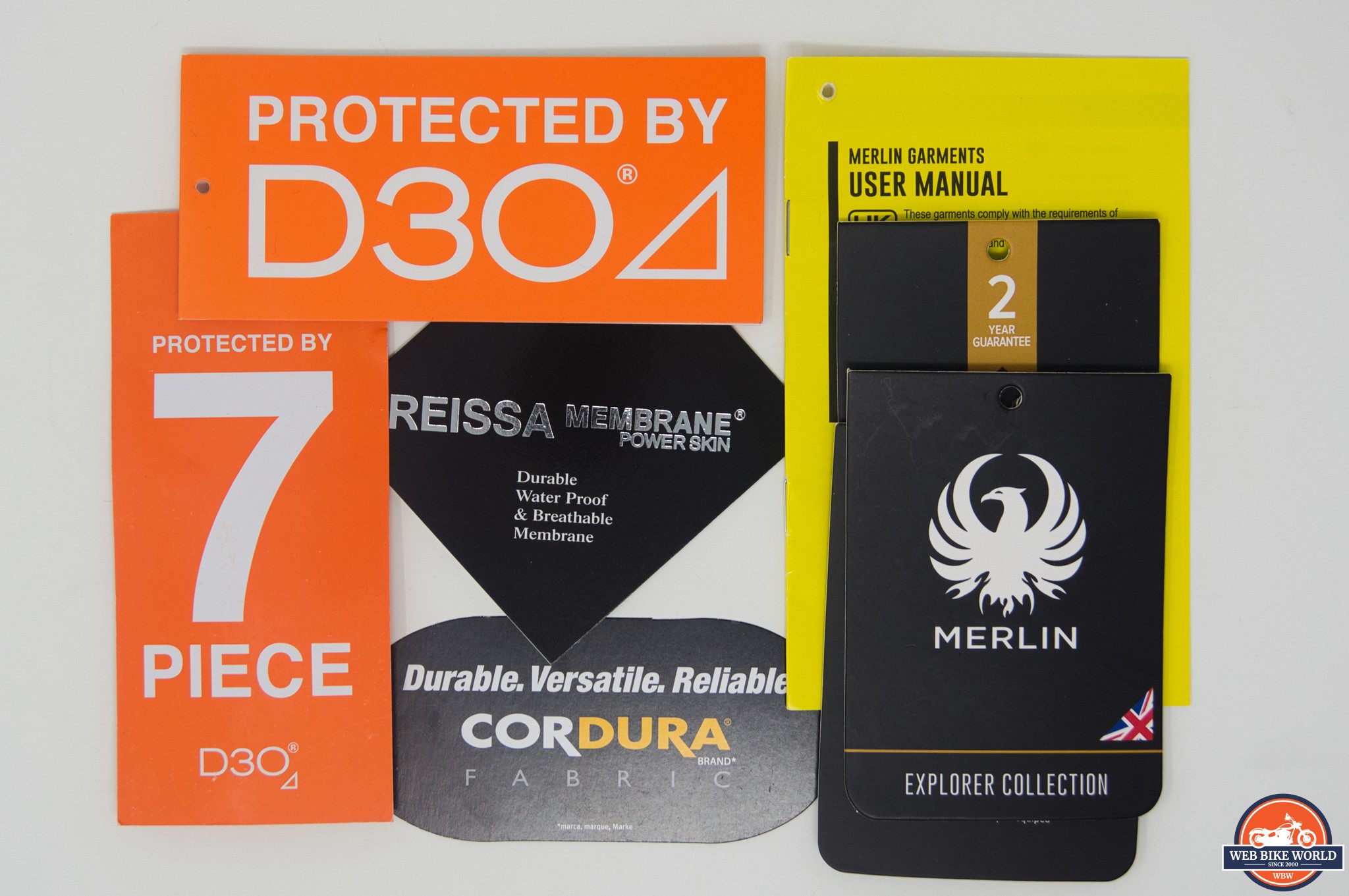 Merlin Mahala Pro D3O Pant First Impressions
When asked to review the Merlin Mahal Mahala Pro Explorer Jacket and Pants, I looked at the retro wax cotton styling and jumped at the chance to review it. But let's be honest, pants almost always take a back seat to the jacket.
I was looking forward to receiving the Merlin Mahala Pro D3O Explorer Pants (and Mahala Pro D3O Jacket) for day trips in cool weather.
The first thing I noticed was the solid construction. The Merlin pants appeared to be well-built. I liked the subtle black styling and subtle (nearly nonexistent) branding.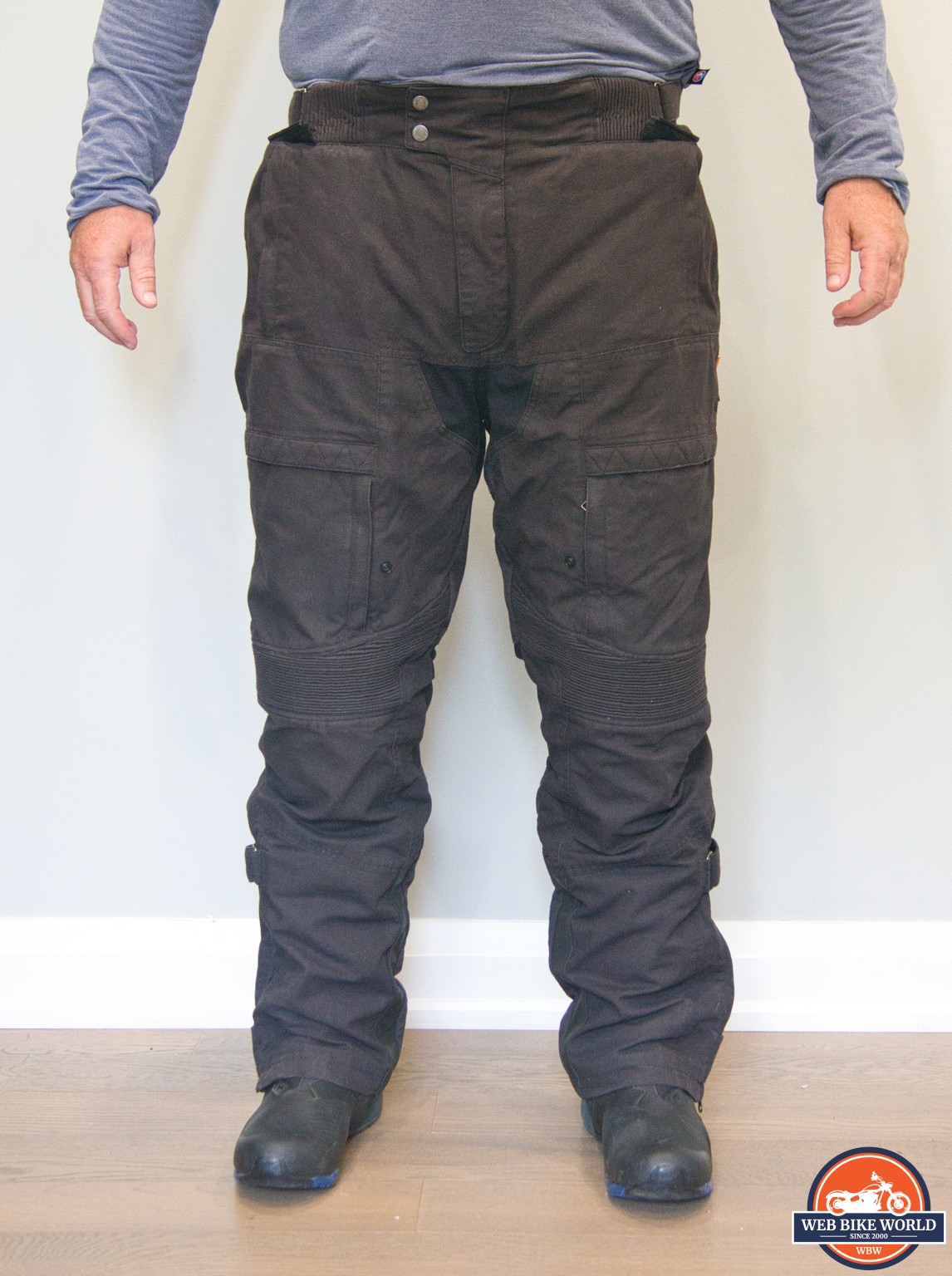 Merlin Mahala Pro D3O Pant Construction
Outer Shell
The outer shell uses a Merlin-exclusive Cordura cotton fabric. This construction allows for CE AA abrasion-resistant pants.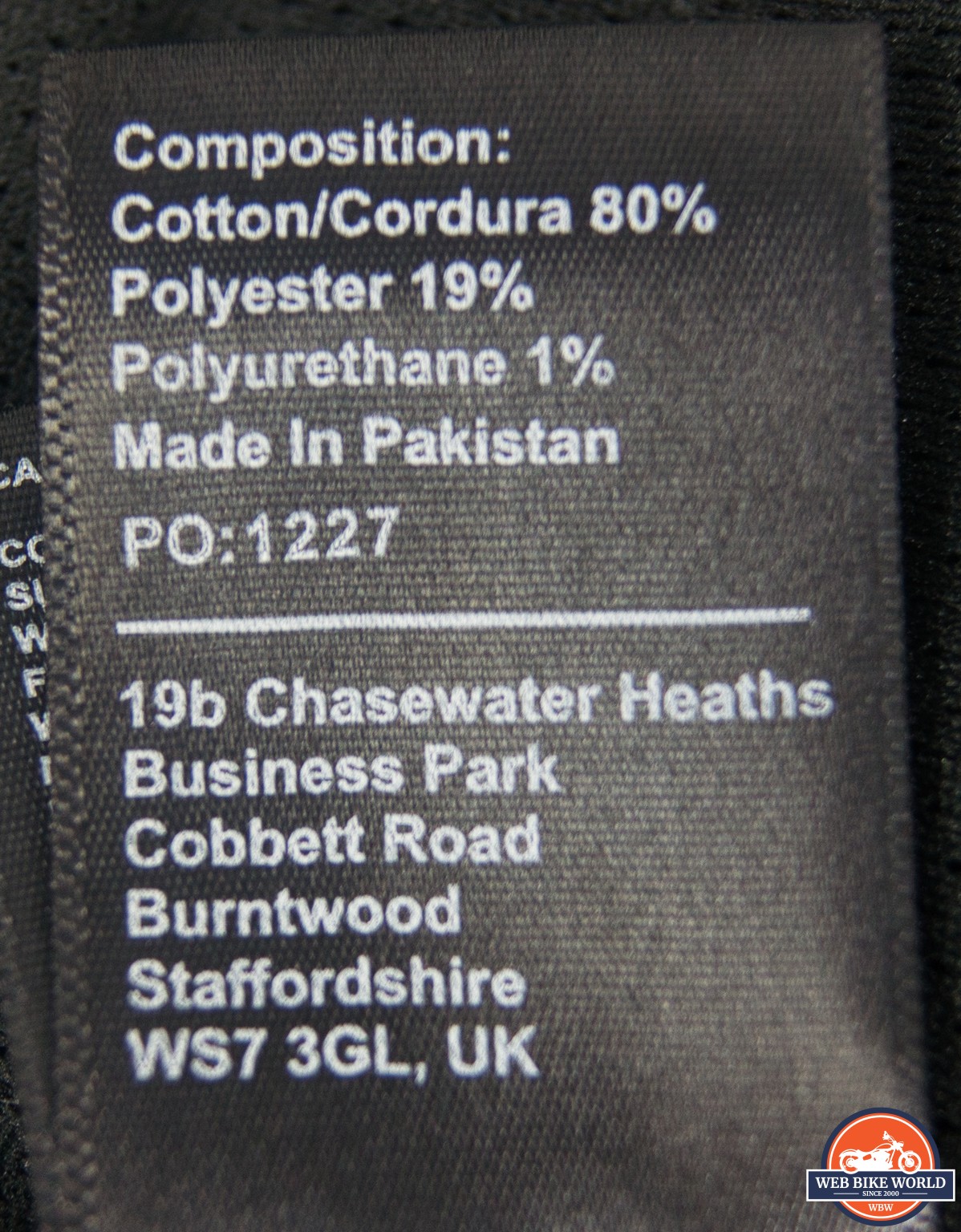 Interior
Nylon mesh lines the interior of these pants throughout for increased airflow and comfort.
Waistband
The waistband features a velcro adjustment on both sides. The closure is zippered and covered by a pair of snaps. Behind the zipper is an additional layer of backing material. All this adds comfort and weather protection.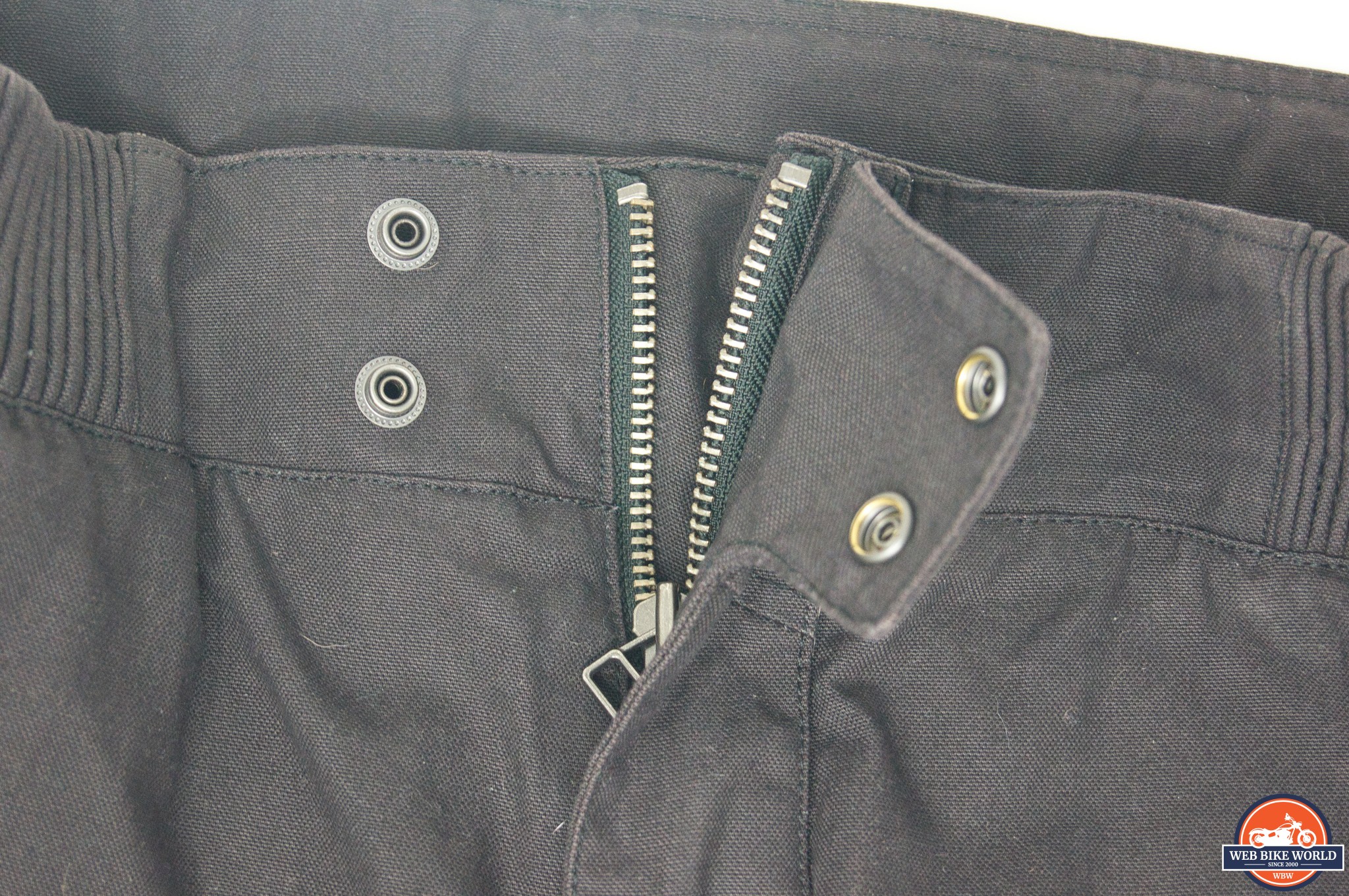 Pockets
There are two front zippered slash pockets.  They are generous,  large enough to fit my phone. It is an excellent place for small things like earplugs. There are also two zippered pockets on the top of the thigh, just above the knee.  Again, these pockets are large enough to hold a phone.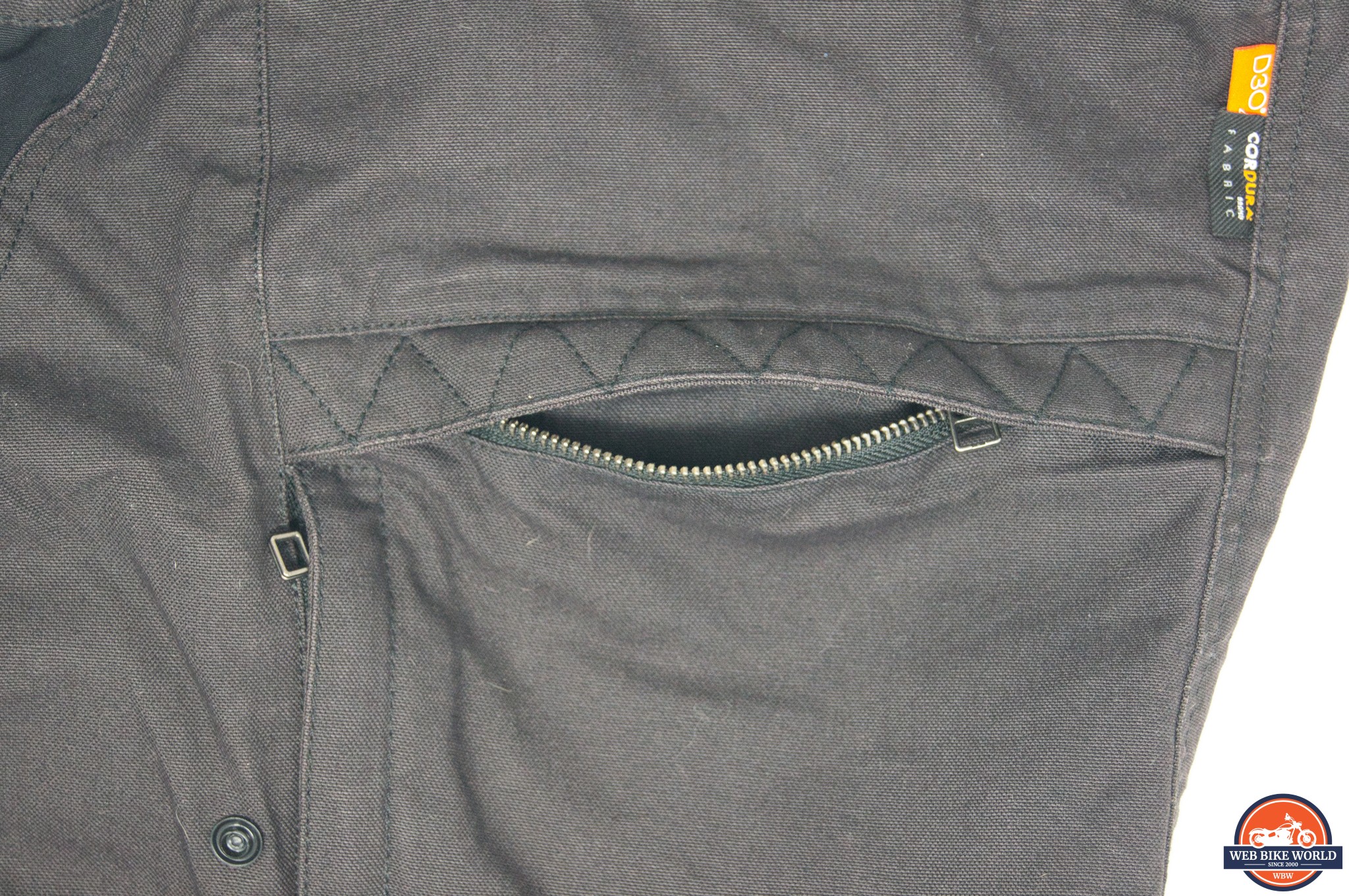 Hi-Vis
Hi-visibility is more a feature of jackets than pants.  In this case, like the matching jacket, the pants have no reflective elements.  Remember, we are after retro-styling here.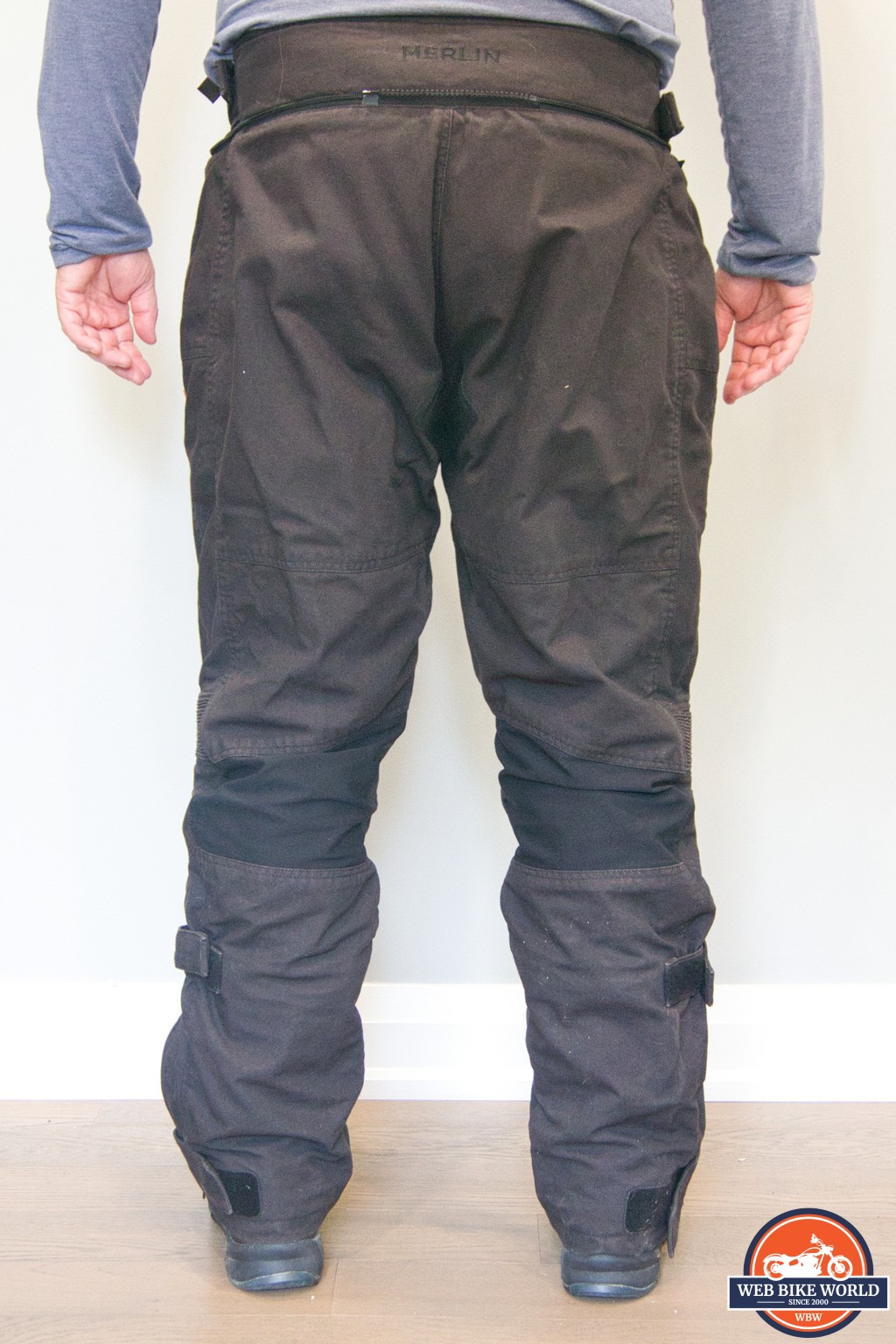 Branding
Branding is subtle, which I like. In fact, with a jacket on, you do not see any branding.  The Merlin name is embroidered on the back of the waistband. The Merlin name is also displayed on the snaps at the waist closure.
The branding on the Merlin jacket is exceptionally subtle. Branding is done the way I like it. Nicely done!

Zippers
The main fly zipper is large and has a glove-friendly pull tab. You can find additional zippers on the following:
Vents
Pockets
Waterproof and thermal liner
A short and 360 connection between the jacket and pants.
All the zippers are YKK and worked smoothly.
Colorways
The Merlin Mahala Pro D3O Explorer Pants are only available in black or olive/black.  I went with the olive jacket and black pants, thinking all olive would be a bit much.  There is enough black in the jacket and pants that the all olive combo would also have been great.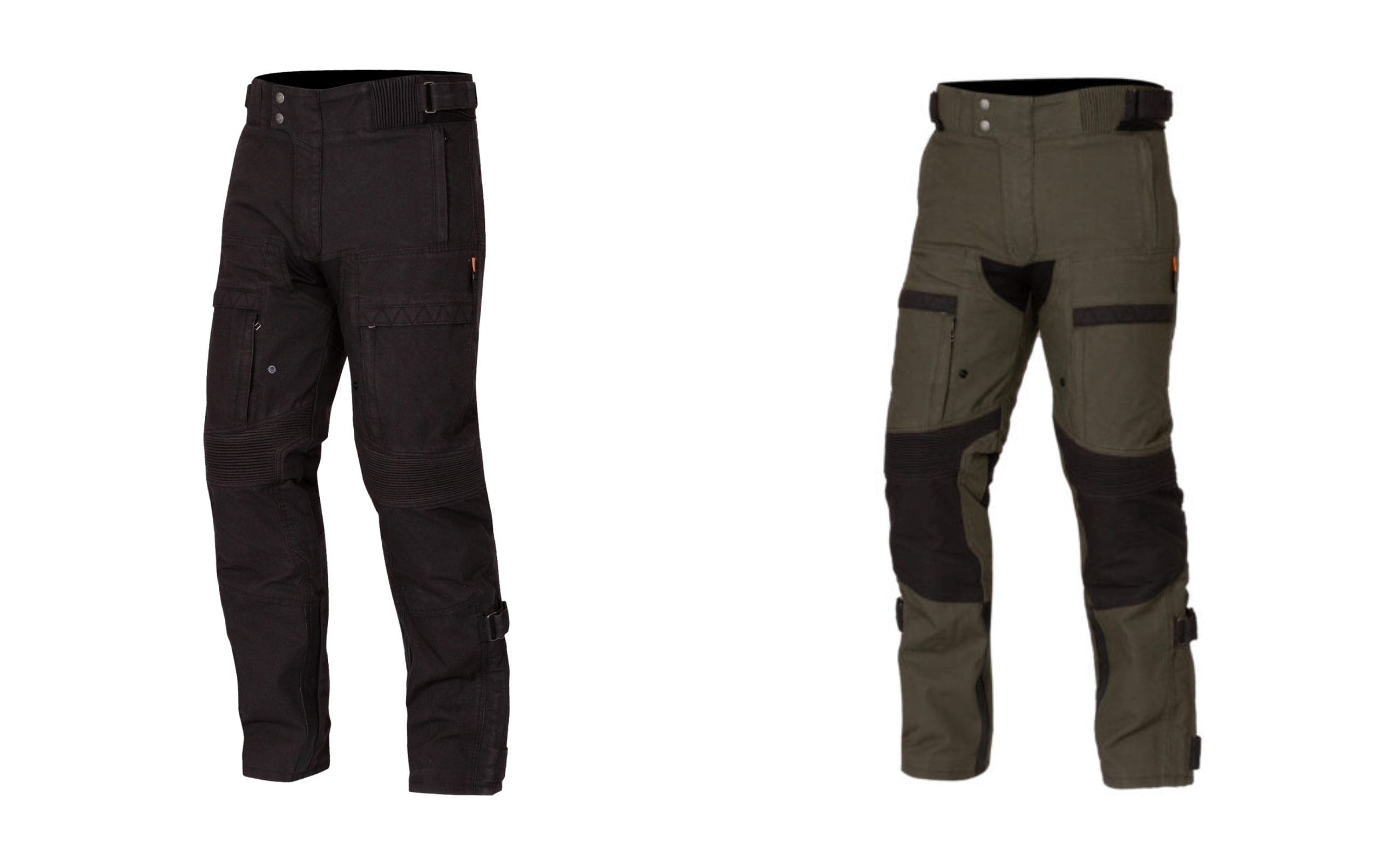 Waterproof Inner Liner
The Merlin Mahala Pro D3O Explorer uses a Reissa liner. The liner attaches with a single full-length zipper around the waist. The liner is not full length, stopping below the knee and secured with a zipper.
The liner can be zipped into the outer shell alone or with the thermal liner.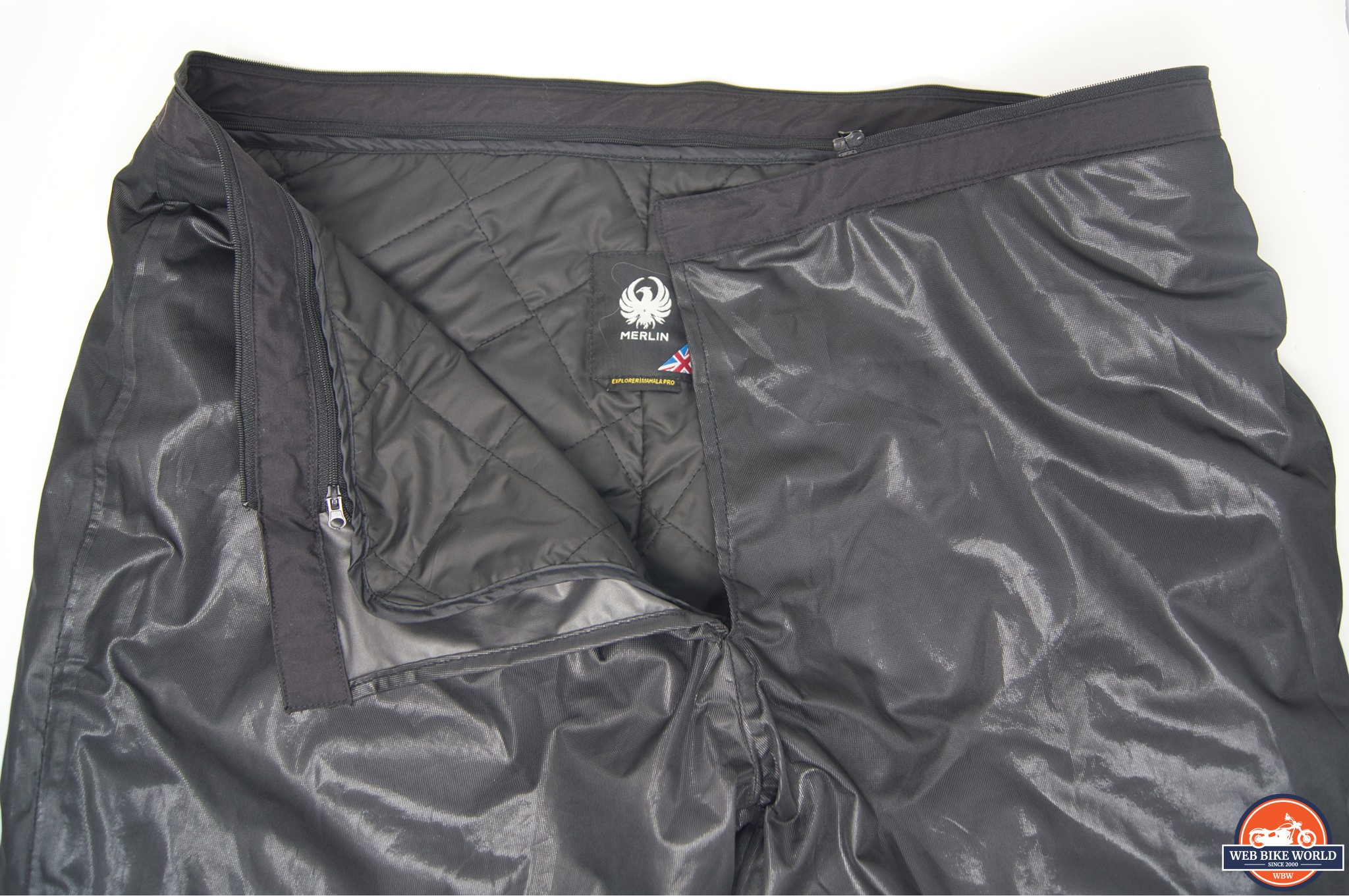 Thermal Inner Liner
The Merlin Mahala Pro D3O Explorer also includes a thermal liner. The liner attaches to the outer shell or waterproof liner with a full-length zipper and zippers below the knee.
Merlin Mahala Pro D3O Pant Overall Build Quality
Sizing
The following is the sizing chart from Revzilla
Merlin Men's Pant Sizing
The regular inseam is 32″, and the Short inseam is 30″ for all sizes.
| | |
| --- | --- |
| Size | Waist (Inches) |
| XS | 28-29 |
| SM | 30-31 |
| MD | 32-33 |
| LG | 34-35 |
| XL | 36-37 |
| 2XL | 38-39 |
| 3XL | 40-41 |
| 4XL | 42-43 |
| 5XL | 44-45 |
Sizing information is provided by the manufacturer and does not guarantee a perfect fit.
The Merlin Mahala Pro D3O Explorer Pants come in 9 sizes and two inseam lengths (30, 32).
I am 6'3" tall and typically wear 38-40W x 34L jeans. This measurement put me between a 2XL and  3XL on their sizing chart. To be safe, I ordered the 3XL.
I have a lot of room, and a 2XL would be a better fit.  A long version would have been appreciated, as the 32-inch inseam is short when seated on the bike.
Comfort
I found the pants very comfortable with or without the liners. However, the interior of the waterproof liner can be a bit sticky.
Accordion panels at the knees and waist back help with flexibility and comfort. There are also stretch panels behind the knees, and crotch, reducing bulk and adding comfort.  There are also two small 'grip' panels at the seat.
The availability of different lengths is a big plus for short riders.  What about us tall guys?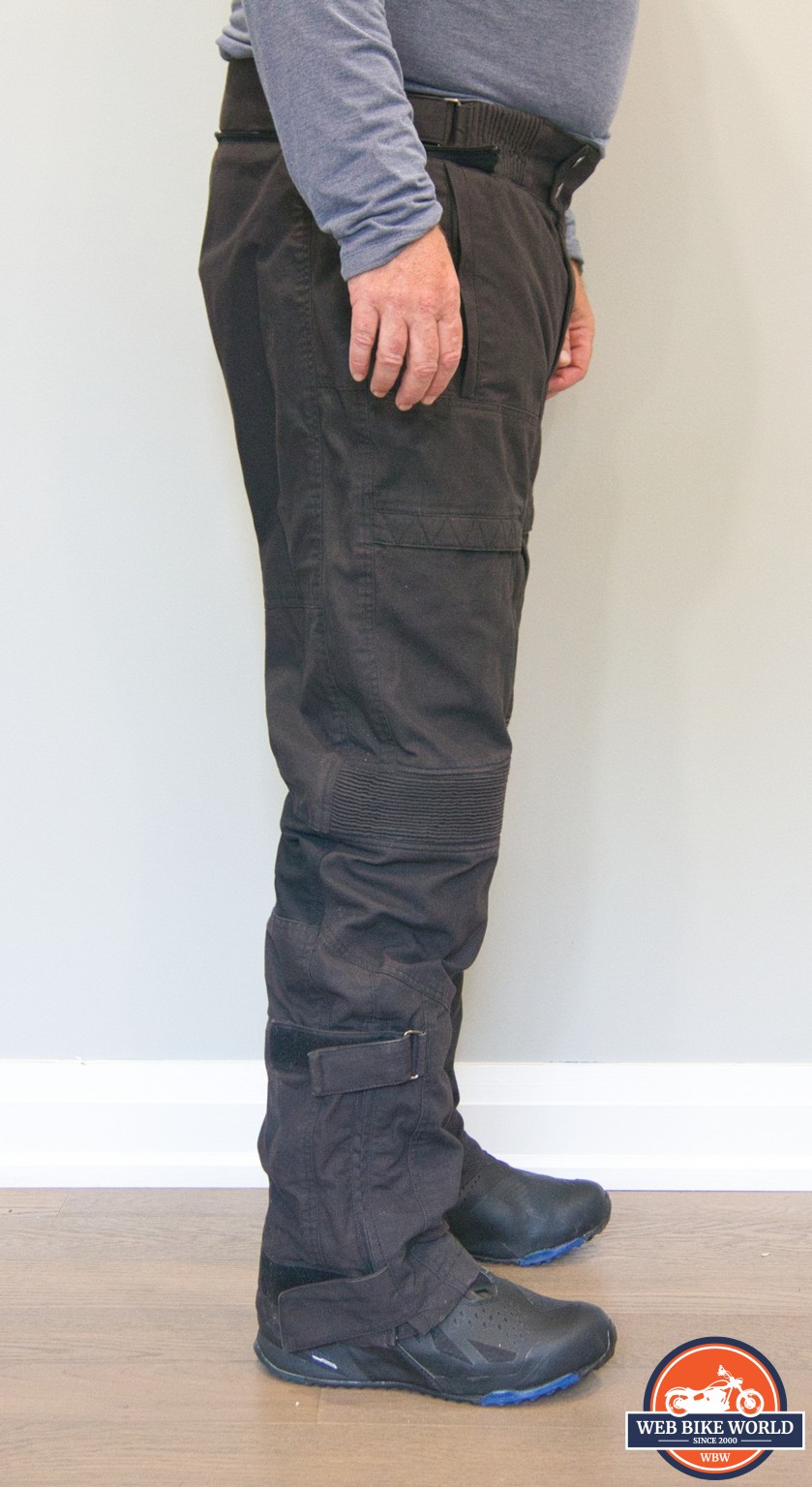 Adjustability
The Merlin Mahala Pro D3O Explorer Pants allowed for fitment in several ways:
Adjustable velcro at the waist
Zippers at the hem
Adjustable velcro straps at the calves
Adjustable velcro at the hem
Three-position knee armor
These straps and adjustments allow you to fine-tune the fit for comfort. In addition, the hem adjustment opens wide enough to slide over motorcycle boots with velcro to tighten around the ankles.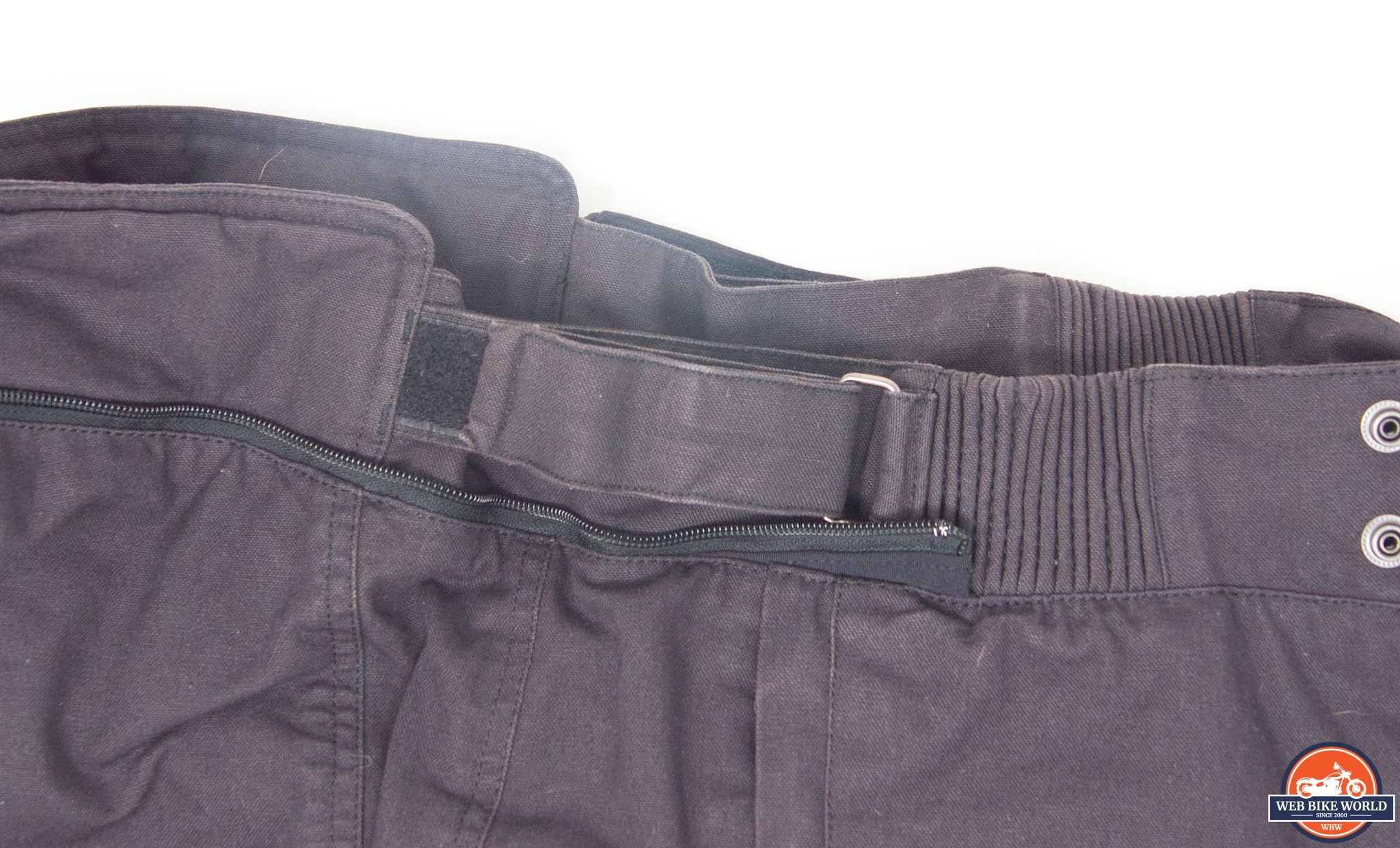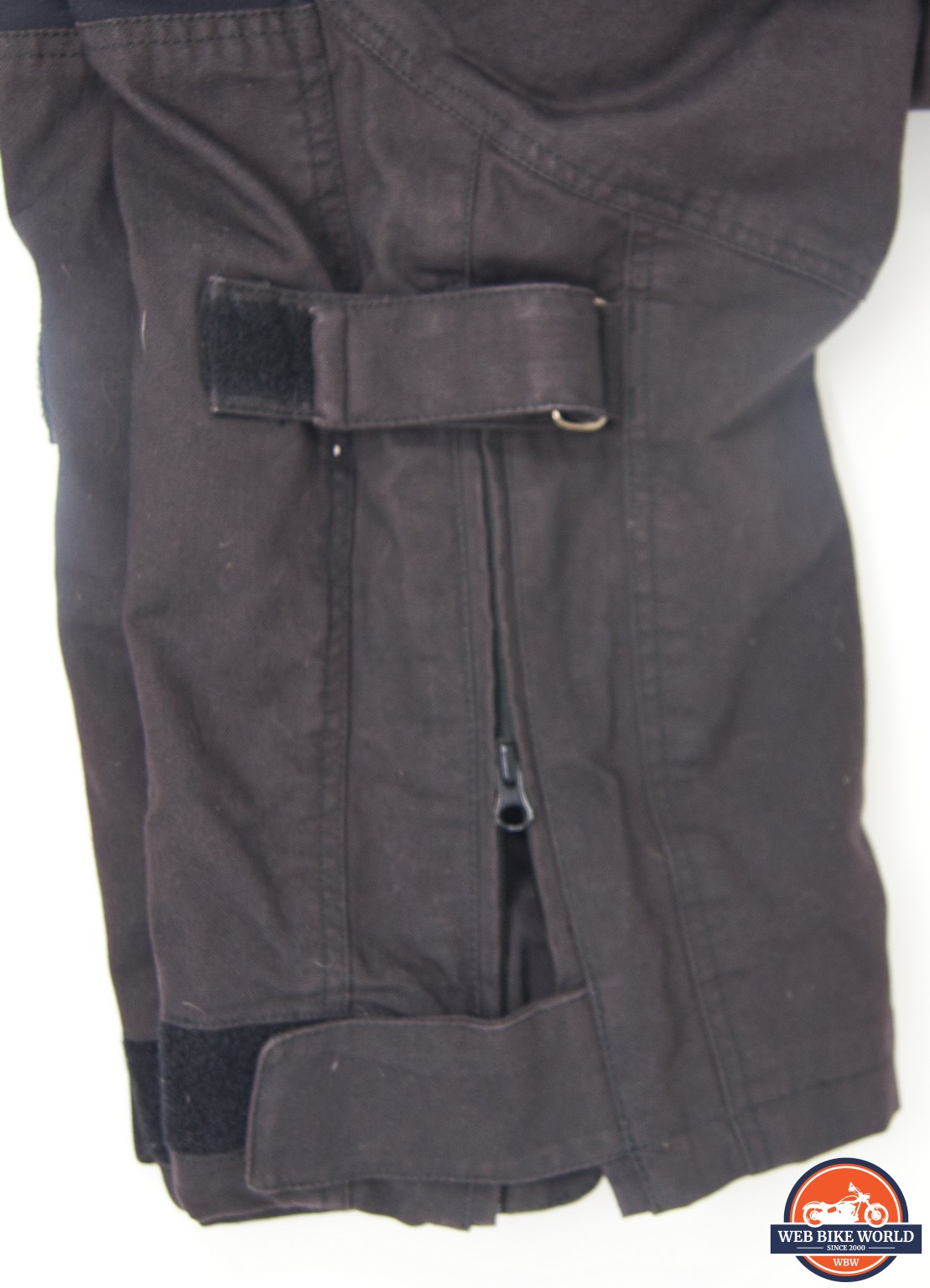 Merlin Mahala Pro D3O Pant Functionality
Waterproofing
The Merlin Mahala Pro D3O Explorer uses a REISSA Power-Skin liner. According to the textile manufacturer's website, REISSA is a composite material with high sensitivity to changing weather conditions, and it is an advanced textile with a highly developed specific polyurethane resin coating or membrane.
The outer shell has a DWR coating to repel rain and a full-length storm flap covering the main zipper.
I do a rain test on any gear claiming to be waterproof. This test could be done by either riding in the rain (preferred) or spraying myself with a hose. In this case, with rain in the forecast, I headed out on a 1-hour ride.  I did not include the thermal liner to ensure I could feel if any moisture made its way through.  Also, I wore a full-length base layer that would show any wet spots.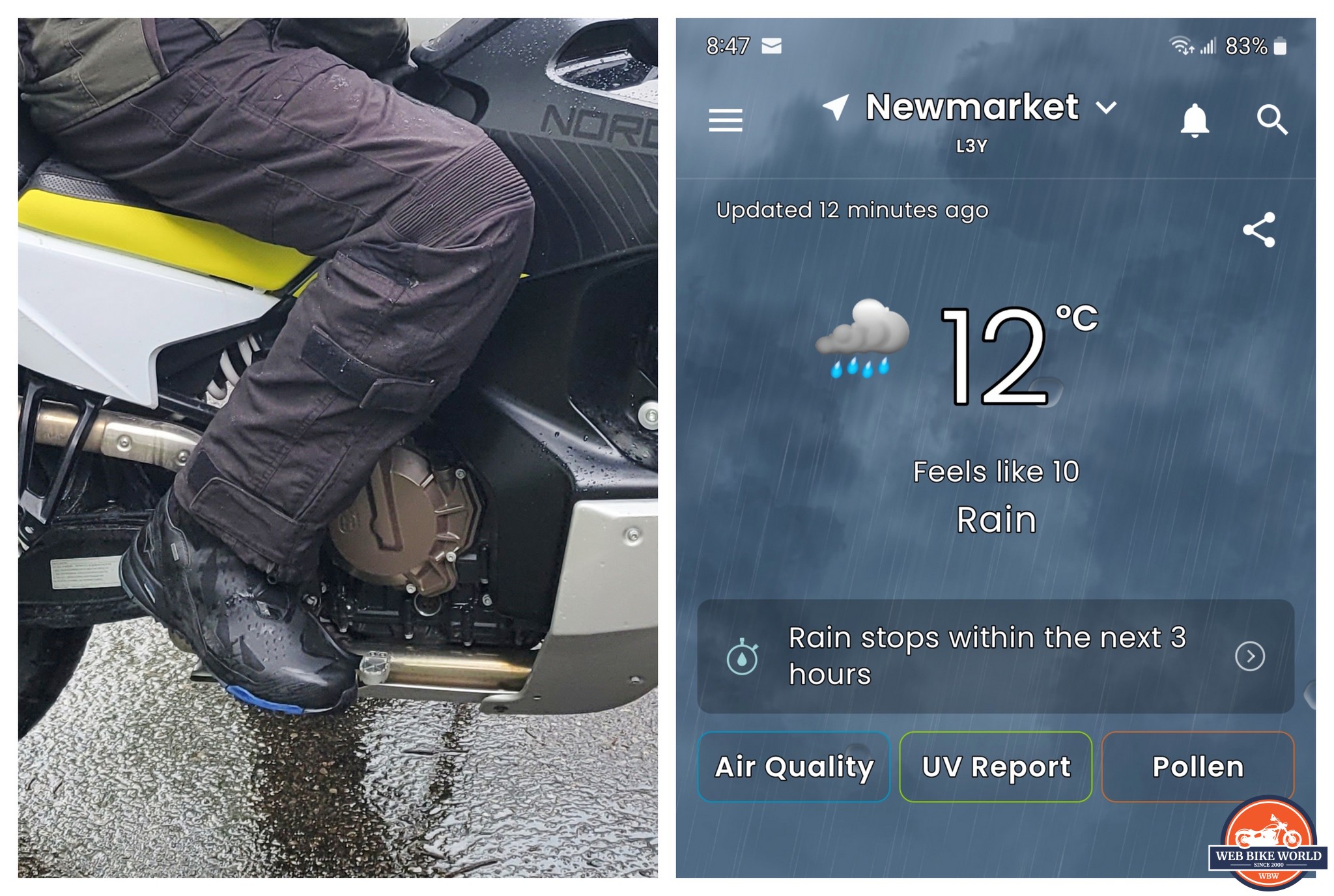 The Merlin Mahala Pro D3O Explorer pants worked great. In steady rain with intermittent heavy rain, I stayed completely dry. The outer shell also did a fine job of shedding water. However, the pants did absorb some moisture.  In my test, the weight went from 4.8 pounds dry to 5.8 pounds wet.
From my small test, the Merlin Mahala Pro D3O Explorer Pants will keep you dry.
Breathability
The Mahala Pro D3O Explorer Pants contain ventilation panels on the thighs.
I used the Mahala Pro D3O Explorer Pants in varied weather conditions, from 5 C (40 F) to 28 C (82 F). As the temperature level went up, my comfort level went down.
The feature list on the Merlin and Revzilla websites mentioned 'pin back thigh vents'. I was expecting large panels that snap open similar to the chest vents on the matching jacket. Instead, there is a six-inch zippered vent with a tab and snap to help keep the vent open. I did resort to opening the zipper at the hem, exposing part of my lower leg.
Overall the ventilation on the Merlin Mahala Pro D3O Explorer Pants was below average.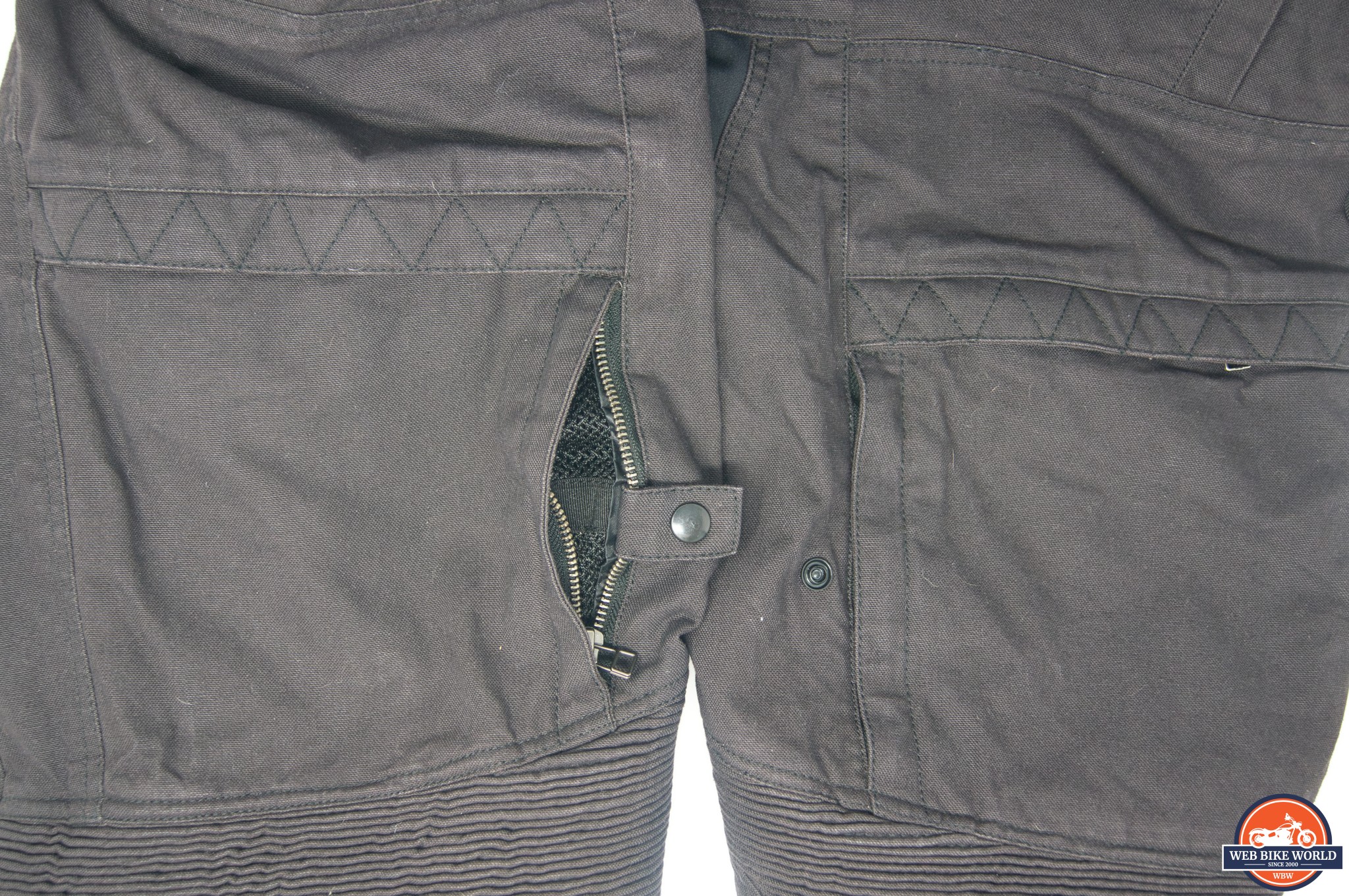 Merlin Mahala Pro D3O Explorer Pants Protection
The Mahala Pro D3O Explorer Pants offer several layers of protection:
Outer shell made of CE AA-rated Cordura cotton fabric
D3O CE Level 1 protection in hips and knees
The armor uses smaller Type A sizes.  It would be nice to see Type B, especially in larger-sized pants.  I have tested less expensive pants with higher CE Level 2 armor.
However, hip protection is only sometimes standard and is a nice touch.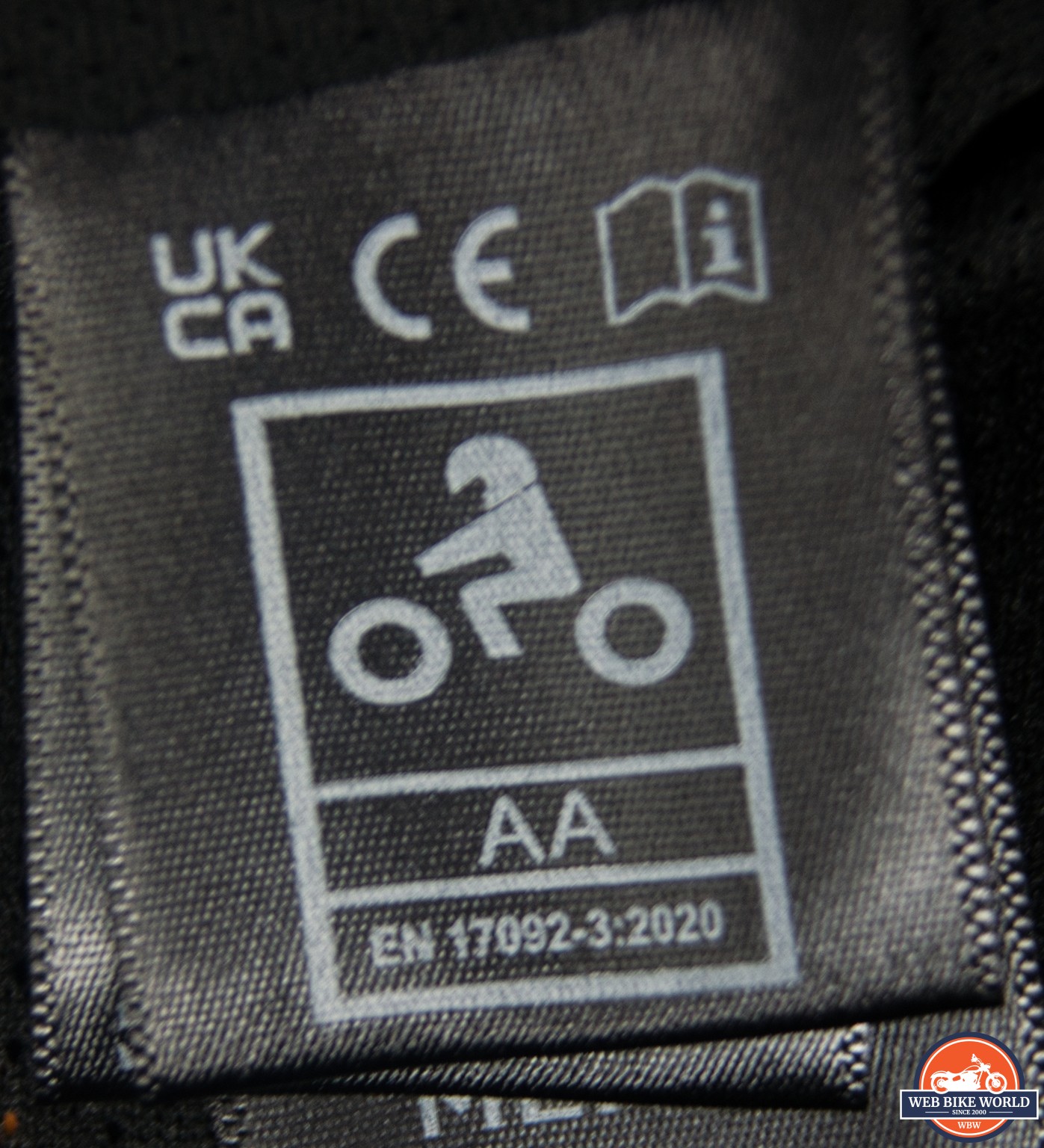 EN17092-4:2020 specifies general requirements for CE certification. The standard includes (but is not limited to) impaction abrasion resistance, tear strength, seam strength, and dimensional stability. The Mahala Pro D3O Explorer Pants have a AA rating.
Classification AAA: The highest level
Classification AA: More suited to touring gear
Classification A: Deemed suitable for urban riding
Classification B is similar to A, but impact protectors are not required
Classification C covers garments such as the under-suits that have impact protection for off-road riding
The armor used in these pants is:
Knee Certified (EN 1621-1:2012; KES TYPE A; Protection level: 1)
Hip Certified (EN1621-1:2012; H TYPE A: Protection level: 1)
EN1621-1 is a certification standard for shoulders, elbows, knees, and hips.
Protector styles are KES = Knee/Elbow/Shoulder, and H = Hip. Type A has smaller dimensions, and Protection Level 1 provides less protection than Level 2.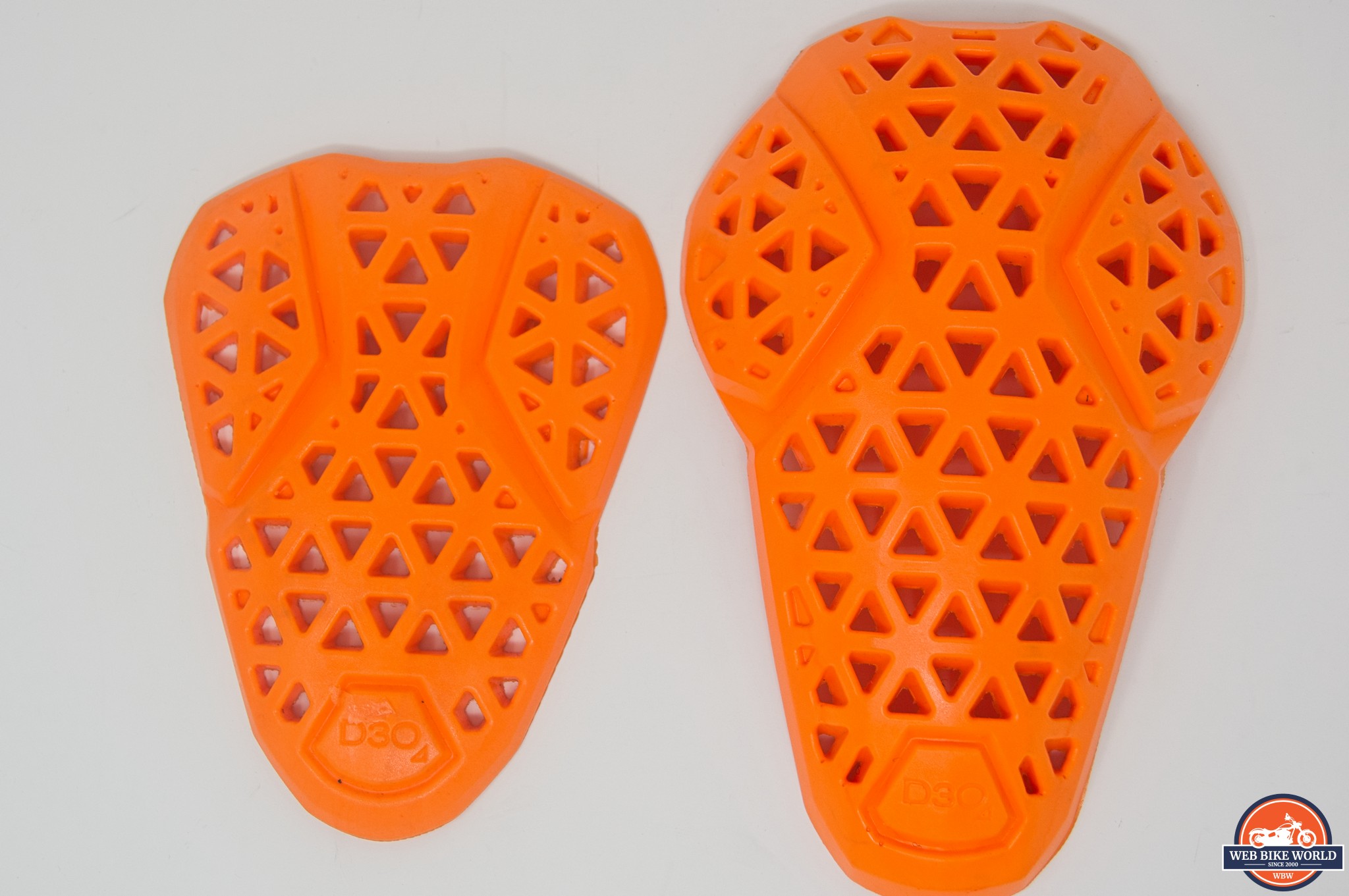 The knee armor is adjustable using a series of velcro strips to increase or reduce the size of the armor pocket.  This allows the user to raise or lower the armor.
Also, D3O is a leader in motorcycle impact protection.  All of the armor in the Mahala Pro D3O Explorer is from D3O.  For more information, check out D3O.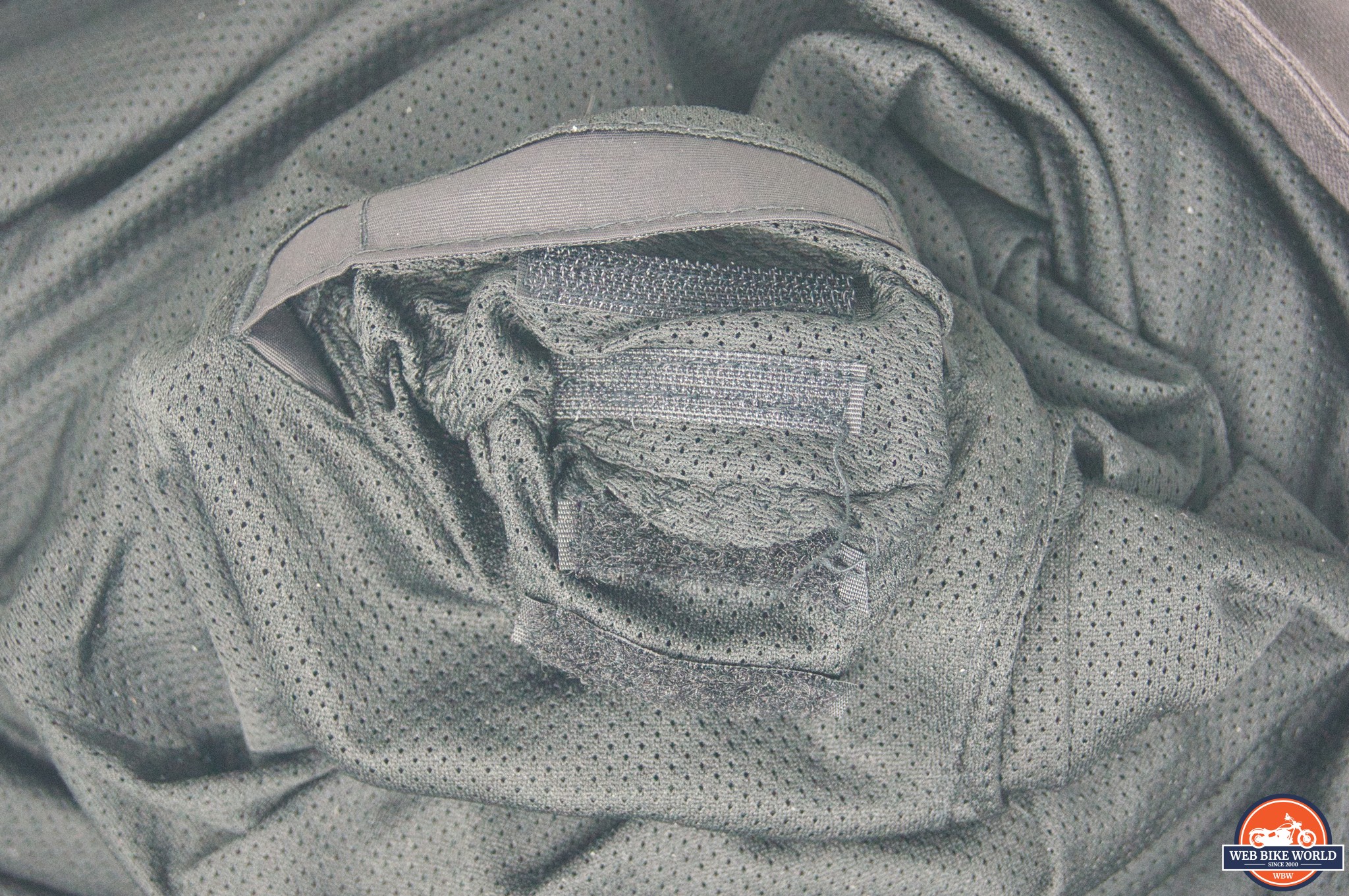 Merlin Mahala Pro D3O Explorer Pants Care Instructions
Care for a waxed cotton fabric can be more involved than other materials.  Here are some general guidelines:
Lightly brush off any dirt or soil; if necessary, use a cold, damp cloth to wipe down the jacket. Clean your jacket regularly to maintain its appearance but go easy, as the wax will be removed. Dried mud, sand, or grit are abrasive to the wax, especially along inner sleeve seams, which is why brushing it off regularly is recommended.
Re-wax the jacket when it loses its waxed appearance/finish, and water stops beading and soaks into the cotton. Purchase a waxed cotton dressing tin from several online retailers and heat the tin of reproofing wax so that it becomes pliable and easy to apply. You can place the tin into a pan of hot water and warm it gently. Evenly apply the wax with a lint-free cloth, paying attention to seams.
Allow the wax to settle and dry slightly and remove any excess build-up. Use a hairdryer to melt the wax into the jacket- allowing an even spread of wax. Allow the jacket to dry in a well-ventilated area for 24 hours.
Do not machine wash or tumble dry. Do not iron. Do not wipe with hot water. Avoid soap and detergents unless the garment is particularly dirty, and you need to get rid of these dirt/gnat marks before re-waxing.
Here are the attached instructions for the jacket: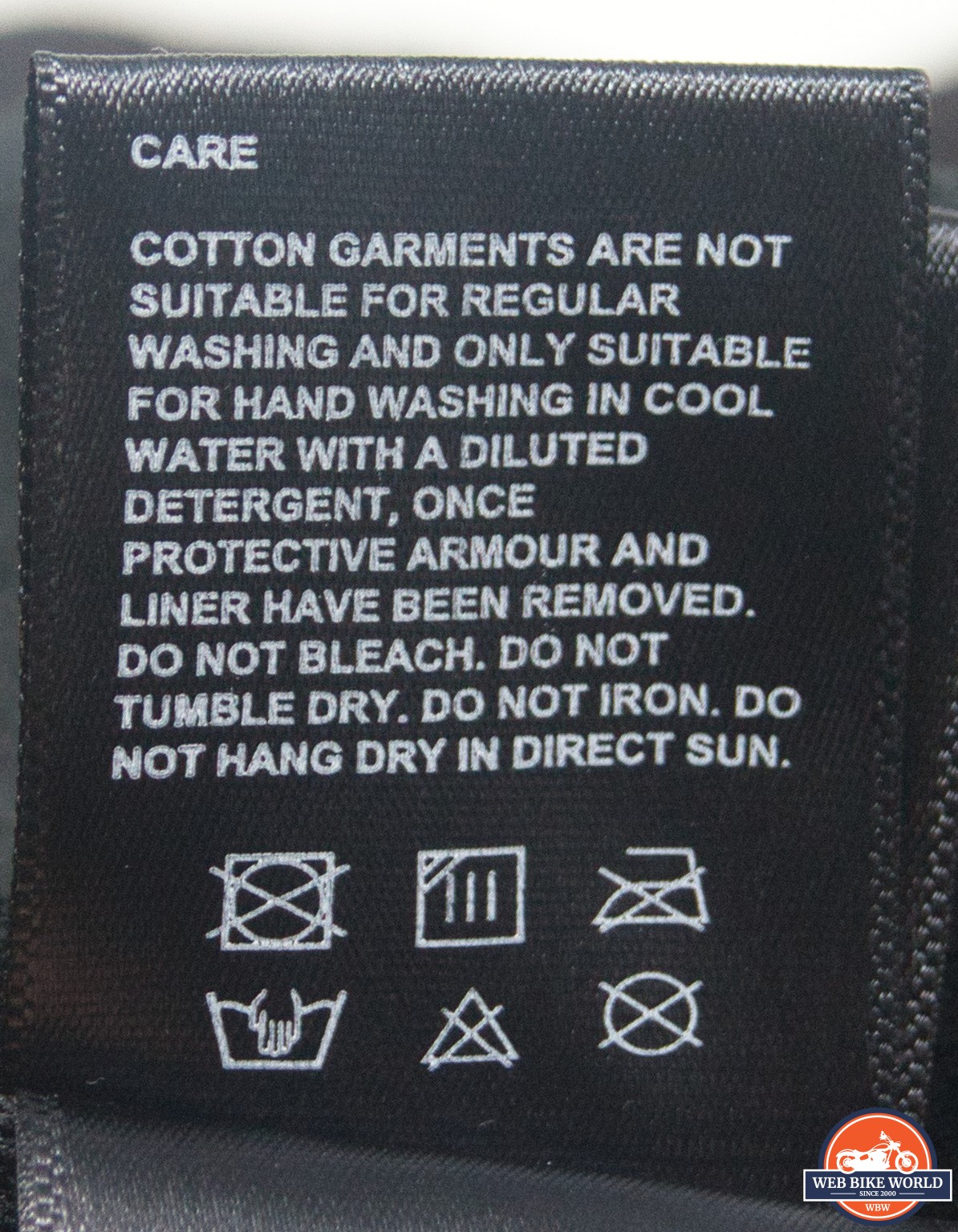 Warranty
All Merlin products carry a 12-month guarantee from the date of purchase against manufacturing defects. The product must be purchased through a Merlin authorized/approved retailer. If you wish to extend your guarantee by a further 12 months, register your purchase on the Merlin website. By registering through the form, you activate a further 12 months of guarantee (from date of purchase and registration) totally free (excludes accessories). You are required to register within a month of purchase and retain your receipt/proof of purchase for any claims.
For details, please visit Merlin Warranty.
Final Thoughts on the Merlin Mahala Pro D3O Explorer Pants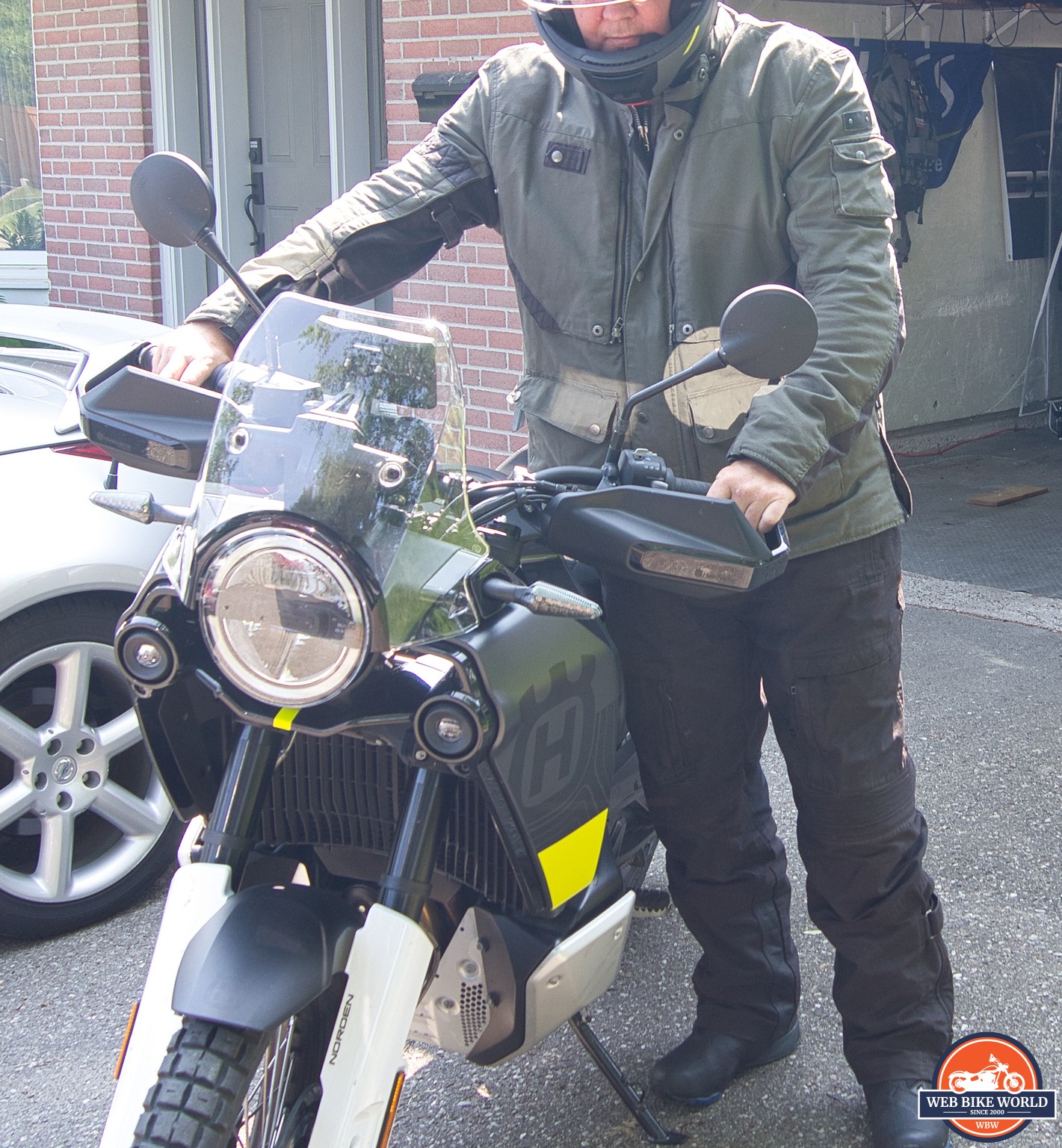 When I reviewed the Merlin Softshell WP Mesh pants several years ago, I stated that I no longer had an excuse for not being ATGATT. That statement still holds. They are lightweight with the convenience of jeans, which I appreciated.
The Mahala Pro D3O Explorer Pants, on the other hand, are more touring-focused. I will still reach for the Softshell WP Mesh pants on a short errand or a hot day. But if I am heading out for a longer, fair-weather (not too hot)  ride, I will consider the Mahala Pro D3O Explorer Pants. They may be heavier and bulkier, but the added protection of the AA-rated Cordura cotton fabric adds confidence on a longer journey.
I have a couple of negatives with these pants. That is about their weight, lack of ventilation, and lack of CE level 2 armor protection.
The Merlin Mahala Pro D3O Explorer retro line is more about the jacket. How many consumers will buy the pants without the jacket?
If you want subtle retro styling, multi-season weather protection, and D3O CE Level 1 protection, check out the Merlin Mahala Pro D3O Explorer Pants (in combination with the matching jacket). I don't think you will be disappointed.
Pros
Retro Waxed Cotton Styling
Multi-season flexibility
D3O CE Level 1 Armor at hip and knees
Waterproof liner included
Thermal liner included
Regular and Short sizes are available
Cons
Only Level 1 Armor
Ventilation
Hot for Mid-summer due to weight and ventilation
No reflective elements
No tall options
Waterproof liner 'sticky' inside
Specs
Manufacturer: Merlin
Price: (When Tested) $429 USD
Made In: Pakistan
Colors: Black, Olive
Sizes: XS, S, M, L, XL, 2XL, 3XL, 4XL, 5XL; Short, Standard
Review Period: May to June 2023
Important Links / Where to Buy