Matchless is literally back on the drawing board with these sketches being registered in European patents offices by owner Franco Malenotti.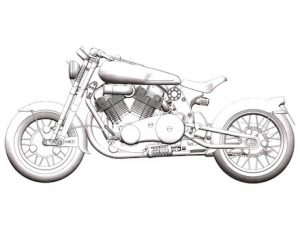 The Italian has revitalized the Belstaff motorcycle clothing brand and now appears to be about to do the same with one of Britain's oldest motorcycle marques.
These sketches, obtained by online motor magazine Autoevolution, show how a new Matchless could look. Unlike many of the British bikes at the time, old Matchless bikes were largely powered by side-valve V-twins and it is believed a new bike would have an S&S heart.
This one appears to be modeled along the lines of the old classic G80, Silver Hawk and Silver Arrow. It is highlighted by a mix of vintage and modern technologies. It has a solo tractor seat, naked tail, chain drive, twin headlights, spoked wheels, leading-link forks, fishtail twin exhausts, double-sided swingarm and an underslung mono rear shock.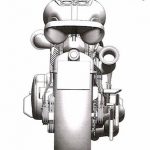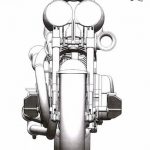 If Matchless returns as tipped at the Milan motorcycle show in November, it will likely be as a bespoke limited-edition model, much like the new Hesketh rather than the bigger volumes of the new Norton. But it certainly shows a continuing interest in the old British brands. What's next? A BSA Gold Star revival? I'd like to see that!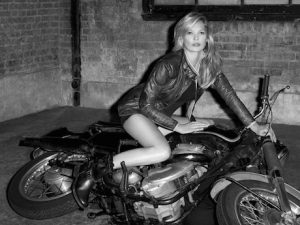 Meanwhile, you can indulge yourself in the venerable brand with a range of men's and women's branded leather and waxed cotton jackets produced through the owner's connection with Belstaff. The ad campaign for the 2014 collection features controversial British model Kate Moss.
Interestingly, their  website says the ad campaign "features Moss on Marlon Brando's motorbike from generation-defining film The Wild One." However, Brando rode his own Triumph in the 1953 film. But there is a black-and-white photo of Brando on the Wild One set, sitting astride his 600cc Matchless Scrambler. Perhaps that is the bike Moss is seen sitting on in an odd pose with the bike sprawled on the floor.