Marsee ZIPP Bag Image Gallery
Soft luggage with self-supporting main compartment for shape.  Works well on larger sport touring and on/off road motorcycles with excellent ability to serve as main travel bag for other ground or air travel.
Depending on mounting technique, can be removed quickly (one to two minutes typically). Water-proof exterior, full rain cover included for extended periods of exposure and protection from elements.  High-visibility item with reflective piping and interwoven reflective material.
Some motorcycles are at their limit with the weight of a rider and a passenger, so it's important to find a lightweight, safe and secure solution for carrying additional cargo.
Soft motorcycle luggage is relatively light weight and it has become very popular for this reason.  There are many tried and true soft luggage products available, with new items coming to market seemingly every day.
For those of us who do have the need — and the ability — to carry a lot of gear, the Marsee ZIPP bag may be that new and innovative product you're looking for.  I discovered the ZIPP bag while visiting BMW Motorcycles of Daytona in March of this year.  They were featuring Marsee gear, and we couldn't escape without buying one or two items because they can be difficult to find north of the border in Canada, where I live.
Marsee is well known for quality motorcycle luggage of all types, shapes and sizes (Editor's Note:  We've reviewed several Marsee products, including the Teardrop, the Rocket Pocket and the Mighty Mini tank bags).  While their products are typically more expensive in Canada due to import tariffs and exchange rates, the design, form, function and quality is outstanding and any premium is well worth it in my opinion.
Marsee touts the ZIPP duffel bag as the "Houdini" of travel bags; in many ways, it is very true.  The bag has a combined nominal storage capacity of 50+ litres, provided by a main compartment and four small auxiliary bags, three of which are removable.  Two large portfolio or briefcase style side bags zip off the main compartment, as does a smaller bag on one end, while the non-removable bag is stitched to the end of the main compartment.
Made of 1050 denier ballistic nylon with a waterproof coating, the bag is typical Marsee quality: zippers are large and easy to use (as long as the teeth are aligned correctly) with large, reflective zipper pulls; the main case and the two side bags have strong and comfortable rubber carry handles – a great feature given the versatility of these bags.
By executing a "Houdini", the bag becomes much more than just a padded duffel.  The entire main case is outlined by a large full length zipper, allowing the bag to be unzipped and laid flat, or hung wardrobe style, much like other commercial soft travel bags.  However, the ZIPP bag is unique in that it was designed as a motorcycle bag that can also be used for many other purposes.
Unzipped for packing, standard clothes hangers can be accommodated and various hooks and loop straps are provided to keep clothes and other small articles or sundry bags in place.  Three large plastic hooks are well positioned for hanging the whole bag when it is unzipped.
The hanger hooks themselves are somewhat lightweight in construction but between the three of them, they would likely support the weight of the bag when packed with clothes just fine.
As noted, the main compartment sidewalls are fully padded and it easily holds a notebook or two, as well as clothing or other gear.  Four internal mesh pockets — all with zippers — provide storage and ventilation for numerous items, including smaller sized clothing or sundries.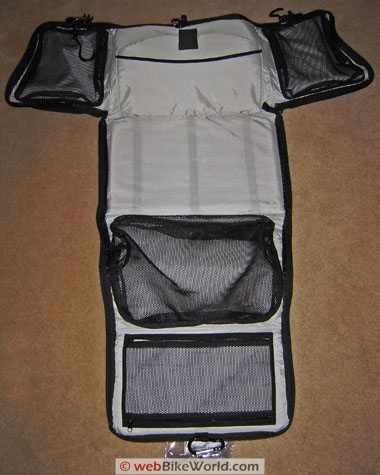 One of the two large removable side bags is designed as a portfolio that can hold a small notebook or handheld computer in the main (lightly) padded pocket, along with 8 x 11 inch files or paperwork, while the internal organizer area holds smaller items.
This portfolio is extremely useful as a portable office bag — quick to remove, easy to access, and quite stylish.  I have received several comments on its compact size, functionality and its looks from my office mates.
The second large removable side bag can also be used as a portfolio bag; in reality it is more useful as a "gear" bag for holding items like lightweight spares or a compressed air kit or tools.  These items can be stowed in the stretch loop pockets or the sewn-in rolled tool wrap — all very practical.  For purposes of evaluation, everything that had been packed into another soft case and carried in the main compartment (or a pannier) was successfully repacked into this removable gear bag.
Given the common zipper configuration, the two side bags can be interchanged on the main case.  I keep the briefcase bag on the road side, and the gear bag on the curb side so when I need to access the bag, I'm hopefully on the opposite side of the traffic.  These two large side bags are one of the best features of the ZIPP unit.
The one small removable end bag does not have a carry handle and is obviously designed to be used as a removable toiletry bag with its various mesh pouches.  However, for day to day use, we use it as the removable emergency bag, packed with emergency flares, an emergency "space" blanket and the small first aid bag we carry on all our motorcycles.  The other end bag, while not removable, also has mesh organizer pouches and is used for small items we typically want to access quickly during travel.
Overall dimensions of the unit, with all removable bags attached are: 18 inches long x 11 inches wide and 12 inches tall (46 x 28 x 30 cm approximately).
The side bags are 14 inches long x 3 inches wide (deep) and 8.5 inches tall (36 x 8 x 22 cm approximately).  The main unit is self supporting given the light weight, but effective padding that is sewn between the inner and outer layers.  The stated load limit of the bag is 18 lbs, or 8.2 kgs.
From a mounting perspective, the bag does not have a true front or back, unless one wants the end pouches in one specific orientation.  As mounted on the BMW R1200GS Adventure seen in the photos below, the ZIPP bag is an excellent fit lengthwise on the rear aluminum rack with the two side bags partially supported by the raised side-rails of the rack itself.
Six 28 x ¾ inch (71 x 2 cm) nylon straps are provided for mounting, three on each side, equally spaced along the bottom edge of the bag.
Each strap has a quick release connector pair, allowing the straps to be connected side to side or used individually to provide six unique mounting points.  Each strap has its own hook-n-loop wrap at the end, allowing any excess to be rolled up and secured out of the way.  When not in use the straps can be rolled up and tucked inside their own individual pocket for safety and visual appearance.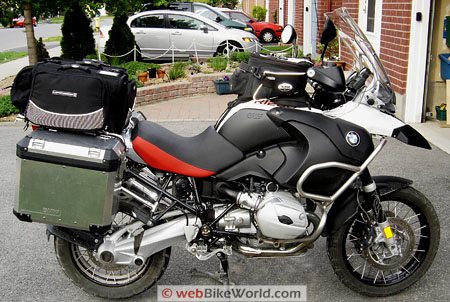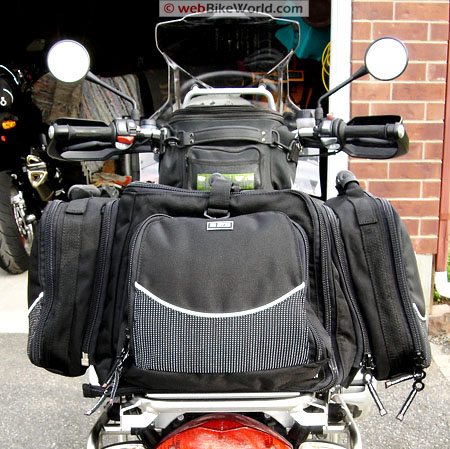 The bag could also be mounted across the back of a motorcycle, especially one with side panniers mounted and appreciating its size and cargo carrying capacity, it seems to be more oriented towards use with larger sports touring and on/off road motorcycles that can easily accommodate the base dimensions of the bag and the load it could carry.
We have two ZIPP bags now, one on each Adventure.  One of the bags does double duty on the '06 K1200R as well; it fits perfectly lengthwise on the passenger seat and rear rack area and is easily secured using the straps.
In typical Marsee fashion, all logos and piping is reflective and the portion of each outer panel below the piping is woven with the retro-reflective material as well.  This bag really lights up in low light conditions or when exposed to a bright light — a good thing.  A reflective rain cover with a bottom elastic tensioner is included, as is a two inch wide shoulder strap with two swivel hooks for use when using the unit as a shoulder bag.
Like all Marsee products, it is extremely well made.  Marsee warranties their bags for life, to the original owner, against defects in materials and workmanship, less fading or abuse of course.  A simple information booklet that contains some valuable care and use information, and well stated warnings, is provided.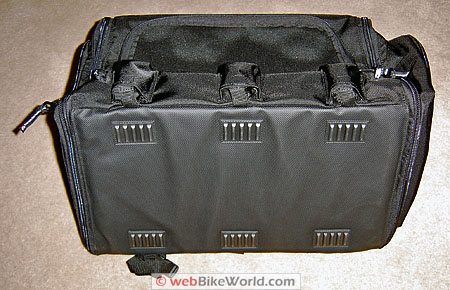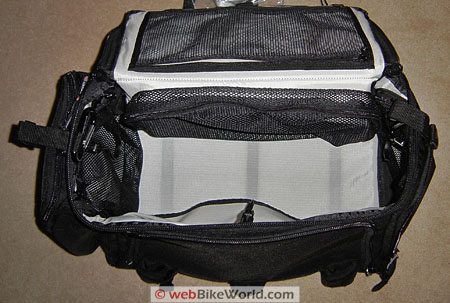 Inside the main compartment.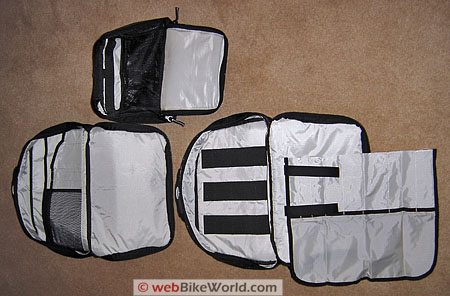 Interior of the various detachable bags.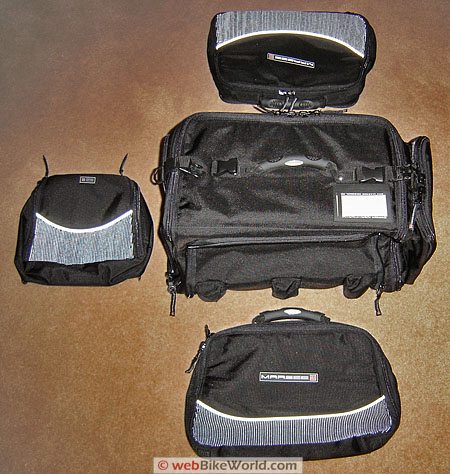 Marsee ZIPP bag detachable luggage modules.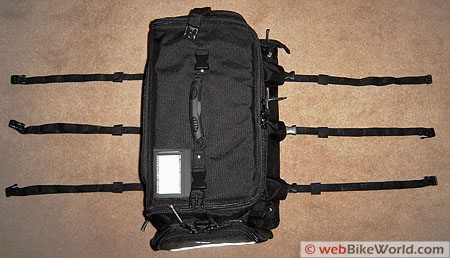 Plenty of straps to mount it on the bike (see next photo).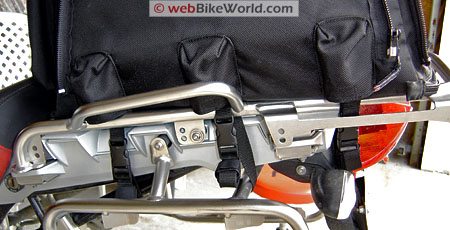 Nits 'n' Picks
Securing points — although the six versatile bottom straps provide flexibility in mounting and securing the bag, we were surprised that outside of two attached D-rings on the top of the case for the provided shoulder strap, there are no other mounting points.  Most other Marsee and related products provide alternate or additional tie-down points, typically by attached D-rings.  Given size, capacity and its potential for being mounted on a wide range of motorcycles, the absence of any other securing points is somewhat puzzling.
The quality of workmanship and features provided in this bag are outstanding and outside of the lack of other tie-down points, the bag is well worth the money and should provide many years of service to its users, on and off the motorcycle.
Conclusion
Marsee's ZIPP bag, while fitting somewhat in the larger bag category, is a very good combination for use on a wide variety of motorcycles.  Its large main compartment with mesh storage, along with the three removable bags lends itself to daily and extended use activities.
We have been using both of them on the BMWs for a month now and have come to rely on them to protect and securely hold whatever we pack in them.  The next trip for one of them is to the BMW RA Rally in June as the primary bag for the K1200R.
Product Review:

  Marsee 

ZIPP Bag
Available From:  Marsee Products
Suggested Retail Price:  $248.00 USD or 299.00 CAD (appreciating import tariffs and exchange, etc).
Colors:  Black
Made in:  Unknown
Review Date:  June 2007
Note:
  For informational use only.  All material and photographs are Copyright © webWorld International, LLC – 2000-2011.  All rights reserved.  See the webBikeWorld® 
Site Info page
.  NOTE:  Product specifications, features and details may change or differ from our descriptions.  Always check before purchasing.  Read the 
Terms and Conditions
!
Owner Comments and Feedback
Comments are ordered from most recent to oldest.
Not all comments will be published (
details
).  Comments may be edited for clarity prior to publication