A road-legal motorcycle powered by a Rolls Royce helicopter turbine engine and the successor to the famed Y2K is set to smash more world speed records next month.
The bike broke three world records and one British record last year at the annual Straightliners Events Top Speed Weekend and is expected to break some more at the third Pendine Sands event on May 21-22, 2016.
Organisers expect about 50 entries from across the UK on a wide variety of two, three and four wheeled vehicles and bikes.
Leading the charge will be Guernsey business man Zeff Eisenberg on his £350,000 helicopter engined MADMAX Turbine motorbike.
The reason for this considerable investment is the Rolls Royce turbine, which require specialist tools, attention, safety and care.
Zeff, a 43-year-old father of two, and his team took four years to design, build and get to where it can set or break world speed records.
As well as the turbine bike, the MADMAX Race Team has produced a range of other unique vehicles and bikes. 
"I get a lot of pleasure out of creating crazy machines that deliver in the real world," Zef says.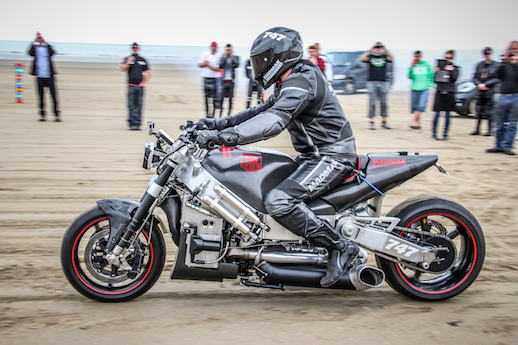 "We don't make anything just for looks – Vehicles that look great and deliver results is our goal."
Mad Max is a continuation of the Y2K project built by Marine Turbine Technologies (MTT) in 1988.
Y2K motorcycles were rare and highly sought after. American talk show host Jay Leno has one and there was one in the Australian Motorcycle Museum near Ipswich which is now closed.
When MTT dropped the Y2K to concentrate on mining equipment, Maxicorp founder Zef Eisenberg visited their HQ in Louisiana in 2005 to strike an agreement to take over the development of the next generation of turbine bike.
Spectators can attend the Straightliners event for free, while participant entry is £150 and £50 for an extra machine per day. Discounts are available for multiple day entries.