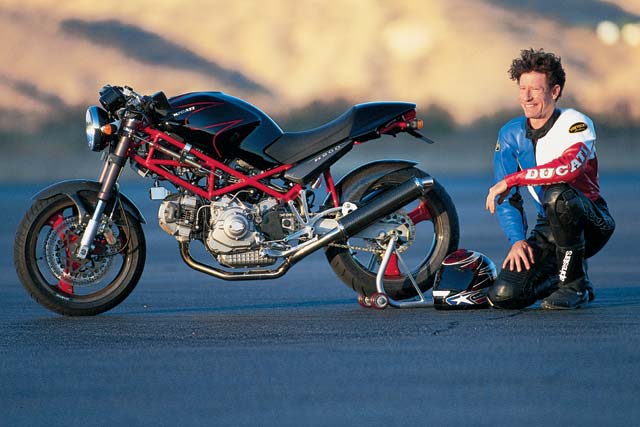 Lyle Lovett: motorcycle rider.
I love hearing about celebrities who are into motorcycles.
It affirms my belief that motorcycles are a great leveler.
A lot of celebrities also like the anonymity donning a helmet gives them. They can then go out in public without being noticed and harassed.
Someone who probably wouldn't be noticed too much out on the streets of Australia would be actor and musician Lyle Lovett, 55.
The big gawking-looking Texan's claims to fame include four Grammy awards, cameos in TV shows such as Dharma and Greg and Mad About You, and bit parts in movies such as Fear and Loathing in Las Vegas and When Angels Sing.
But his biggest claim to fame could be his two-year marriage to Hollywood glamour star Julia Roberts.
But we're more concerned here with his love for motorcycles.
Lyle opened a motorcycle shop in Houston called Cycle Shack back in 1999 selling BMW, Aprilia, Cagiva, Triumph and Yamaha.
"I've been involved with motorcycles my whole life," he says in an interview with the American airlines magazine, "American Way".
"I ride off-road mainly, and I ride KTMs. I've never done the Baja 1000, but from 1995-2001 I would go down a couple of times a year and ride the course.
"The ride is pretty reasonable if you go down with people who know the area."
He also has a wide collection of road bikes as diverse as sportsbikes and cruisers.
Click here to see a video of Lyle riding off-road in South America.