Do you know what you should look for in a leather jacket, pants or suit?  We're not talking about style, but protection.
Is cow or roo leather best? Should the gear have triple stitching? What do the EN numbers mean? What armour should it have? Do perforations make it weak?
We asked Brisbane leather exert Andrew Smart of Ricondi Motorcycle Apparel for his tips on what customers should look for whether they are buying a leather jacket for the road or a suit to go racing.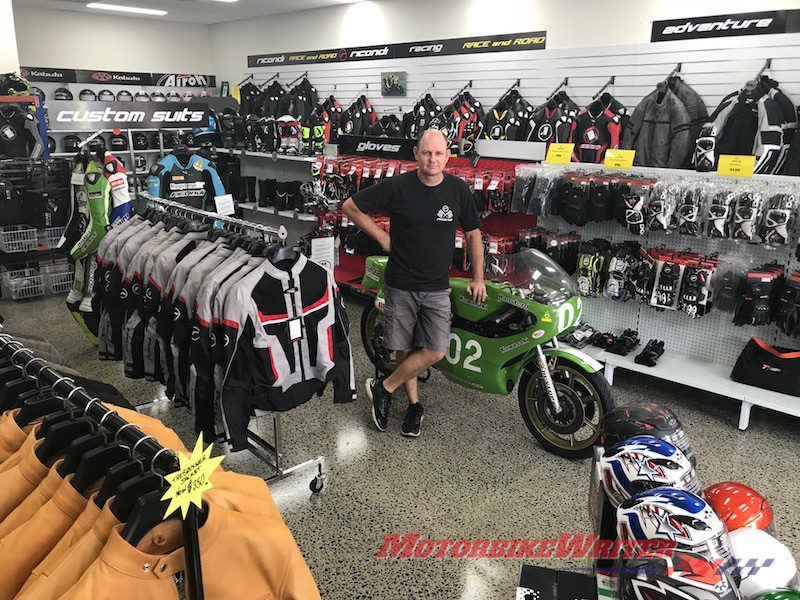 Here are his tips:
Leather
Andrew says leather thickness does not equate to quality.
Leather hides are split into layers and the toughest is the outside layer, or "top grain".
It is difficult even for some experts to tell top-grain leather from lower layers, he says.
So you may simply have to trust the label if it says "top-grain leather". Typically cheap products use cheap leather.
Usually it feels more supple, has a rich natural grain ad doesn't have a plastic-sheen look.
However, Andrew warns that some manufacturers run their hides through a roller that imprints a false grain.
Both kangaroo and top-grain cow hides are good quality and many racers these days choose kangaroo.
Properly tanned roo hides are stronger at a thinner thickness which can make a garment lighter, more supple and more comfortable.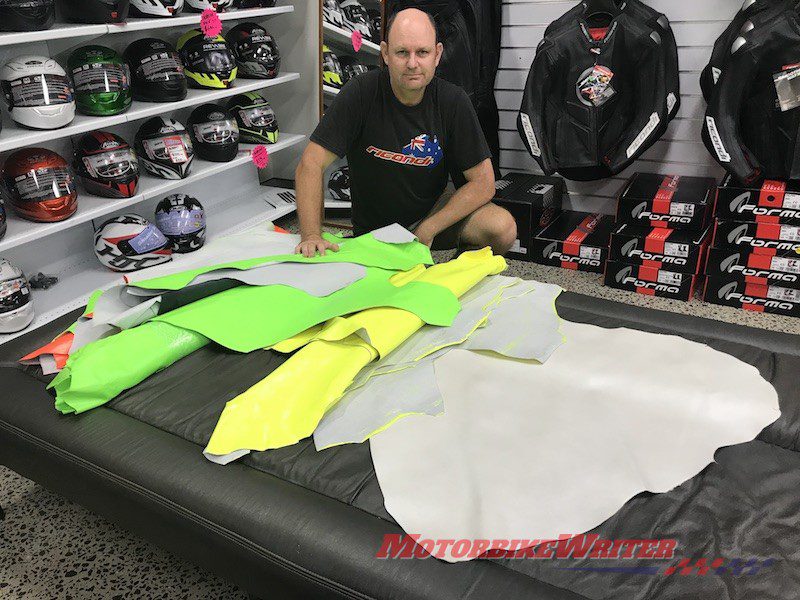 Andrew calls Roo the "carbon-fibre of leather" because of its low weight and high resistance to abrasion and tearing.
Kangaroo hide should be 0.9mm to 1mm thick and cow hide needs to be 1.1-1.3mm, Andrew says.
Armour
Make sure the jacket has CE-approved labelling and features the latest softer impact reactive armour in the elbows, shoulders, knees and back.
Avoid old armour that used to consist of a plastic shell with foam underneath. The plastic tends to crack on hard impacts.
Modern armour is softer to absorb the impact and disperses the energy.
To test it, Andrew put some armour on his concrete floor and hit it hard with his fist to show how it absorbs the impact force.
Look for the armour's European approval number. EN1621-1 is for shoulder, elbow and knee armour and EN1621-2 is for back protectors.
Sometimes they will also indicate a number to show protection levels. Level 2 has a higher impact rating than level 1.
"The main thing with the armour is that it should fit properly and not move around in the jacket or suit. The best armour in world is no good if it's not being held in place with a correct fitting jacket or suit," Andrew says.
That means it will stay in place if you fall off. No point having armour if it falls out of place when you hit the ground.
Some race suits also have armour on the outside, usually with a made from PU and or a metal slider such as titanium.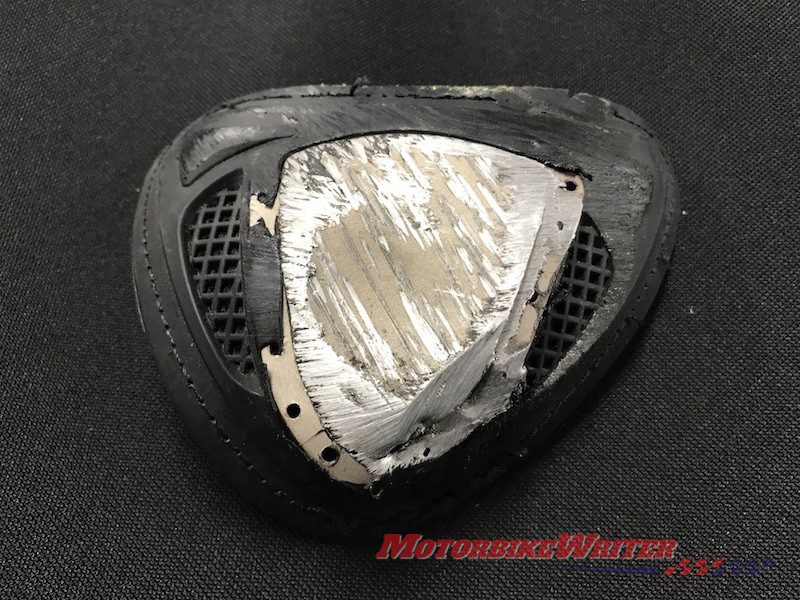 Make sure it is backed by leather and they haven't cut a hole in the leather to fit the armour.
"I don't get why a company would cut a hole in the suit to fit this shoulder armour," Andrew says.
"Having it stitched on the outside of the shoulder for example not only adds to better impact protection but more importantly protects the integrity of the suit."
Also, make sure it is extra armour and doesn't simply replace internal armour.
Seams
Check the seams and stitching both outside and inside.
Andrew says customers should not just look for triple stitching.
It depends on what type of seam they use.
Andrew uses at least one blind seam which means at least one stitch thread is not visible, or protected by leather.
"Where possible we use a flat seam in more impact prone areas on the suits. This is to try and help the suit seam slide rather than catch on the ground."
Most cheap leather jackets and suits simply stitch one piece of leather over the top of the other.
Andrew says this exposes the seam which can catch on the road surface and tear.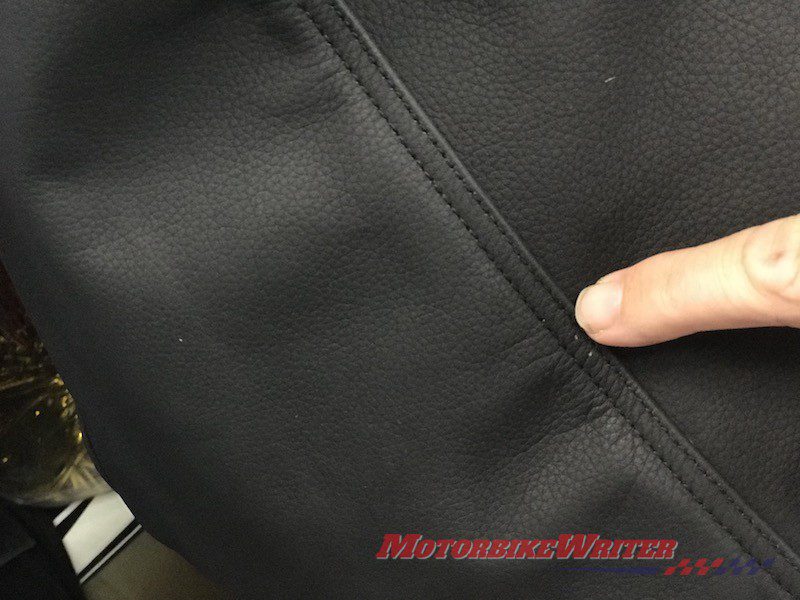 If that happens, the seam stitching can rip no matter how many rows of stitching it has.
You should also check the inside of the seam to see if the multi-row stitching is bonded or reinforced with another material, usually a nylon but sometimes leather.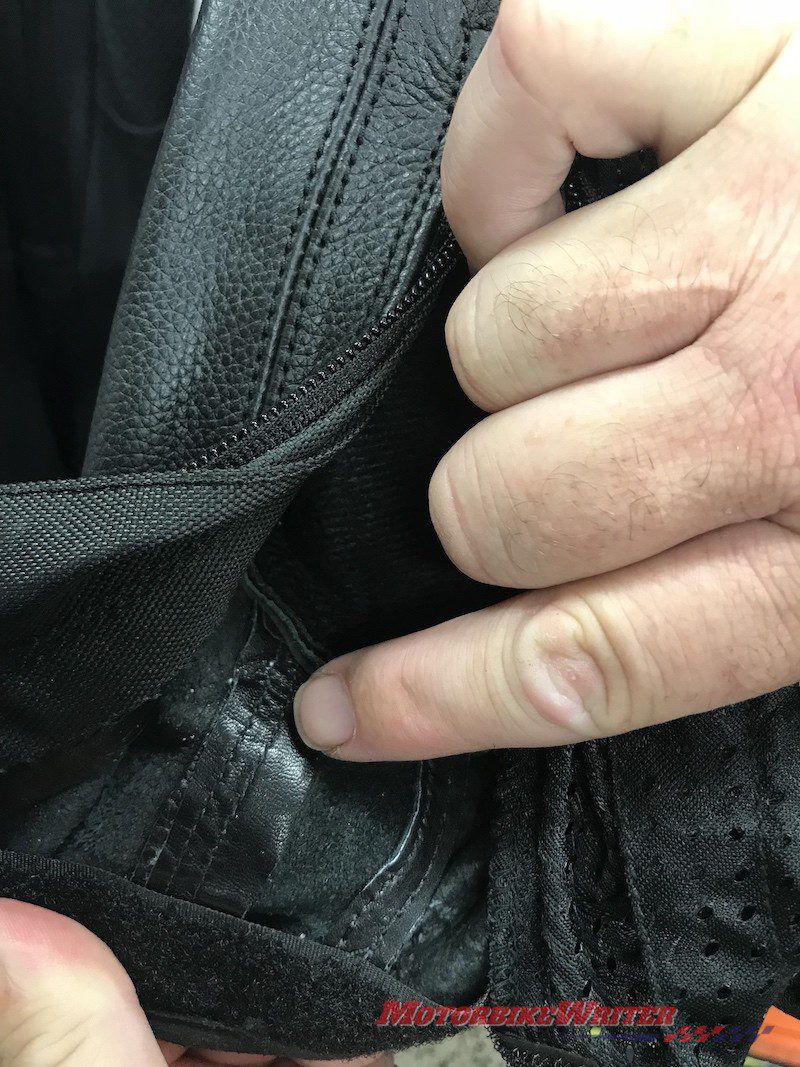 Perforations
Leather is not breathable, so you may need perforations to ensure you don't sweat too much.
Perforations also take some of the weight out of the leather, pants or suit which makes it more comfortable in a race or riding long distances.
However, perforations can weaken the leather at that point, so try to avoid perforations in any impact areas.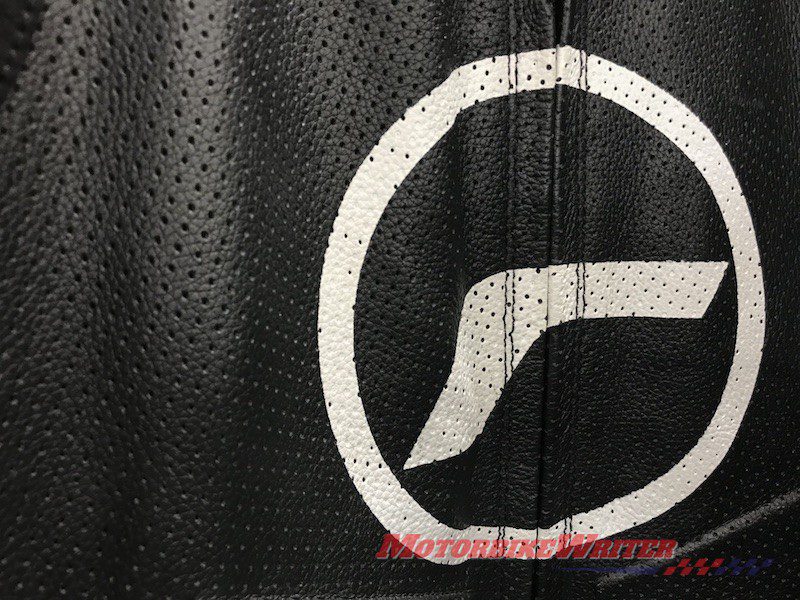 Perforations are best if restricted to the chest and inner thighs which are least likely to hit the ground in a crash.
They should also be small pin-prick holes, not big gaping holes.
Zips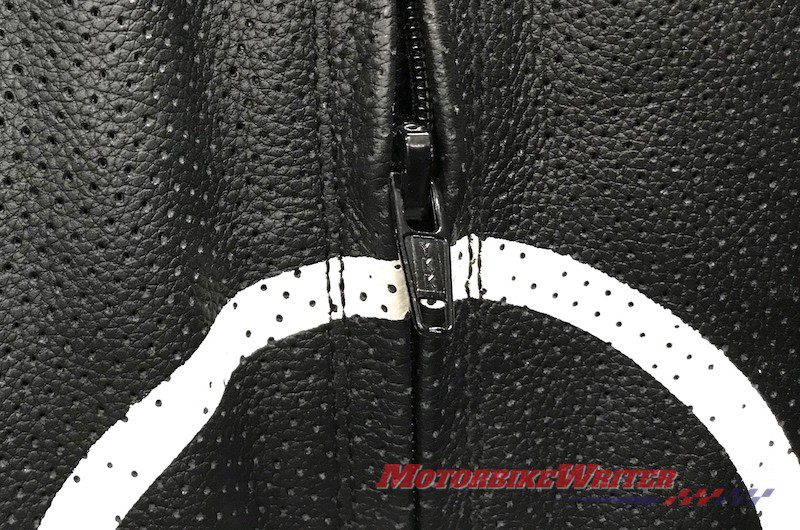 Zippers are also weak points in a jacket, so you need a high-quality, strong zip.
The industry standard is YKK, but be aware that some manufacturers simply copy the logo and stamp it on their zips.
While metal zippers may seem stronger than nylon zippers they also tend to snag and don't run as easily as nylon.
Fit
It needs to fit firmly, but have enough flexibility to be comfortable, Andrew says.
You don't want it to shift around if you come off as that can relocate thew armour to a position where it does not protect you.
You also don't want parts of the leather flapping around at high speed, which can be uncomfortable, fatiguing and annoying.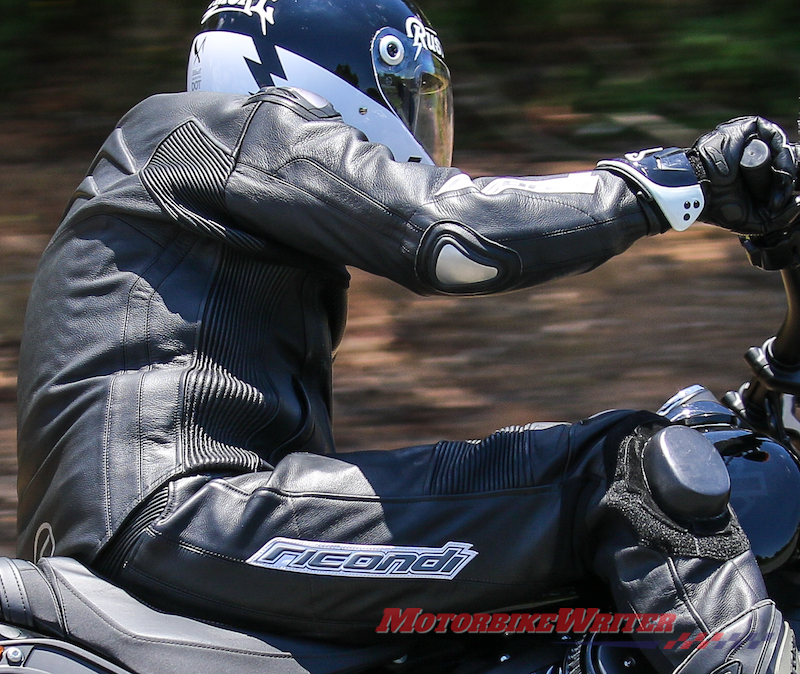 Stretch panels help you get a tight fit without making the jacket, pants or suit uncomfortable.
But make sure they are made from a mixture of Spandex for stretch and a tough material such as Aramid for abrasion resistance.
These panels should also be in areas of least impact.
Click here for our guide to finding the perfect road jacket fit.
Warranty
Few manufacturers provide a warranty on leather goods.
But even if they do, you should check to see what it covers.
Of course, they won't cover a crash, but if a seam, zipper or component fails in that crash, then it should be covered.
Andrew says he has a full five-year warranty on all his leather products and cannot remember ever rejecting a warranty claim.
"Crash damage aside, a Ricondi product is expected to last beyond its five-year warranty but if a product is in a crash and not performed as expected we will look at it on a case basis." he says.