A large collection of photos from Ewan McGregor's and Charley Boorman's Long Way Down motorcycle journey will be part of an eclectic mix of motorcycle items up for auction in Las Vegas in January.
The 32-piece framed collection captures scenes of the duo's 2007 14,000km Long Way Down odyssey from Scotland to South Africa is estimated to fetch up to $US7000, with profits going to UNICEF.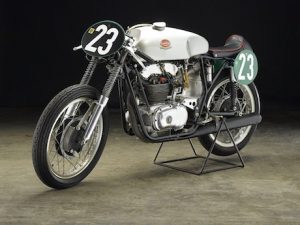 It is another stellar part of the annual motorcycle auction which will also feature legendary racer Mike "The Bike" Hailwood's race-winning 1957 FB Mondial 250 Bialbero grand prix bike and bikes belonging to an Easy Rider star.
Several motorcycles from the estate of the late, great actor Dennis Hopper who was also Easy Rider director will be offered at the fifth annual Bonhams Las Vegas Motorcycle Auction in Bally's casino on January 8.
They include a 2003 Indian Chief and a 2006 Harley-Davidson VRSC "V-Rod". In keeping with the inseparable link forged between Hopper and Easy Rider co-star, a special edition 2007 MV Agusta F4-1000R superbike has been consigned by Peter Fonda.
Last year's Bonhams auction set several world records and next year's promises the same.