It seems too early to be thinking about Christmas, but already motorcycle clubs and organisations are getting into gear for their annual charity toy runs.
We have listed several below, but this is in no way the complete list.
Organisers are urged to list their toy runs here. Click here to send details to us via email and we will add your toy run to this article.
Most toy runs accept gifts of toys and non-perishable foods which are distributed by various charities to needy families.
Riders are encouraged to dress up and decorate their bikes.
Toy Runs
(Click on the place name for more details)
November 17
Cairns: The fourth annual toy run on Saturday November 17 starts in Wharf St at 11.30am, hosted by the Cairns and Tablelands Recreational Motorcyclists.
November 18
Brisbane Santa Ride: Last year almost 300 bikes took part and organisers expect more this Sunday at New Farm Park from 8am,,through the city to McDonalds Bracken Ridge. All proceeds go to Ronald McDonald House.
November 25
Townsville: 38th Salvation Army Christmas Toy Run Appeal on Sunday November 25 at Village Boulevard Riverway Park under the trees with a 100km ride from 9am. Donations can be dropped at North Shore Woollies or Toyworld.
December 1
Hobart: The 38th MRA Toy Run starts at the Derwent Entertainment Centre at noon on Saturday, December 1, and finishes on the lawn in front of Parliament House.
Gippsland: The 19th Gippsland Motorcyclists Toy Run will be held on Saturday, December 1.
Bendigo: December 1 meet at Lansell Square car park from 8am for an 8.30am ride.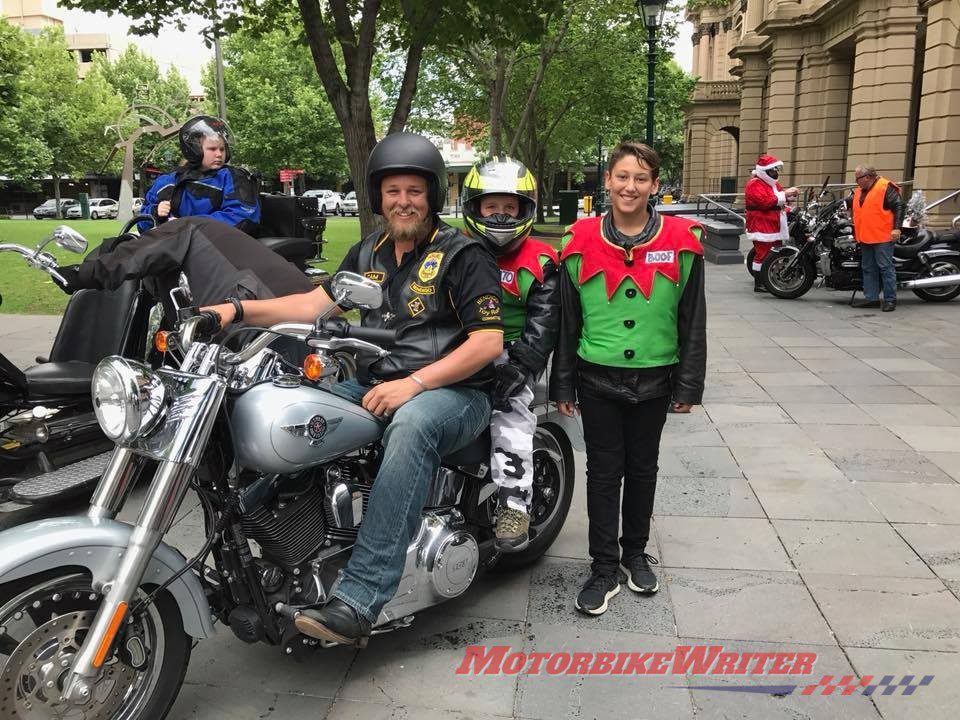 December 2
Newcastle: The Bikers for Kids Toy Run is one of Australia's oldest and arguably the biggest. More than 12,000 are bikes expected for the 41st running of the event on Sunday, 2 December 2018, from Stockton to Wickam Park from 8am. Click here to register. this year's theme is superheroes!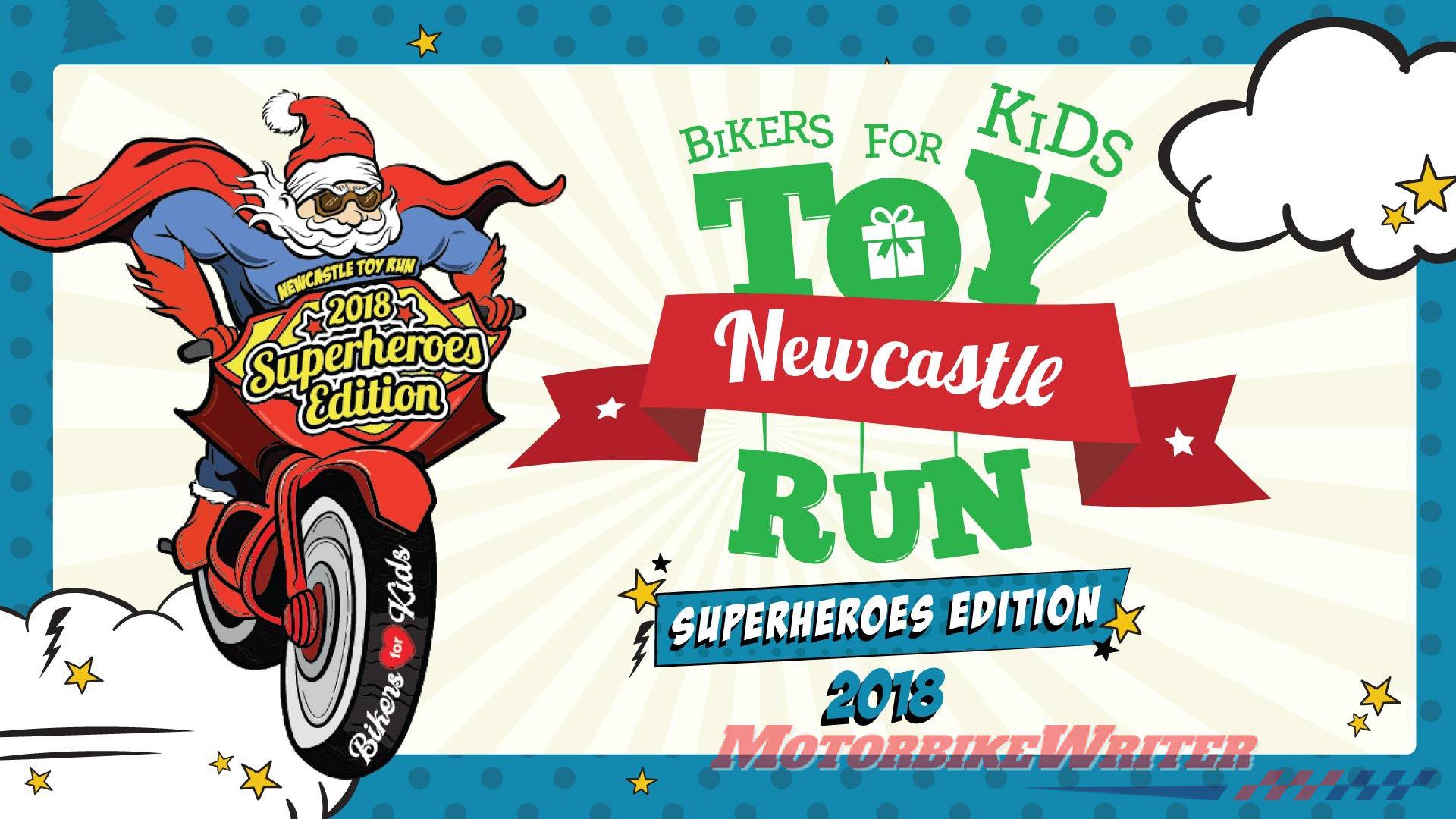 Port Melbourne: The Father Bob Toy Run on Sunday, December 2, has starting points all directions from regional and outer suburbs heading to 1 Wharf Rd, Port Melbourne for 11am.
Sunshine Coast: Ulysses Toy Run starts at Kawana Shoppingworld on December 2 from 8am and ends at the surf club.
December 8
Canberra: The 38th Annual Motorcyclists Toy Run from the Old Parliament House is on Saturday December 8 from 8am with a ride at 10am.
Kingaroy: South Burnett Bikers Toy Run on Saturday December 8 from Mitre 10 from 9.30-11am for a ride to the showgrounds. Call 0428-960-480 for more information.
Wollongong Santa Ride for Charity: City Coast MC & Litas toy run starts at 9am at the North Wollongong Hotel, Schilles Ave. Registration is $10 and goes to the Salvos. This mixed social ride supports the famous Santa Claus Pub Crawl for Charity 2018 – 25th Anniversary Year.
Sale:  The 21st Annual Keith Hamilton Toy Run on December 8 at 9am from the Sale Clock Tower is already accepting non-perishable food, children's clothes and toys in the sleigh at the GJ Gardner Homes office.
December 9
Melbourne: The Melbourne Toy Run has starting points all over the city heading to Tabcorp Park on Sunday, December 9 at 10am.
Geelong: All types of bikes are welcome at Deakin Waterfront Carpark from 10am for the 26th annual Geelong HOG Toy Run. Entry is $10 per bike. Bring cash, toys, non-perishable food and vouchers for Bethany Family Services (The annual Giving Tree appeal), Geelong Hospital Children's Ward, Cottage by the Sea and The Sanctuary Counselling Service. Ride goes to Princess Park Queenscliff where there will be entertainment, food and auctions. About 1500 bikes are expected.
Ipswich: The Lockyer Branch of the Ulysses Club holds their toy run on Sunday, December 9, from 8am at Brassall Shopping Centre.
Perth: The fourth annual Rockingham Toy Run on December 9 leaves from Reading Cinemas  Belmont at 9am on Sunday, December 9.
Adelaide: The 40th Motorcycle Riders Association of SA Toy Run will be held at the Clipsal Track on December 9, finishing with a fete on Callington Oval.
December 16
Toowoomba: The 41st annual Motorcycle Toy Run on Sunday, December 16, at noon leaves Picnic Point and ends at the showgrounds.