Restoring Mini Hondas with Museum-Level Attention to Detail
There are the kind of minibikes that I race in the Pullstart Racing League—mashed-together ugly things that remind you of what a punk rock band would look like if it took minibike form—and then there are the little bikes that Tracy Schooler and his wife Kellie restore at their shop Lil' Bikes Restoration. 
Lil' Bikes Restoration is a specialty Honda Z50 and CT70 restoration motorcycle shop based in Brownsburg, Indiana. It's run by Tracy and Kellie and it's a small operation that turns out bikes that are immaculately restored. 
I met Tracy through a friend of mine, Tabb Adams, who runs an heirloom-grade custom furniture shop called Cross Cut Vintage Designs. He introduced me to Tracy and Kellie during an event at his shop. Tracy and Kellie brought along one of the bikes they restored that they were auctioning off for charity. It was a Honda Z50 painted pink and absolutely stunning. 
I wrote about that bike in early October. Shortly after, Tracy invited me out to his shop so I could see how he does what he does. Because I'm a sucker for small bikes and the first bike of Tracy's I saw was pretty impressive, I eagerly accepted the invitation.
Honda Mini-Motorcycle Heaven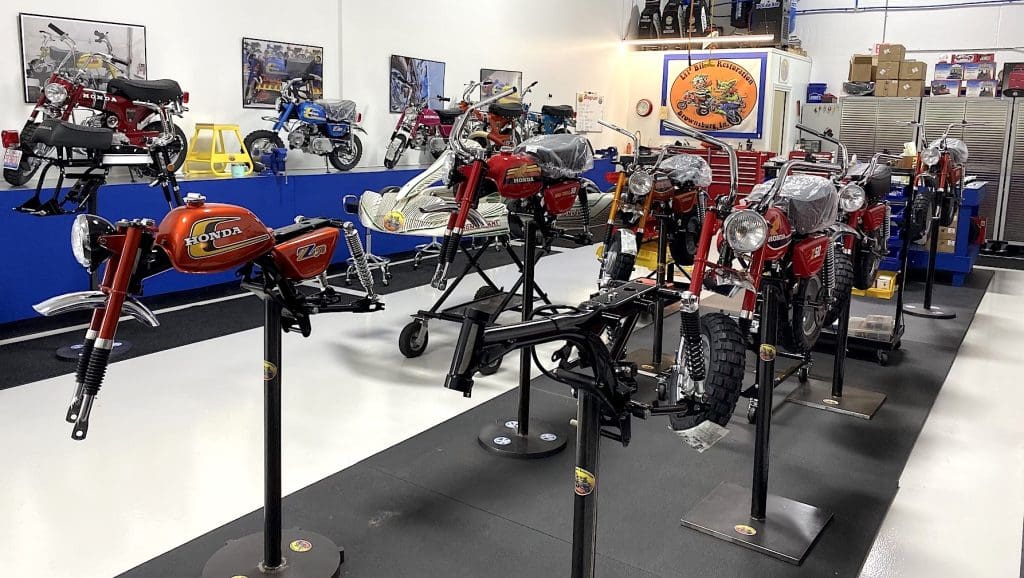 I'm not a super excitable guy, but I couldn't help but grin after entering the shop. Tracy had met me at the door, after chatting a bit, went inside and I was greeted by the cleanest shop I've ever seen where things still obviously get done. 
I felt like I could eat off the floor if I wanted to. It was clean, and not the kind of clean like they cleaned up before I came. You can tell that Tracy and Kellie keep the shop in order. There were several Z50s in various states of repair on stands in the middle of the room, multiple finished projects along the wall and a couple of additional bikes near the front of the shop.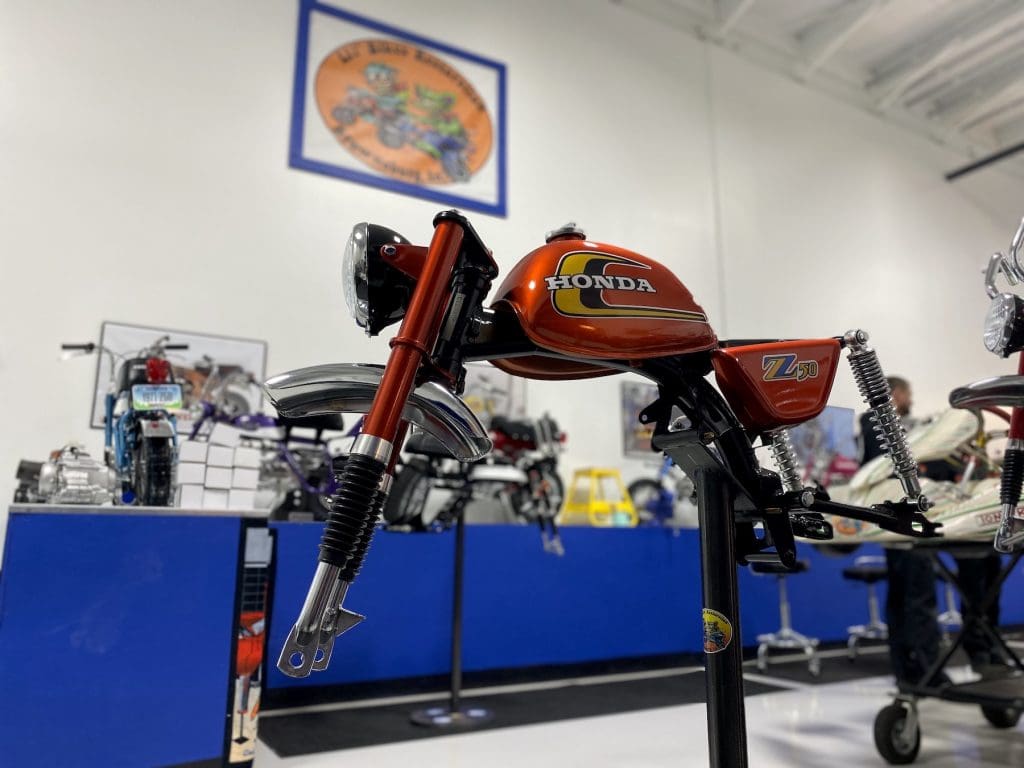 This is where mini-Hondas go after they die and are ready for their resurrection. And that's exactly what Tracy and Kellie see from their customers. Most of them are people who rode these bikes as kids. The customers have fond memories of the little motorcycles and either want to relive those moments, let their kids do so, or just have a reminder of the bike in their place of business, garage, or wherever they spend their time. 
No job is too big or small for the shop. They tear these little bikes down to the frame, repair or replace anything that it needs, and find or make the parts they need. "We don't use any Bondo," Tracy told me. "We weld and do the hard work on everything."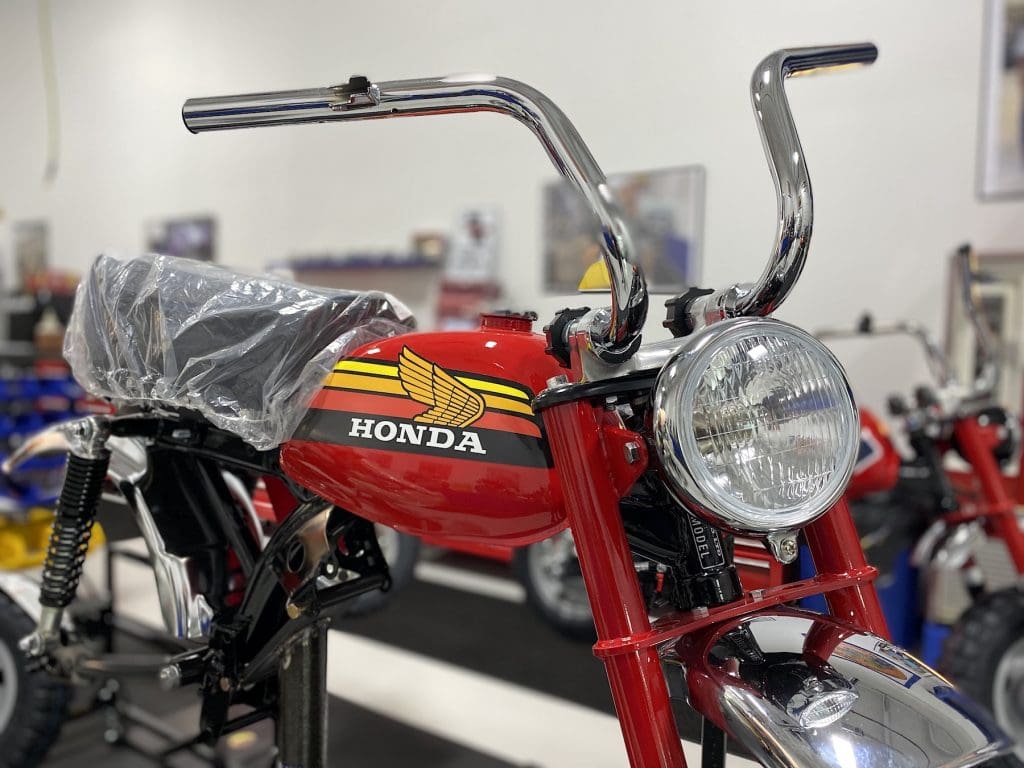 They do everything in the best way possible. They sandblast the frame, rebuild the engine, overhaul the transmission, put in a new clutch, install new tubes and tires, and replace every single nut and bolt on the bike. No detail goes overlooked, and it's clear from the moment you see these bikes that they're rebuilt and restored by people who truly care about what they're doing. 
Tracy does resto-mods, too. I can tell that he mostly enjoys restoring the bikes back to their original state, but he had one Z50 in the shop where the customer wanted a larger engine capacity, special handlebars, a unique exhaust, and more. We chuckled about it a little bit as I wandered around the space. 
Kellie has her own mini-moto plans. For the parts that they can't restore or use, she plans on making moto-inspired wall art. She's working on some of her first pieces now. The idea is to keep them rustic-looking and target moto-loving people and businesses. I'm looking forward to seeing what she makes.
Don't Let Your Memories Die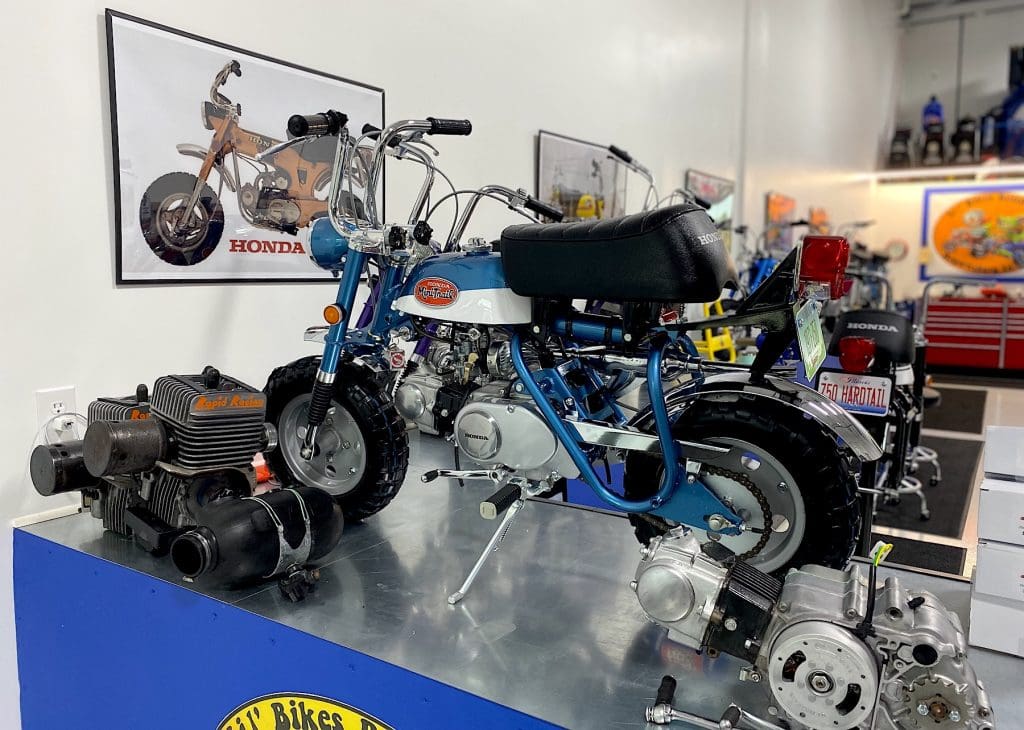 As an avid lover of everything two wheels and especially minibikes and small-displacement machines, I love what Tracy is doing. 
The shop is into its second year in operation and is expanding through word of mouth and social media almost exclusively. Tracy and I talked about how these bikes and the work that he does on them transcends the motorcycling community. 
Nobody is scared of a Honda Z50. That means people who don't consider themselves motorcyclists still find these bikes interesting. They might think they're cute, cool, or downright silly, but the little motorcycles get a reaction. 
There's a positivity around these bikes that you can feel, and Tracy does an excellent job amplifying that with his work. The bikes don't come cheap, but then quality work never does. The Z50s for sale on the company's website run about as much as a new Honda Monkey, but instead of a rehashed version of the past, you get the real item.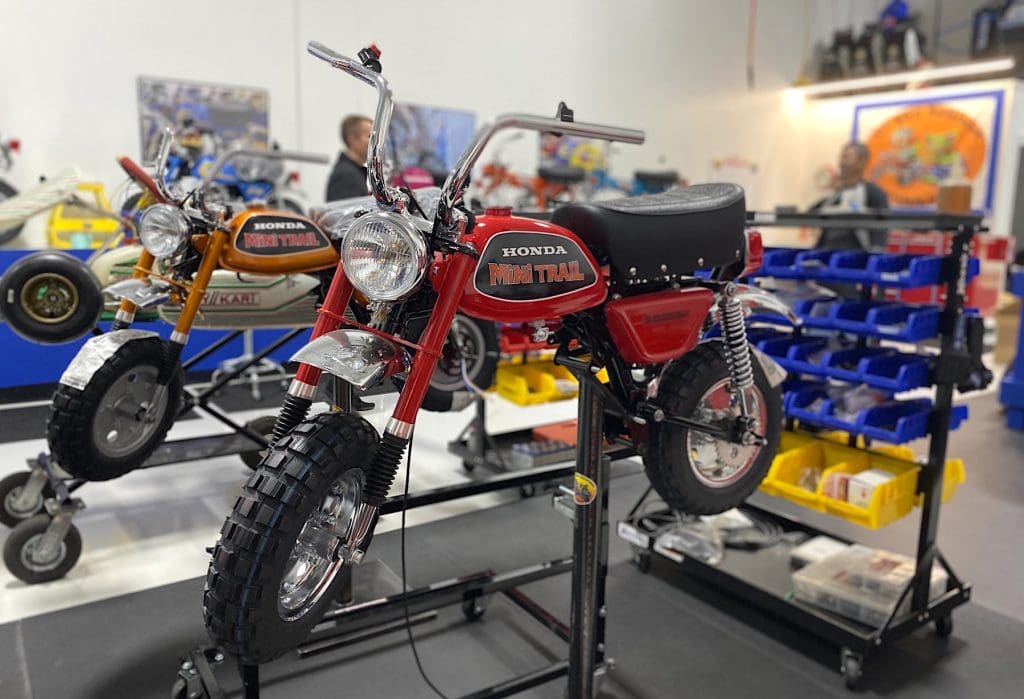 There's a place for the Honda Monkey in the world, but there are few shops like Tracy's that do this level of restoration on machines like this. His shop is unique, and it's something that should be celebrated. 
I know this reads a bit like an advertisement for the shop, but it's not. It's a look at a business doing something special in the motorcycle industry. Tracy's enthusiasm for these machines matches and even exceeds my own. At AIMExpo this year the Motorcycle Industry Council talked a lot about bringing in new riders and focusing on being more inclusive and supportive overall. Tracy and Kellie are doing just that. 
While there are plenty of things I would say the industry needs to do as a whole to achieve its goals, key among them is building and supporting things that pique the interest of not only other riders but people in general. Tracy and Kellie are doing this with their shop, and for that, they get a big thumbs up from me.