A video has been released showing 2008 and '14 F1 champion and Mercedes-AMG driver Lewis Hamilton doing a burnout on an MV Agusta Dragster RR named in his honour.
The stunt will remind fans of his controversial burnout on a Melbourne public street after winning the 2010 Australian GP. He was fined $500.
The Lewis Hamilton Dragster RR is another example of the long-term partnership with Mercedes-AMG since the German took a 25% share in the Italian motorcycle manufacturer last year.
It follows the recent unveiling of the one-off Solarbeam F3 in conjunction with Mercedes-AMG.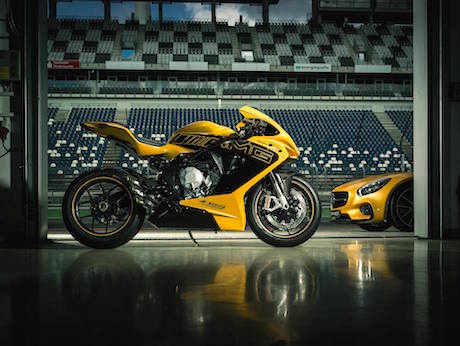 Hamilton owns several motorcycles and recently said he would love to test a MotoGP bike. Valentino Rossi offered him the chance to ride his MotoGP M1 Yamaha, but he is yet to take up the offer.
There is no word yet on when the Hamilton limited edition model will be available or how much it will cost.
Although it doesn't look different from the original, the press release hints at some hand-built craftsmanship for which you'll pay a pretty penny.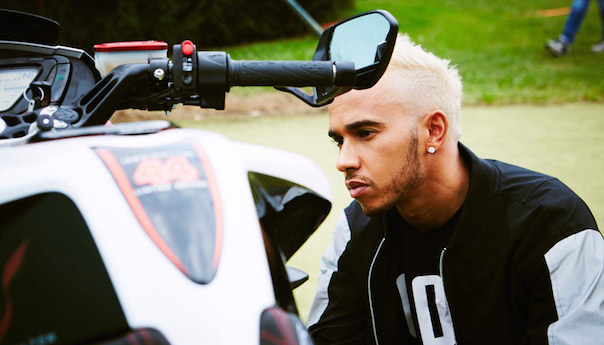 "Working closely with the MV Agusta CRC (Castiglioni Research Center) design team, Lewis ensured that bike specifications and performance perfectly matched his requirements. The creation of the Dragster RR bike comprised of an on-going collaborative process between the F1 World Champion and the MV Agusta Team, from concept to hand-assembled production.
"All limited edition Lewis Hamilton Dragster RR bikes will be hand assembled by the expertly skilled craftspeople at the Schiranna (Varese) headquarters."
Meanwhile, no word on whether the Solarbeam will be produced by MV Agusta as a limited edition model.