Signalling your intention clearly is an important primary safety device, which is why many modern motorcycles come with LEDs to improve visibility.
Light emitting diodes (LEDs) are ultra-bright, draw less power and last up to 15,000 hours, which should last most riders the life of their bike.
They also burn much cooler and their small size allows them to be made into thinner and varied shapes so they are often used as daytime running lights, brake lights, indicators and taillights. They are even being used as headlights in cars and motorcycles.
Californian company Weiser Ultrabrights started selling their LED indicators in 2007, but have now updated the design with 12 next-generation automotive LEDs that are up to four times brighter than the original bulbs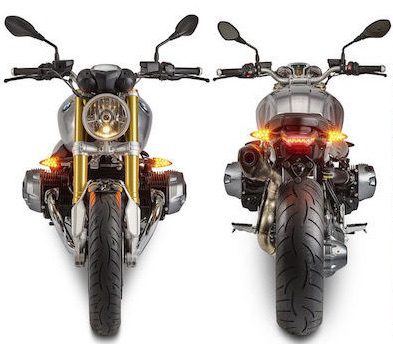 They will only fit in generic arrowhead-shaped indicator housings, but so long as you don't change the housing or lens, there shouldn't be a compliance problem in Australia.
Small indicator globes would also be nearly impossible to police and we suspect there would be few cops who would book you for trying to improve your own safety and those of other motorists. There is more of a compliance problem replacing headlight globes with units that are too bright and dazzle other motorists.
Read the indicator compliance rules here, but be aware you may need to be an engineer to understand them.
Ultrabrights Original+ cost $US65 and are claimed to have two-times the brightness of original bulbs. They are available for Aprilia, BMW, Buell, Ducati, KTM, MV Augusta, Moto Guzzi, Triumph, Yamaha and Zero Motorcycles, so long as they have arrowhead indicator housings.
Weiser spokeswoman "Wesierchick" told us they're going into production for upgrades that will fit retro bikes, older model bikes, as well as Harley Davidson, Honda, Suzuki, and Kawasaki, so stay tuned.
This short video shows the comparison of Weiser Ultrabrights Original+ to the manufacturer's OEM bulb.
The Ultrabrights Extremes improve bulb brightness by four times, cost $US85 and are available for the same models.
This short video displays the Weiser Ultrabrights Extreme versus the manufacturer's bulb.
Both are powered by OSRAM amber automotive LEDs and, in the upgrade, all available light shines in the right direction, increasing rider visibility.
The high-intensity amber LEDs can be quickly installed and are CAN bus compatible.
Be wary of buying LEDs over the internet from Asia. Readers tell us they are often not as bright as the original bulb, even if they have supposed "CE" approval stickers.