In a surprise result, leather pants may be no safer than some denim riding jeans, according to the latest ratings from MotoCAP.
The world's first safety and comfort ratings system for motorcycle clothing has found only one out of seven pairs of leather pants that rated four stars for safety.
Draggin Next Gen and Triumph Hero Riding jeans previously top-scored with four out of a maximum of five stars.
Of the seven pairs of leather pants tested, two rated three stars and four rated just two stars.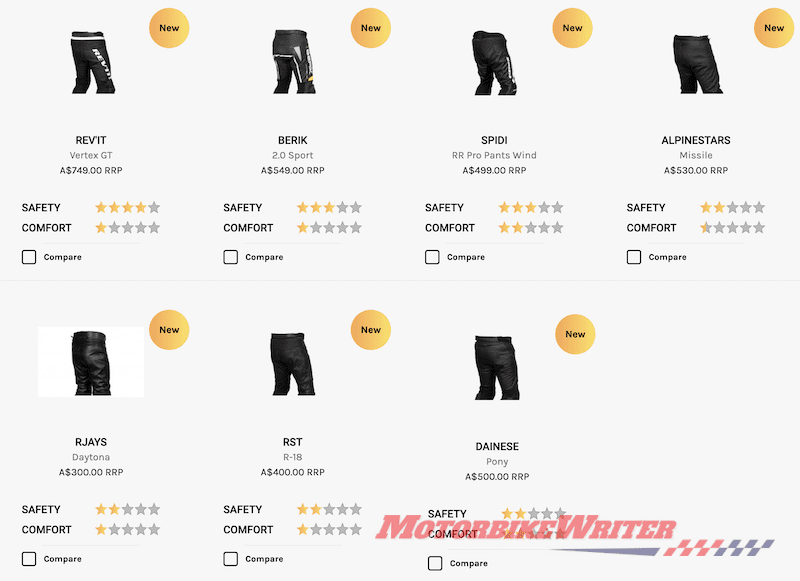 Deakin Uni Institute for Frontier Materials Senior Research Fellow and Honda GB400 rider Chris Hurren says the leather pants were mainly marked down because of low impact protection, not abrasion resistance.
"The results show the need for a holistic approach to safety, including impact protection, as a number of products performed well in abrasion and burst strength tests, but fell short in impact protection, leading to lower overall ratings," he says.
"Some would have been five stars if they just had impact protectors in them."
Chris says many garments don't come with impact protectors or only a few protectors.
"Some of the garments could be five star if they just had a full set of certified protectors," he says.
"Then it's the rider's choice if they want to throw them away if they don't want to wear them."
Chris says the RST, RJays and Alpinestars pants all would have been three, four or five star products if they had been fitted with impact protectors in the hips.
"There is a penalty if the garment gets 4/10 or less on one of the categories then it cannot get more than 2 stars of protection," he says.
"The Revit had a very good score and only missed out on 5 stars due to lower performing impact protectors. The Berik was almost a 4 star but let down by its impact protectors as well.
"There are definitely denim pants that test as well as the leather pants in abrasion.
"There are almost no textile pants that perform as well as the leather pants.
"Protective textiles have the largest improvements to be made. Hopefully someone will take up the call to make both a protective and comfortable to wear textile."
Comfort ratings
As expected, leather pants didn't rate well for thermal comfort with one pair scoring half a star and two pair top-scoring with just two stars.
MotoCAP advises riders to consider both the safety and comfort ratings when choosing the right gear for their ride.
MotoCAP scores
So far, MotoCAP has tested 18 textile and leather jackets, 18 pairs of jeans and leggings, seven pair of leather pants and eight pair of gloves.
These latest ratings mean they have now tested products in every class: gloves, leather jackets, leather pants, textile jackets, textile pants, ladies leggings and denim jeans. 
In the next few weeks MotoCAP will post ratings for more gloves, textile jackets and textile pants.
Chris says they will have more than 150 products on the website by June 30.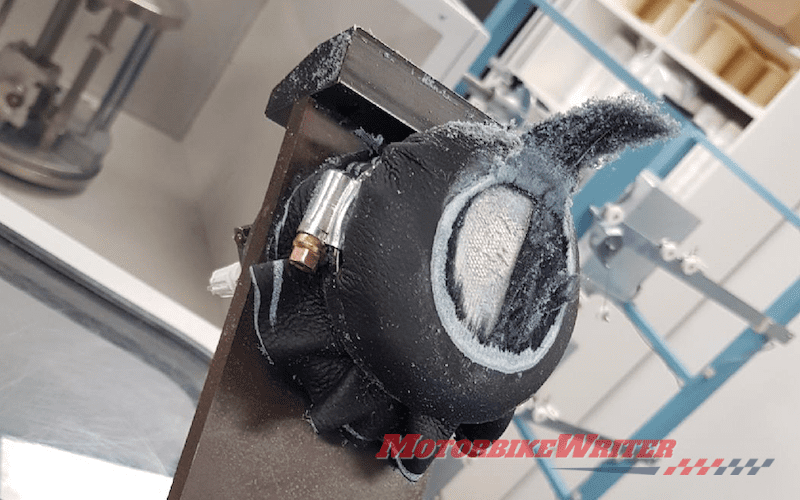 "We have purposely targeted only 10% of the market in the first year so that manufacturers have a chance to come along with the scheme," he says.
"We do not want to put a manufacturer out of business as we want them to improve their products and think about protection and thermal comfort in their design."
"If they follow this path like car manufacturers did for ANCAP then the rider will always be the winner."
So far, not article of motorcycle clothing has been provided by a manufacturer.
All have been bought by MotoCAP using a secretive buying system to guarantee integrity.
Click here to find out how the pants were selected in secret.