He drilled for gas and oil in 80-odd countries around the world over 27 years and now he's "retired" to work seven days a week on his Laverda passion.
Red Cawte, 61, and his wife, Maxine, operate Redax Laverda out of their well-equipped shed in the back of their bushland-setting home in Camira, Ipswich.
It might be in the middle of suburbia, but it still attracts bikes from all over Australia and New Zealand and even France and Canada, despite not advertising their business.
"It seems Australia was just waiting for an idiot to do Laverdas," Red says in his dry-witted manner.
"I do about 14 motor rebuilds a year taking about four days each.
"I work seven days a week, but I was used to that as a driller anyway. I don't get out to ride as much as I should."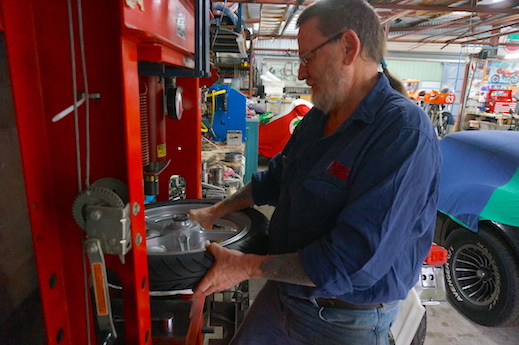 Red will show some of his 18 Laverdas at the 28th annual Laverda Concours at the Cleveland Showgrounds on July 17, 2016.
It's the biggest motorcycle show on the eastern seaboard and it wouldn't be the same without some splendid bikes from the Redax garage on display.
"I've only ever had Laverdas," he says.
"They're exclusive. The 180 triples are unique. They're also tall which suits me.
"The most modern bike I've ridden is a 1981 Jota. I'm not interested in working on new bikes with fuel management systems."
Red and his late friend Paddy O'Rourke started the Laverda Club of Queensland in 1982 and they now have an exclusive membership of just 54.
The club took over the concours from the Ducati Club 28 years ago and it now attracts up to 8000 visitors and about 35 trade and club stalls.
Despite being run by the Laverda Club of Queensland, the concours is open to all makes of motorcycles, trikes and scooters with 60 trophies up for grabs and $2000 for the best in show.
There will also be trophies available at the dyno supplied by Micks Bike & Car Tyres for the most horsepower for machines under 750cc, over 750cc and V-twin motorcycles.
Ample parking for motorcycles and scooters is free and admission is $10 (children under 15 free) with profits going to the Make a Wish Foundation for children. Last year, the club donated about $10,000 to the worthy cause and about $65,000 in the past 11 years.
The show has plenty of food and beverage stalls and the crowd will be entertained by the popular Dave Ritter Band. No dogs or cars are allowed.