I Apologize in Advance for Talking About Christmas Related Thigs in November
If you were to stab a loved one with the turkey-carving knife over a heated argument regarding who builds the best motocross bikes at the Christmas dinner table, would they bleed KTM orange? If the answer is yes, you'll be pleased to hear that KTM has gone out of their way to make your Christmas shopping easier for you with their 'KTM Christmas Specials Gift Guide' and up to 30% off selected KTM PowerWear apparel items.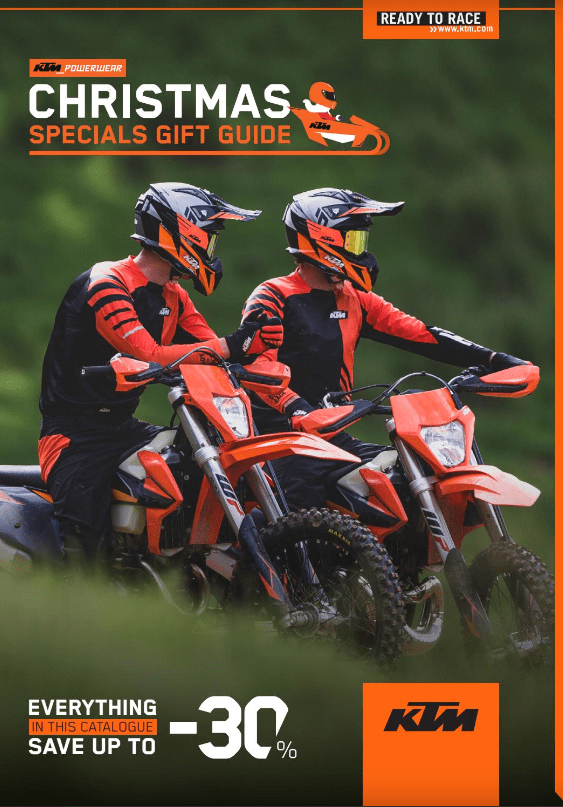 KTM's PowerWear apparel collection has a little something special for riders of all disciplines, whether it be street, adventure, or enduro riding. Between November 1 and December 24th, KTM's Christmas Specials Gift Guide will have an array of products with special discounts for the holiday season when purchasing gear from any authorized KTM dealer. If the product is listed in the Christmas Specials Gift Guide, then it's safe to assume that you should be looking at big discounts on said product.
Polos, hats, jackets, off-roading gear, mugs, bottles, stickers, and more; will all be receiving big discounts, giving an array of options when picking the perfect gift for that special KTM-loving someone. If you really love them, perhaps the full KTM armoured jacket and pant combo is the perfect give for $244.98 AUD and $195.97 AUD respectively after the 30% discount. On the other hand, if you don't love them at all (haha) a sticker set and mug should suffice.
For our Australian readers, a copy of the Gift Guide tailored to your location can be found here. Happy holidays (soon).