KTM has been in no hurry to get into electric motorbikes with only the Freeride E (pictured above) in production since 2015.
However, that could soon change with the Austrian motorcycle manufacturer combining with Indian vehicle manufacturer Bajaj Auto to develop a common 48-volt platform for electric two-wheelers.
They won't be big road motorcycles, but scooters and mopeds with power from just 3kW to 10kW with production to begin in Pune by 2022.
In 2015, KTM decided to shelve plans to go into production with their Speed-E electric concept scooter.
Now that could be brought back with this new Baja venture.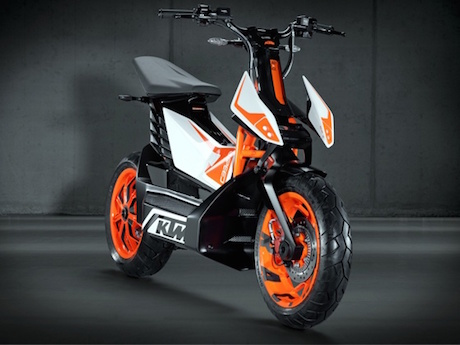 Electric motorbikes?
It is not the first joint project with Bajaj as they already produce several KTM and Husqvarna motorcycles for the world market.
KTM Industries AG holds almost 52% of KTM AG and Bajaj has the remaining holding.
KTM global product marketing manager Diego Arioli said they would not get into electric motorbikes until they had a "decent range".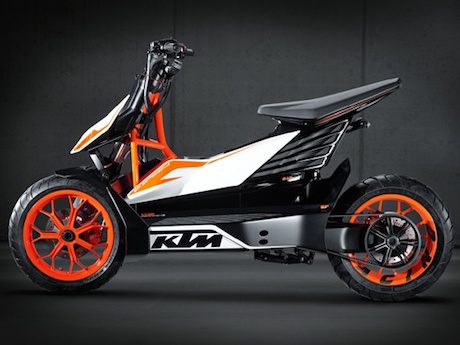 Diego says if they had kicked off their EV program with big electric motorbikes, customers would expect more range.
"We don't want to stretch the technology now but as soon as it is right for what they need we will be ready for the market," he said.
"It also has to fit into our 'Ready to Race' motto."
The Freeride is not imported to Australia and has had limited success in Europe.
There are two versions of the Freeride E, the SX racer and the road-legal XC aimed at commuters and learners.
Prices are €10,995 for the SX (about $14,100) and €11,295 for the XC (about $14,500).
The Freeride E weighs only 104kg and features both brakes on the handlebars like a bicycle as there is no clutch lever.
The company hopes those controls will be familiar to cyclists who it hopes to win over for commuting.