Austrian brand KTM has broadened its horizons beyond off-road motorcycles in recent year to release more road bike models and even electric bikes, but have changed their minds about an electric scooter.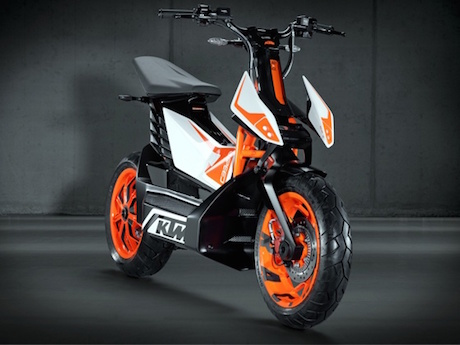 They showed the E-Speed electric scooter at the 2013 Tokyo Motor Show, but have now said it doesn't fit their "Ready to race" image.
The stillborn E-Speed was powered by a lithium-ion battery and electric motor with 15PS of peak power and 36Nm of torque. The belt-drive scooter was capable of a top speed of 80km/h and 64km range. KTM influence was evident in the trellis frame and WP suspension.
It was based on the Freeride E concept electric motorcycle which is now production ready. The Freeride weighs only 104kg and has both brakes on the handlebars like a bicycle as there is no clutch lever. The company hopes that arrangement will be familiar to cyclists who it hopes to win over for commuting.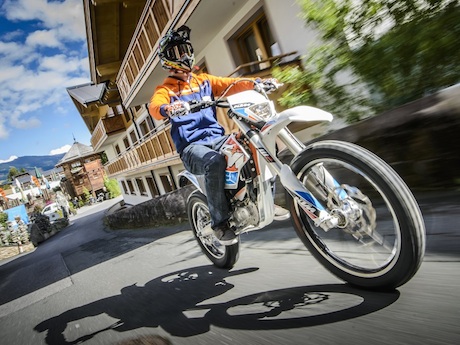 There will be two versions of the Freeride E, the SX racer and the road-legal XC aimed at commuters and learners.
Prices are €10,995 for the SX (about $14,100) and €11,295 for the XC (about $14,500). There is no word yet on whether the bikes will be coming to Australia.
KTM Australia spokesman Greg Chambers says distribution of the Freeride E will be decided by the KTM board after a full model year of testing in the European market. "Fingers crossed it all goes ahead but we won't know for some time," he says.
KTM has long been a renowned dirt bike manufacturer, but the past few years have seen a shift in emphasis to road bikes. Street bikes now represent 60% of their sales.
KTM global boss Stefan Pierer says street bikes are where the major growth is for their company.
Meanwhile, the recently unveiled 1290 Super Adventure is due to hit Australian dealerships in February 2015. "We're yet to set a price but we hope to have it on display for interested customers during next month's Moto Expo in Melbourne," says Greg.