Remember that stunning bit of two-wheeled luxury that KTM and BRABUS created, the 154-piece one that sold out in under 2 minutes? Well, we're here to report that the collaboration is alive and well but sadly coming to a close; in commemoration of a stunning run, both KTM and BRABUS have rallied for a final, limited-edition fleet to place into our community's eager hands – and this time, there will only be 25 of the bikes in each of the available colors. 
Any bets as to how quickly the all-new BRABUS 1300 R "Masterpiece Edition" will sell out this time? 
This slideshow requires JavaScript.
Coverage from KTM's recent press release provides the following (insane) list of features and perks for the BRABUS 1300 R Masterpiece Edition: 
BRABUS "1 of 25" Sign of Excellence badge with "Frozen Gold" highlights

BRABUS 1300 R MASTERPIECE badge on seat pad

Front fender elements, tank and tail cowl with a choice of "Onyx Black" or "Diamond White" paintwork

Frame painted matte black

BRABUS Monoblock Z "GOLD PLATINUM" forged alloy wheels

BRABUS 1300 R slip-on dual exhaust with accent rings in "Frozen Gold"

Heated, black BRABUS single seat with "Diamond Rising" quilting pattern

BRABUS start animation and color scheme for the display

BRABUS exposed-carbon headlight visor with round LED headlight

BRABUS exposed-carbon side fairings with integrated winglets

BRABUS exposed-carbon front spoiler

CNC-milled BRABUS triple clamp

Adjustable, CNC-milled BRABUS front brake and clutch levers

CNC-milled BRABUS aluminum caps for brake and clutch hydraulics reservoirs

Adjustable, CNC-milled BRABUS foot pegs

CNC-milled BRABUS aluminum caps for gas tank and oil tank

BRABUS bar end mirrors

BRABUS exposed-carbon tail with single seat and short license plate bracket

LED turn signals, with integrated tail lights and brake lights at the rear

WP APEX semi-active suspension, choice of AUTO mode or manually adjustable

WP PRO COMPONENTS (WP APEX PRO 7117) steering damper

Engine electronics with five selectable riding modes (STREET – SPORT – RAIN – PERFORMANCE – TRACK).

Quick-action throttle

Heated grips

Lightweight lithium-ion battery

Additional BRABUS exposed-carbon components

Tailor-made BRABUS indoor motorcycle cover

Exclusive BRABUS floor mat for parking the bike in the garage

Exclusive BRABUS carbon key box with BRABUS MASTERPIECE emblem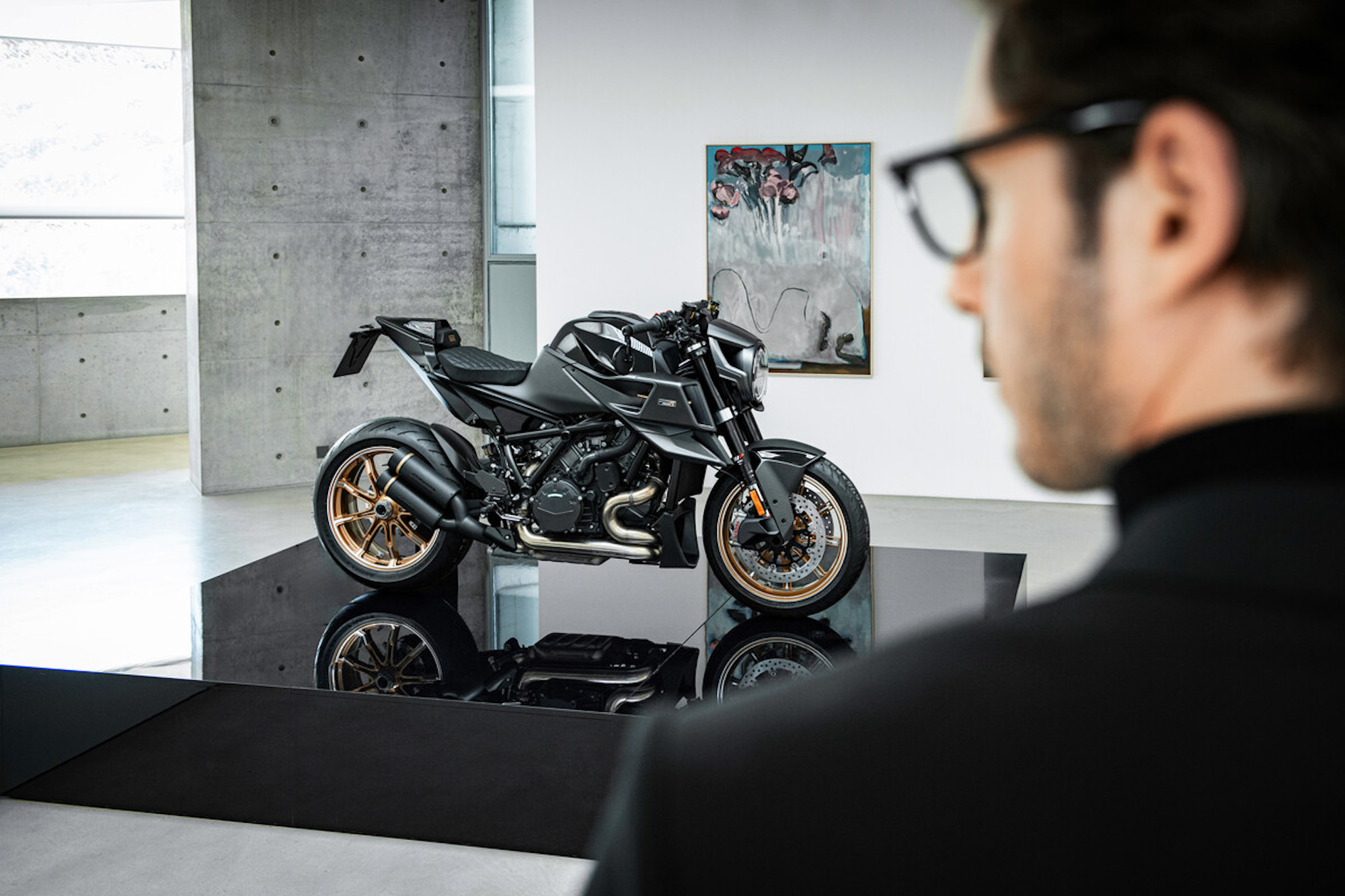 Per usual, BRABUS and KTM keep function married to form; expect the BRABUS 1300 R Masterpiece Edition to punt out a top speed of around (possibly over) 168mph, which translates to ~0-60 in 3.2 seconds, all churning out of that pretty KTM LC8 V-twin heart. 
While the last 154-unit fleet had 77 of each color, we're told there will be 25 of each of the two colors for this year – "Onyx Black" and "Diamond White" – with the liveries dressing KTM's 1290 SUPER DUKE R EVO platform.
The schemes accompany "an even further expanded carbon package" dressing dash and connector covers, the triangular covers for the rear bodywork and an additional swingarm cover, with the whole caboodle setting owners back by around €41,930, or around $44,000 USD.
This slideshow requires JavaScript.
By the way, the above pricepoint accompanies additional accessories, including the following:
A tailor-made indoor cover, complete with the Masterpiece Edition logo

A floor mat in BRABUS 1300 R design, complete with the Masterpiece Edition logo

Keys in an exclusive carbon box complete with the Masterpiece Edition logo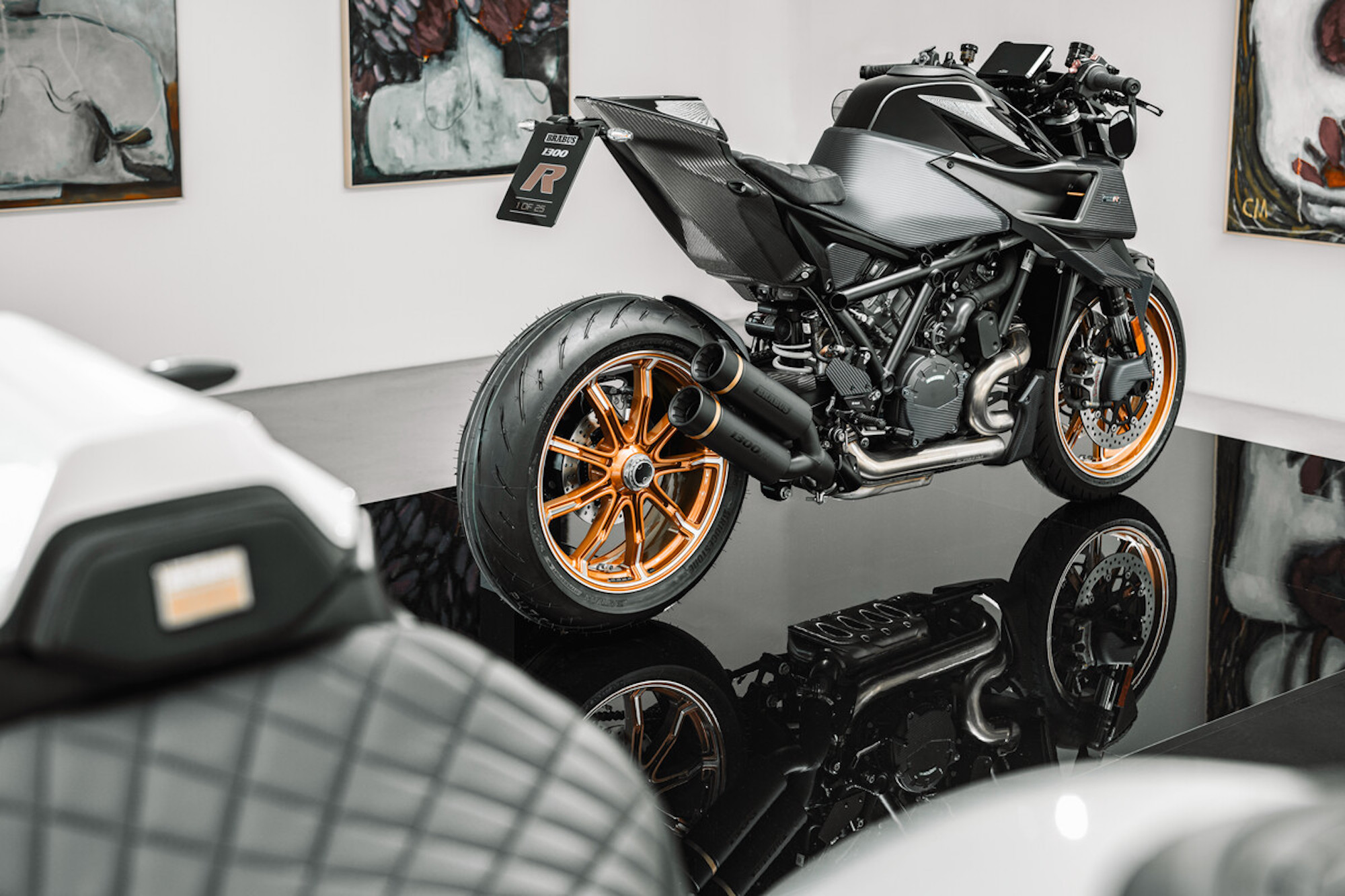 For the fifty lucky riders that get their hands on this bike, there will be fifty exclusive guided tours of the BRABUS Manufaktur in Bottrop – a final little "thank you" from the brand as we say goodbye to this brilliant hyper-naked bike. 
What do you think of the final BRABUS 1300 R Masterpiece Edition?
*All media provided by KTM*