KTM 150 SX Dirt Bike
In-Depth Guide
The 150 SX is a 192lb dirtbike manufactured by KTM. It's 143cc engine and light weight give the KTM 150 SX a top speed of 73MPH in stock condition. Reliable, affordable and with many performance specs at low cost, what's not to like? Overall KTM has managed to retain an excellent power to weight ratio on its very race friendly 150 SX series motocross bikes. Seat height is 38.8 inches.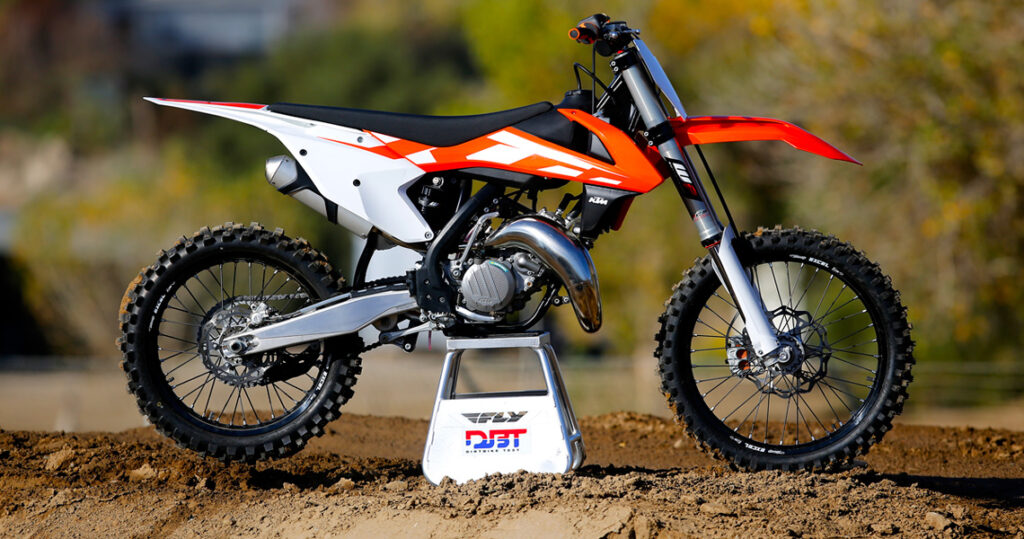 I've written about how KTM has improved the quality of it's line of dirt bikes since 2009. New bodywork on 2-stroke models, a new silencer, a new airbox and an optimized intake flange connecting to the carburetor are just a few of the changes I've been impressed with. In 2011 KTM dirt bike provided more horsepower from their 143.6cc engine than the 2009 model did which is proof of innovation. The 2016 and 2017 models raised the bar further.KTM
KTM 150 SX Dirt Bike Engine Specs:
Engine type: single cylinder, 2-stroke
Displacement: 143.6 cc
Bore x stroke: 56 x 58.4 mm (2.20 x 2.30)
Starter: kickstart
KTM 150 SX weight: 192lb
Transmission: 6 gears
Carburetor: Keihin PWK 38S AG
KTM 150 SX Top Speed: 73MPH (stock condition)
Control: exhaust control
Lubrication: mixture oil lubrication 1:40
Transmission oil: Motorex, SAE 15W50
cooling: liquid cooling
Clutch: wet multi-disc clutch, operated hydraulically
Ignition: Kokusan
This KTM 150 SX dirt bike review wouldn't be complete without a warning, you'll want to squeeze the skinny frame between your knees when you open up to full throttle. KTM kept the price low by not offering extras like an electric kick start instead of by reducing engine performance and that's OK with me.
In 2009 the KTM 150 SX Dirt Bike was a hit with young racers who enjoyed it's power and agile handling characteristics. The 150sx is also simple to properly maintain. A single cylinder 2-stroke engine rated at 143.6cc with a 6 gear transmission and Keihin PWK-S 38 AG carburetor powers this dirt bike. Who says 2 strokes can't perform against similar 4 stroke engines? The KTM 150 SX Dirt Bike takes on rough terrain without feeling sluggish and that's quite an accomplishment for the price.
The KTM story continues to evolve into one of results driven dedication and I'm not alone in taking notice. Suggested retail price is a very reasonable 6,899.00 for 2016 KTM models.
Do you need proof that KTM takes pride in their craftsmanship? The KTM trail bike's name is cut in steel! Join us in the forums to discuss this great dirtbike a little more.
Full Specs – 2009 150 SX Motocross Dirtbike
Model: KTM 150 SX
Type: Enduro – offroad
Displacement: 143.60 ccm (8.76 cubic inches)
Engine type: Single cylinder, two-stroke
Bore x stroke: 56.0 x 58.5 mm (2.2 x 2.3 inches)
Fuel system: Carburetor. Keihin PWK 39
Ignition: Kokusan
Lubrication system: 1:40 Oil Mixture
Cooling system: Liquid
Gearbox: 6-speed
final drive: Chain
Clutch: Multi disc wet clutch, hydraulic
Exhaust system: Aluminum
Frame type: Central double-cradle-type 25 CrMo4. Aluminum sub frame
Rake (fork angle): 27.0 degrees
Front suspension: WP USD
Front suspension travel: 300 mm (11.8 inches)
Rear suspension: WP PDS shock absorber
Rear suspension travel: 335 mm (13.2 inches)
Front tire dimensions: 80/100-21
Rear tire dimensions: 100/90-19
Front brakes: Single disc
Front brakes diameter: 260 mm (10.2 inches)
Rear brakes: Single disc
Rear brakes diameter: 220 mm (8.7 inches)
Dry weight: 90.8 kg (200.2 pounds)
KTM 150 SX Seat height: 38.8 inches
Ground clearance: 390 mm (15.4 inches)
Wheelbase: 1,471 mm (57.9 inches)
Fuel capacity: 8.00 liters (2.11 gallons)