Review Summary
Kronox has created a comfortable and cost-effective light touring boot that will get new motorcyclists through their first long rides in the rain without soaking their socks. However, some odd design choices and a few inconsistencies in the build-quality prevent this from being a boot suitable for longer journeys in higher-risk conditions. Still, for only about $80 USD, there's a decent amount of value here for newer riders—who are unlikely to be touring for more than a couple of days at a time anyway.
Materials & Build Quality
Pros
Extremely comfortable
Easy to put on and take off
Reflective elements for low-light conditions
Solid value for only $80
Cons
Fit not adjustable
Chance of manufacturing errors
Loose ankle openings can let in water
No shank for ankle support
Some motorcyclists cut corners when it comes to footwear, but I'm not one of them. You'll probably never catch me riding in anything that isn't made from leather and doesn't offer full ankle coverage—but even then, that's not always enough. I ride ATGATT, after all.
I take motorcycle boot reviews pretty seriously. When I was learning to ride a motorcycle, I heard one anecdote that I've never forgotten: other than your bike's wheels, your boots are the only point of contact you're supposed to have with the road. The rest of your kit is made to handle bumps and scrapes in emergency situations, but a good boot needs to take constant punishment, ride after ride.
Boots branded as waterproof have even more responsibilities. Not only do they have to keep you safe from the street, but they also need to hold up under pounding rain without leaking or filling with liquid.
That means any product sold as both "waterproof" and a "touring boot" (even a light one) has pretty big—well, shoes to fill. The Lanin boot from Kronox doesn't nail it on every count, but it offers enough of what it advertises to justify its relatively modest retail price. While you won't find these on our best touring motorcycle boots list, if you're looking for a decent pair of first boots you can ride with in the rain and don't want to break the bank, these are a serviceable option.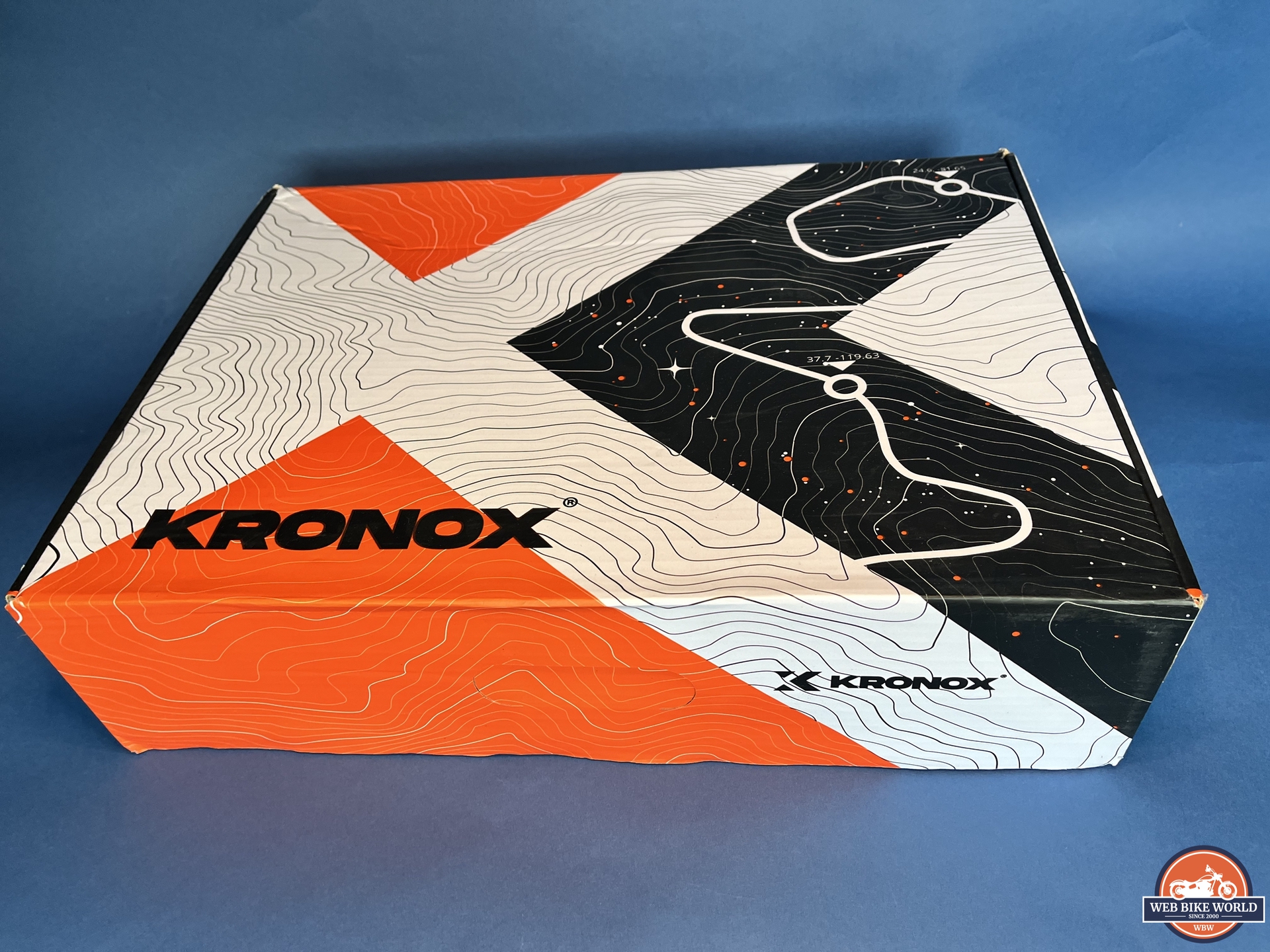 Nice box, Kronox.
About Kronox
Kronox is still just starting out as a brand. They launched in 2020, and currently offer just two products: the Lanin Boot that I've reviewed here, and the Berlin Boot (which looks like it's oriented more towards urban cruising). However, at the time of this writing, only the Lanin Boot is available for purchase. The Berlin is either sold out or hasn't launched yet (no sizes are available and no price is listed).
Kronox's mission, according to their website, is pretty straightforward: "to provide the best products possible at the most affordable prices possible, while making sure every customer feels like friends [sic]." They're essentially billing themselves as a budget brand that cares—which, after reviewing the Lanin Boot, I'd say is fairly accurate. Still, there are a few things they could do to show they care even more. Let's dive in.
Kronox Lanin Boot Design
One of the first things you'll notice about the Lanin Boot is that it's got quite a busy look to it. Yes, it's mostly black (with the exception of the reflective elements on the heels), but there are a lot of different patterns here—on the perforated polyester membrane that shows through near the top, the accordion-style open-cell foam on the front of the ankle, and the honeycomb-textured shifter, for example.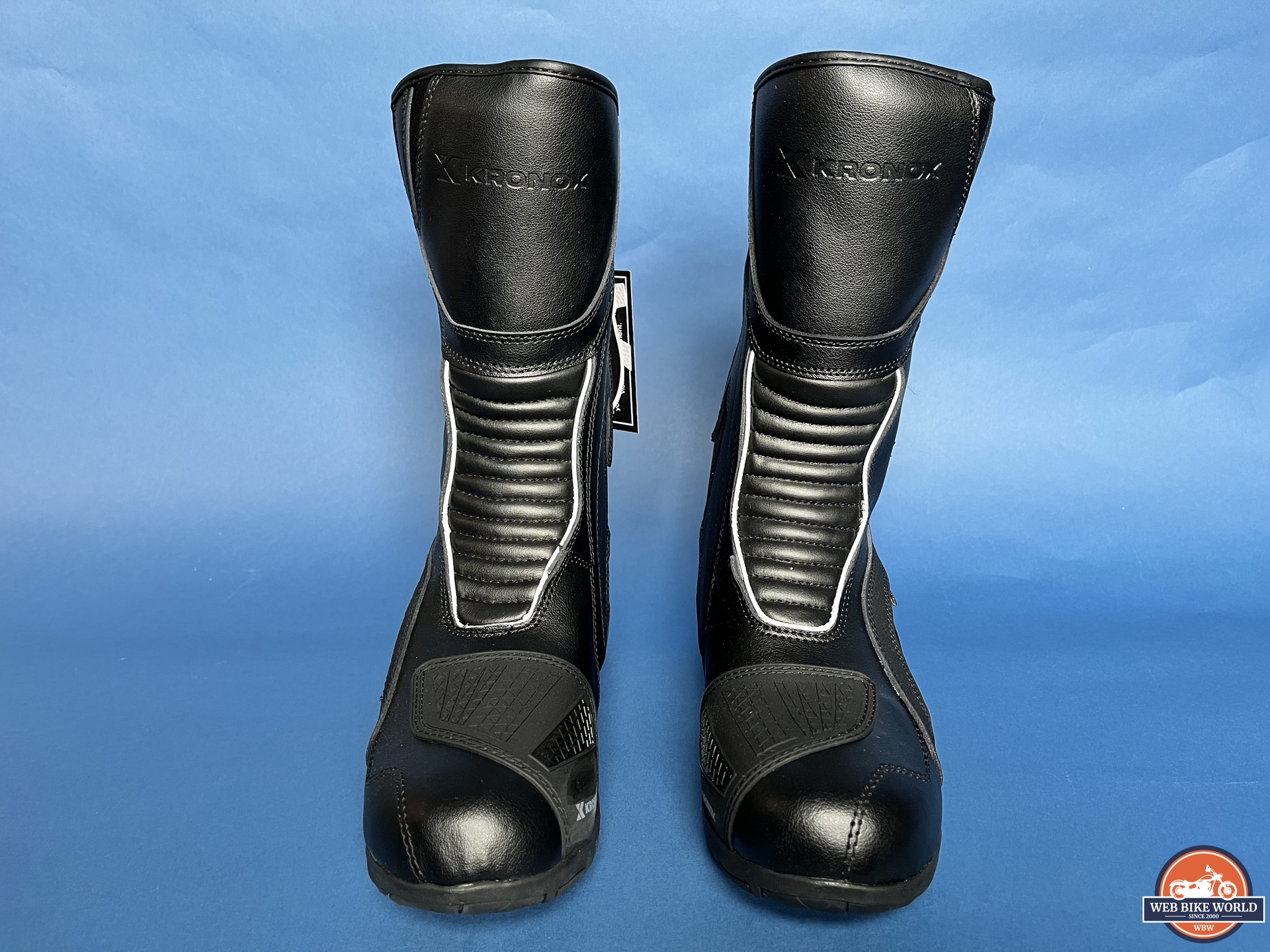 Patterns and textures and shapes… oh, my!
All of this makes the boots look a little space-age, which isn't my preferred style. Personally, I'd rather cosplay Sons of Anarchy than Power Rangers. Then again, I know plenty of sport-touring riders who would be only too happy to rock this look, so that's not a complaint from me.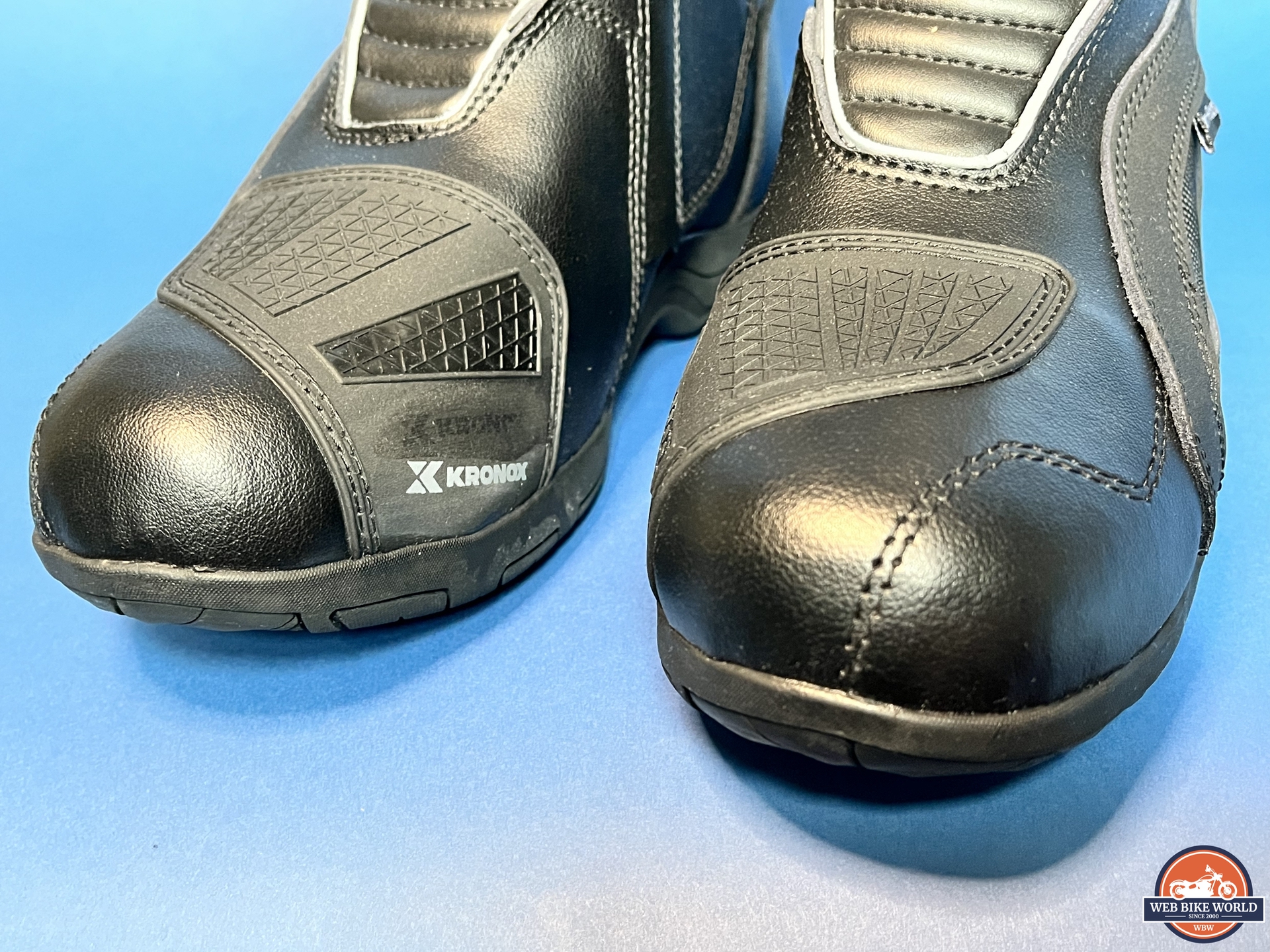 Do these boots make me look more like a cruiser rider or a Jaeger pilot from Pacific Rim?
It is odd that the boots have no buckles or straps at the ankles—Kronox claims the velcro flap lets you adjust their tightness around your lower legs, but I didn't find that to be the case. We'll talk more about how that affects the boot's fit (and potentially its performance) later.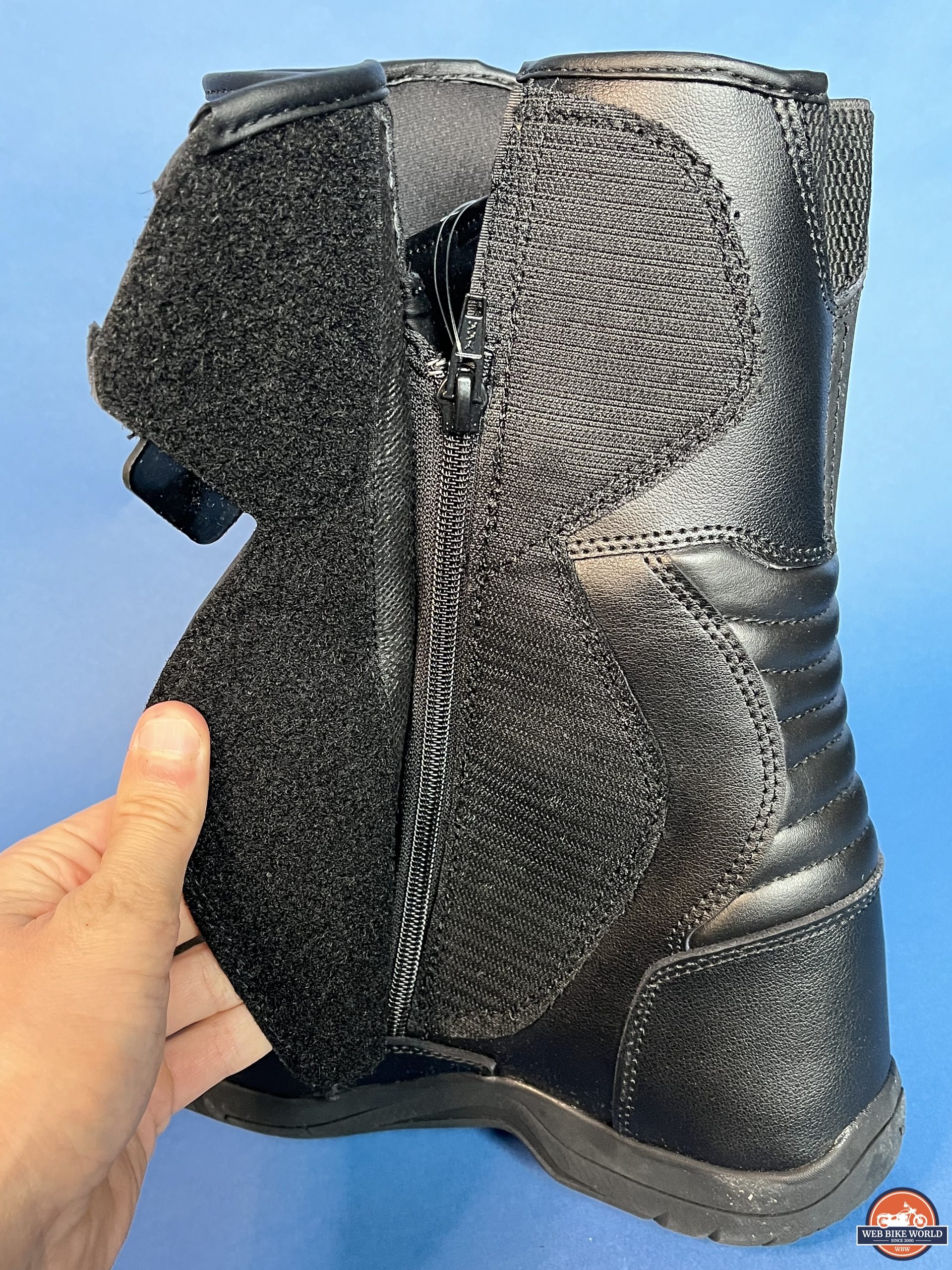 Plenty of velcro here—but no straps or buckles.
Kronox Lanin Boot Materials & Build Quality
The Lanin Boot's upper is made from PU leather, which gives it a sleek and supple feel out of the box. It's worth noting that PU leather (which is actually made from thermoplastic polymers) isn't as durable as real leather—but I keyed the sides of these boots a few times and was pleasantly surprised to find that doing so caused no visible markings. Be advised, though, that PU leather also has a distinct smell, which some users may find mildly off-putting when the boots are still brand new.
The zippers on these boots have an auto-lock feature that prevents them from sliding down when they've been pulled all the way closed, which is a nice touch. The velcro flap covers them completely too, which effectively seals them off from the elements.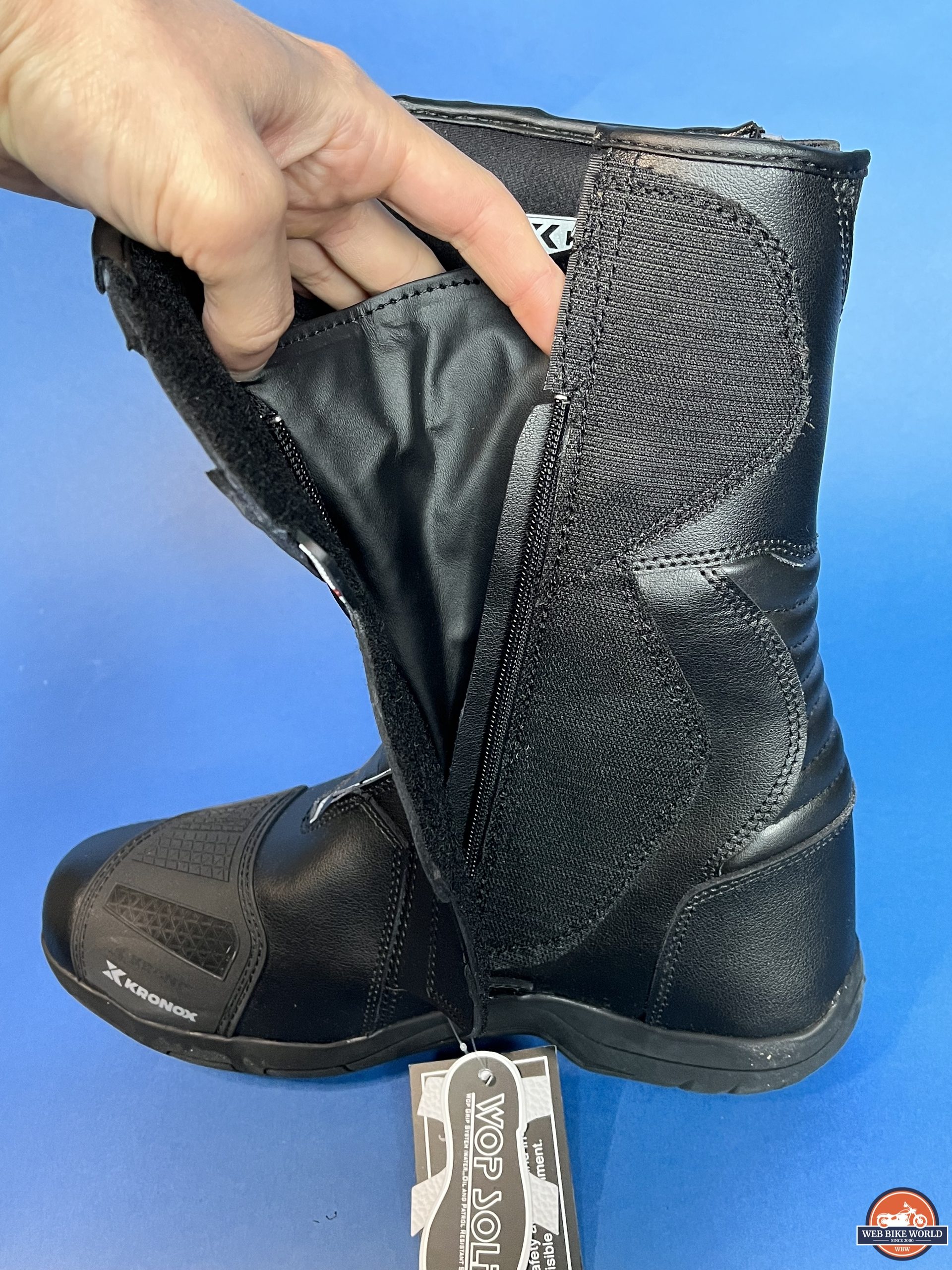 The zipper opens and closes easily, and the velcro flap covers it well. I just wish I could tighten it more.
However, I noticed a few things that made me question the quality of these boots before even trying them on. Some of these looked like minor manufacturing errors—for example, the Kronox logo on the left boot appeared to have been placed improperly, a half-inch or so down from where it was designed to go.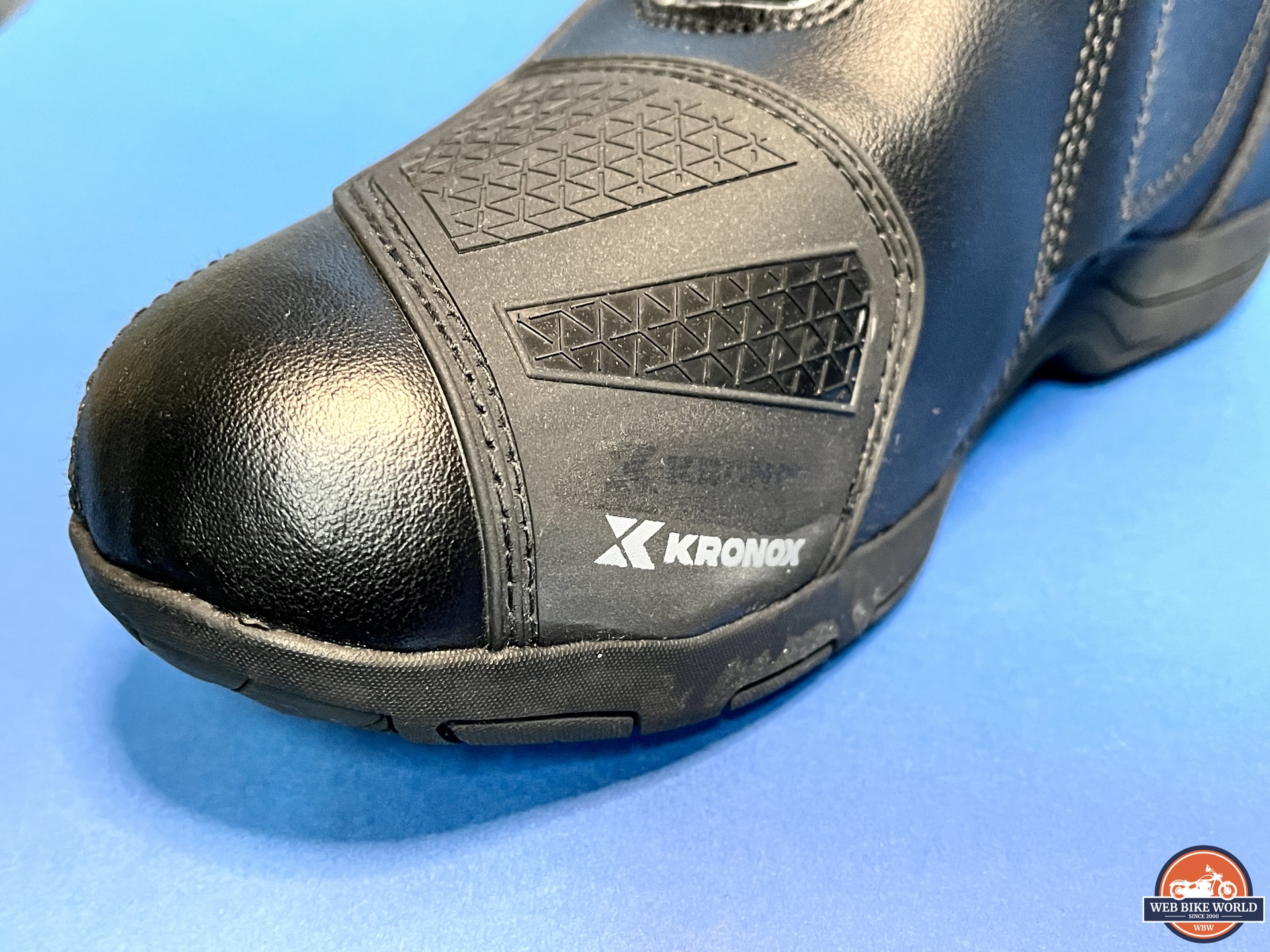 Not sure what happened here.
Other manufacturing errors were immediately noticeable and kind of hilarious. Just take a look at the boots' tags: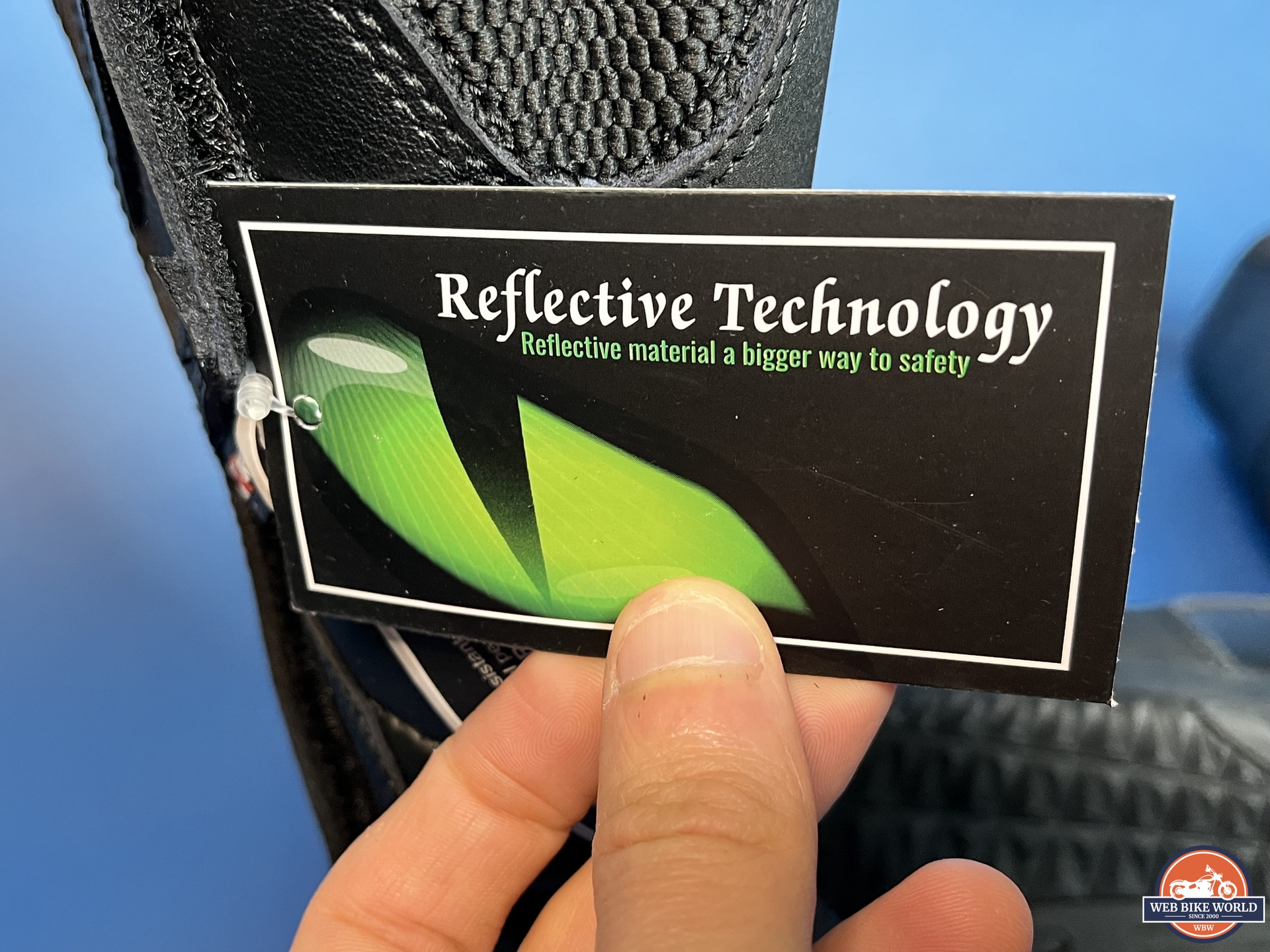 Weird choice of words, but… okay?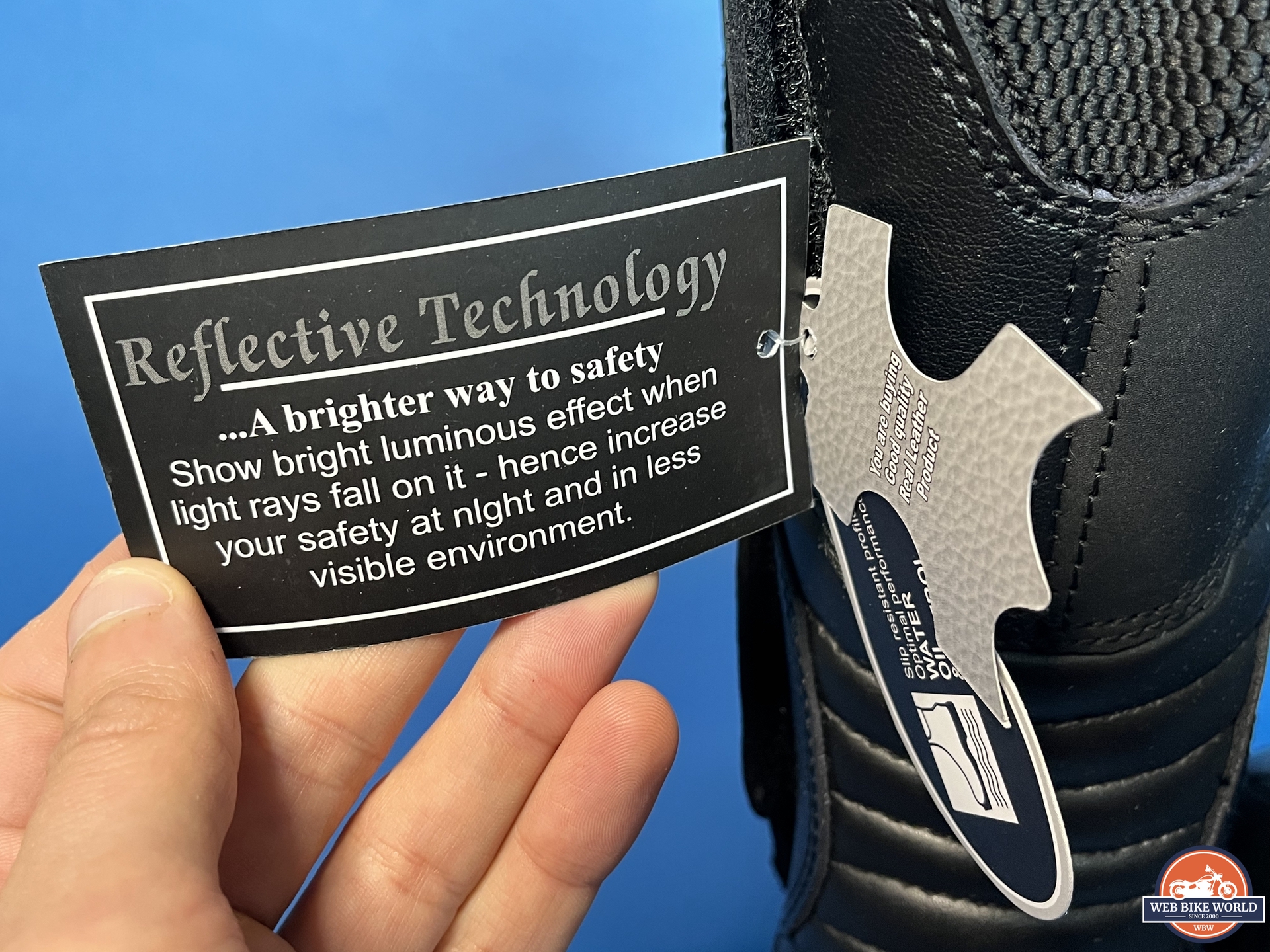 Gets the point across, I guess.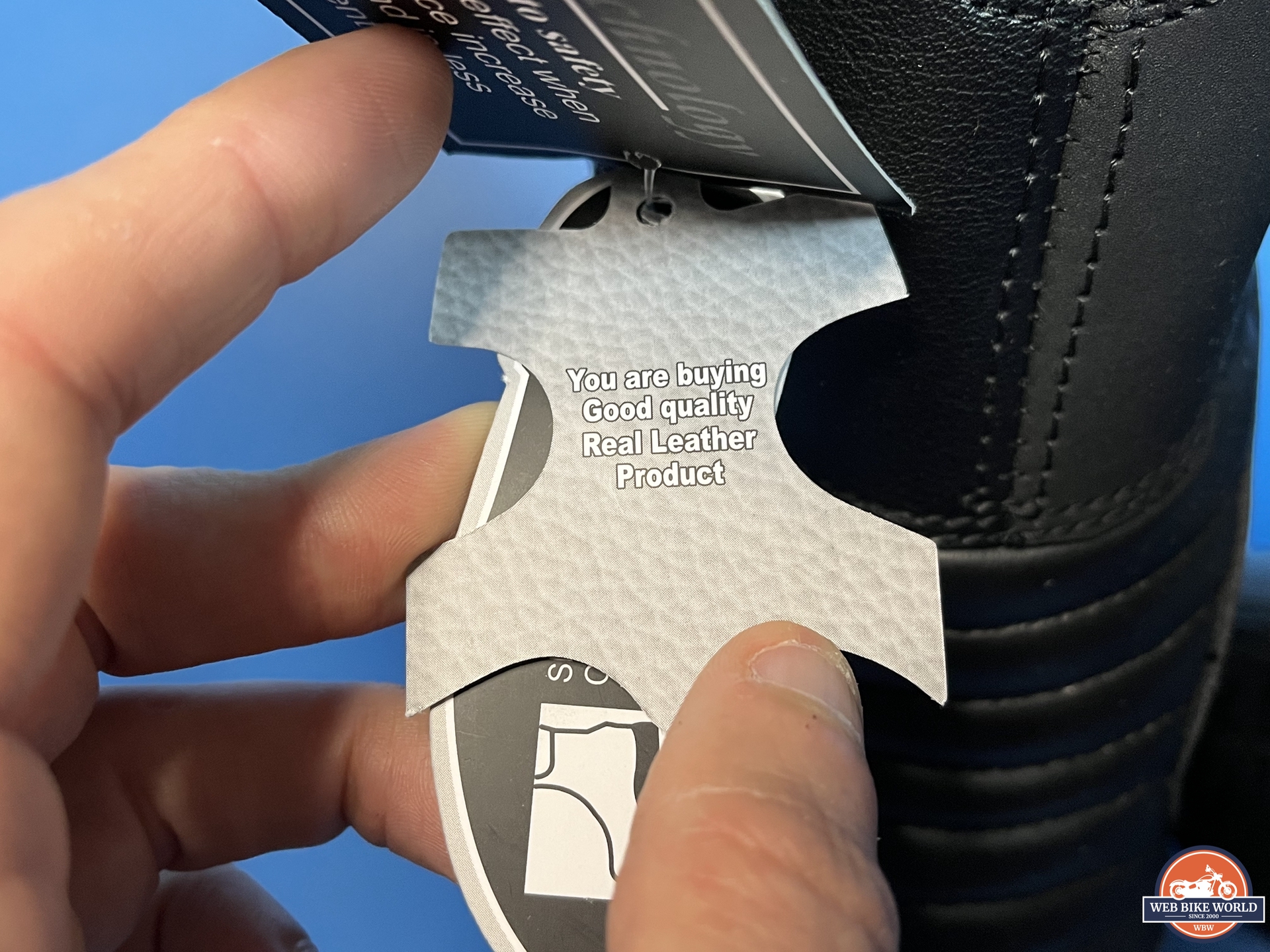 Oh, good.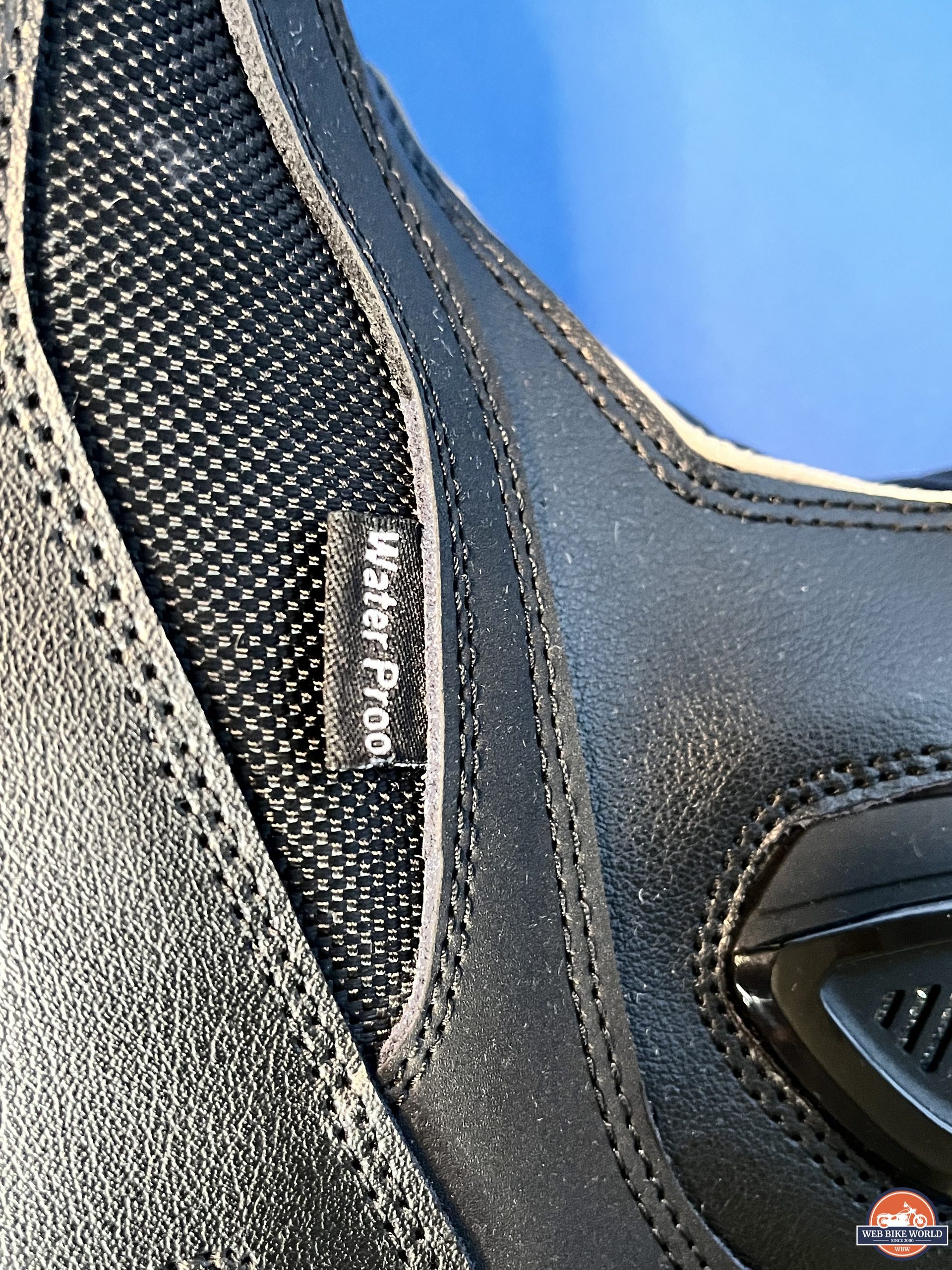 The world's first "WaterProo" riding boot?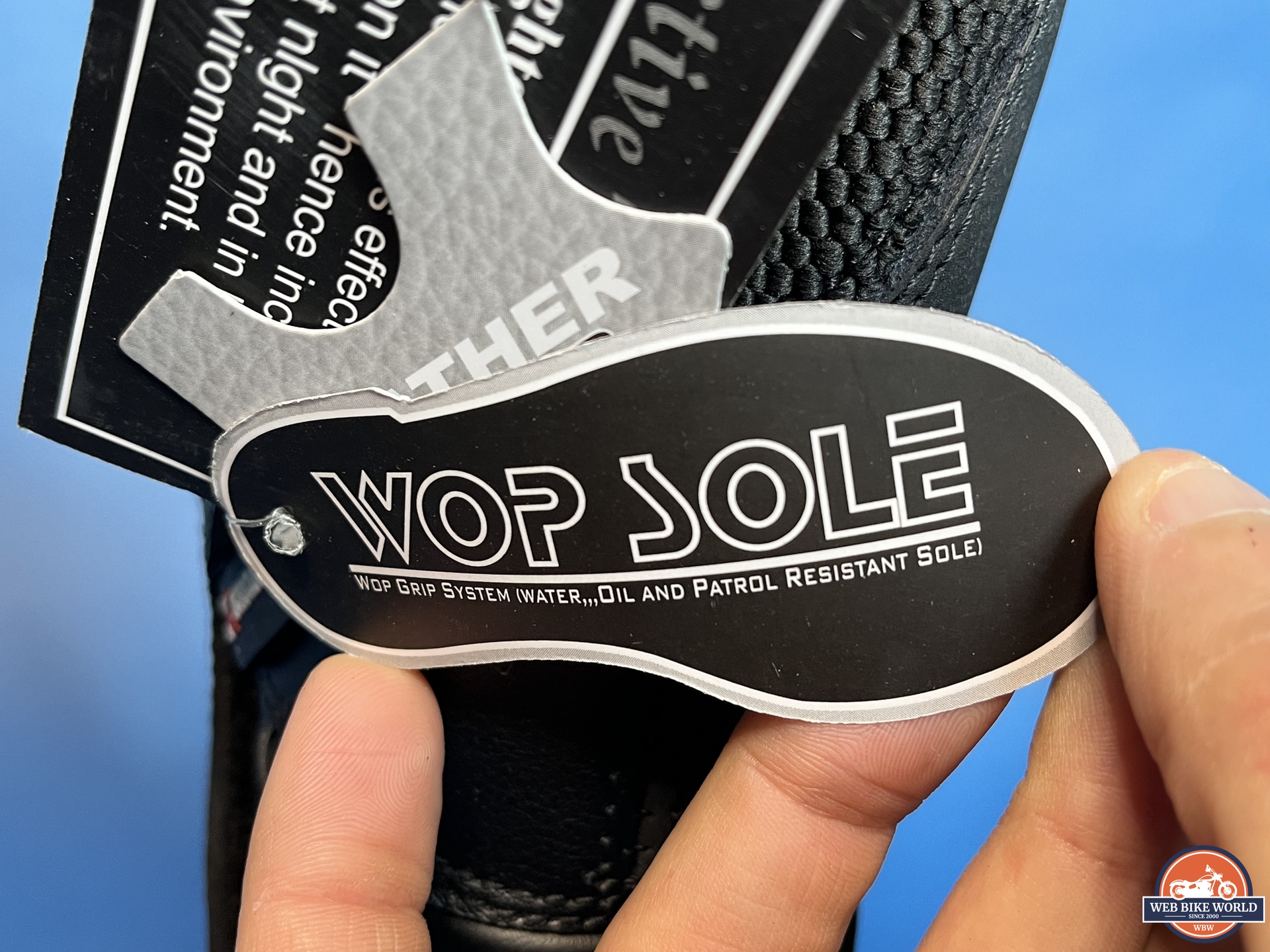 Three commas? "Patrol" resistant? Will these boots help me run from the ,,,cops?
I'm not trying to be a jerk about this. Basic spelling and grammar errors on the packaging may not affect the actual performance of the boot, but they probably aren't going to build confidence in the brand with new customers either. As we call out in our motorcycle boots buyers guide, details matter (and this is compounded when travelling at high speeds). People won't trust that a brand can put the right attention to detail into making a piece of protective gear if they don't put the right attention to detail into simple things like tags and labels.
Finally, I noticed that the sole of the left boot was just slightly uneven—so that when I placed them side by side, it leaned towards the outside edge instead of standing straight up. That's the kind of thing that could affect performance and could even impact rider safety. At first, I was afraid it might compromise my balance or traction when planting my left foot at a stop.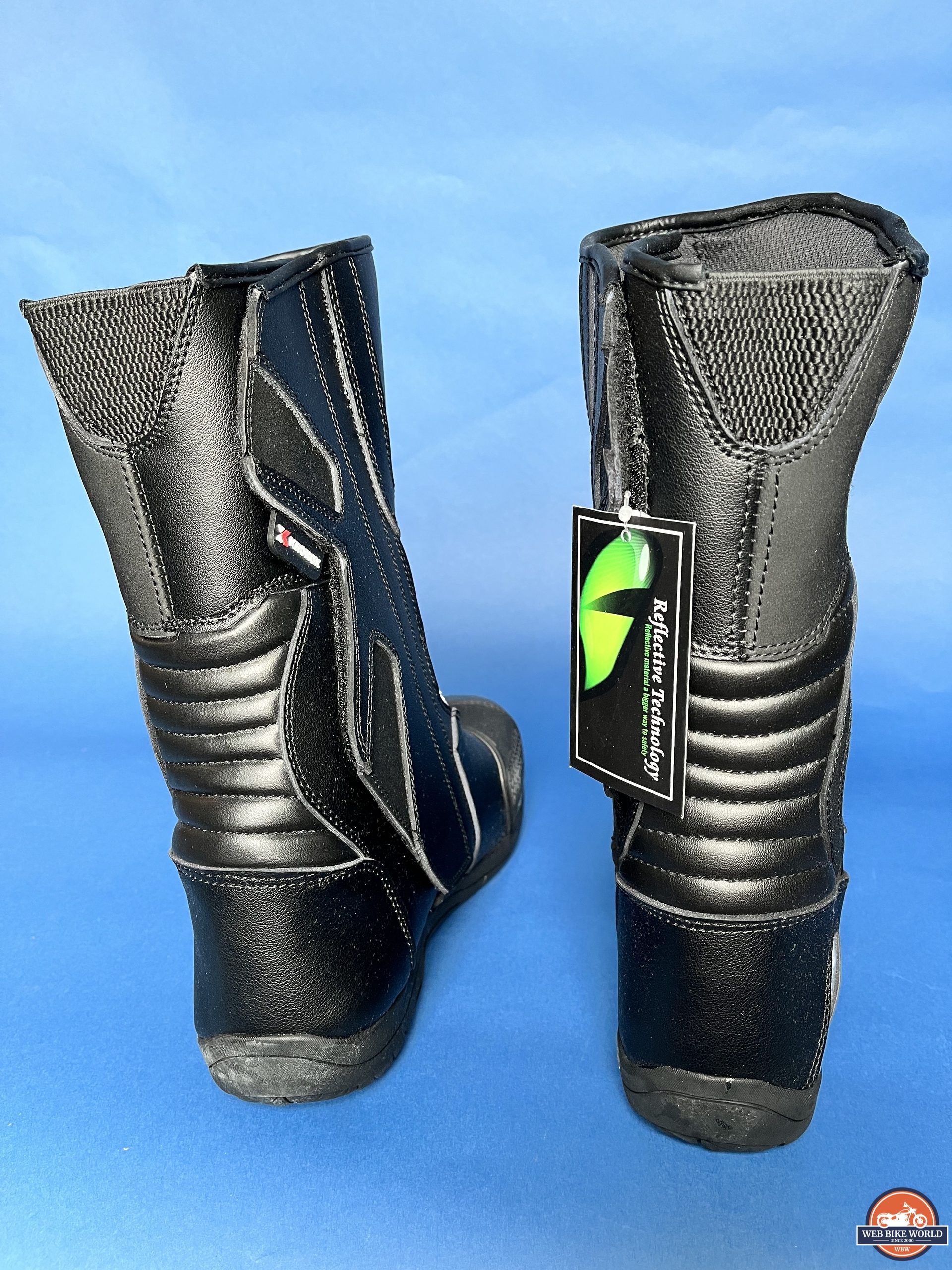 Nope, it's not just the photo—that left boot leans over by a good few degrees.
Fortunately, out of the thousand-plus times I actually did put my left foot on the ground in the Lanin Boot, it only slipped once—and mostly because I came down at a weird angle. But if Kronox is serious about providing the best possible products to customers, I think it's fair to say they'll want to be more careful about quality control going forward.
Kronox Lanin Boot Sizing & Fit
The Kronox Lanin Boot fits true to size. I'm a US size 11, and the pair I received was easy to get my feet into without feeling too loose in the toes or heels.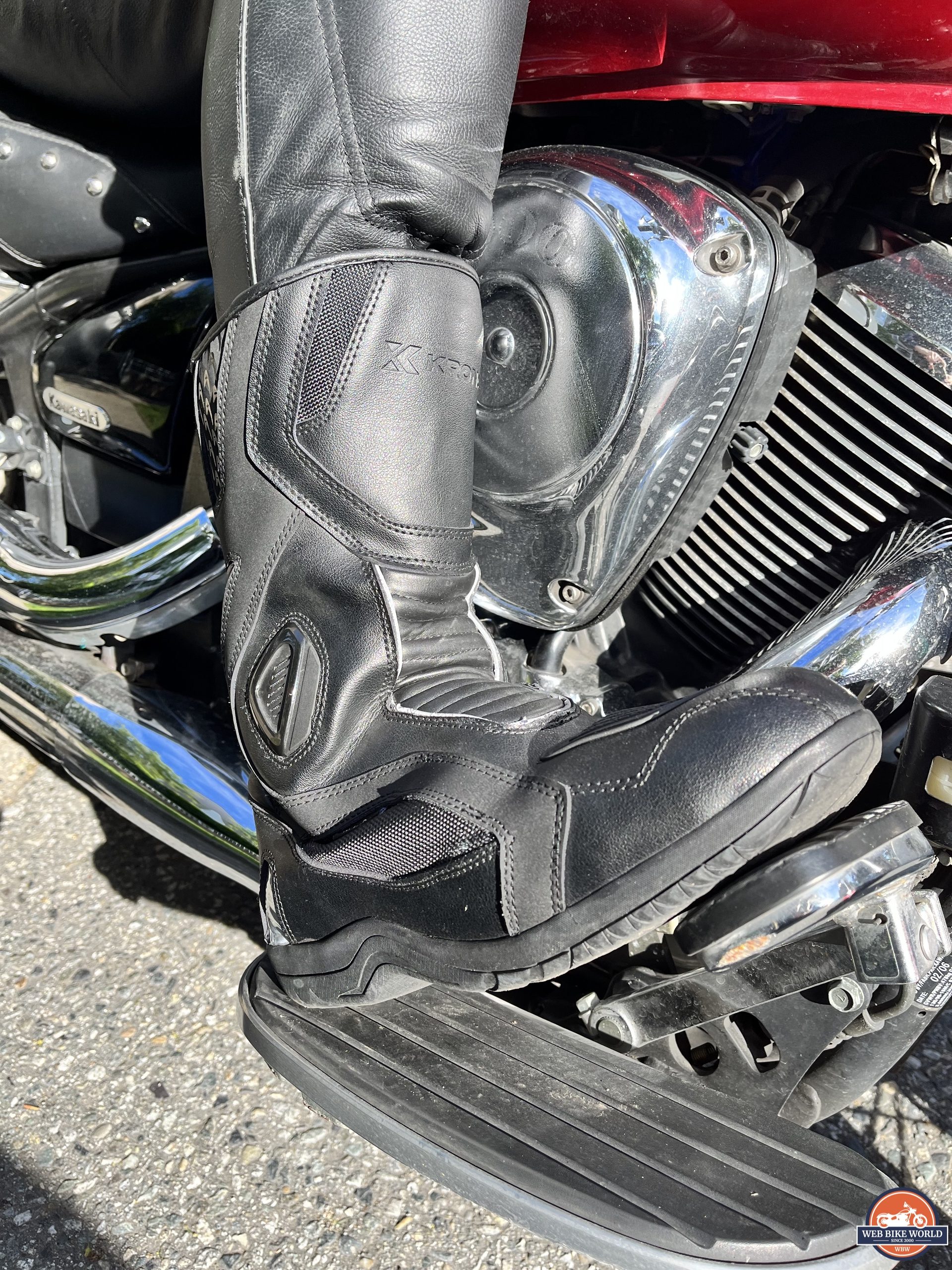 They slip on easily and look good on the floorboards.
This is also a great time to point out how comfortable the Lanin Boot is. My other waterproof touring boot is the Icon 1000 Prep Boot, which is noticeably bulkier, heavier, and harder to move around in. By comparison, the Lanin Boot feels almost like a motorcycle moccasin—it slides on and zips up in a fraction of the time, and I found that I could walk around indefinitely once I got off the bike without getting sore feet. The Prep Boot, on the other hand, starts to feel like it's made of concrete after hoofing it for about a block.
Unfortunately, one area where the Lanin Boot feels way too loose for my liking is in the ankle. Even pulling the velcro flaps all the way shut left a pretty sizable gap between the membrane and the Dainese Ducati leather pants I tucked into them. There's two major reasons why that's a problem:
Loose ankles mean there's more room for you to twist inside the boot—increasing the risk that you could injure yourself if you fall or put your foot down wrong.

Loose ankles can leave a gap between the openings of the boot and the pants you've tucked into them—which allows water to enter and get your feet wet.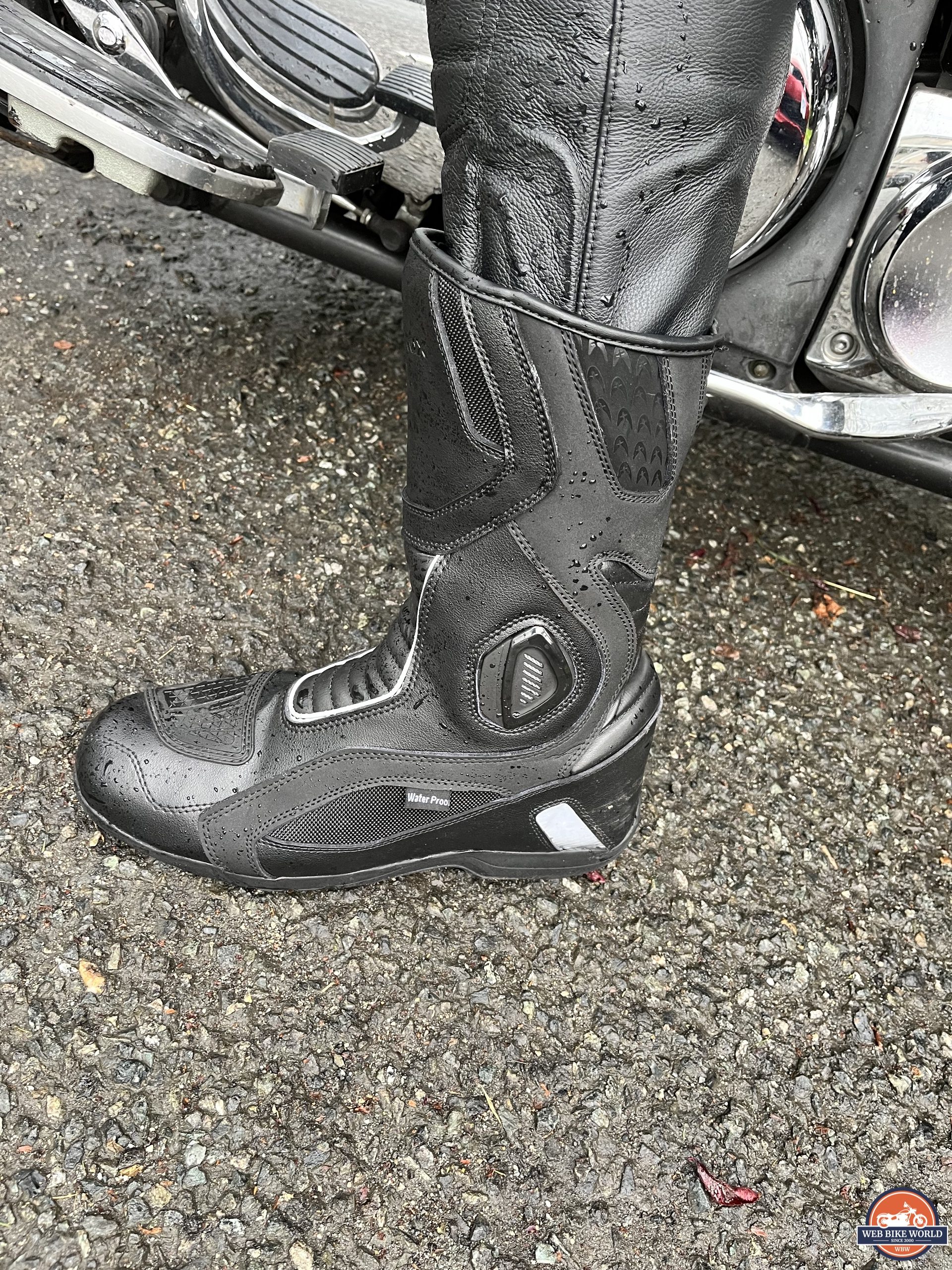 Water from the sides or bottom? No problem. But you might want to wear your pants over the ankles if you can.
In mild-to-moderate rain, the loose openings weren't really a problem. My feet stayed dry, even after numerous day-long rides to and from neighbouring towns in The Lower Mainland's near-perpetual spring precipitation. But I had to be sure, so I decided to mimic the experience of wearing these boots in a total downpour. Enter my garden sprayer on the "shower" setting.
The lengths I'll go to for you, dear readers.
Spraying water directly on the lower portion of the boots was no problem—as advertised, they were fully water-repellant and prevented even a drop from getting through. However, spraying my ankles for just a second or two allowed a noticeable amount of moisture to trickle into the boot, soaking my sock and undercutting the work Kronox had put into the rest of their design.
It's a shame, because this could easily have been fixed by adding a mechanism that allows the tops of the boots to close more tightly. On its own, the velcro just isn't capable of adjusting the fit enough. And at the end of the day—a boot that keeps water out when you plant it in a puddle but lets rain in through the tops isn't really waterproof, is it?
Kronox Lanin Boot Protection
We've already spoken to the boot's waterproofing abilities—which are great around the feet, but leave much to be desired at the tops of the ankles. Now I need to offer a few thoughts about how these boots protect against other factors.
I'm pleased to say it's mostly good news on this front. I wore these boots on nearly every ride I've taken since late March, and at no point have I ever burned my foot on a hot exhaust pipe or twisted my ankle at a stop. I did put my left foot down awkwardly once and pay for it with a little slide that could have resulted in a drop if I hadn't corrected quickly—but I don't think this is something that would have been prevented by building the boots differently. The VRMix tread pattern on the soles grips the road pretty tightly.
That said, I haven't had the dubious honour of falling off a moving bike in these boots, either—and I remain mildly concerned that the softness and lack of a shank in the ankles could pose an increased risk of twisting one or both in that situation, at least compared to more rigid and reinforced touring footwear. But these boots still offer much better protection than casual riding footwear; I'd take them over riding in cowboy boots any day.
Kronox Lanin Boot Value for Money
At this point, let me stop and remind you that we're talking about an economy touring boot here. The Lanin Boot retails for $79.95 USD, which is just over a third of what my Icon 1000 Prep Boot cost upon release.
Okay, so the Lanin Boot uses PU leather for the upper instead of the top-grain leather used in the Prep Boot. And yes, it's obviously been manufactured a bit less carefully—hence the typos and the slightly uneven left sole. And no, there are no buckles or straps to tighten the ankle and prevent water from running down your ankles during heavy storms. But you know what? 80% of the time, it doesn't matter.
PU leather won't last as long, but it still offers fair abrasion resistance for the price point. Typos look unprofessional on the packaging, but they don't change the way the boot feels or performs. The small manufacturing defect in the left sole never actually affected me while riding, and only truly extreme weather (or a garden hose) would produce enough water running straight down your legs to make the ankle openings a real issue.
For commuters or riders taking the occasional day trip in wet conditions, the Lanin Boot is a pretty cost-effective option. No, I wouldn't recommend it if you wanted to take a month-long trip up and down the West Coast during the spring monsoon season—but I honestly can't think of any $80 boots suitable for that kind of journey.
Final Thoughts on the Kronox Lanin Boot
Affordable? Check. Comfortable? Check. Waterproof? Kind of.
Kronox is off to a decent start with the Lanin Boot. All they need to do if they want to turn it into a truly reliable entry-level light touring product is tighten up their quality assurance process and add an adjustable strap or two at the ankles.
These boots haven't replaced my Icon 1000s, but they're not really trying to—they're offering most of the essential features at a fraction of the cost, and doing a serviceable job at it. And I'll be perfectly honest with you; given how much quicker and easier they are to put on, they're the ones I've been choosing more often for my short trips across town.
Just… you know. Look out for those patches of "PATROL" on the highway.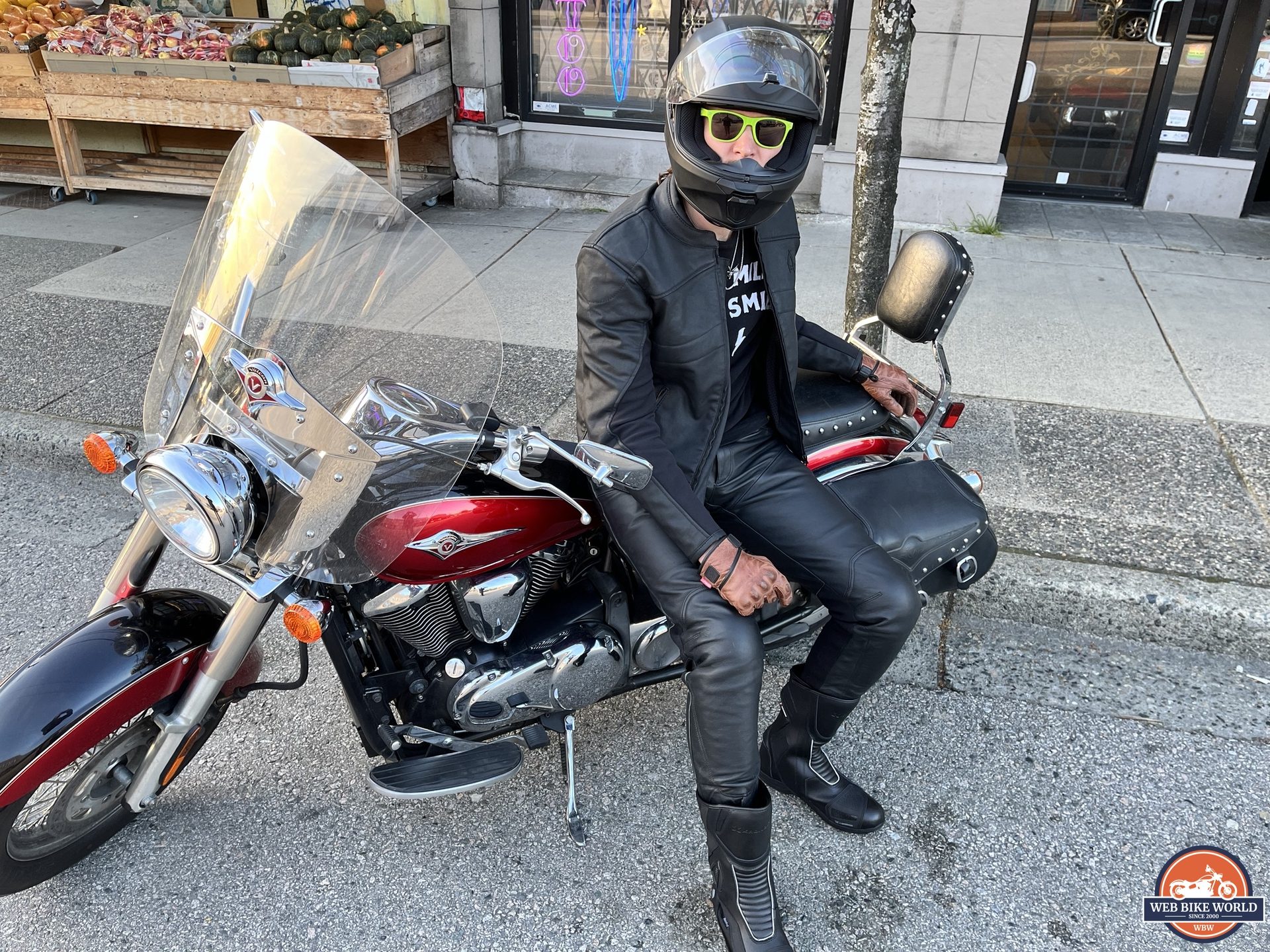 Pros
Extremely comfortable

Easy to put on and take off

Reflective elements for low-light conditions

Solid value for only $80
Cons
Fit not adjustable

Chance of manufacturing errors

Loose ankle openings can let in water

No shank for ankle support
Specs
Manufacturer:

Kronox

Price:

$79.95 USD

Colors:

Black

Sizes:

8-12

Review Date:

June 2022
Important Links / Where to Buy
Kronox Lanin Boot Gallery