The Kriega R25 and R35 Motorcycle Backpacks
The Kriega R25 and R35 make a convincing argument for wearing a backpack on a motorcycle.
The design moves the weight from the shoulders and places it on the chest and back.
Freedom of movement is also a benefit of Kriega's design, as both backpacks allow movement of arms and shoulders without any restriction.
The backpacks also sit far enough down the back to easily clear a helmet.
The durable construction and 10 year guarantee could likely make one of these backpacks the last one you'll ever need to buy.
Depending on how you look at it, I may be the best — or worst — writer to review a backpack for motorcycle use.
I want to get it out of the way up front that I really don't like wearing a backpack when riding.
I prefer as much freedom of movement as I possible when on the bike and I'm always looking for gear that fits closely and encumbers as little as possible.
So strapping on a bag full of extra weight goes against my "ideal" for motorcycle riding.
One way to look at this is "Why have someone review a backpack who prefers not to use one?" But then again, "Why NOT have a backpack review by someone who prefers not to use them?"
I think in this case it will make for a good review, since I will be starting with a bit of a skeptical eye and if the bags win me over, we'll know they're just that good.
I do want this review to be fair and balanced though, so for additional insight into these backpacks, I've asked Carmen to help me.
Carmen has travelled extensively and she has a lot of experience with a variety of backpacks over the years in her travels.
Add to that experience her education in textile manufacturing and I'm sure we will have plenty of good feedback on the Kriega backpacks. So let's have a look…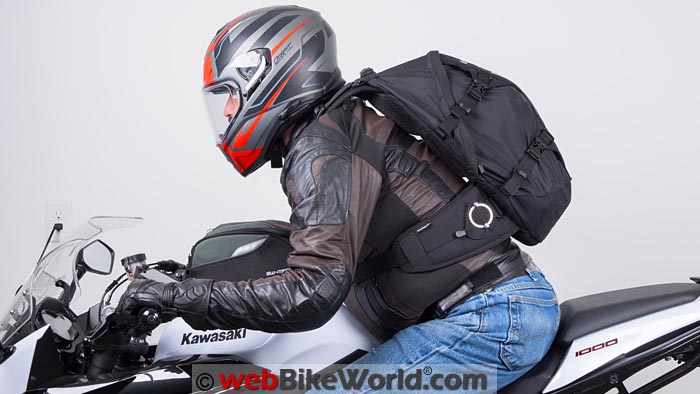 ---
Where to Buy Kriega R25 R35 Backpack
Check Reviews & Prices on Amazon
Check Reviews & Prices On RevZilla
See More: Motorcycle Luggage, Motorcycle Accessories, Motorcycle Helmet
---
Who is Kriega?
The story of Kriega is not unfamiliar in the motorcycle accessory and apparel industry.
It starts with an individual or small group that found the current product offerings lacking in some way and they decided to do something about it.
This "made by riders for riders" story is not a unique one and good intentions and ideas don't always end up creating a viable business.
In the case of Kriega, two product designers who were also riders decided to create a "better" backpack (and other types of luggage) where form followed function.
They started Kriega (then called Krug) in 2000 and over the years they have earned a reputation for delivering high quality and functional backpacks and other motorcycle luggage products.
Besides their popular backpacks, Kriega now makes various types of waterproof motorcycle luggage.
That includes the Kriega Drybackpacks we reviewed; also over-the-shoulder backpacks, panniers, waist backpacks, hydration backpacks and various accessory bags.
Even though I don't typically use a backpack when I ride, I instantly knew what our Editor was talking about when he asked if I wanted to review a pair of Kriega backpacks.
I was aware of the brand by reputation and I felt that if any manufacturer could make a backpack for motorcycle riding that I would use, it would be Kriega.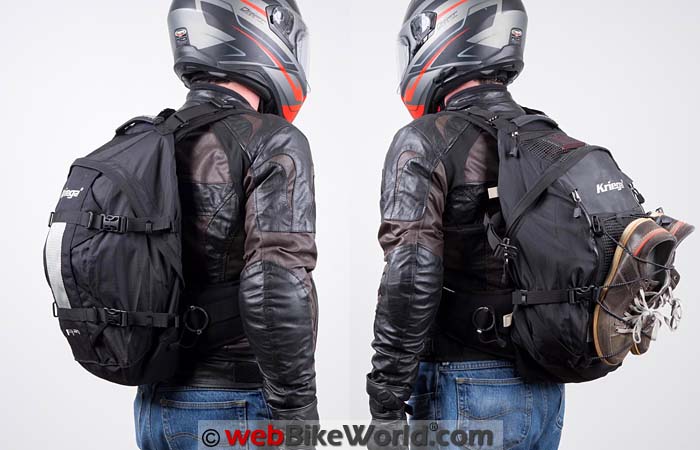 Kriega Backpack Background
Kriega currently has 5 backpacks in their lineup, from the R15 to the R35. The numbers relate to the capacity in liters, so the R35 is the largest and the R25 is right in the middle of the range, with 25 liters capacity.
35 liters is huge and if the mid-range R25 is too big for you, the R15 or R20 liter sized backpacks may be your choice.
Best suited for commuting or day trips, the R25 offers enough storage space for some clothes, a full sized 15.6" laptop plus a lunch and/or other items.
I'll have more details on how much gear you can stuff in each of the bags further along in the review.
So the R35 is the largest backpack in the Kriega lineup and although not rated as fully waterproof, it does have some water resistance and it includes additional storage pockets.
The R25 and R35 are and were popular backpacks, and the latest versions we're reviewing are updates to the previous models, with several shared features that came about in 2014 when these were first released.
One of those important features is the 10 year guarantee, which demonstrates Kriega's faith in their workmanship.
Shared Features of the R25 and R35
These backpacks use the same type of alloy waist adjusters for an "easy" fit adjustment. "Easy" may be subjective though as we'll see in a bit.
The shoulder adjusters are also similar for both the R25 and R35 in the way they are set up and adjusted.
The construction of both of these backpacks share basic materials with the use of 1000D Cordura, 420D ripstop nylon, Schoeller Dynatech and 3M Scotchlite reflective material.
Both backpacks also include loops for adding expansion luggage like the Kriega US-5, US-10 and US-20 Drybackpacks we reviewed previously.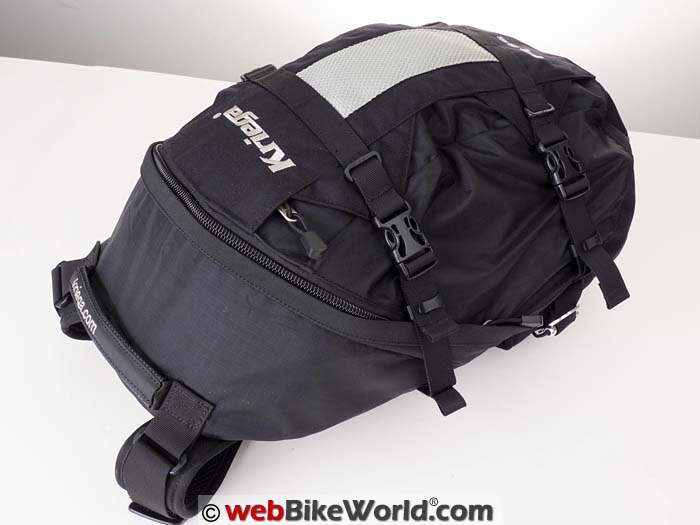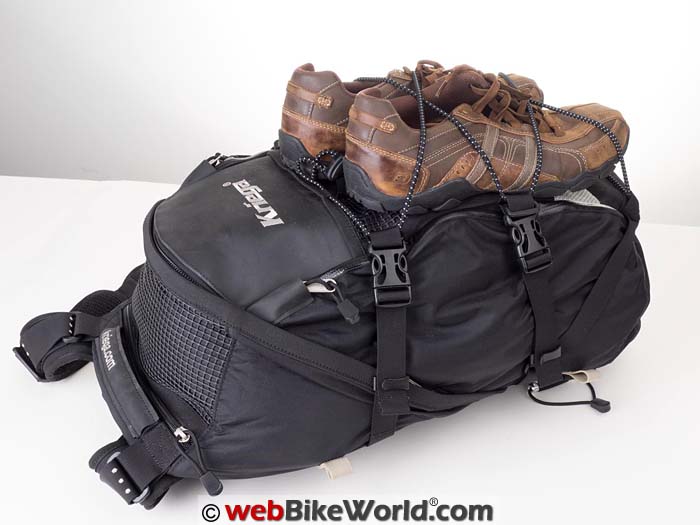 Any Color You Like…
Another shared trait across the Kriega backpack lineup is the color, which is black.
Carmen pointed out that black is her favorite color in backpacks as it doesn't show dirt as quickly or easily as other colors and shades.
Other backpacks she has owned in the past would get dirty-looking from being tossed around during travel and from often being set down on the ground, where they pick up dirt and grime.
So black does a good job masking this, at least most of the time.
But since black doesn't do much to improve the visibility of the rider and bike, Kriega has placed panels of Dynatech with 3M Scotchlite strategically on the backpacks.
Handles and Straps
At the top of each backpack is a sturdy carrying handle, which is wrapped on top with with a leather-like material (microfiber I'm guessing) with an embroidered Kriega logo.
The underside of the handle is covered with a textured synthetic material offering good grip and it sticks well to the leather surface of gloves.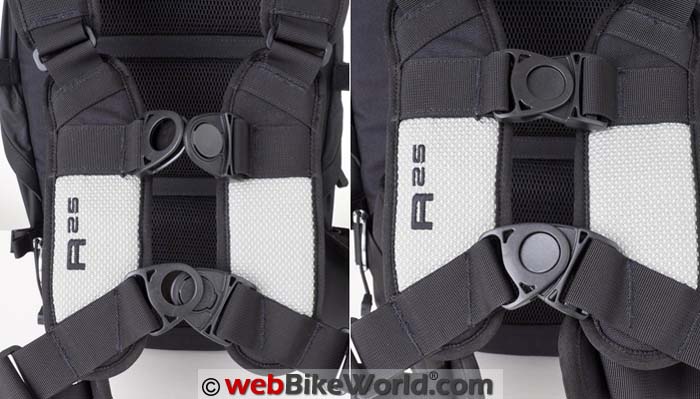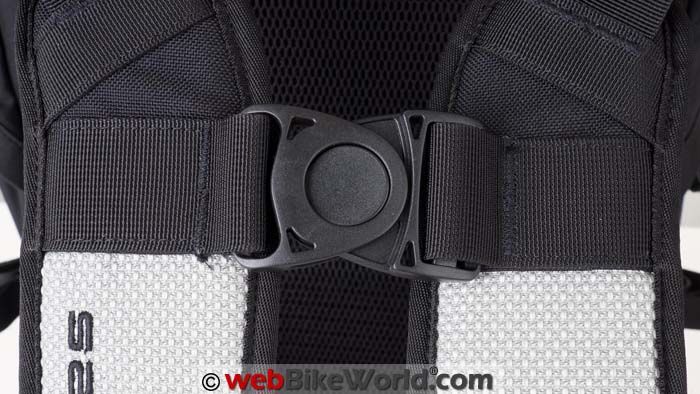 QuadLoc Mounting System
A four-point harness that kriega calls "QuadLoc" is used on both backpacks and it is designed to keep weight off of the shoulders and place it on the hips and chest.
Though the fastening system is different between the R25 and R35, the overall support and fit is similar. I'll get into the mounting system more in a bit.
Notes on the Basic Kriega Backpack Details
Inside the main compartment on each pack is a slip pocket with a small hook-and-loop closure that can be used for storing a laptop computer.
This pocket is really more of a sleeve, however, and it's very tight. In fact, it would be difficult to fit most laptop computers in this spot (but a full-sized laptop does fit in the main compartment with no problem).
[UPDATE: We just discovered that the pocket is for the optional Forcefield back protector or hydration pack or documents. It seems strange that there's no dedicated laptop pocket?
According to the Kriega USA website, the pocket in the R35 can be also be used as to stow a 13″ laptop. ]
One feature that Carmen would like to see that isn't present is the ability of the backpacks to stand up on their own when set down.
Being designed for motorcycle riding, perhaps this wasn't a priority, but I agree with her.
When I was taking photographs of the backpacks and transferring my test payload from bag to bag, it would have been nice if the backpacks didn't just fall over.
Other similar features include a port for an accessory hydration pack tube that comes out of the top.
Also included are take-up straps to keep a less-than-empty pack from flapping in the wind and a small strap with a clip inside the main compartment for holding a key ring.
Both the R25 and R35 also share a thickly padded back pad, made with a breathable mesh covered material that sits against the rider's back.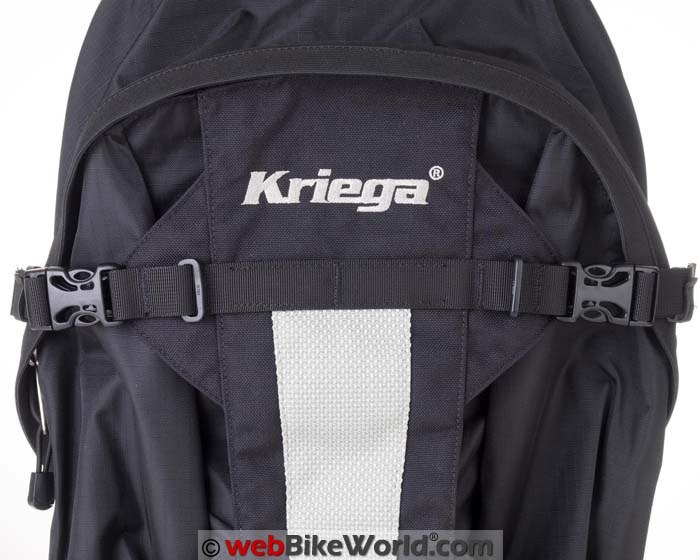 ---
Where to Buy Kriega R25 R35 Backpack
Check Reviews & Prices on Amazon
Check Reviews & Prices On RevZilla
See More: Motorcycle Luggage, Motorcycle Accessories, Motorcycle Helmet
---
The Kriega R25: Construction
The R25 backpack is made from 1000D DuPont Cordura fabric on the harness straps as well as the bottom portion of the shell.
It is also employed on the rear of the backpack and covers the expansion pocket located there, which is also the anchor point for the four cinch strap buckles.
The rest of the shell is made from a 420D ripstop nylon and it is present on the sides as well as the upper flap over the main compartment.
The combination of heavy Cordura and lightweight nylon make for an overall lightweight but durable backpack.
Kriega R25 Details
The R25 backpack measures 52 cm by 30 cm by 16 cm (20.5 by 12 by 6.25 inches) according to Kriega, although the non-rectangular shape makes it a bit difficult to take accurate measurements.
The main opening measures 33 cm (13 inches) from side-to-side, which is actually about 25 mm (1 inch) wider than the official stated width.
The way the material and zipper is configured allows the opening to be slightly larger than that dimension.
Inside the main compartment is a zippered pocket using a reinforced clear covering to make it easy to see the items within.
This pocket measures about 15 by 22 cm (6 by 8.5 inches), with the clear window  shorter than the overall pocket by about 50 mm.
In the center of the rear (front?) Cordura panel is a 7 cm by 17 cm (2.75" by 6.75") strip made from Dynatech with reflective 3M Scotchlite material integrated.
Two patches of the same material on in place on the harness straps for forward reflectivity with each patch measuring about 6 cm by 10 cm (2.5" by 4").
This material glows very brightly even when hit with a weak light like the flashlight on my smart phone.
Within that rear Cordura panel is a pocket measuring about 18 cm by 33 cm (7" by 13"), fastened with large coil YKK zipper.
The zipper pull tab itself is metal and it's large at 38 mm (1.5 inches) long with a nylon strap plus plastic grip. The large zipper and additional pull strap make it very easy to open and close the R25 when wearing gloves.
The main compartment zipper is even larger at 45 mm (1.75 inches) and the zipper coils are huge, which make access to the main storage compartment even easier.
Back of the Pack
The back of the R25 backpack (the section that sits against the wearer) has three sections of padding that vary in thickness from around 22 mm to 25 mm (0.75″ to over 1").
The padding is some kind of soft foam covered in layers of mesh material and it has a rough texture that helps keep the backpack in place. The soft nature of the foam allows the backpack to conform to the wearer's back.
Behind that padding is an internal stiffening panel that allows the backpack to keep its shape when empty.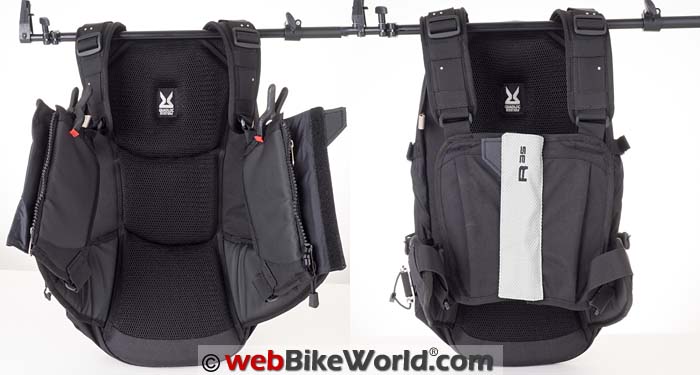 R25 Straps and Adjusters
The harness straps on the Kriega R25 are more complicated that what I'm used to seeing on a typical backpack. They are each made of three sections; the front is made from Cordura but each section has different materials.
The shoulder straps are backed with a foam padding and mesh similar to the rear of the backpack.
The middle section, where the QuadLoc harness fasteners are attached, is backed with a fine textured rubber-like material and this is also used on the lower strap sections.
The upper and lower sections include adjusters with the shoulders using a sliding plastic buckle arrangement, while the lower sections use a very nice looking aluminum sliding adjuster with a pull strap.
The nylon webbing at the shoulders has three positions marked to make it easy to get the adjustment symmetrical and the webbing is kept in place with an elastic strap.
Kriega has gone out of their way to make sure none of the straps will be flapping in the breeze.
Likewise, the lower section adjusters are set up in a closed loop fashion so that there is no excess webbing to flap around.
The metal adjusters look great and the pull straps make it very easy to slide them towards the loosen end. The direction in which they're tightened is another story that we'll get into below.
The strap sections are connected using thick plastic d-rings and seat belt like nylon webbing.
The sectional design of the harness straps allow Kriega to make the harness fit in a way that keeps the load on the chest and hips and also allows it to open wide for easy ingress when wearing riding gear.
The harness fastens using two round plastic buckles that slip together easily and stay together very positively and the large circular buttons make it very easy to release when you're ready to remove the pack when wearing gloves.
The overall construction is very well executed and it demonstrates that a lot of thought went into making the backpack useful and durable.
An example I noticed on both the R25 and R35 backpacks is that there is a swath of Cordura fabric backing to increase strength and durability in the spaces where the harness is sewn to locations on the ripstop nylon.
Kriega R25 Carrying Capacity
The R25 has a capacity that is 10 liters smaller than the R35, yet it still fared well.
I was able to fit the computer and still stow a pair of jeans and two shirts, two pairs of socks and underwear along with the Henley shirt and fleece jacket.
The hat and camera easily fit in the extra pocket on the back.
Without the extra side pockets and shock cord, extra shoes were not going to fit in the R25, however. Of course, leaving out the computer though would yield enough space for shoes or more clothes.
Kriega R35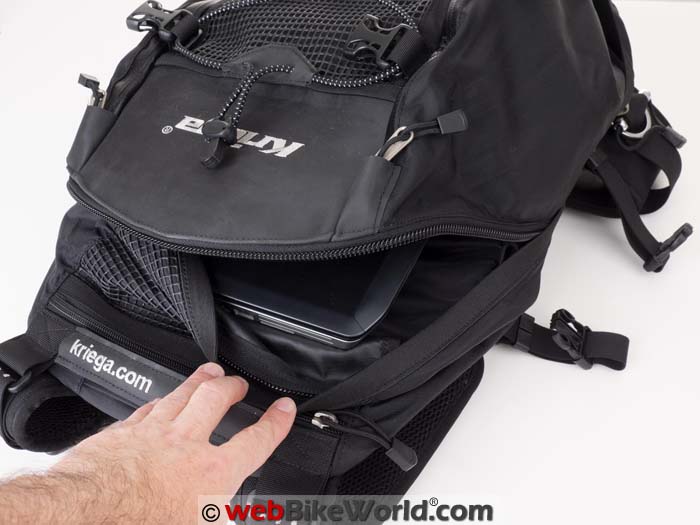 The Kriega R35 Backpack
The 35-liter capacity R35 shares the overall look of the smaller R25 and the main shell  uses similar materials in some places, with 1000D Cordura on the bottom, the harness straps, the back facing panel and the center of the front main section.
420D ripstop nylon is used for the side panels of the backpack.
Kriega R35 Details
According to Kriega's measurements, the R35 is the same width as the R25 at 300 mm (12 inches) and the main compartment opening is also 33 cm wide (13") like the R25.
But the R35 is taller at 57 cm (22.5 inches) and deeper at just under 200 mm (8 inches), which is where the extra storage space comes from.
Size isn't the only difference from the smaller R25; on the rear (facing away from the rider) there are two zippered pockets that take up nearly the entire side section of the shell.
These measure 35.5 cm (14 inches) at the longest portion by 178 mm (7 inches) at the widest spot.
These two pockets taper at the bottom and top but they still offer a good sized space for items that need to be kept separate from the main compartment.
As an example, one of these pockets easily swallows a 700 ml water bottle and would likely manage a full liter bottle, but I just didn't have one on hand to try.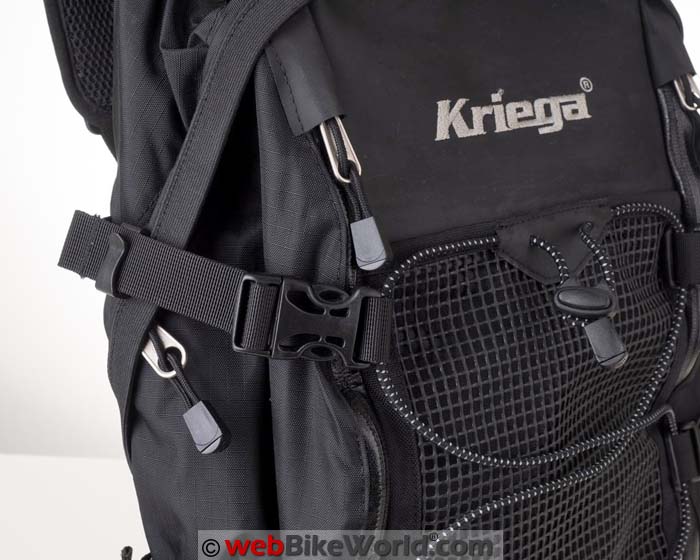 R35 Water Resistance
The pockets have a long and what appears to be a waterproof zipper.
The shell material is not called out as waterproof, so while this may help in a light rain to keep the zipper from leaking in water, the shell material still might let in water.
So a waterproof shell may not be on order here, but there are some water resistant features in addition to the waterproof style zippers for the side pockets.
Those zipper have a "garage" or cover they zip into at the top of their travel.
The "garages" allow the zipper pull to remain completely covered when shut so that rain can't find its way into the gap at the start of the zipper.
The material used is similar if not the same material used on the handle, which is leather like and feels like it may be a suede style micro fiber.
Kriega says this material is waterproof and there is a large patch of the same material at the top of the main opening flap, which helps reduce the chance of water getting into the pack. There is also a Kriega logo embroidered into this panel.
R35 Pockets
Just below the panel with the Kriega logo is a large slip-in pocket that runs all the way down to the bottom of the pack.
At 33 cm by 21 cm (13 X 8 inches), this pocket can handle items where absolute protection is not a concern. The upper 20 cm (8 inches) of the pocket is covered with a rubberized mesh.
Just below the mesh section is a 57 mm (2.25 inch) tall strip of Dynatech with 3M Scotchlite reflective material and Cordura finishing out the bottom.
The reflective panel, as on the R25, is highly reflective and it is positioned well for being seen when the pack is worn on the bike.
At very top of the R35 is another zippered pocket covered in rubberized mesh.
Measuring 216 by 152 mm (8.5 X 6 inches), this is a good spot for items you might want to have easy access to like a wallet or mobile phone.
Of course, it's a mesh pocket so anything stored here will get wet in the rain.
If these extra external pockets still aren't quite enough for your extra items, there is a shock cord that criss-crosses the rear.
While not large enough for a full size helmet, I have tried using it for a pair of shoes where it worked very well. This might be a good spot to keep post-workout shoes and/or clothes so that they are kept out of the interior.
The cord has a slip lock with a spring-loaded push button to adjust the tension at the top section where it crosses. The cord itself also contains 3M Scotchlite and adds a noticeable reflection to increase nighttime visibility.
On the inside of the main compartment is small zippered pocket like the in the R25 but this one is smaller, measuring 89 by 203 mm (3.5 X 8 inches).
It is covered with a clear reinforced plastic window to easily view the contents much like the type found in photo bags.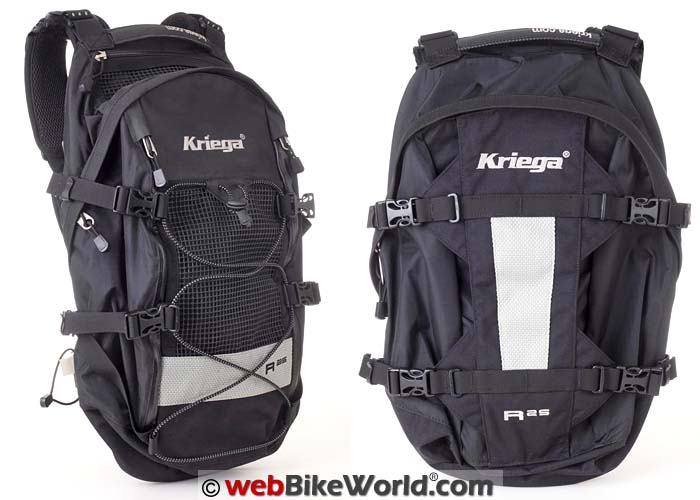 R35 Straps and Adjusters
The QuadLoc harness is similar in design to the one on the R25, but the center sections and they attach are very different.
Instead of the quick release buckles, the R35 harness has two large panels that zip together using a large zipper.
When zipped together, the two halves form a 25.4 cm (10 inch) square panel that rests in the middle of the chest.
The rear sides of the panels are covered in the same rubber-like material as the R25 harness but these also have semi-rigid (plastic?) plates inside them.
They are probably designed for holding the shape of the sections, but the plates feel like lightweight armor and might offer some impact protection.
More Pockets
Oh, and did I mention there are even more pockets in the harness halves?
As if all the extra storage spaces weren't enough, each side of the harness connector has a 101 mm by 203 mm (4 X 8 inch) zippered pocket.
These small pockets are a great place to put a wallet or smaller cell phone or any other small items that you would like to access without removing the backpack.
Each pocket has a small gusset, allowing it some expandability but a thick wallet or large smartphone will be a tight squeeze.
To access the zippers for the pockets as well as the the main zipper for the harness, there is a covering flap that closes with hook-and-loop fastener.
This flap protects the zippers and pulls and is covered with Dynatech that incorporates 3M Scotchlite for a nice reflective panel being visible from in front of the rider.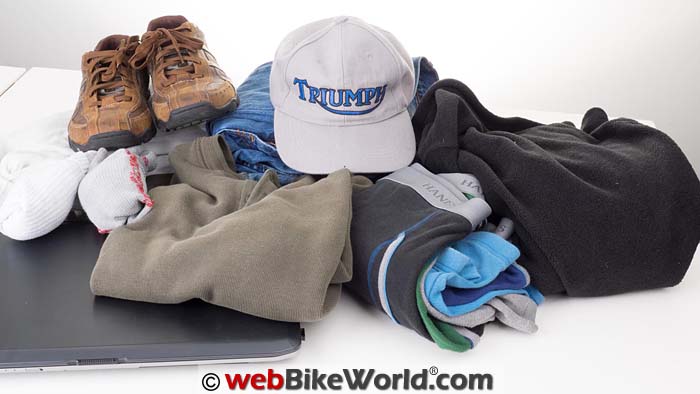 R35 Storage and Stuffability
Dimensions and measurements are all well and good but I wanted to present a real-world idea of what you can really stuff into the R25 and R35 backpacks.
To do this, I grabbed some clothes, a hat and a computer to see how much I could reasonably stuff into each backpack.
I started with the larger R35 backpack and began the computer.
The laptop I used here is a Dell 5530 with a 15.6" screen. It's not the largest laptop, but it's also not super-small like my Yoga 3, which is so thin and light it would be like cheating!
I was able to also take two pairs of jeans, four short sleeve t-shirts, four pairs of socks, four pairs of boxer/briefs, a long sleeve Henley-style shirt and a light zip-up fleece jacket.
All of these clothes plus the computer fit into the main compartment comfortably.
I could have jammed some more in there but reaching the absolute max load wasn't my goal here.
In addition, I put a hat in one of the side pockets and strapped a pair of walking shoes to the rear of the R35 using the shock cord. The rubber mesh under the shock cord space helps keep items from sliding down in this position.
In the top mesh pocket I placed a small all-weather digital camera.
The R35 handled all of this and I still had the other side pocket plus the small front pockets available that could have fit more small items
But my primary concern was the main compartment and what I could stuff there.
So I feel comfortable saying that you could have enough clothes for three or four days stowed away and maybe even more, depending on how creatively you can pack (and how lightweight the clothes are).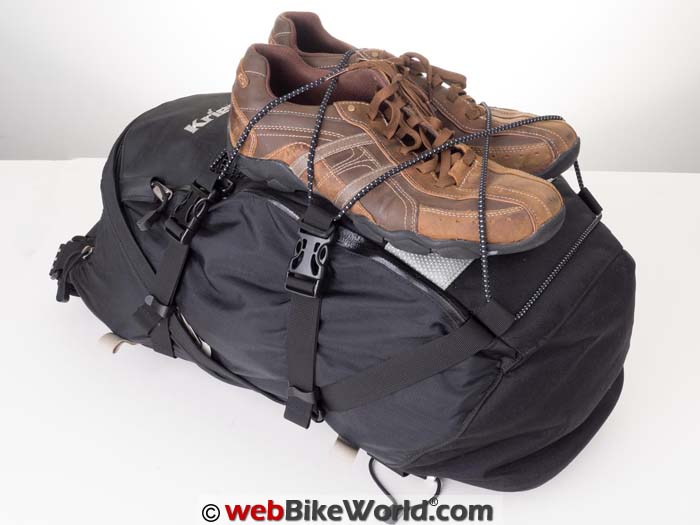 ---
Where to Buy Kriega R25 R35 Backpack
Check Reviews & Prices on Amazon
Check Reviews & Prices On RevZilla
See More: Motorcycle Luggage, Motorcycle Accessories, Motorcycle Helmet
---
R25 vs. R35 Storage Capacity Notes
In the end, I think the R25 could easily carry enough stuff for a weekend or three-day trip, while the R35 would allow for an extra day or two.
With the extra pockets and shock cord, you can have some extra locations for bringing home items that you didn't leave with, if that's a consideration.
Fitting the Backpacks
With all the specifications behind us, let's have a look at what the R25 and R35 are like in actual use.
First up, I wanted to put them on and get them adjusted to fit properly. This requires wearing a riding jacket so that I could take into account the extra bulk.
Before putting on each backpack, I ran the waist adjusters all the way to the largest setting so that I could cinch it once I had it on over the jacket.
I placed the shoulder straps at the middle setting for this test, as it seemed to fit about where I wanted it to locate.
As I picked up the R25, I put my right arm through the strap and then reached my left arm behind me to pull on the left strap. This sounds easy but each time I have done this, the left strap ends up twisted.
Since the shoulders fit snugly, it is a bit of a chore to get the strap turned around the right way.
I thought maybe this was just my failing but when Carmen tried them on she got the same result. This happened for both of us with both backpacks even after trying several times.
Maybe with more time and practice one can sort this out and get it right but we had to untwist the strap on both backpacks each time. This is a little annoying and actually a bit comical.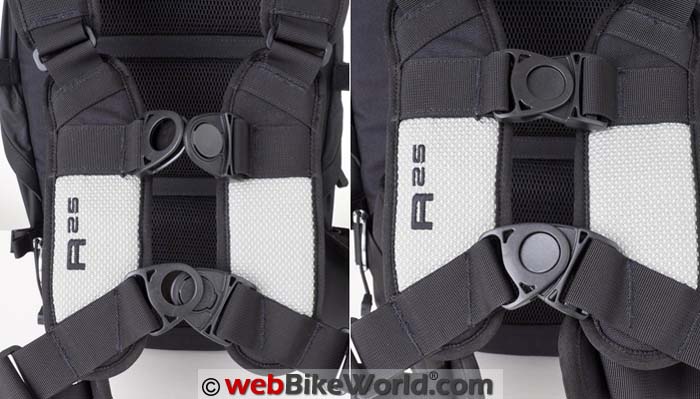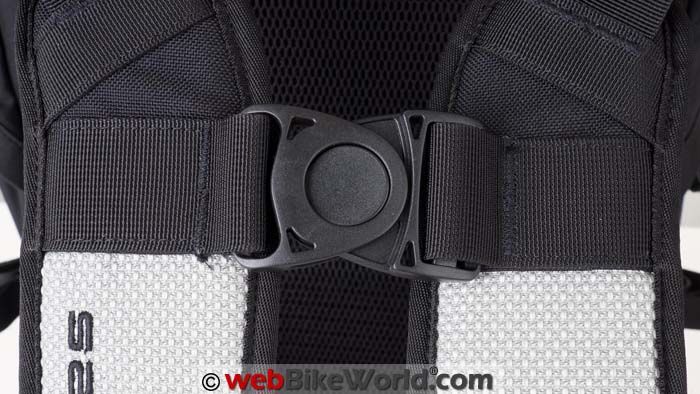 Entering the Backpack
Once getting the straps correctly oriented, I clicked the two snap buckles on the R25 harness together.
This is very easy to manage and the large round snap buckles are easy to connect and disconnect even when wearing gloves.
Putting on and fastening the R35 can be a little more involved, because the R35 uses a large zipper to connect the two halves of the harness.
It is very large and the zipper sides can be mated together easily, as long as you are not wearing your helmet.
Wearing a full-face helmet will obscure your ability to see the zipper because it is very close to the chest, but with some practice it can be done.
For some people (OK, me) who have put their helmet on first, it can be a challenge.

Metal Waist Adjusters
Next, I needed to adjust the waist straps. Kriega uses very nicely machined aluminum adjusters on the waist straps and these have nylon pull cords that are easy to find.
With the pack in front of me (not wearing it), it is easy to slide the adjusters.
However, once the pack is on the back, pulling the adjuster proves difficult. Looking at the instructions from Kriega, you're supposed to adjust it like this after putting on the backpack.
This involves pulling the attached cord forward AND outward.
With some strong tugging I was able to inch the adjusters forward and get the pack set to where it felt secure without being overly tight.
This difficulty in adjusting happened with both the R25 and R35 backpacks and Carmen couldn't actually budge the sliders at all while wearing the pack.
All that being said, we each were able to eventually adjust them to fit. After working with them by moving them back and forth to see if they wear in, the R35 has now become adjustable while wearing it.
The metal rings have to pull out and then forward to adjust without too much effort.
The R25 is still a bit stiff but it is getting better, but overall we can note that after several uses, the adjusters will get easier to use.
The fact that they're difficult to move at least makes it nice to know that the adjusters will stay firmly in place. Once you get the pack adjusted to your personal taste, you probably won't have to adjust it again anyway.
In fact, I found that during my test rides the back backpacks never need re-adjusting or even gave a hint of loosening up, and that's the important thing.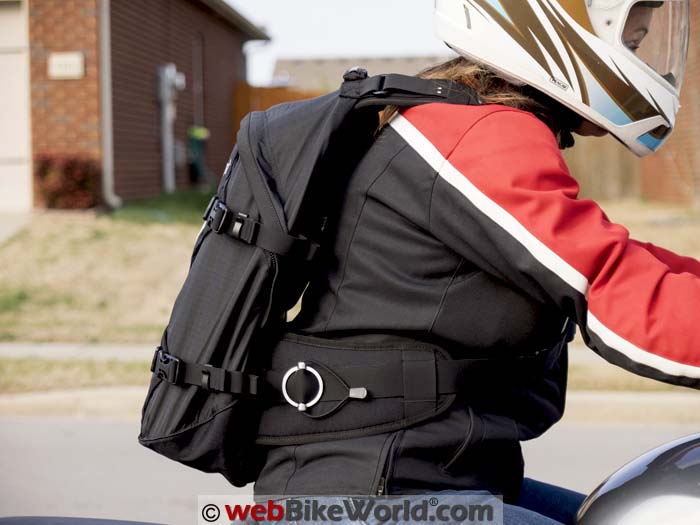 On the Road With the R25 and R35
After getting the backpacks adjusted to fit properly, I packed them so I could see how they felt in actual use on the bike.
This would be the big test for me, as I have said I don't like to wear backpacks when I ride.
While I had been using them and trying them on indoors, I felt certain I was going to like the R25 more than the larger R35.
I imagined that the smaller and lighter pack would be easier for me to contend with, since I prefer to ride with no backpack at all.
It should be noted that while you can certainly use these backpacks when you're not riding a motorcycle, they are more comfortable when you are in the riding position while wearing them.
Do keep this in mind if you try one on and make sure to get on your motorcycle with the pack loaded to make sure it fits and feels good for you.
For my trial evaluation, I loaded each backpack up with the same payload and to make this easy, I grabbed one of my "photo backdrops in a bag", which happens to fit well in both.
To help fill it out, I used a large towel to keep the main compartment stuffed.
The result was a 3.35 kg (7 lb., 6 oz.) payload that I could easily transfer to each backpack so I could compare comfort between the two.
To start off with, I grabbed the R25 and stuffed the test payload within.
I hopped on the Kawasaki NInja 1000 (review) and rode for about an hour on a variety of long straights and twisty back roads.
My goal was to get a feel for how the backpack felt at speed and how much, if any, it bothered me to move around in the seat when needing to lean into tighter turns.
After that first hour, I pulled out the R35 from my top case and swapped the backpacks.
Being able to test both of them while out on the same day and during the same ride, I thought would make it as fair as possible.
What I found was that the backpacks were surprisingly similar in how they felt and functioned.
For example, both backpacks deliver on the promise of keeping weight off of the shoulders.
I could tell the weight was being handled by my chest and on my back but even though the shoulder straps were in place and snug, they didn't pull on me at all that I could tell.
This is excellent news and I now understand the work that Kriega did with the design to make this happen.
Another similarity on the downside though is the extra cross section that wearing the backpack creates in the wind.
It wasn't particularly windy during my first evaluation, but when I did ride through some crosswind I could feel the difference.
Nothing dangerous, but it was enough for me to take note and this would probably be the case with any backpack on a motorcycle.
Back on the plus side, after riding around for a couple of hours with either pack on my back I didn't feel annoyed or fatigued like I expected to; the design really works to keep the weight from being a problem.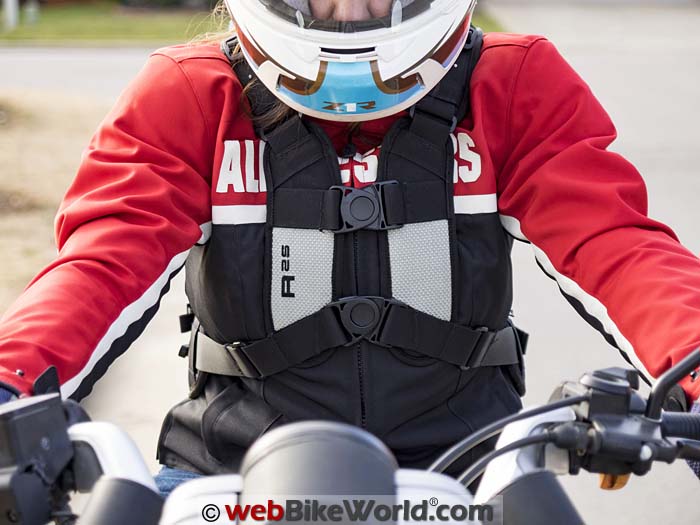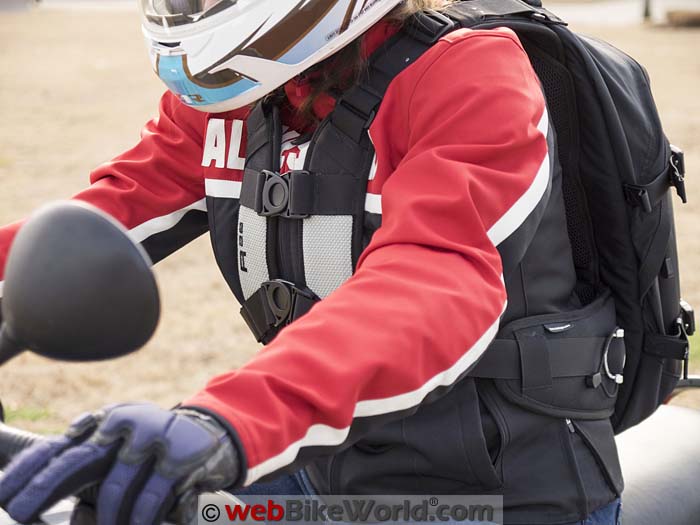 R35 vs. R25 Comfort
A big surprise for me was finding how much more comfortable the larger R35 is compared to the R25.
I was certain before this test that I would prefer the smaller R25 backpack, but after an hour with the R35 it was noticeably more comfortable.
My feeling is the larger surface area and design of the chest harness plays in here, as that felt noticeably more comfortable.
Also, longer length in the rear of the R35 presents more surface area, which spreads the load. So maybe I shouldn't have been surprised that with the same amount of weight in the backpack, the larger pack felt better.
This isn't to say that the R25 is uncomfortable, not by any means, but the R35 definitely does a better job at masking the presence of the weight.
Of course, you should keep in mind that your height and build will likely affect comfort and what worked best for me might not be the best for others.
Conclusion
The R25 and R35 backpacks really surprise me.
It isn't the build quality or the design that's surprising, as I had suspected these would be top-notch examples of the breed.
The surprise came from how unobtrusive and comfortable Kriega has managed to make these backpacks when you're wearing one on the bike.
You may not need something as large as the R35 for every-day commuting, but think about this: some motorcycles just don't support on-board luggage very well, if at all.
Or, you may just need to have even more storage than get with a tank bag, panniers, top box or any combination of the three.
Also, a backpack can be the best choice for both extra capacity when touring or for temporary storage on a commute, and you can also easily carry the backpack into work, where it's more secure than leaving luggage on the bike.
So if a motorcycle backpack is something you use all the time or something you have been considering, it doesn't get any better than the Kriega lineup.
Kriega backpacks aren't inexpensive, but the quality of construction and the 10-year guarantee makes the price actually seem reasonable.
w

BW

 Review: Kriega R25 and R35 Backpacks
Manufacturer: Kriega
List Price (2017): R25 $189.00. R35 $249.00
Colors: Black
Made In: Pakistan
Review Date: February 2017
Note: Item provided by a retailer, distributor or manufacturer with these Terms and Conditions.
Note:
 For informational use only. All material and photographs are Copyright © webWorld International, LLC since 2000. All rights reserved. See the webBikeWorld® 
Site Info page
. Product specifications, features and details may change or differ from our descriptions. Always check before purchasing. Read the
Terms and Conditions
!
---
Where to Buy Kriega R25 R35 Backpack
Check Reviews & Prices on Amazon
Check Reviews & Prices On RevZilla
See More: Motorcycle Luggage, Motorcycle Accessories, Motorcycle Helmet
---
Owner Comments and Feedback
---
From "A.D." (February 2017): "I've been using an R25 for a couple of years. There are a couple of observations in the review that I feel might be a bit misleading.
1) Twisting shoulder straps when donning the pack: In my experience this happens with all backpacks, without exception. It is, more than anything else, the reason why I spent $189 for the Kriega.
Yes, the strap twists.. but it's much easier to sort out than any backpack I've ever used.
2) Adjustment difficulty: This is a red herring. Once the straps are adjusted, there is no need to move them, ever.
This is also in contrast to conventional backpacks, which require you to loosen one strap to get them on and off. I haven't touched the adjusters on my R25 since the first fitting.
I love this pack and feel it's well worth the cost.
The only thing on my wish list would be a small zippered pocket on the chest to hold money/change/credit card, etc. to make it easier to deal with toll booths and the occasional rest stop.
When I bought the pack I also purchased the Kube accessory pocket, but it's too bulky for use on my sportbike… I can't get into a tuck with it fitted.
Being left-handed, it would be nice if the zippers were reversed, but that's just me. Thanks for the review!"
Editor's Note: I do not think the review is misleading at all. It is simply a report from one user, which may be different from your experience.
We absolutely need to report every possible fact, including that the Kriega backpacks can be a bit difficult to put on due to the twisting straps.
I guarantee that if we did not mention that, many readers would ping us on it! It's simply a fact and I can't say I agree that every backpack is like that.
The design of the Kriega (and other motorcycle backpacks) is such that the body support does make it more difficult to get the straps on without some effort.
Also, regarding the adjustment, again that is something that we have to mention, it's just a fact and we're describing it so that new owners will understand the issues.
We did mention specifically in the review that once they're adjusted, you probably won't need to do it again:
"The fact that they're difficult to move at least makes it nice to know that the adjusters will stay firmly in place. Once you get the pack adjusted to your personal taste, you probably won't have to adjust it again anyway.
In fact, I found that during my test rides the back backpacks never need re-adjusting or even gave a hint of loosening up, and that's the important thing."
So maybe I'm reading your comments wrong, but there was no intention whatsoever to deceive anyone or to make an issue out of something that isn't.
---
From "N.W." (February 2017): "I have a Kreiga R25 that I wear for 4-5 hours per week on my moto commute, going on 4 years with this pack.
As always, I found the webBikeWorld review spot-on with the exception that our size preferences are reversed.
I first bought the R35 thinking more room is better, but it holds more than I want to carry, and I had reservations about the fastening system. So I traded for the R25.
My reservation about the R35 fastening is how thoroughly it covers the chest. From a protection standpoint, this is excellent.
From a hot weather standpoint, it blocks too much ventilation potential. Hot weather riding is a big factor for me.
I absolutely love the Quadloc system. It's so positive, easy to close with gloved hands, a little harder to open, but not fiddly.
The adjustment system is top notch. I adjust it twice a year to compensate for the thickness of my jacket, summer vs. winter. It stays where it's set.
Durability: 4 years of regular use and it's only showing minimal wear. Kriega is not going to have to make good on their 10-year warranty at this rate.
Now for the two best aspects of this pack: comfort and loadability.
Comfort: the harness system hugs you, spreading the weight between your chest and back. The weight simply does not ride on your shoulders. Super stable. I'm never aware that I'm wearing it. I miss the hug when I ride without it.
Loadability: Huge mouth, one big sack. What could be easier? I routinely pack a laptop, soft lunch box, small thermos and some misc junk plus whatever small items I keep in the two pockets.
I was amused about your strap twisting issue when donning the pack. Get used to it. Four years and I still have that issue. Learned to put the pack on first, then the helmet. Although a modular helmet makes the order a mute point.
One other nit to pick is that the pack doesn't sling well. I mean carrying it with one strap over a shoulder, not how you ride but how you walk, casual like. The quad harness doesn't allow the pack to sling nicely.
I've learned to just wear the darned thing at least half fastened, more comfortable that way and frees both hands. Who cares if I look like a paratrooper? I'm a motorcyclist.
Follow-up From "N.W.": "I my personal experience, with every other backpack I've ever used (up to and including the very expensive Axio hardshell) I've had to loosen the "off side" shoulder strap in order to get my arm through the strap.
That strap must then be re adjusted once the pack is on, which (depending on the pack) usually leaves a loose, flapping strap end to deal with (or ignore).
I ride a sportbike and therefore wear tight leathers, which makes these adjustments problematic because I can't readily reach the buckles on most backpacks.
The Kriega, as noted, does not require me to loosen anything to get it on. Once set in the right spot, I've never had to fiddle with the adjusters.
This is why I suggested that the comments about difficulty of adjustment might prove misleading, because they might leave the impression that this is a daily hassle. It is not (in my experience).
Also in my personal experience, with every other backpack I've ever used, the straps twist… but are not readily reoriented. The Kriega fastening system makes getting the straps sorted much easier."
---
From "T" (February 2017): "I was reading through your Kriega backpack review and just wanted to make one small comment.
I have been using a Kriega R20 for over 4 years now and I work in IT. I have been able to comfortably put laptops in the back pocket that range from tiny 11″ models all the way up to and including a behemoth 17″ model that I had to use for a few months.
So to read that you had issues getting your Yoga in either of the larger packs raised my eyebrows a bit.
I wonder if this is some sort of running change they made or if the larger models actually have a smaller pocket there?
Fantastic review on fantastic products. After four years, a deer strike and a low-side due to a wet and oily corner the bag still works perfectly.
The Quadloc system does a fantastic job of making the pack really comfy. It also makes you look like you are going to go sky-diving as well. Thanks for all the work and reviews!"
Editor's Reply: Sorry about any confusion, Brandon fit the laptop in the slip pocket, not the main compartment. There's no problem fitting a full-sized laptop in the main compartment. I updated the text to (hopefully) make that clear.
---
From "M.H." (February 2017): "No love for the R30 — or even a mention? I'm rather shocked as it's the only Kriega backpack with a fully waterproof main compartment. I wouldn't own a backpack (or any moto luggage) that isn't waterproof.
Do you folks not ride in the rain? 😉
I've had and have regularly used my R30 (with two "Kube Pockets" on the straps) for over five years and I absolutely love it.
I strap it to the Givi backrest/trunk mount on my Yamaha Majesty when I commute back and forth to work. The only sign of wear is the sewn-on name badge on the carrying handle is frayed and coming loose."
Other WebBikeWorld Motorcycle Luggage Reviews
wBW Motorcycle Luggage Info