Have you got scratches on your bike from keys, fobs or other objects on your keyring?
It's a common occurrence no matter where the ignition is on a motorcycle and most riders have fought it by just having a lone key with other keys on a separate keyring.
Now Koda Matiaco of Utah has developed a very simple protector called the KodaKey which is a soft leather pouch with magnetic clasp to keep your other keys on the keyring from scratching your pride and joy.
Look, there have been leather keyring pouches for years and I don't see how this is much different except for the magnetic clasp. However, Koda bothered to send us a KodaKey to test, so we thought we'd give it a go.
First impression is that it is well made with nice, soft leather and a very simple design. The black leather should go well with most riders' wardrobes!
Attach the keyring and keys, select the bike key and fold the others inside the leather. Simple!
It fits nicely in your pocket and it's easy to open up to access the other keys. However, it won't fit key fobs or garage remotes as it's too small.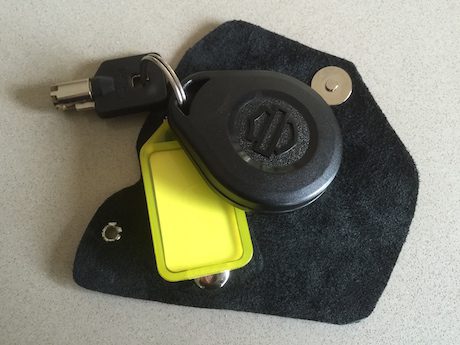 The only other problem I can see is that the metal clasp could cause some scratching over a prolonged period of time, although it's quite smooth.
While it won't touch the bike if your ignition is on the top near the triple clamp, it could rub against your bike if your ignition is on the side of the bike like on many cruisers, old bikes and my Triumph Bonneville.
You can order the KodaKey on eBay for $US9.95 plus shipping.