K&N Air Filter Image Gallery
The K&N air filter offers a possible increase in power and longer air filter changing intervals.
But the K&N air filter must be cleaned and oiled using a special procedure.
When I purchased my 2002 BMW R1150GS last spring it was with the knowledge that it had seen very little use (4,120 miles total on the odometer) due to a medical condition the previous owner had developed.
With that in mind, my first priority after riding it home was to perform a thorough inspection and service.
This consisted, among other tasks, of changing all of the oils and filters (engine, transmission, final drive), flushing the clutch and brake fluids, adjusting the valve clearances, sparkplug check and a throttle body synchronization.
It was also necessary to replace seals on the transmission output shaft and right fork slider.
Upon inspection, the air filter was found to be clean and not contaminated, so I opted to gently tap out the remaining dirt and reuse it for a few thousand miles more. The fuel filter I would also address at a later date.
This gave me some time to consider alternative air filters.  I was aware of the K&N brand of air filters, which seem to be a favorite performance upgrade, especially with motorcyclists, but I had never installed one in any of my motorcycles or vehicles so I was a bit ignorant about their care.
I was specifically concerned about the cleaning interval for the K&N filter, due to the difficulty in changing the air filter on my other bike, a BMW K12100LT.  The air filter on that bike is very difficult to access, so I wasn't interested in using a filter that would have to be removed and cleaned more frequently than my present 30,000 mile interval.
30,000 miles may seem like a lot, but I have found the OEM filter will easily go that far in my usual riding environment. I had read where some K&N owners were cleaning their filters every 6,000 miles, but I have since learned "When used in normal paved road, street or highway conditions, our replacement air filters that fit in the factory air box should require cleaning every 50,000 miles", according to K&N.
I have to admit that I was also concerned about the cost, with some K&N replacement filters priced nearly three times that of the stock paper filter element.  But accessing the air filter (along with many other tasks) on the GS is easy enough, so I was willing to give the K&N air filter a try on that bike.
According to their website, K&N Engineering, which is located in Riverside, California, is the "inventor and leading innovator of reusable cotton gauze filter technology".
The company was started 35 years ago as a family owned and operated business, and apparently remains so today despite being "globalized" with offices in the UK and the Netherlands.
While reading through some of their customer testimonials, I noticed the contributions came from customers located all over the globe.
K&N manufactures air filters for what seems like just about every type of internal combustion motor there is, from lawn mowers and small industrial engines to big honking truck diesel engines along with other intake components for various vehicles.  The company is most famous for their air filters, but they also manufacture high performance oil filters.
One of the interesting features of K&N air filters is that they have a 1,000,000 mile guarantee!  Also, K&N claims that original equipment manufacturers are moving away from disposable (i.e. more stuff in the landfills) paper filters.  They say "K&N fully expects to become the default standard and supplier for a majority of OEM applications in the not-so-distant future."
Having been in the automotive repair business for almost 40 years now, I'm curious to see if that becomes true. Having worked under the "flat-rate" system for over 30 years, I just can't see an automobile manufacturer, or a customer, paying a Technician the amount of time it takes to properly service a K&N air filter (more on this later).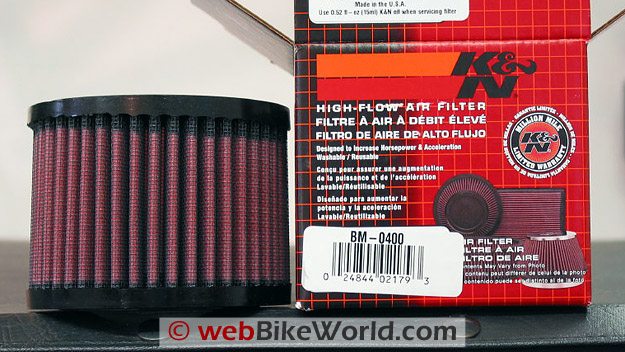 Inside the K&N Air Filter
K&N air filters are made with 4 – 6 layers of cotton gauze (an easily renewable product) arranged in pleats which are held tight between two aluminum screens that have an epoxy coating.  The filters are designed to be less restrictive than a paper filter, thus allowing more air to be drawn into the motor which could result in an increase in power output from the engine.
A special oil must be applied to the cotton filter medium, which causes the cotton fibers to become very "tacky". This combination, K&N claims, produces a filter that will provide a high flow rate throughout the filter's life without comprising air filtration.
This review could go on forever listing the specifications and design of K&N filters, but I'll leave it to you to browse their website and the tremendous amount of supporting data along with an extensive FAQ (Frequently Asked Questions) page.
During my research, I discovered some online forum members who claimed that K&N air filters do not provide sufficient filtration when off-road riding, resulting in possible engine damage.  Since I have no experience riding in that environment I can not comment on whether they do or not, but K&N claims their "filter medium … was originally developed … all those years ago in the dust, sweat and tears of desert motocross racing."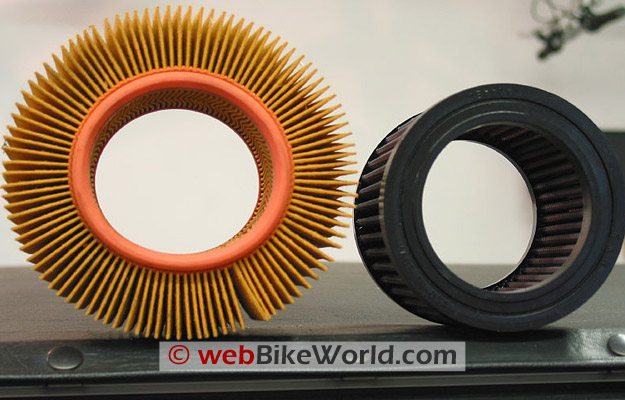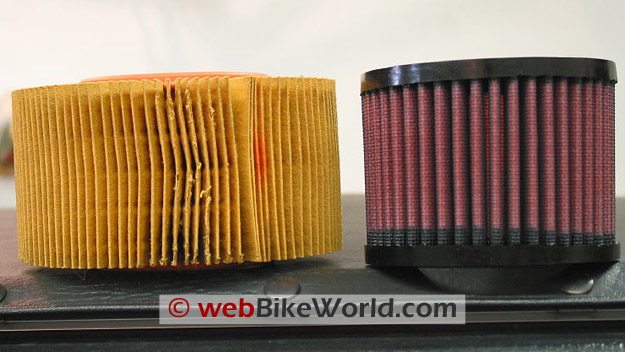 So after I carefully considered all the angles, I made my decision and opted to purchase the BM-0400 (replacement for BMW part number 13711341528, according to K&N) K&N filter for my GS.
As the photo above illustrates, the K&N filter is smaller than the OEM paper filter, with smaller and fewer pleats. The filter came pre-oiled and was ready to go out of the box. Since the filter is oily to the touch, be careful to keep it away from any dust and dirt before it's installed.
K&N Air Filter Installation
Installation on the GS was a simple matter of removing the rider's seat, loosening the two screws that hold down the cover of the air-box and then removing the lid itself.  Access to the air filter on your bike could be easier or more difficult.
Replacement would have been even simpler had I not previously chosen to mount my auxiliary fuse panel directly to the air-box cover.  The stock filter was simply lifted out, the air-box cleaned of any dirt or debris and the K&N filter dropped in place.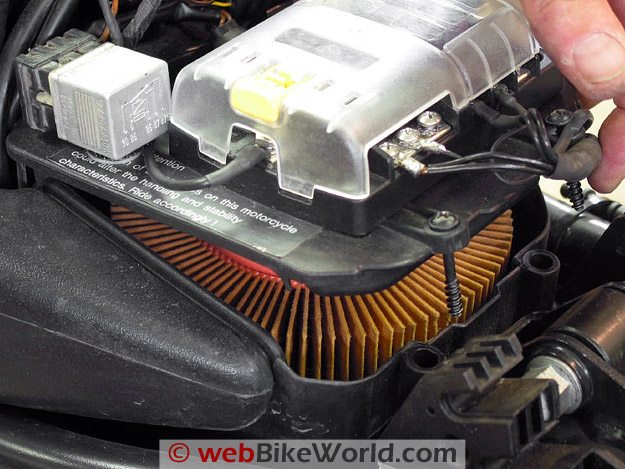 Motorcycle Performance With the K&N Air Filter
My first outing with the bike was an eye opener.  WOW!!  The bike felt like it had better throttle response along with a noticeable increase in torque and power.  There was also an accompanying increase in sound in the intake trumpet which happens to be located just below and forward of the rider's left knee, but oh, what a sweet sound it is.
But I couldn't help wondering, what's this increase in power going to do to my fuel mileage?  Fuel prices were at their highest ever in the U.S. when I installed the air filter, so this was a real concern.
After the first fill-up I was excited because it looked like there had been a small increase in fuel economy, but after running through several tanks, the mileage turned out to be pretty much the same.
However, even though there was no increase in the fuel economy I considered the performance enhancement without any drop in fuel consumption a success!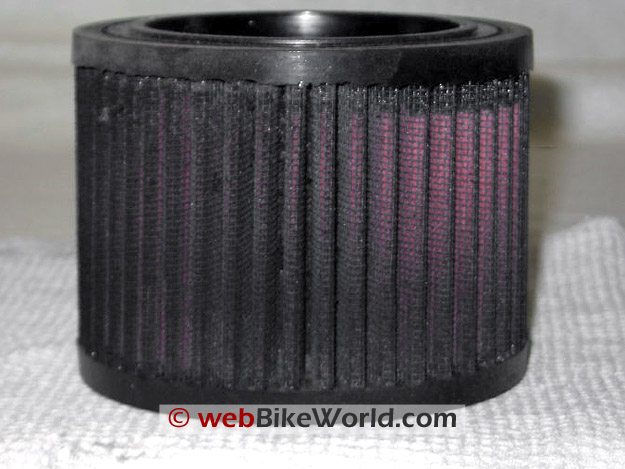 Servicing the K&N Air Filter
13,000 miles later on a cold dreary March afternoon, I decided to take a look-see to analyze the condition of the K&N filter and try my hand at the cleaning process.
I chose to buy the cleaning/recharging kit that uses a squeeze bottle of oil instead of an aerosol can because I felt I could control the application of the oil better (i.e. less wasted oil) and there would be less trash generated from throwing away aerosol cans.
As I was about to find out, the cleaning and recharging process for a K&N air filter is not a 5-minute job.  Don't get me wrong; it's not hard to do at all, but there's a wait while the cleaning agent soaks into the filter (10 minutes); again after rinsing, to let it dry (10-30 minutes depending on ambient conditions); and again while the oil is being absorbed into the cotton fibers (20 minutes).
The cleaning and recharging process is rather straightforward:
Saturate both sides of the filter medium with the cleaning agent from the pump spray bottle and let it sit for 10 minutes.  This will allow the cleaner to breakdown the oils.
Thoroughly rinse the filter with cool, low pressure water passing the stream over every pleat from the clean side towards the dirty side.  This will carry away the dirt and oil together.  Do not use high pressure water or air at any time on these filters as this will damage the cotton gauze!  If the filter is especially dirty, it may be necessary to repeat this step.
Gently tap the excess water from the filter and let it air dry.  Do not use compressed air, a hair drier or a heat gun to speed up the process, although I would imagine a gentle breeze from a fan would be OK.
Apply a thin bead of oil from the squeeze bottle along the outside peak of each pleat.  Be careful not to overdo it.  It's better to apply it too lightly, come back and touch up the thin spots than to apply too much oil to the point where it's dripping off the filter (If this happens, K&N recommends you start over at step one).
Then let the filter sit for 20 minutes so the fibers can fully absorb the oil.
So, if you're performing a service on your bike, the first order of business while the hot engine oil is draining might be to remove and clean the air filter.  Then, while the filter is soaking, the oil change can be completed.
Once the filter is dry and has been oiled, some other service procedures could be performed and when they're done, hopefully the filter will be ready to go back in.
Of course, if it's one of those dreary days outside, you could humor yourself in the garage tinkering with the bike for an hour or so recharging your air filter from K&N Engineering.
Specifications for the K&N BM-0400 Air Filter (per K&N)
Product Style: Round Air Filter
Height: 3.375 in (86 mm)
Inner Wire: No
Inside Diameter: 3 in (76 mm)
Outside Diameter: 4.375 in (111 mm)
Top Style: Open
Top Material/Finish: None
Filter Re-Oiling Amount: 0.52 oz (15 ml)
Weight: 0.6 lb (0.3 kg)
Product Box Length: 4.63 in (117 mm)
Product Box Width: 4.63 in (117 mm)
Product Box Height: 4.25 in (108 mm)
UPDATE: Case Study – July 2009
Recently, I had the opportunity to have the cylinder heads off of a customer's car for an emissions control failure air injection) and it happened to have a K&N air filter, so I decided to take a closer look.
With some of the responses from our readers I thought I would pass on my observations.
Stats:
1999 M-Benz E-320 with 187,000 miles and no oil consumption complaints.
V-6, M-112 ,3.2 liter motor with aluminum heads & block & automatic transmission.
Closed loop, HFM fuel management system using a Mass Airflow Sensor (MAS).
K&N filter was installed by his son about 100,000 miles prior to my repairs & he's not sure when the last time it was "cleaned".
With the heads and intake off I thought I would take a look at the dirt and oil residue levels throughout the intake system, starting at the air filter.  I also looked at the cylinder walls for any signs of scoring.
Note: Our MAS are VERY sensitive to ANY contamination whether liquid or solids! We are frequently replacing MAS for fuel adaptation values that have turned on the "Check Engine" light.
The adaptation values on this car were perfect!
My Findings: I found NO traces of oil or dirt of any kind anywhere in the intake system or on the MAS. Everything was clean and dry.
I found NO scratching or scoring on the cylinder walls.
Conclusion:  This was not a scientific test, just what I observed while the engine was apart. It does though, throw some doubt, in my mind, of the claims made by some that using a K&N air filter can cause damage to a MAS or the motor itself.
Conclusion
Installing a K&N air filter may provide a noticeable increase in the power and torque along with better throttle response over a stock air filter. In my experience, this confirms the claims of the company.
In most cases this can be achieved without any special tuning or jetting while at the same time help reduce the amount of waste sent to the local landfill (although the use of oil and washing it down the drain may offset any environmental impact).
Could the K&N air filter go the entire 50,000 miles as claimed? Perhaps, but it probably would be a good idea to check it at 20-25,000 mile intervals until you get an idea how dirty it gets.
Also, one thing I noticed is that it's harder to see the dirt on the dark K&N filter medium than on a paper element.
Bottom line? Installation of the replacement K&N air filter has made a believer out of me.  I'll be replacing the air filter in my BMW K1200LT with a K&N also the next time I'm in there and I've already ordered one for my car as well.
As far as the cost is concerned, you may find that it will easily pay for itself over time, especially if you rack up a lot of miles each year.
More wBW Motorcycle Maintenance & Repair Reviews  |  Motorcycle Tool Reviews
w

BW

 Review: K&N Air Filter
Manufacturer: K&N Engineering
List Price: $46.99 ($36.93 at discount). Price varies by application, but can be found online at less than list price
Colors: N/A
Made In: Unknown
Review Date: March 2009
wBW Owner Reports: Flip-Up Helmet Latch Failure  |  DIY Helmet Sun Blocker  |  Diadora Xtreme Boots  | JC Whitney Top Case  |  GT1000 Seat Comparison  | Caswell Fuel Tank Sealer  | HealTech GIpro Gear Indicator  |  Joe Rocket Cleo Women's Gloves  |  Frey Daytona Lady Star GTX Boots  |  Hornig Mudguard Hugger  |  Echo Quick Release Buckle  | Hornig BMW Hubcap  |  K&N Air Filter  |  Platinum Burner Driving Lights  |  Motorcycle Crash Bars Installation  |  Draggin' Liners  |  Parabellum Windshield  |  TCX Jupiter Boots  |  Mounting Avon Storm ST Tires  |  Olympia 710 Gel Protector Gloves  |  Vendramini VR 500 Boots  |  Rjays Striker Helmet  |  Michelin Pilot Road 2 Tires  |  Zeus ZS2100B Helmet  | Shark RSR2  |  Shark RSX Helmet  |  Ixon X-Pand Tank Bag  |  ROOF Boxer and Roadster  |  KBC Racer 1 Helmet  |  Zeus Helmets  |  FM Helmets  |  Aerostich Darien  |  Motoport vs. Aerostich  |  Teknic Road Iron Gloves  |  Dymag Carbon Fiber Wheels  |  FAMSA Tank Bag on Tour  |  Luggage Locker Tail Bag  |  Moto Guzzi Griso
Note:
 For informational use only. All material and photographs are Copyright © webWorld International, LLC since 2000. All rights reserved. See the webBikeWorld® 
Site Info page
. Product specifications, features and details may change or differ from our descriptions. Always check before purchasing. Read the
Terms and Conditions
!
Owner Comments and Feedback
---
From "D.F." (August 2013): "I've used K&N filters for cars and motorcycles for over 25 years. As for dirt and oil passing through the filter, I have found oil downstream, due to my negligence of over oiling the filter. I have found dirt downstream, due to my negligence of not properly seating the filter. I know both to be true because after correcting the conditions, on the same vehicle, no issues were observed.
Also, I have had several vehicles exceed 100k miles, and a couple exceed 150k miles, with no abnormal increase in oil consumption. So if some dirt is getting by, it is not doing any damage.
With regards to performance, my experience is that the K&N can provide some increase. I have a Scan Gauge scanner/trip computer in my 2007 Trailblazer. Over the same 20 mile section of interstate, I checked mileage of a new Fram paper element vs. the K&N. There was a consistent 1 mpg difference over 3 tests, or a 5% improvement, with the K&N. I don't know about peak power, but mileage improved, due to less restriction.
It's hard to argue with 3 tests that showed the same results. I repeated this test with ~5,000 mi on the K&N vs. the new paper. It dropped to 0.9 mpg difference.
I performed mileage tests on my Suzuki 1200 Bandit paper vs. K&N air filter. The engine is stock, with airbox, exhaust, and jetting modifications.  New, they were about the same. With paper, I could start seeing mileage drop and feel performance drop (getting rich, carbs) in as little as a 1,000 mi. Mileage would drop off a couple mpg.
With the K&N, it takes 5,000 mi or more before mileage and performance begin to drop. This engine is pretty sensitive to airflow reduction due to the jetting.
Oiled foam elements, such as Uni, are garbage for performance. They may or may not filter well, but they create a lot of pressure drop."
---
From "A.D." (March 2012):  "Apart from the BHP vs. MPG claims, I use a K&N in my bike (an R1150GS) for one very good reason: I've seen several bikes fail when running river crossings, as the paper filters fibres swell and turn to mush choking the engine or even let parts get drawn into the engine!
Whereas the K&N (or other similar filters) will still flow air and soon dry out with no damage and little loss of power or filtration."
---
From "J.S." (11/09):  "A FWIW on the K&N controversy — particularly regarding the case study July update — from my own experience with installing one on an elderly friend's Ford Aerostar van V6…
I put a K&N in and a few months later during a fuel pump replacement the  Ford people took it out and put in a Ford OEM filter.  They said the K&N had  fouled the air volume sensor, which had to be cleaned and recalibrated  (whatever that means) for a total bill, including fuel pump replacement, of  over $850 US.
This Denver shop said that oil media filters should never be used on Fords because they contaminate the air sensor.  But we reinstalled a new one (why new? see below) after first cleaning/removing the original oil and then re-oiling it only lightly.  We put it in and it's been working fine.
We checked the air volume sensor after a few months with a cotton swab and found no traces of oil.  Everything still runs fine after over a year.  It appears that when the air volume sensor is located closely "downstream" from the filter, contamination could happen.  But it appears to us that judicious light re-oiling (less than the instructions recommend) can prevent  problems.
As for why we re-installed another new filter instead of the original used one that the Ford shop removed?  The shop didn't return the reusable filter to my friend in spite of the big "STOP – DO NOT DISPOSE" sticker (included  with every K&N) that we put on the air box cover.  Seems it "disappeared" somewhere (they didn't know it was reusable and it was probably thrown out, they said).  They didn't want to do anything to replace it until after some pointed words from us, then they bought him the new one we re-installed.
Paranoiacs that we are, we surmise the original K&N is racking up miles in some tech's Ford…  As for the assumption that manufacturers wouldn't leave extra HP lying around by  using lower efficiency components, I think folks are overlooking something called emission regulations.  Nothing is easier than re-zapping the EMM (motor  management) EPROM to get max HP from a production engine.
The consequences?  Ask the folks at Power Commander.  As things go nowadays, manufacturers do whatever they have to to meet EPA requirements.  For bikes, it's the California requirements that we all have to live with.  If it means detuning for lower power, basta."
---
From "G.M." (4/09):  "Little did you know the hornet's nest you stepped into when you wrote an article about lowly air filters!  Who'd have thought it?  I'll bet you're now reluctant to write that article about gas filters, eh?  I was a bit surprised to see such a response to a "mere" air filter article.
Wading in with my 2 cents worth, I put a K & N air filter on my Honda Magna about a year ago.  The bike came with Cobra pipes which I found (yes, I admit it) too loud and frankly, obnoxious.  I put stock pipes on the bike, and I am very happy with the sound.
Honda got the exhaust sound right in the first place on the Magna.  But I worried if the bike had been re-jetted for the Cobras (I bought it used and didn't know), did installing the stock pipes mess up the jetting?  So I turned to the K & N as a way to get more air in the mix.
I have no objective results to report, only impressions.  The bike seemed to "breathe" better, and the throttle response seemed more crisp.  There was slightly more intake noise, and if you own a Magna, you love all the sounds from that V4, 16 valve engine (which you can hear better without the Cobras).
This article raises the question in my mind: Can there be an improvement in throttle response without an increase in HP?  I think possibly the answer is "yes".  Gaining horse power is not the only reason to reduce restriction in the intake path.
As I understand it, throttle response has to do with how quickly the engine can increase engine speed with throttle input.  Surely that is related to how much air you can get into (and out of) the engine in a given time frame.  If an engine's intake volume is restricted, surely the engine can not as quickly increase speed.
Conversely, reducing restriction to the inflow of air could allow the engine to pick up speed more quickly, regardless of the horse power [maximum or not] being produced. If all this is true, and I can't prove any of it, then an increase in throttle response, with or without a horsepower gain, seems to me to be a good thing, and something many of us would feel is worth the price of the filter.
I also wonder if the engine design, and the engine's ability to "breathe", might also affect the effect of the filter: two valve per cylinder engines might not benefit as much from less air flow restriction as a four valve per cylinder engine, so as the commercials say "your results may vary".
I am quite happy with my purchase of the K & N, which dropped right into the air box, smooth as silk."
Editor's Reply:  Nothing at all wrong with a little controversy to get the juices flowing!  And anything that brings more visitors can't be all that bad!  😉
---
From "P.O." (3/09):  "I have no opinion on any claims that K&N filters flow more air, produce more horsepower, or save fuel.  In fact, I'm glad that putting in a K&N does NOT require re-jetting.
What I find useful about K&Ns is the long-term benefits of using them in older bikes where availability of replacement factory air filters is lessening or nonexistent.
So far, I've put K&Ns on: an old Sears 2-stroke lawnmower that Sears no longer offers replacement filters for.  A 1986 East German MZ 150 ETZ for which replacement paper filters are nonexistent this side of the Atlantic.  A 1986 Yamaha SRX-6, which is getting harder to find spares for.  A 1967 Moto Guzzi V-7, whose filters and other parts are now only found through specialists like MG Cycle and Harper's.
Fortunately, my 1980 Vespa P-200E scooter came with a reusable filter, so it never was part of the 'toss and replace' mentality.
With K&Ns, all these vehicles will remain useable well into the future because the serviceable K&Ns are well-nigh permanent."
---
From "M.A." (3/09):  "I thought I would share my own experience with K&N air filters.  I purchased one for two of my automobiles about 5 years ago.  After a few months of use, I decided that I would NEVER use another K&N filter on any car, and certainly not on any of my motorcycles.
The sensors within the throttle bodies were permanently damaged by the (as another reader commented) oily grit.  As the author of the article stated, the K&N filters come pre-oiled, so my experience was not due to improper oiling on my part.  Your experience may vary, but personally I will stick to the stock paper filters."
---
From "E.L" (3/09):  "I won't comment as to the effectiveness of foam vs. paper filters, but I'd like to direct you towards SAE 2007-01-1431, "Investigating Cleaning Procedures for OEM Engine Air Intake Filters".
A group a engineers from Visteon found that paper air filters can be brought back to nearly new performance levels by cleaning it with a couple smacks against a table and blowing out the gunk from the backside.  It's faster and less expensive than buying a foam filter, and doesn't make nearly as much of a mess while cleaning it."
---
From "K.M." (3/09):  "I just read your article of the K&N motorcycle air filter and am a little let down.  I have fixed/restored/modified/hot-rodded cars since I was a teenager.  I'm sorry…but K&N filters do NOTHING for performance (on stock motors).  It's all in your head (the brain's way of justifying the cost of such).
As all auto enthusiats know…air filters are "over engineered" from the factory of "stock" auto makers (include motorcycle in this).  Do you really think an auto/motorcycle maker is going to risk a warrantee issue over a stupid air filter???  C'mon.  Having hot-rodded nitrous injected Mustangs and Corvettes I can tell you that K&N has NO increase on the dyno for stock motors (K&N has yet to prove me wrong).
The only increase you will see using such will be on "force-fed" motors which require more airflow than the stock unit will allow.  K&N has never been able to "prove" that it increases HP over STOCK motors…that's because it doesn't.  Unless you have a blower/turbo on your motor…you are WASTING your money, as there is NO increase of power, sorry!"
Editor's Note:  Note that one of the primary reasons the author of the K&N article is using the filter is the increased service interval.
---
From "N.R." (3/09):  "I have used k&n air cleaners in cars, motorcycles, and small aircraft.  These filters are approved by the FAA as replacement filters for Lycoming aircraft engines!
So as far as filtration problems, I wouldn't worry. I put three of there pod filters on my Triumph Rocket 3 last year, and had the bike on the dyno before and after.  The results were an 8hp.increase, on an engine already putting out over 120 hp.  Not bad!"
---
From "D.E." (3/09):  "Aside from the poorer filtering capabilities of the K&N filters making them a questionable value – the lack of any increase in HP or torque when one is installed and dyno tested (on an R1100R) makes me question the accuracy of the butt-dyno the author used.
Real dyno plots (here) – stock filter vs K&N filter vs NO filter.
BMW isn't in the habit of restricting engine output by under-sizing their air filter.  They generally don't leave HP laying on the table just waiting for someone to come along and pick it up.
The comparison of a used paper filter to a new unused K&N filter may unleash some power IF the paper filter was heavily clogged.  New to new is a more valid comparison, and if the author would like to visit the dyno I use – we can do exactly that.  The dyno is in Manasquan (New Jersey) at SunCycle.
The additional noise the K&N lets out compared to a paper filter often seems to be mistaken for more power.  If only it were that simple.  Louder generally doesn't mean more powerful."
---
From "D.G." (3/09):  "I am concerned that your evaluations are turning into product hoorahs, serving the mfgs and marketers, and devoid of useful comparison data.
Case in point, the K&N air filter has been debunked repeatedly, with both dyno tests showing no increase in power, and filtration tests showing serious failure to filter dirt and grit out of the airstream.
In my own usage, having purchased a used bike with K&N, the downstream air passages were full of oily grit.  When I installed the stock filter I perceived no diminution of power.
It is widely known that any fiddling with the bike, such as even an oil change, produces a "perceived" performance increment, emphasis on the word perceived.  Show us the data.
Without data, your report is potentially misleading, and could lead to premature wear.  Most motorcycles come with more than enough air intake capacity stock.  A dyno test of a BMW R bike with half the stock filter blocked with Saran wrap showed no loss in hp, even though only half the air flow capacity was used."
Editor's Reply:  Thanks for the chuckle!  You should see the folder full of hate mail I have from all those manufacturers and marketers that control me and who don't feel like their product got a big enough webBikeWorld "hoorah"!  It's right next to the big folder overflowing with crisp $100.00 bills they send me for doing their bidding.
Actually this brings up a good point: I hope everyone who visits webBikeWorld has read the Site Info page, especially this section, which explains that all of the information published on the site is opinion.  We do not "test" products; have never claimed to and have no capability of doing so.
And after you've read that — and if you're still awake — please also read the Terms and Conditions page, which has more detail on this topic.  Thanks!
---
From "R.D." (3/09):  "Far as I'm concerned K&Ns are over rated and a rip-off for real air filtration.  Instead I use Uni or other foam/oiled filters on my street bikes whenever possible.
Years ago I bought a used Moto Guzzi that had the famous K&N pods on it's carbs.  Upon close inspection I saw there is little real filtration to stop dirt from getting into the carbs/motor.  Look closely for yourself.  Compared to the foam air filters there's no comparison in real filtration.
Maybe it you don't keep your MC for many years and miles like I do, you will never see the real results of using your K&Ns."
Author's Reply:  My 1999 BMW K1200-LT had 145,000 miles on it before it was totaled (I was shooting for 200k+) and I have logged over 200,000 miles in the last 8 years which works out to around 25,000 miles/year.
Low by IBA standards, but 10x the 2,600 mile/year national average.  My truck has 85,000 miles and the car has 105,000 miles, so I do hold onto my vehicles…"
---
From "HBC" (3/09):  "Just wanted to let you know that its great to see another enthusiast discover just how (typically) great the K&N filter products are.  I have been using them on almost everything owned since early days…even had three clamp-on filters on my former GT750 Water Buffalo, which then required more tuning of course.
In general the filters work as well if not better than advertised and the experience of most users is the best promotional campaign that K&N could have.
Yes, the filters do take more time to clean and oil anew, but in my mind, its well worth the extra effort…now I just need to get one for the HP2 Sport!"
---
From "M.H." (3/09):  "I'd like to see dyno testing that shows increased hp and torque as a result of the air filter. Maybe yes, maybe no.  As far as how clean the filtered air is, see this."