Review Summary
The Klim Marrakesh jacket is a damn handsome piece of textile gear and one of the most comfortable riding jackets on the market. It features Level 1 CE armor in potential impact zones, back protector, and is engineered using durable materials that lasted very well during the 6 months of testing.
Pros
Incredible comfort
Handsome
Excellent fit and finish
Level 1 armor at all potential impact zones including back protector
Flows air well
Washable (remove the armor)
Cons
Lacks a rear kangaroo pocket
Not waterproof, water resistant or bullet proof
Athletic fit (for those who don't have an athletic shape anymore…
Uh… I can try to make up more things….
Klim Marrakesh Jacket Image Gallery
Ugh, jackets. I have searched long and hard for a 12 step program for jackets. Bags too. The problem with both is they are legal to purchase, carry and wear be it in public or in the privacy of my own home. One of the only reasons I'm happy with my age-failing memory is I cannot remember how many jackets I own.
If I had actual memory of how many I'd have a different problem. Constantly hanging my head in shame over the ridiculous number I would then give myself chronic neck pain! It's so bad that my current girlfriend simply gives me "The Look" when I am even looking at jackets online. I made up a story. I told her that I dumped my old girlfriend when she bugged me about buying another jacket.
Thankfully since this piece is for WebBikeWorld I can forgo listing the number and brands of non-motorcycle jackets I own. So here goes on those ONLY for motorcycles:
Vanson Fully Perforated Leather Jacket
Vanson Leather Jacket
Aerostich Darian Jacket
HWK Textile Jacket
KLIM Marrakesh Textile Jacket
KLIM Marrakesh Jacket Design & Aesthetics
Well, I've already field tested the attractiveness of the jacket with my anecdote above. In all seriousness, I felt like the Marrakesh jacket was a handsome piece of kit. I especially liked the dark grey with the screaming yellow accents. Since my plan is to use this jacket in the warmer months, I did NOT want yet another black motorcycle jacket since black retains heat like a hoarder retains jackets (ask me how I know).
The Marrakesh line of KLIM's clothing is minimal in terms of pockets. Don't get me wrong, I love pockets as much as the next fella, but I have jackets and pants that have tons of pockets. And I've found that the more pockets I have:
I carry more crap than I need.
The more time I spend trying to figure out where I put stuff.
There are five pockets in the jacket: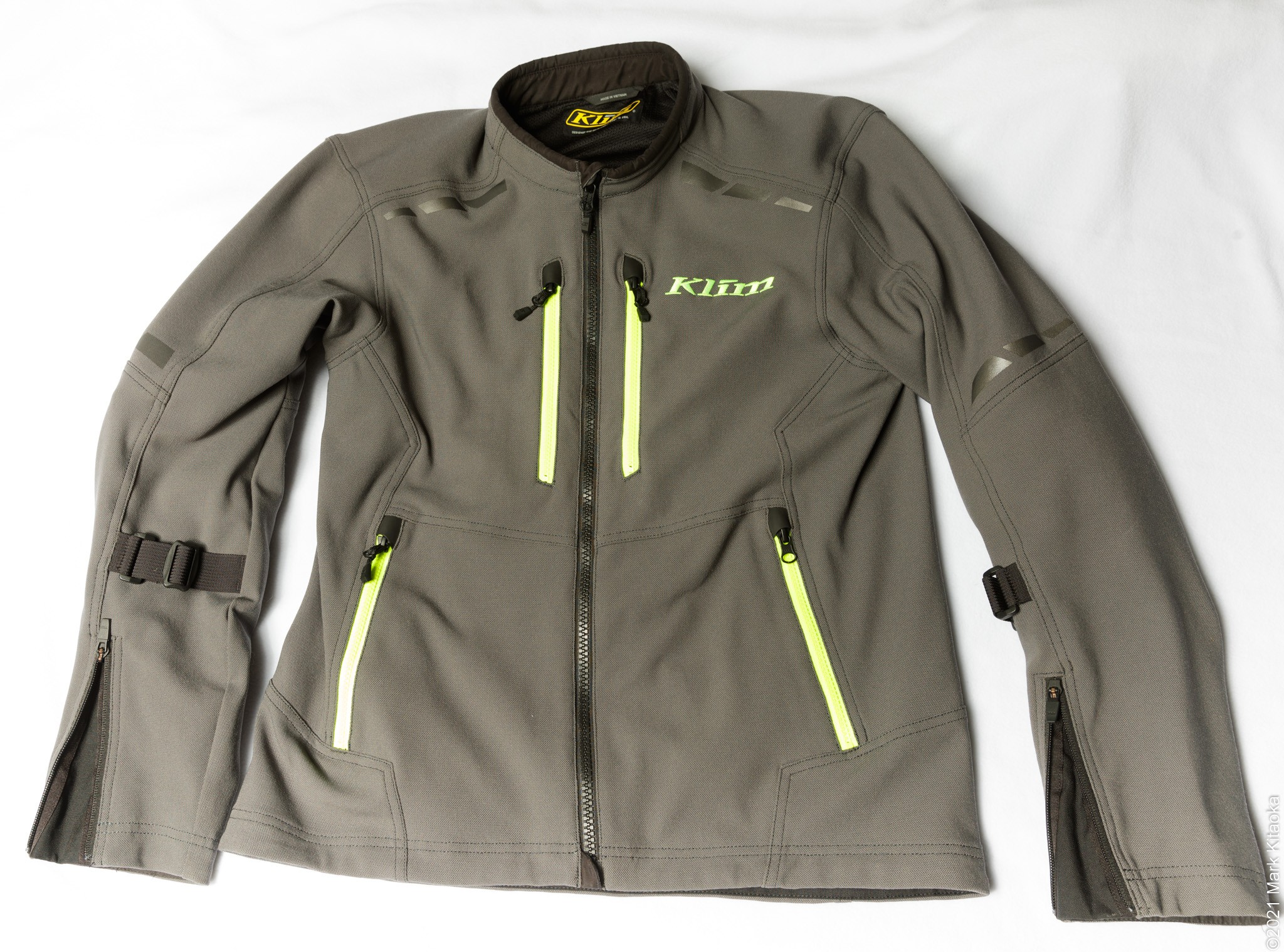 Two chest pockets and two side handwarmer pockets. All four use YKK Hypalon Zipper Garages. Those 'garages' refer to the little chambers the zipper pulls reside in when fully closed. Then there is a single interior pocket on the right side's interior.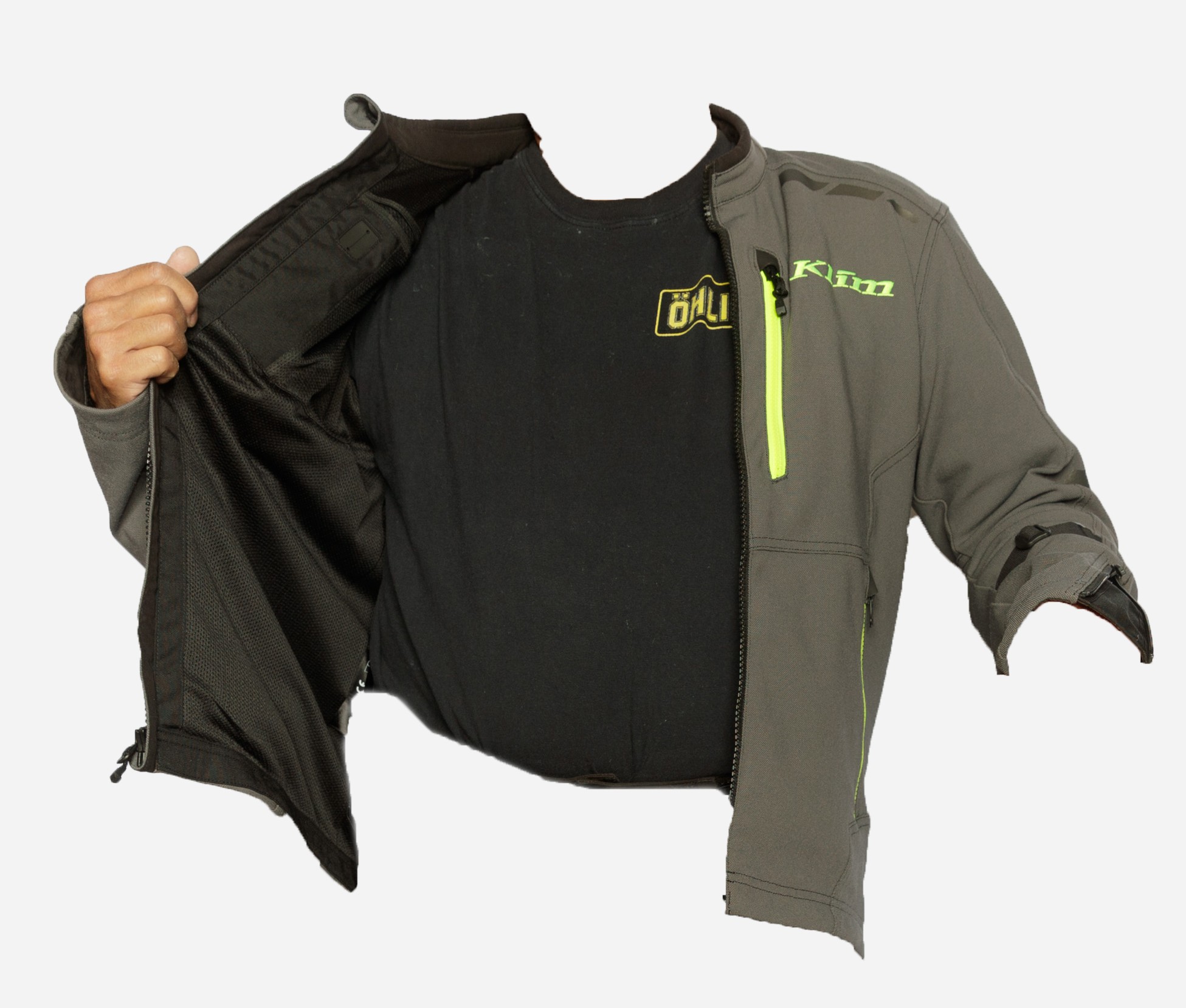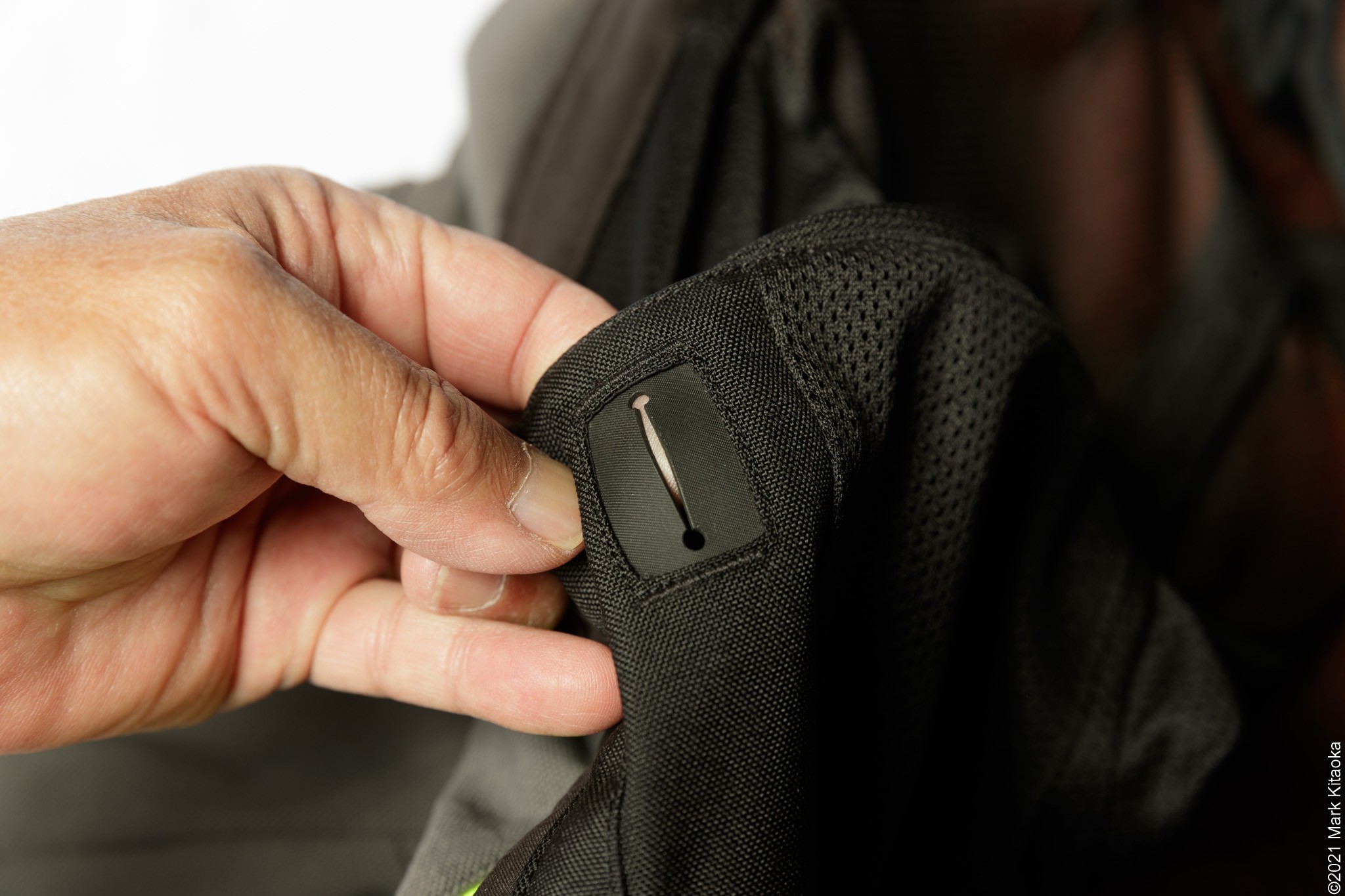 The interior zippered pocket has a convenient headphone wire port for a cable exit. The interior pocket is large enough to hold my cell phone, a Samsung S10+.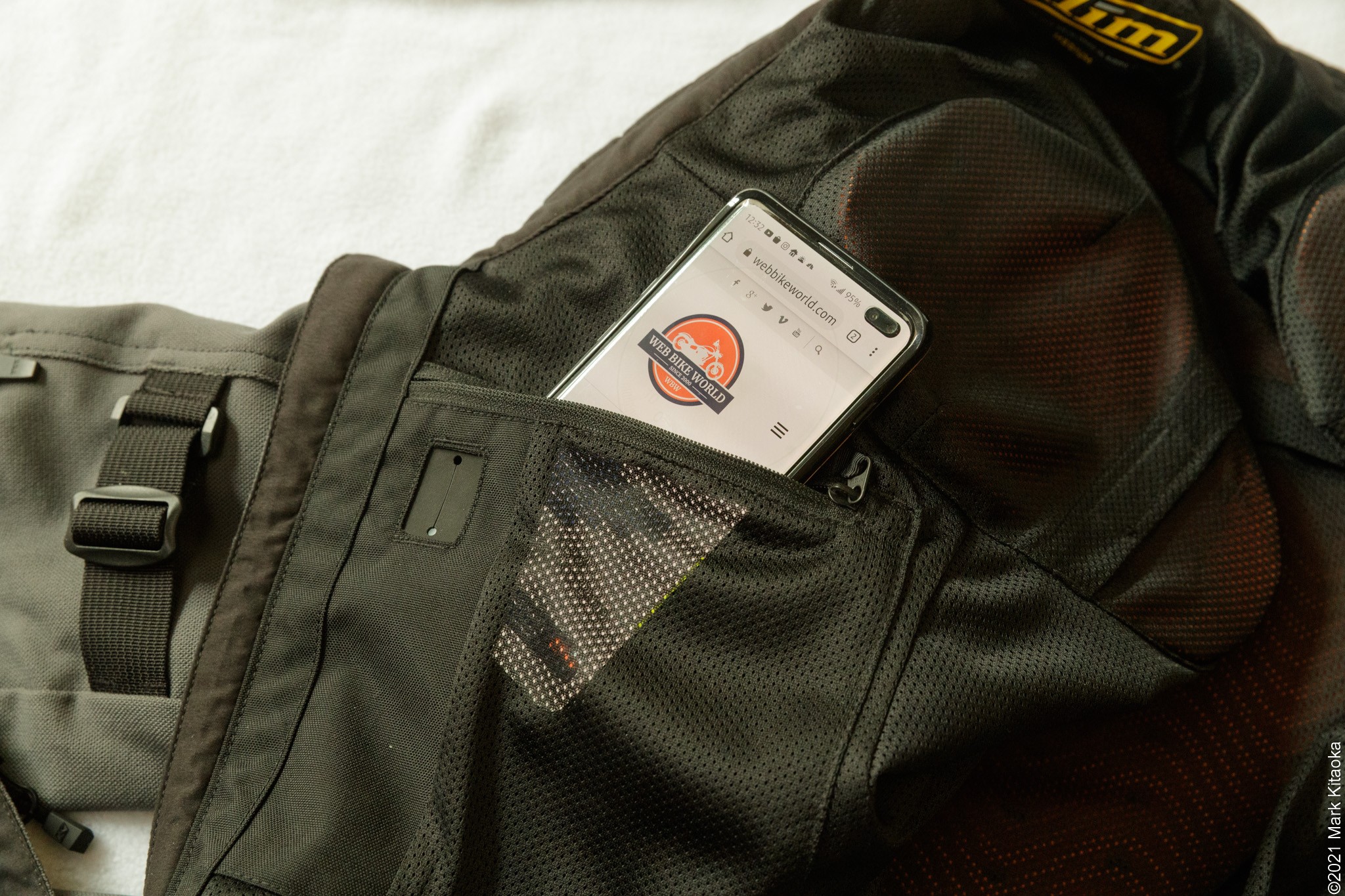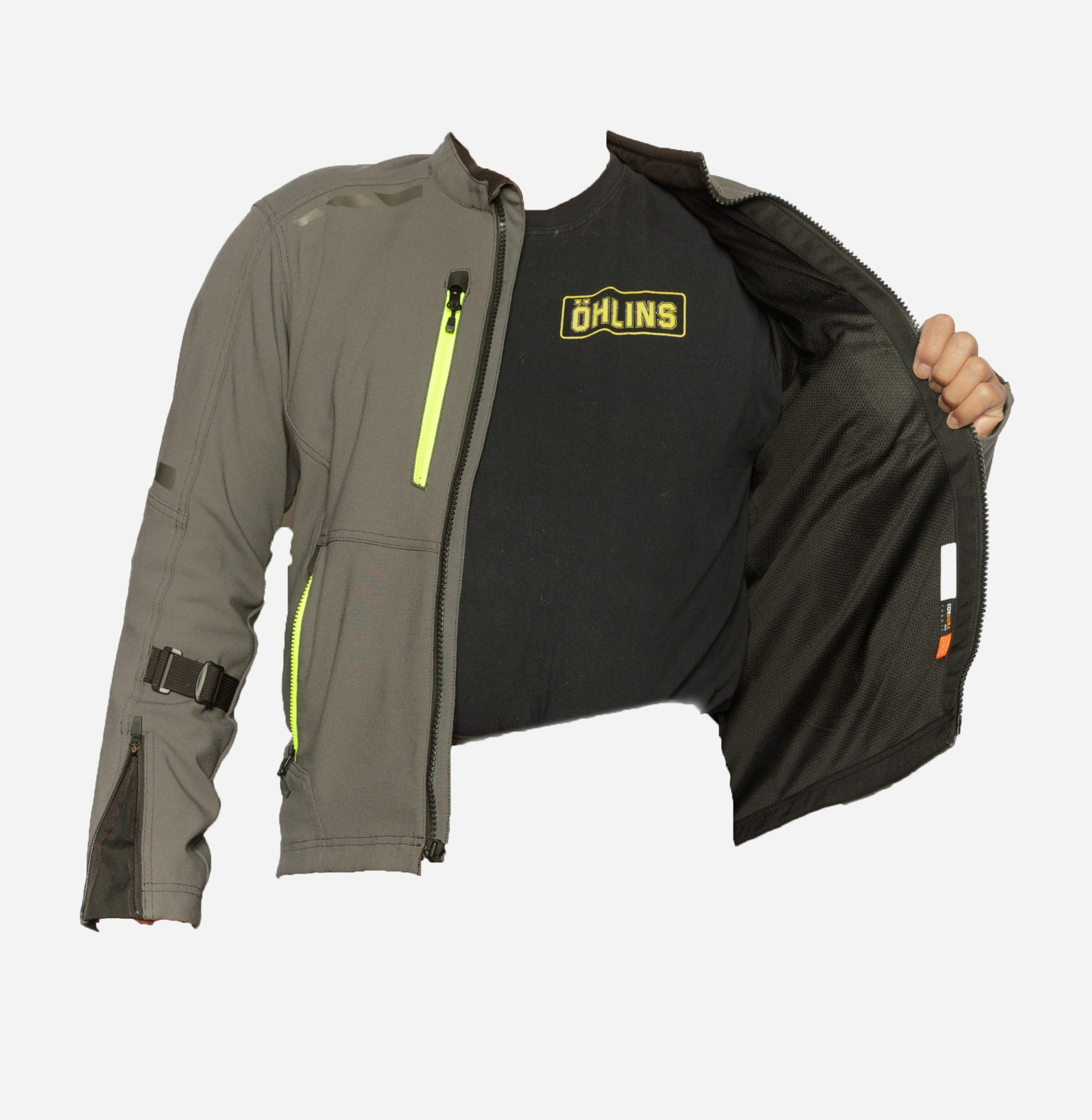 The only other items on the exterior of the jacket are the forearm cinches which allow the user to 'snug down' the forearms to keep the elbow armor in place during a crash. They are attractive and well done, but I will get into their usefulness in the Protection section.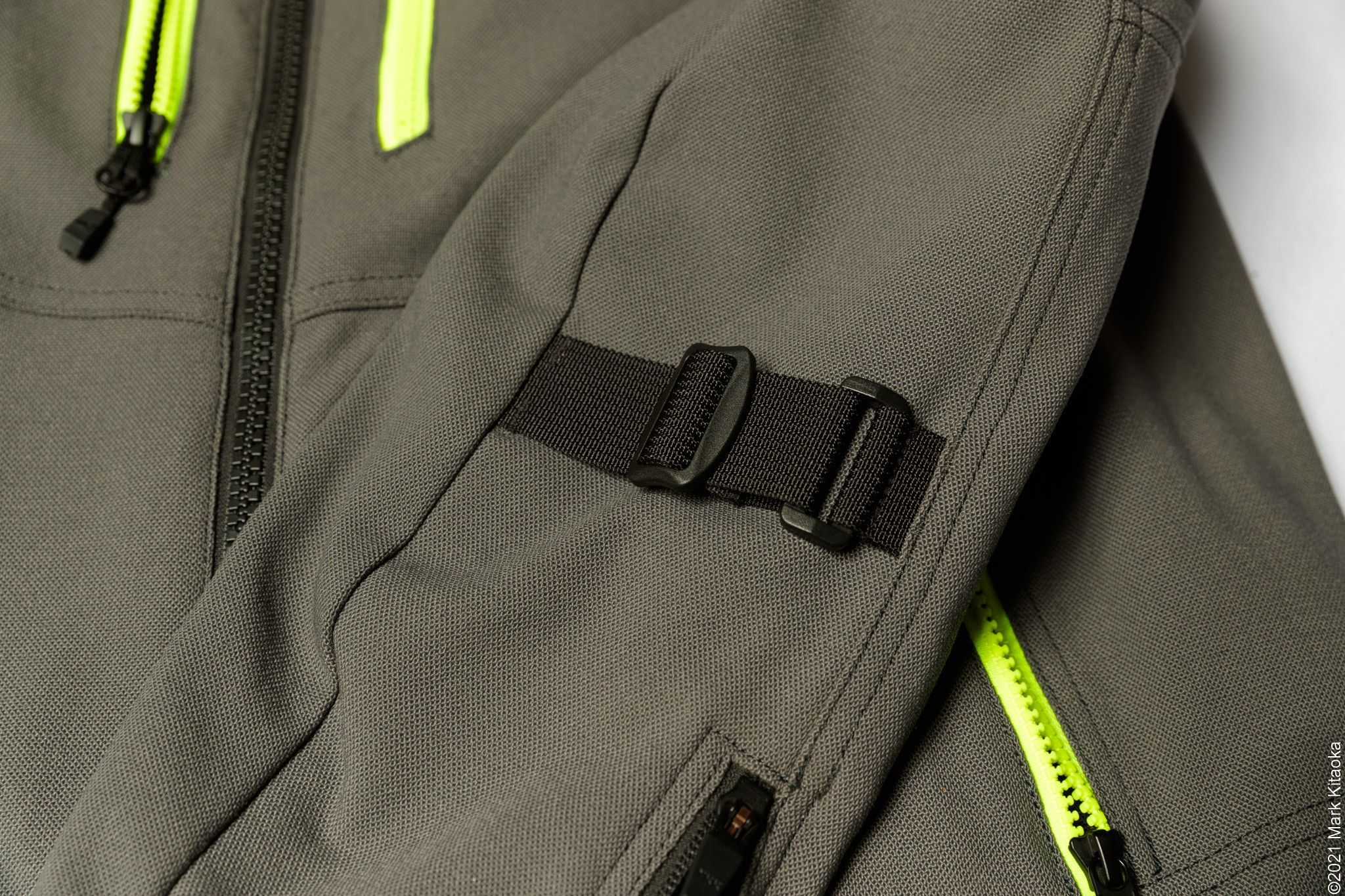 KLIM uses some very attractive reflection material on the jacket that closely matches the color of the garment which is placed in strategic locations on the jacket, on the upper chest, upper back and the mid-portion of each sleeve just above the elbow.
I want to say something here about reflective materials used on motorcycle gear. I believe that in some small cases it may prevent someone from running into you at night. And any small advantage is better than nothing. But I feel it gives us as riders a false sense of security. I'm happy KLIM and others install reflective things on our clothing, I just don't count on it. So for me personally it's not a big deal.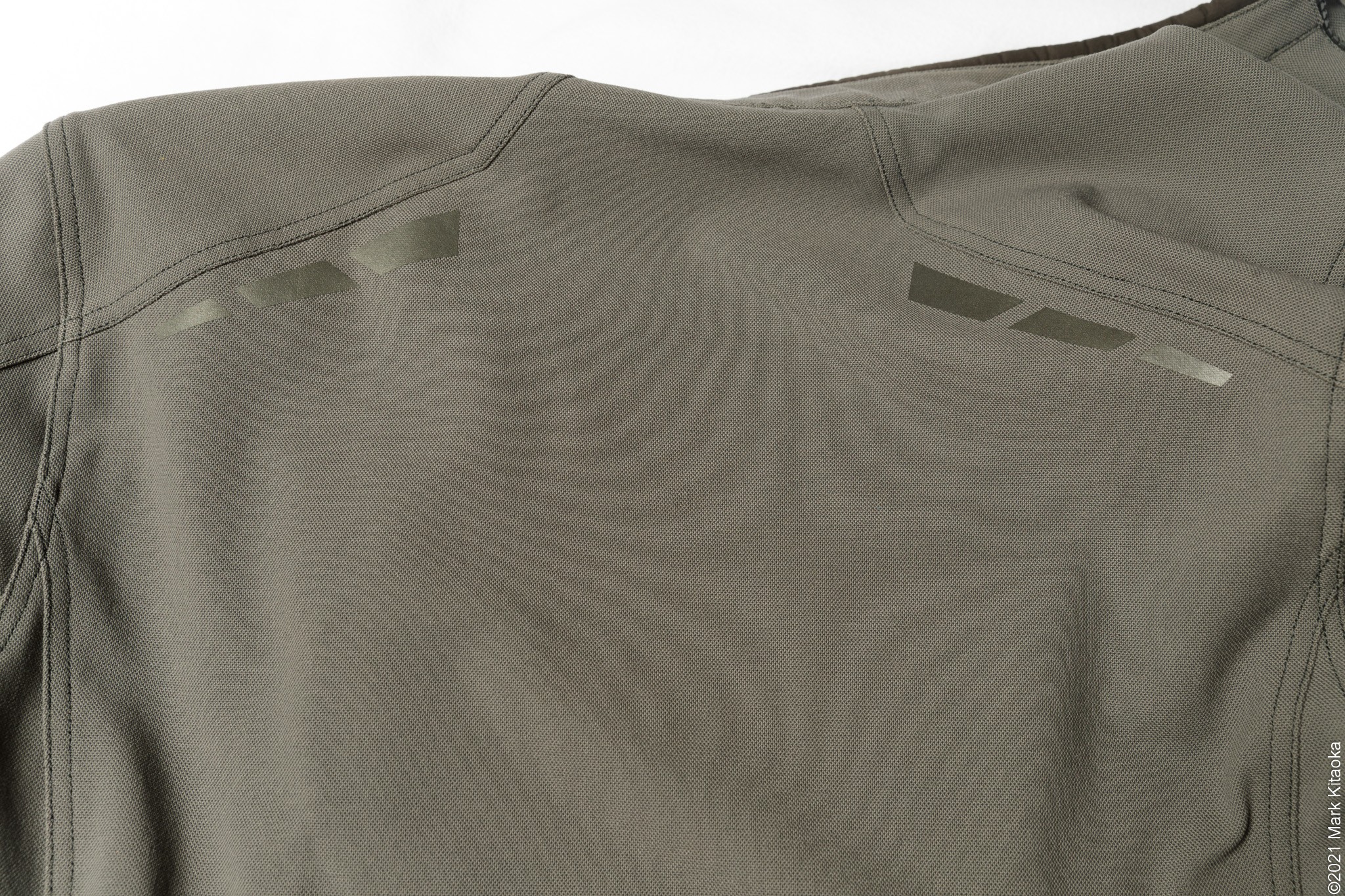 And finally, a little reflective K logo located on the rear right side of the jacket on the back.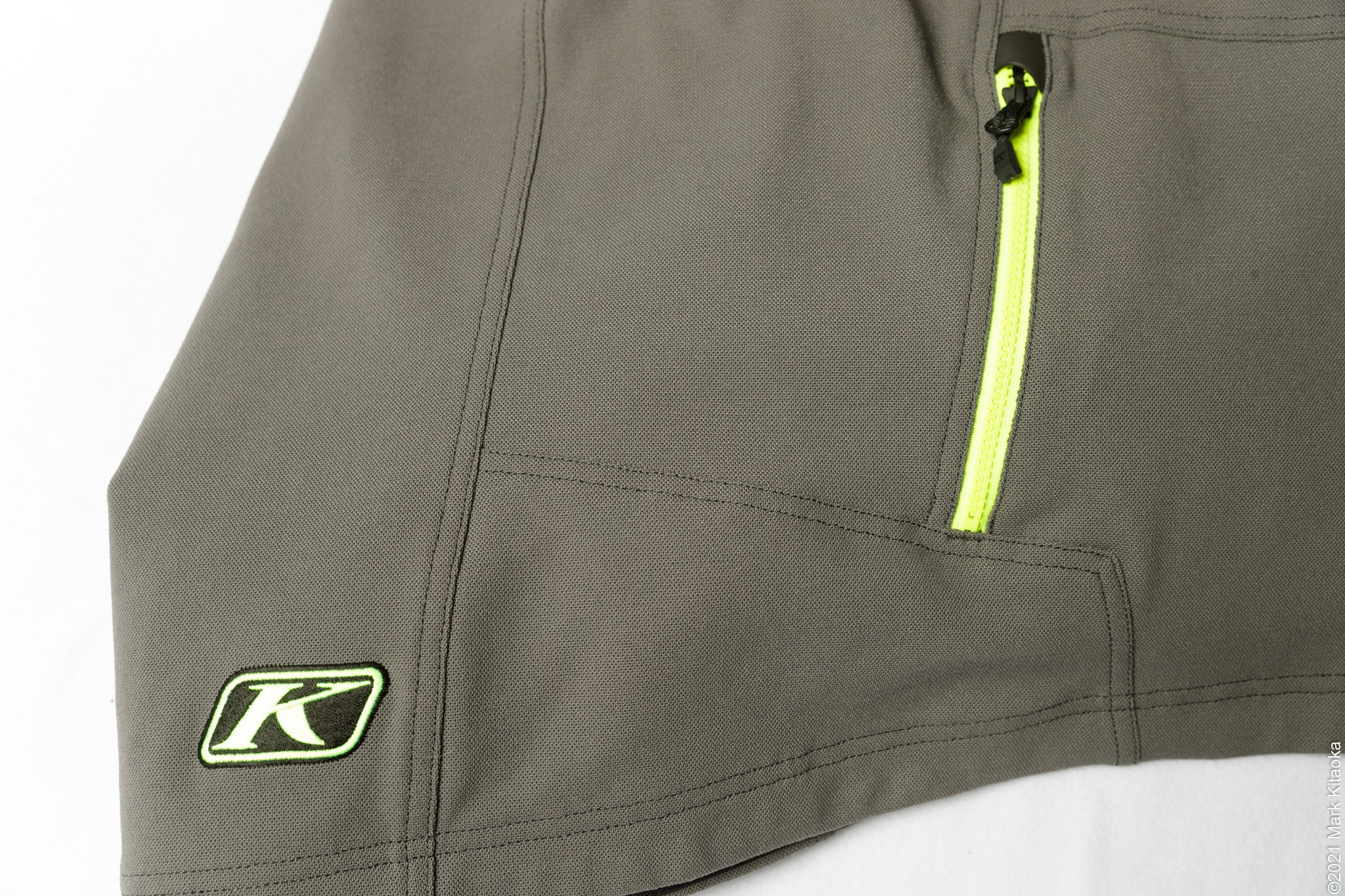 KLIM Marrakesh Jacket Build Quality
After owning a harem of motorcycle jackets, I can say that this Marrakesh is a fine piece of engineering. The thought that obviously went into the jacket is wonderful. Of course, the stitching is consistent and uniform. The thread seems of high quality as do the materials. Here is the list of materials that KLIM used in the Marrakesh jacket:
1000D CORDURA® FABRIC CONSTRUCTION
STRETCH WOVEN MATERIAL FULLY POROUS FOR AIRFLOW
HYDROPHOBIC COATING REPELS WATER AND DRIES FAST
YKK® ZIPPERS WITH HYPALON ZIPPER GARAGES
CE AA RATING CERTIFIED TO EN 17092-3
The pockets have obviously been designed by riders. Deep pockets that are zippered are great, but the angle at which they submerge into the garment is just as important. The KLIM Marrakesh pockets not only go deep but at an angle that prevents your stuff from falling out even if you forget to zip them closed.
I stopped on my way home to get some of my favorite baked goods. It is COVID times so I have my dreaded mask in my right jacket hand warmer pocket. Took out the mask and put it on substituting my cell phone for the mask. Figured I'd take my cell phone out when I got onto my bike and put it into my Quadlock phone holder like I always do.
The bakery is about 6 miles from my home and when I got there I was AGHAST that my cell phone was not on my Quadlock.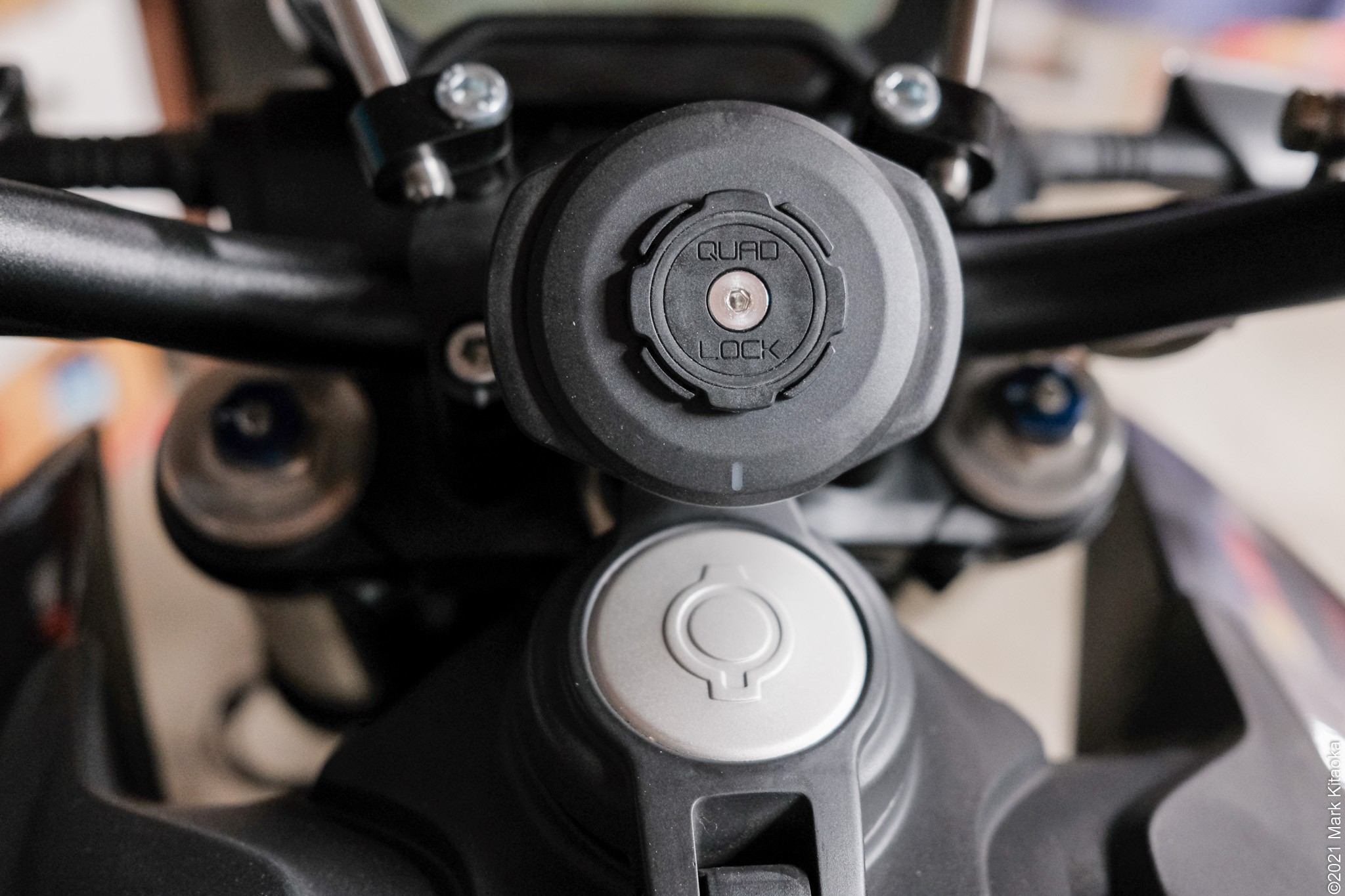 I looked at it so I could open my garage door with an app. My heart sank as I realized I had placed it into my jacket pocket at the bakery and never zipped it up!!! I reached to my left pocket and nothing was there. But then I reached to my right pocket and there was my phone! Not hanging out of the jacket pocket, but deep inside safe and sound.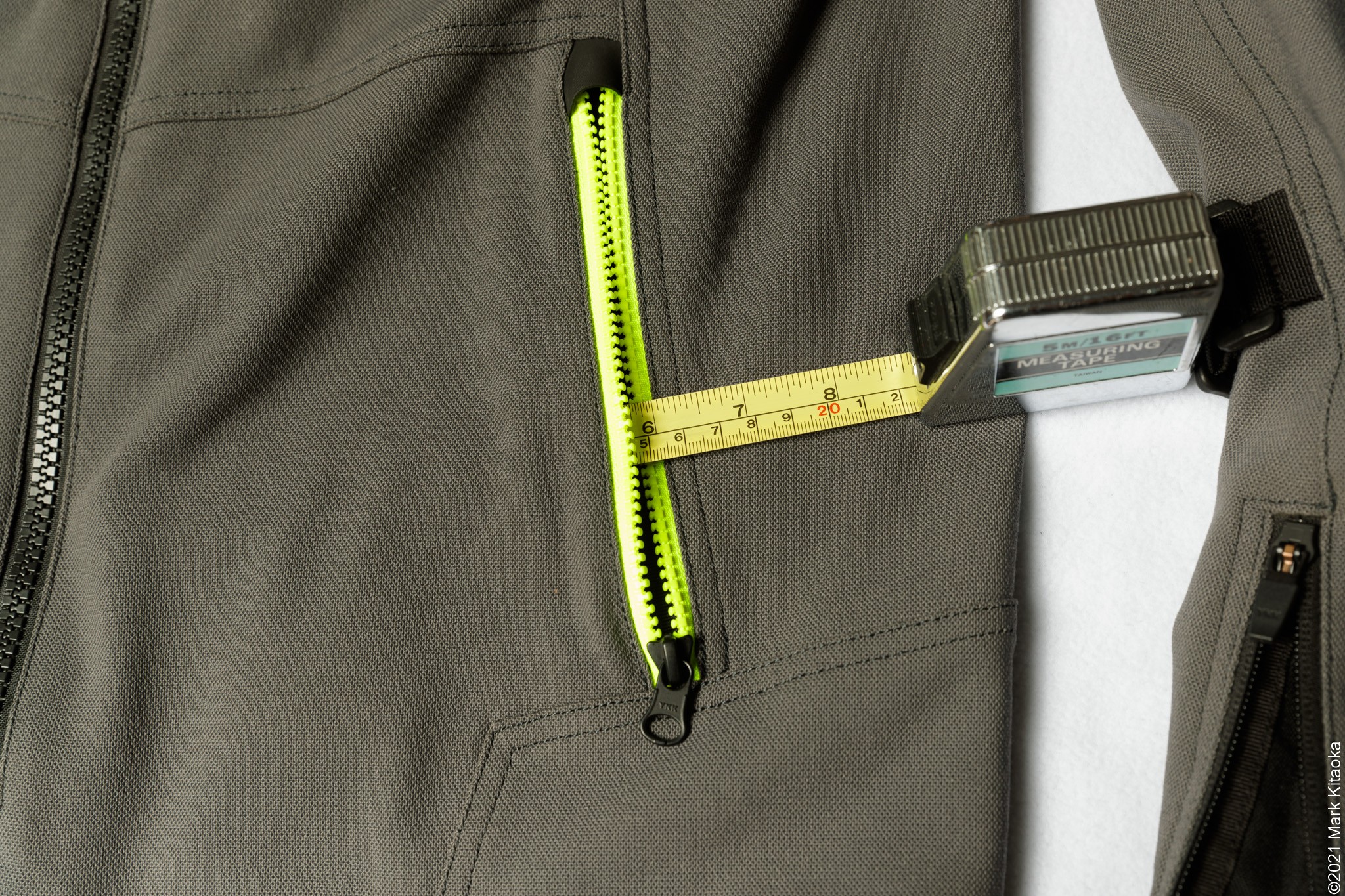 Exterior hand warmer pockets are 6" deep and go at a 70 degree angle down. The pouch of the actual pocket moves along the bottom hem of the jacket. I believe that is the reason my phone remained in the pocket even with me moving around.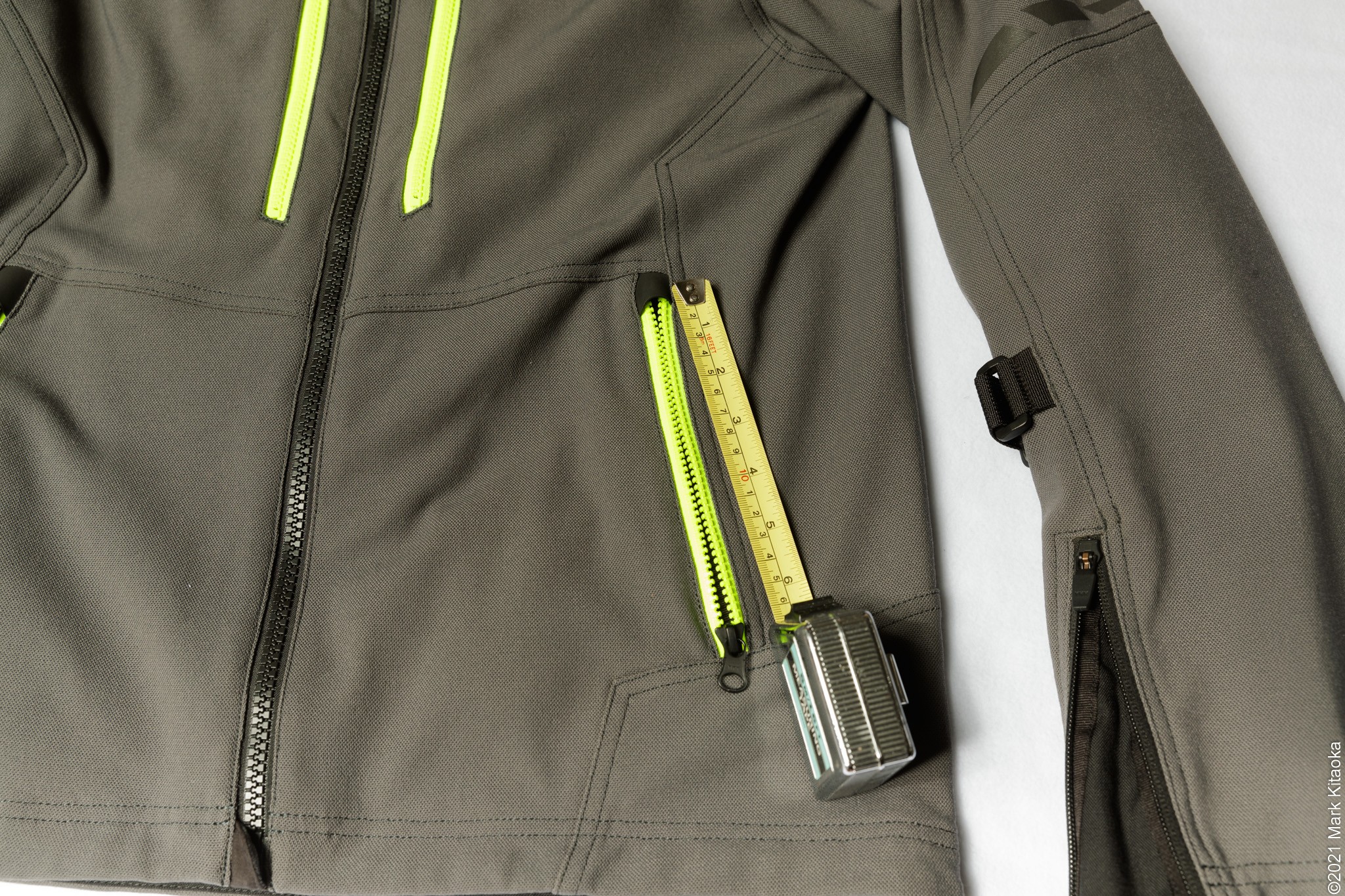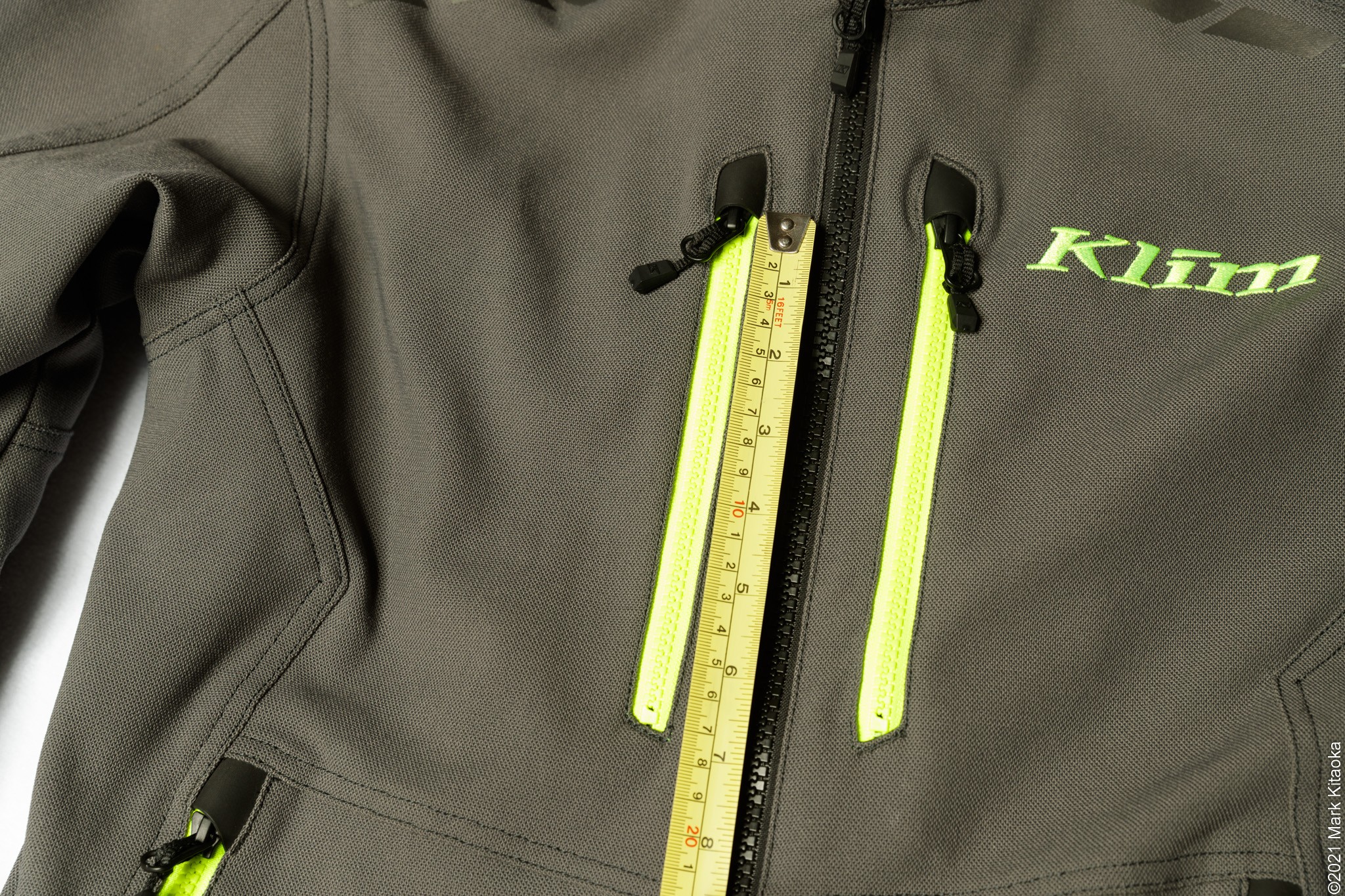 The upper breast pockets which flank each side of the main zipper have openings about 6.75" in length. Those little black pouches at the top of the zippers are what KLIM calls 'garages' for the zips.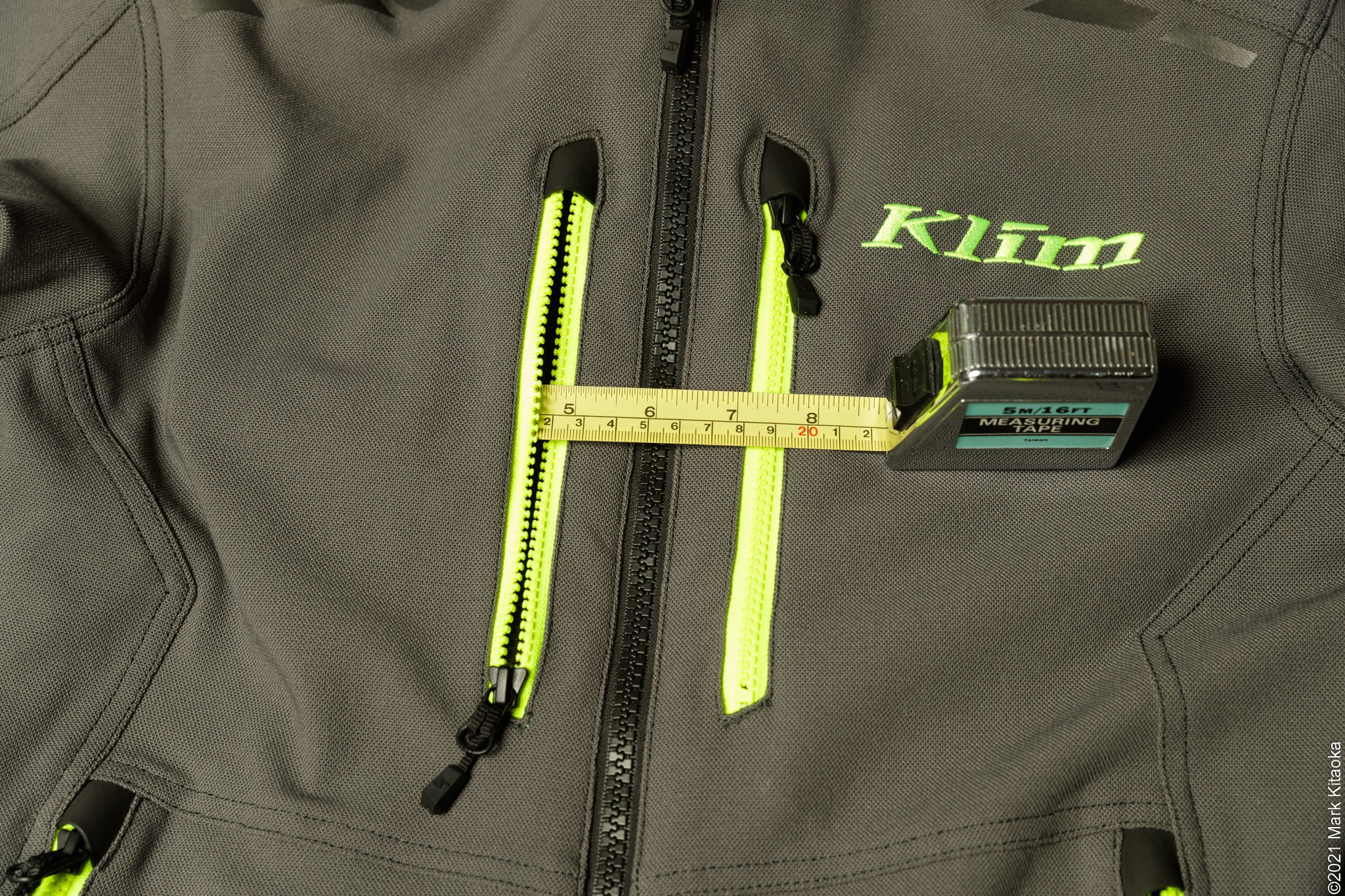 The depth of those breast pockets is about 4.75" Although the shape of break pocket pouches is rectangular they allow 'sag' which traps smaller items so they don't fall out if the zippers are left undone. Of course the larger the item placed into those pockets or the item's unusual shape may dictate if it falls out.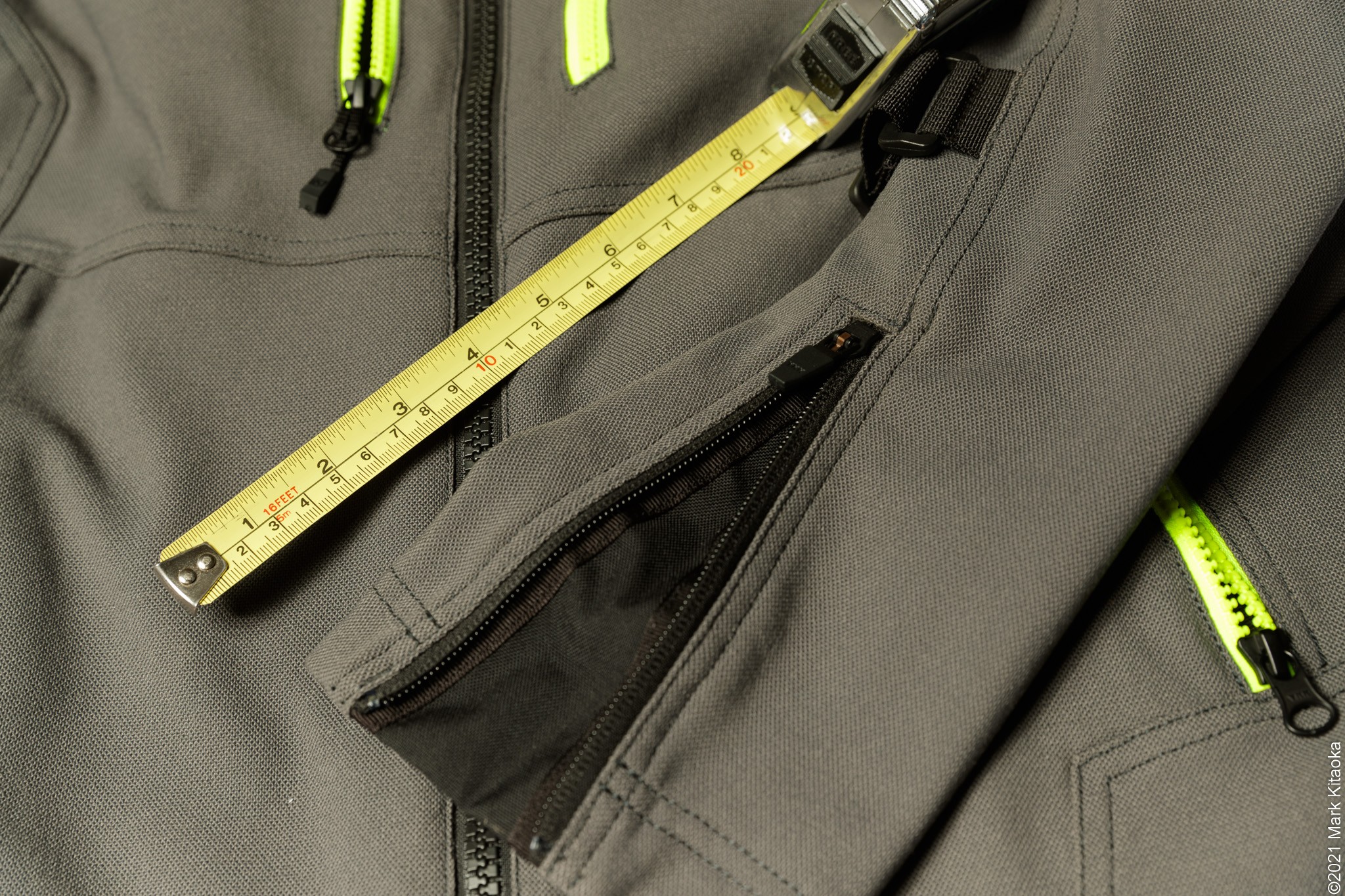 The sleeves of the jacket are also well stitched and the zippers remain in any position as long as they are locked down. And that can be with their pull either toward or away from you. The inner sleeve material is very comfortable and I have never been chaffed by the cuff.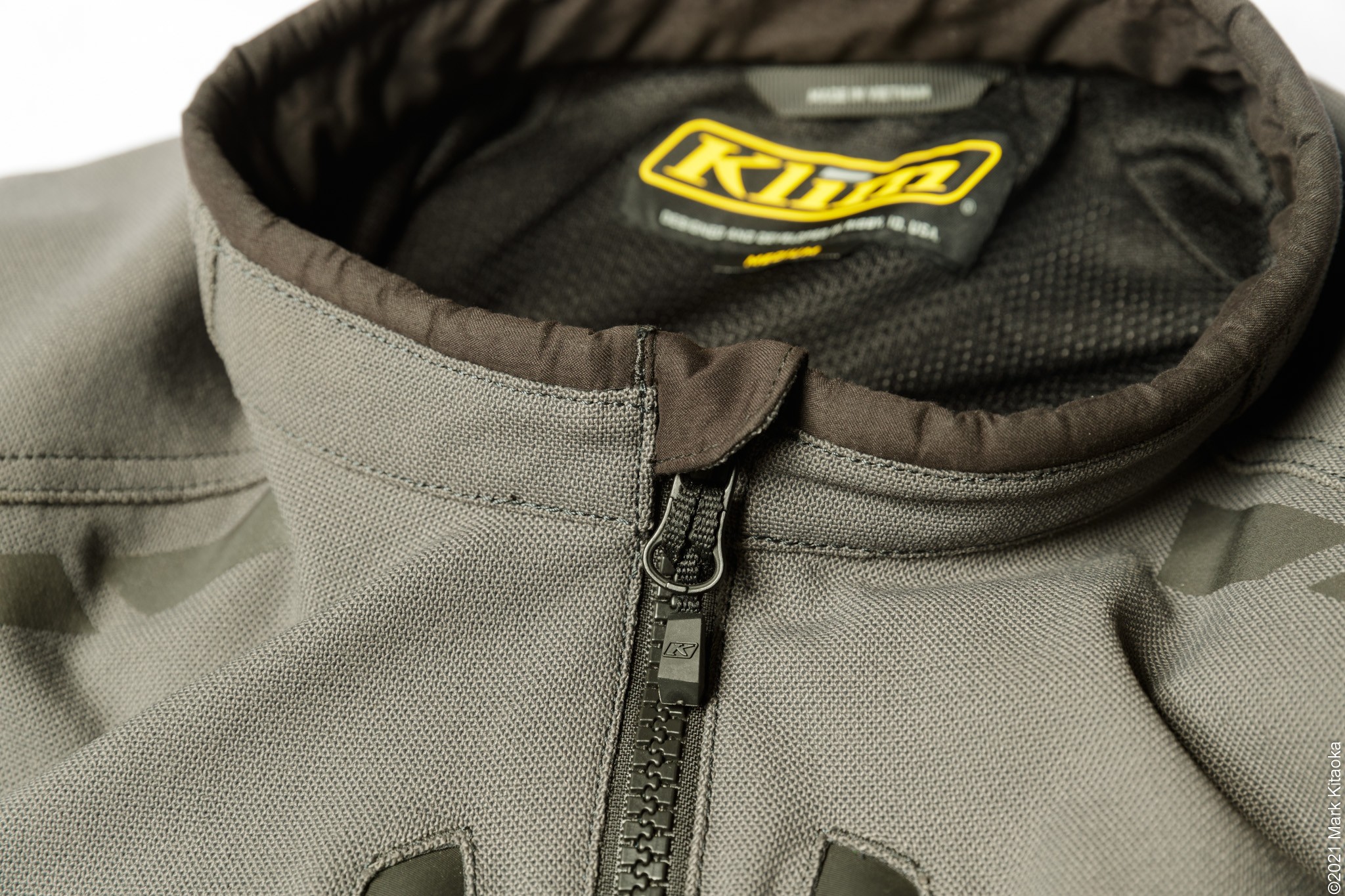 The main zipper also has its own 'garage' which keeps it from flapping in the wind. A nice pull tab is included although I'd prefer a bit longer pull. I may just install my own.
The following images illustrate the quality of the fabric and stitching of the jacket. The Marrakesh uses what KLIM refers to as "STRETCH WOVEN MATERIAL FULLY POROUS FOR AIRFLOW" which I will comment on in the Comfort and Fit section.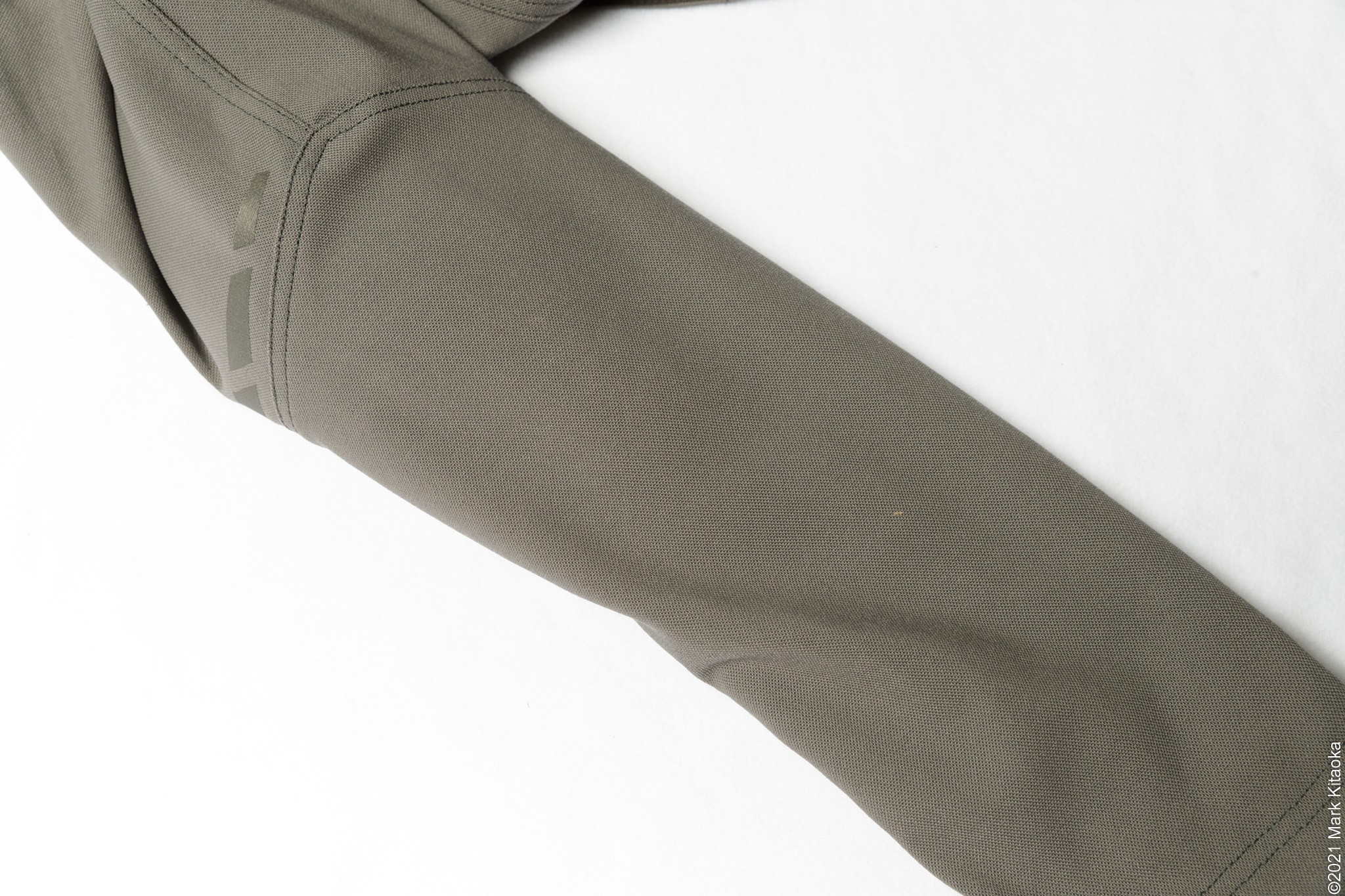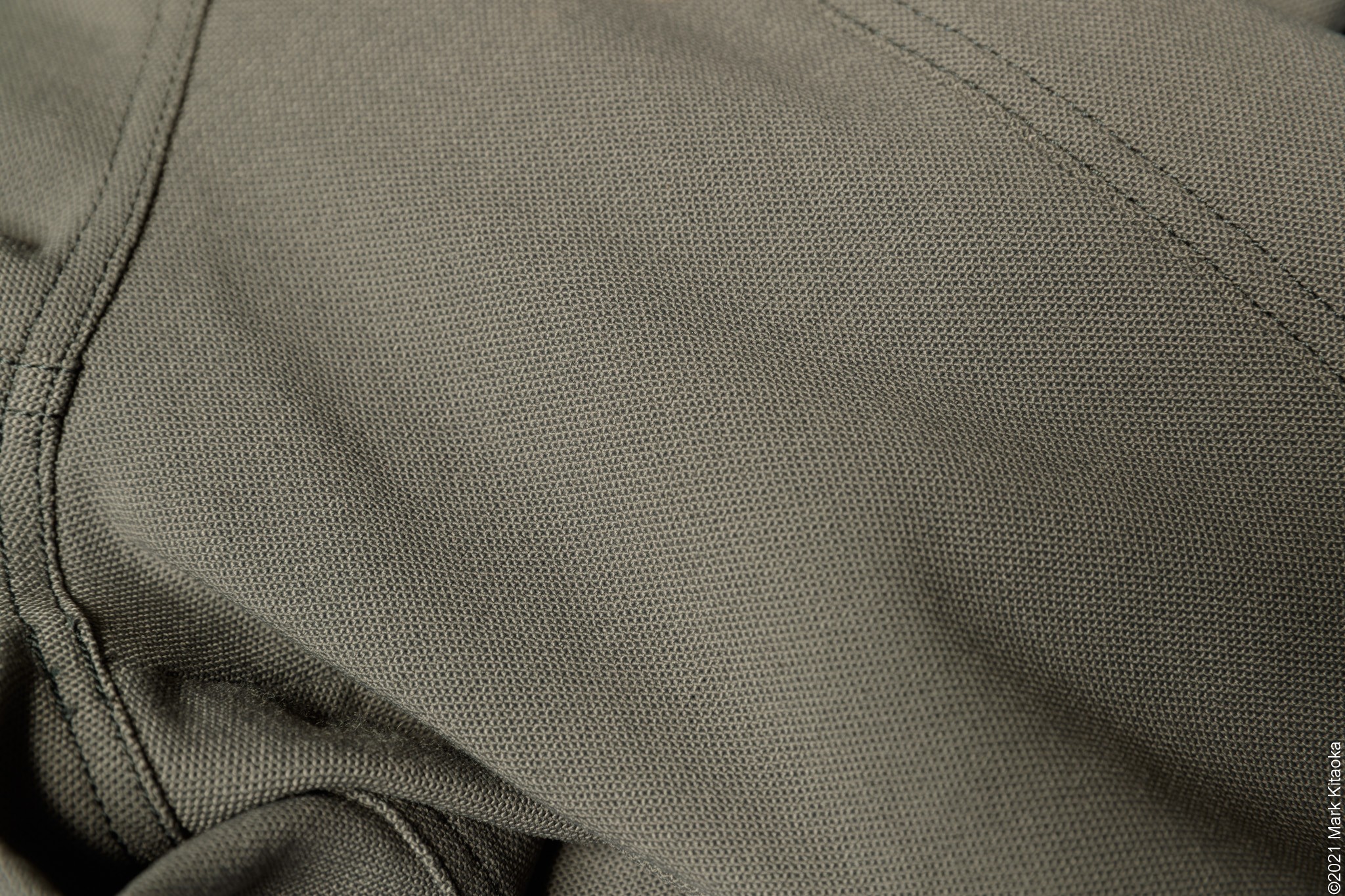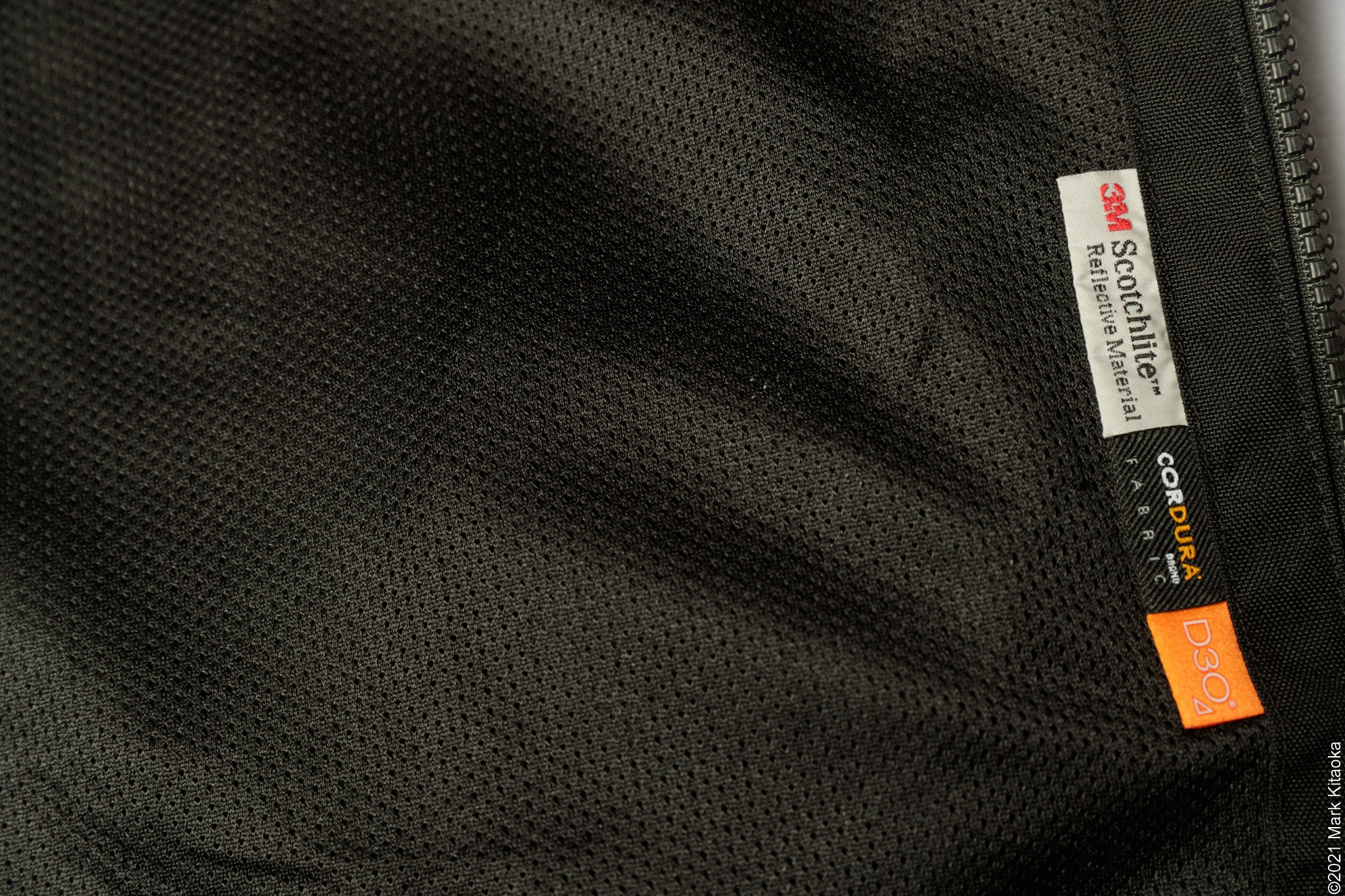 I will simply state that the Marrakesh is a quality jacket in terms of construction, fit and finish. Well-engineered and executed.
KLIM Marrakesh Jacket Comfort and Fit
I'm 5'8" 165 pounds and purchased a medium Marrakesh. In short, it fits me like a glove.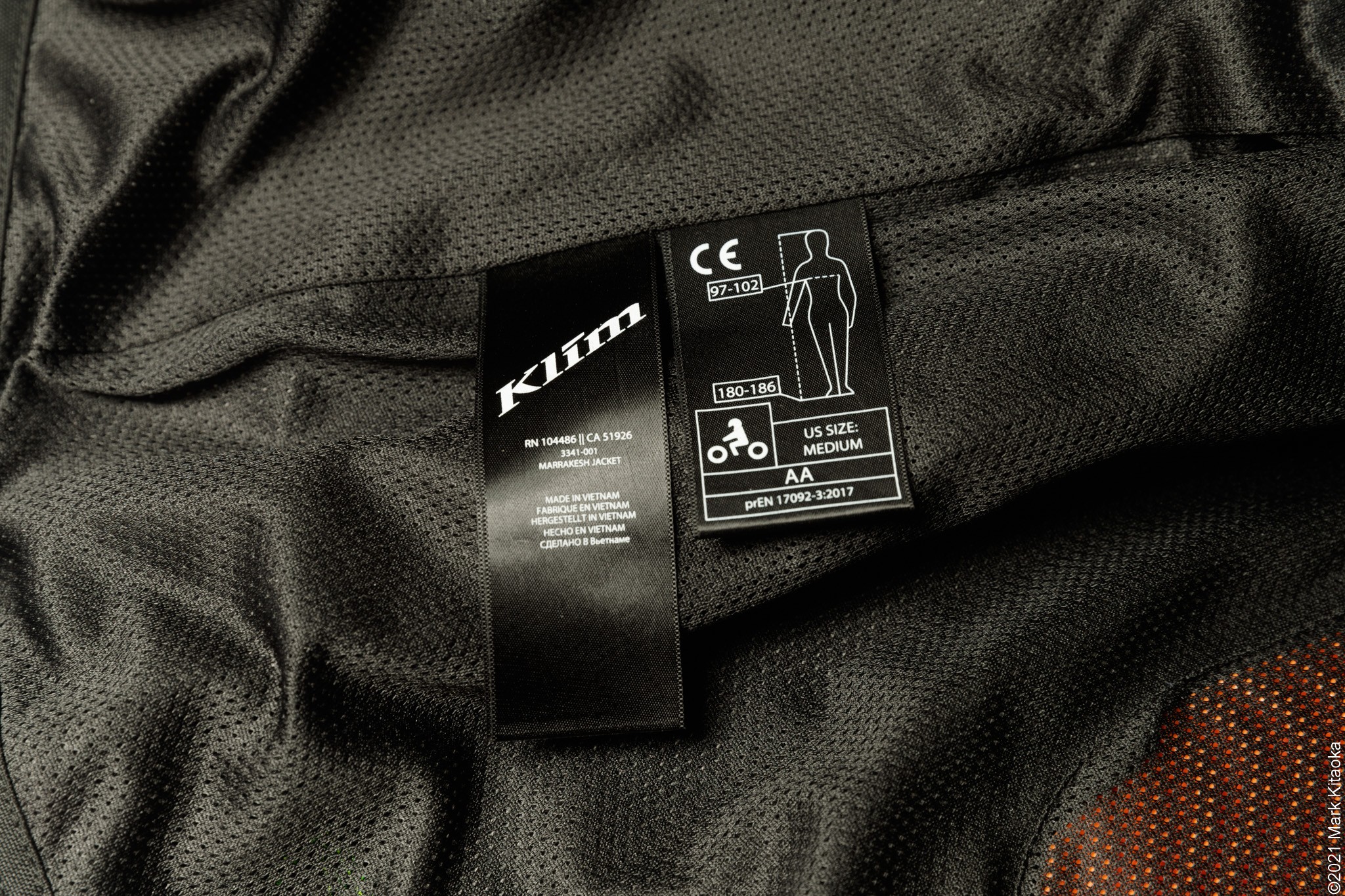 I have a normal sleeve length for someone 5-8 which is 32-33 inches. When I'm reaching to my bars the sleeve length is just right. And as I'm standing with my arms at my side this is how the sleeves hit me.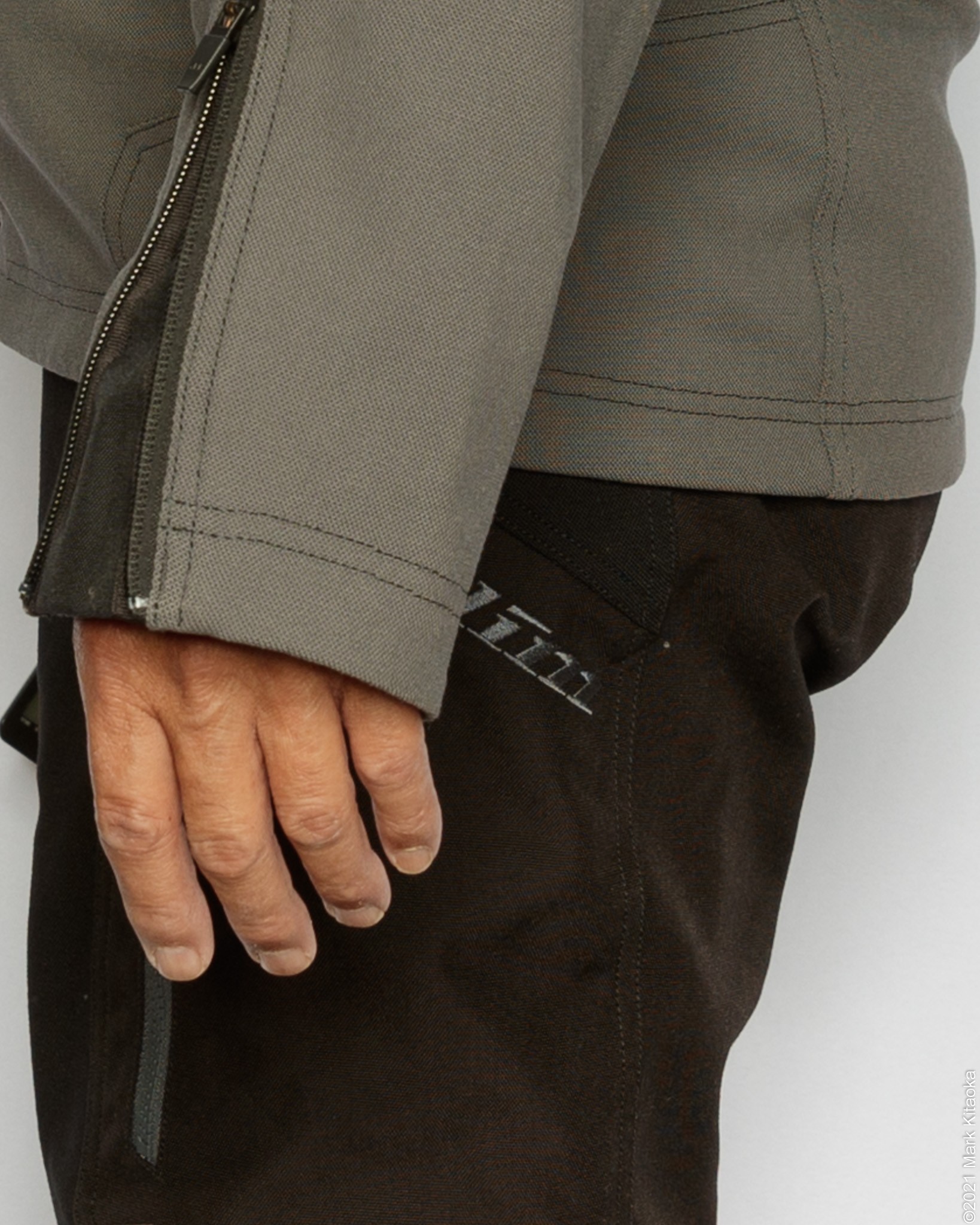 Like other riders, I'm very particular about the comfort of the neck area and wrists. In both cases, the Marrakesh jacket is extremely comfortable. As a matter of fact, the entire jacket is the most comfortable one I own or have ever owned in a riding jacket.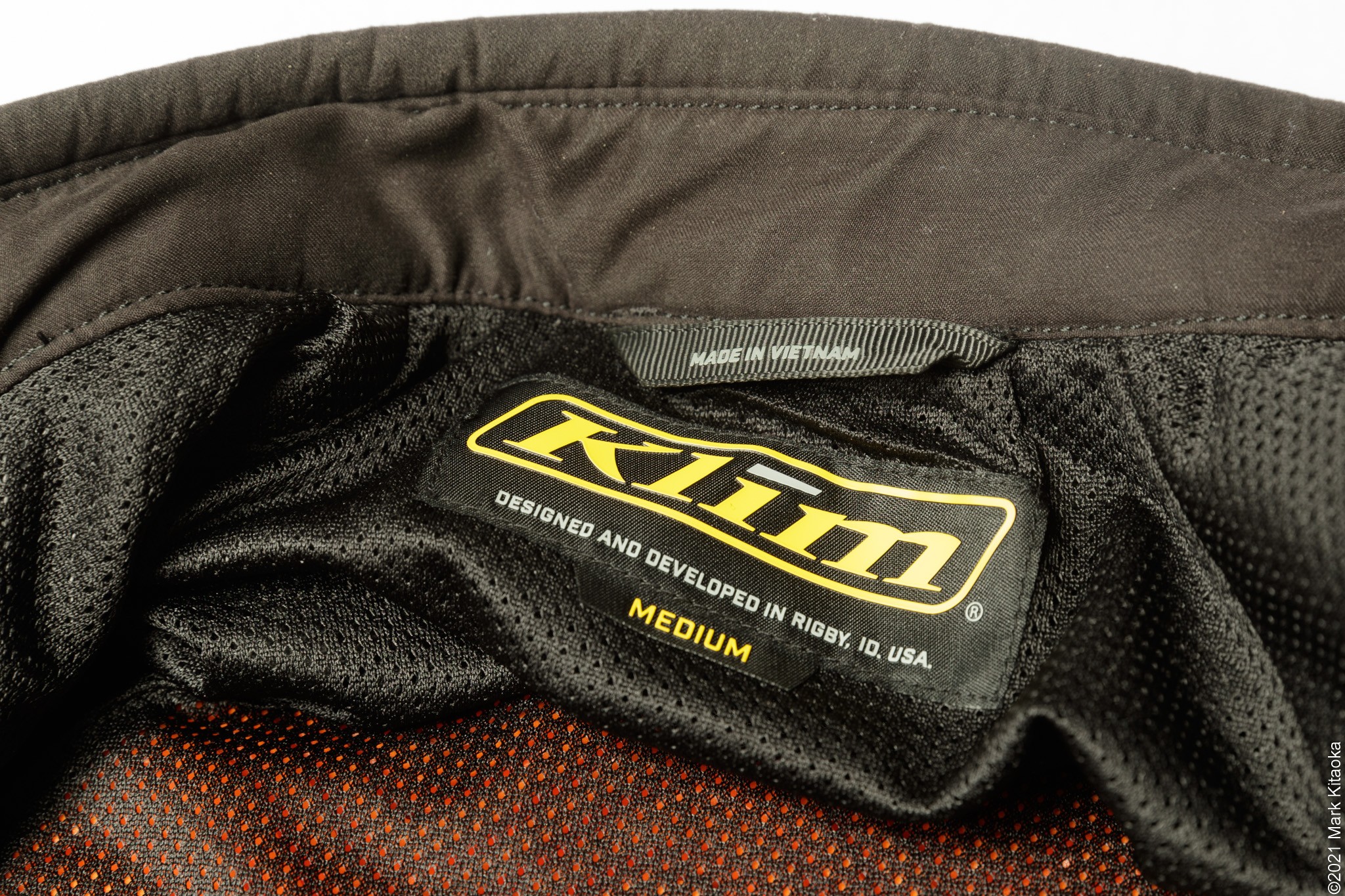 The neck material is extremely soft to the touch. I was concerned that due to its softness it would fray. It has not and gives no indication that it will.
Inevitably, Marco, our wBW editor is going to question me when I give the Comfort and Fit rating a 10, or at least ask me to provide crystal clear rationale on why I've scored it as such.
The fit and comfort are beyond anything I've worn. Is it cool? Yes it is, but not in a fully perforated way that lets air rush into the jacket. I have not ridden using this garment in temperatures above 90 degrees. I have ridden in 113-degree heat in other jackets and simply opened them up completely where the jacket was flapping in the wind and it was still hot AF.
Humidity plays a big role too in how hot we remain as riders. What the Marrakesh jacket feels like to me is more like swamp cooling, evaporative cooling. Sun beating down on me is hot, wind passing THROUGH the jacket in the way it does on the Marrakesh feels different. I also open the breast pockets to allow air to go through them.
Each person's posture and position on a bike varies. Bike type, fairing or no fairing, seating position, body density, heat tolerance, there are so many mitigating factors. I will simply say for me the design of the jacket combined with its comfort and cooling means a solid 10 from me. If the editors want their pound of flesh, how about a 9.95! Hahahaha.
KLIM Marrakesh Jacket Protection
The Marrakesh utilizes D3O® Level 1 Armor at the elbows, shoulders and back pad. The armor is all vented which allows air to flow through them. If you seek level 2 or 3 armor you can install that yourself as long as the armor pieces fit in terms of shape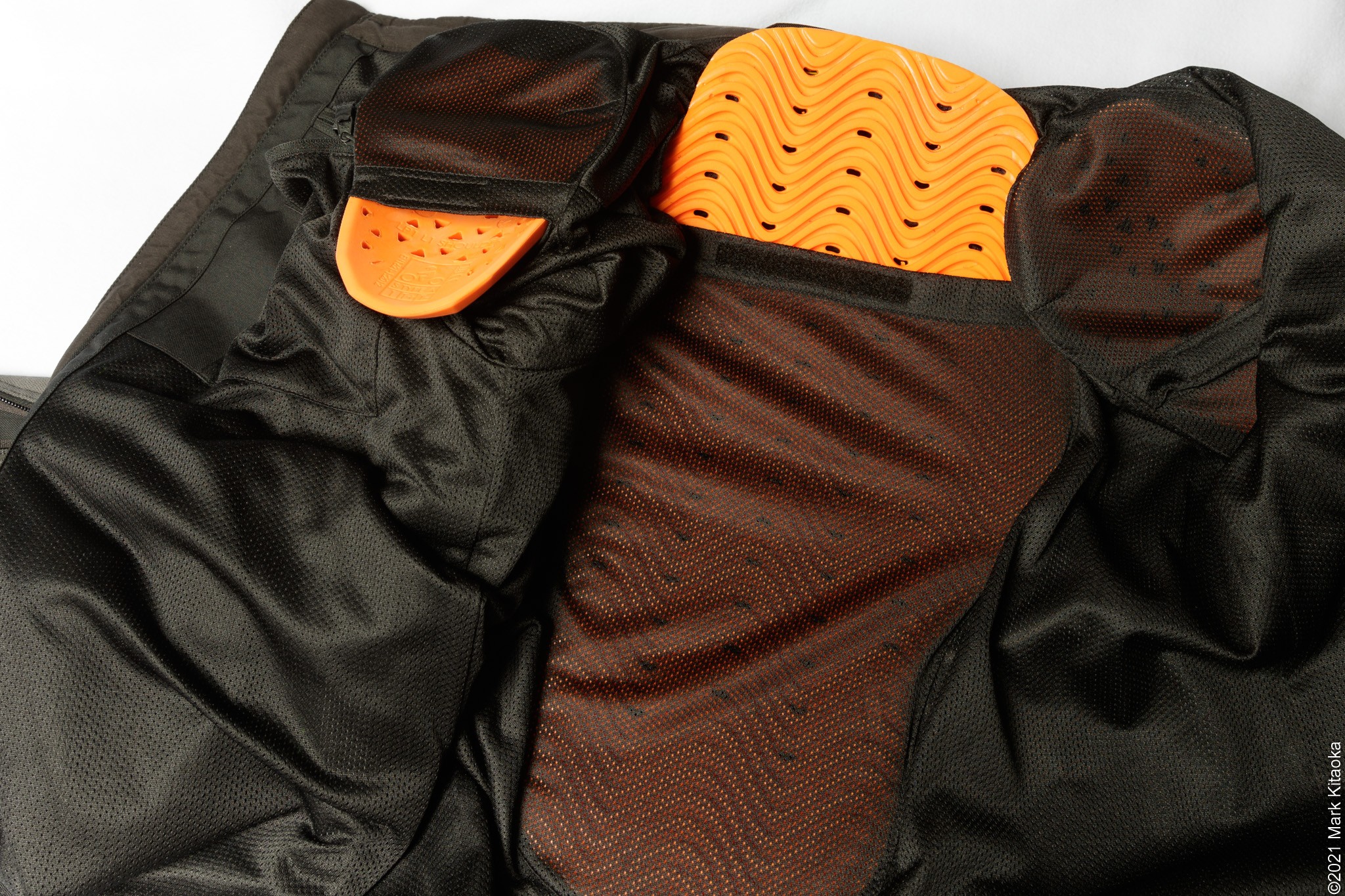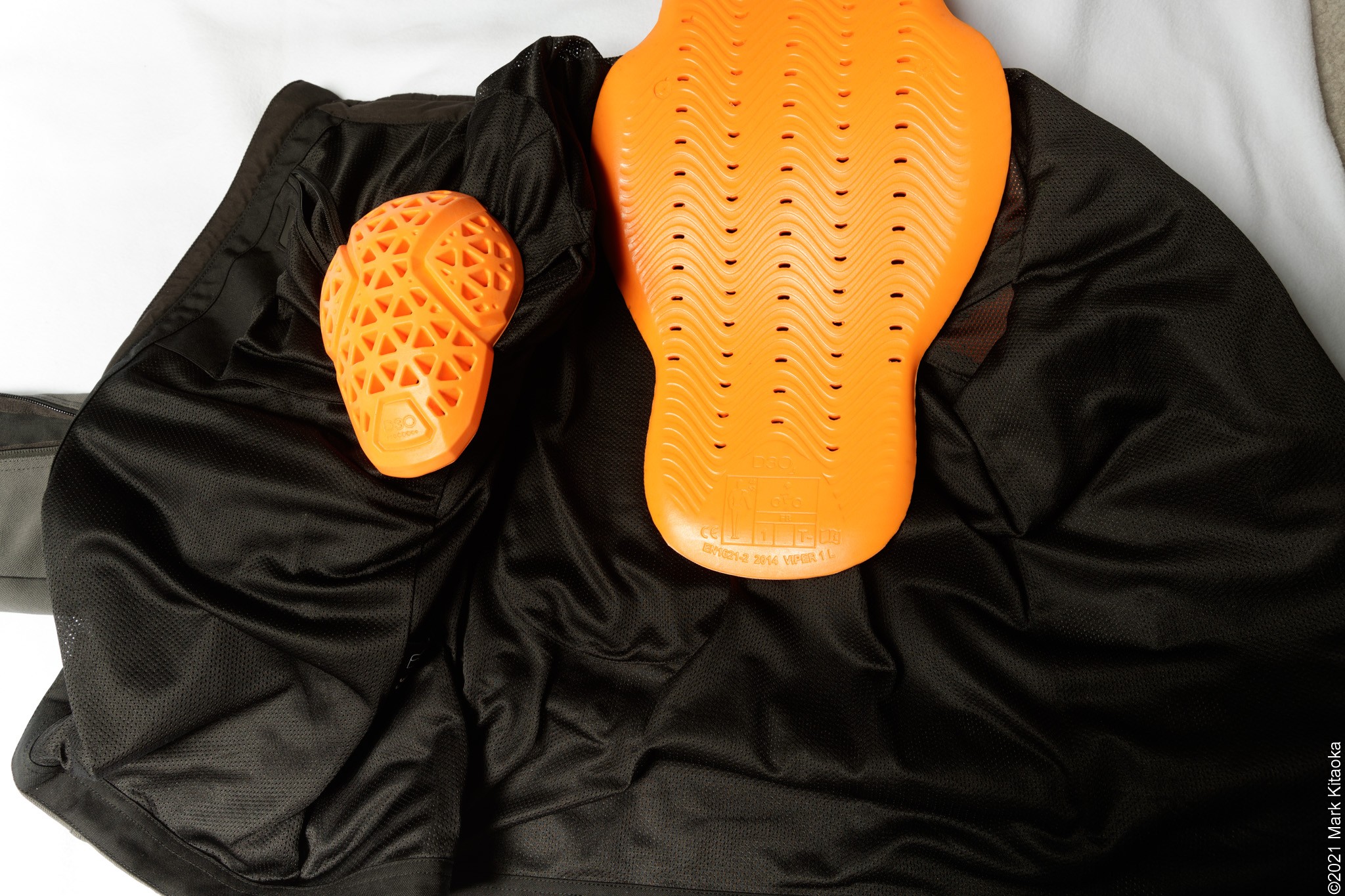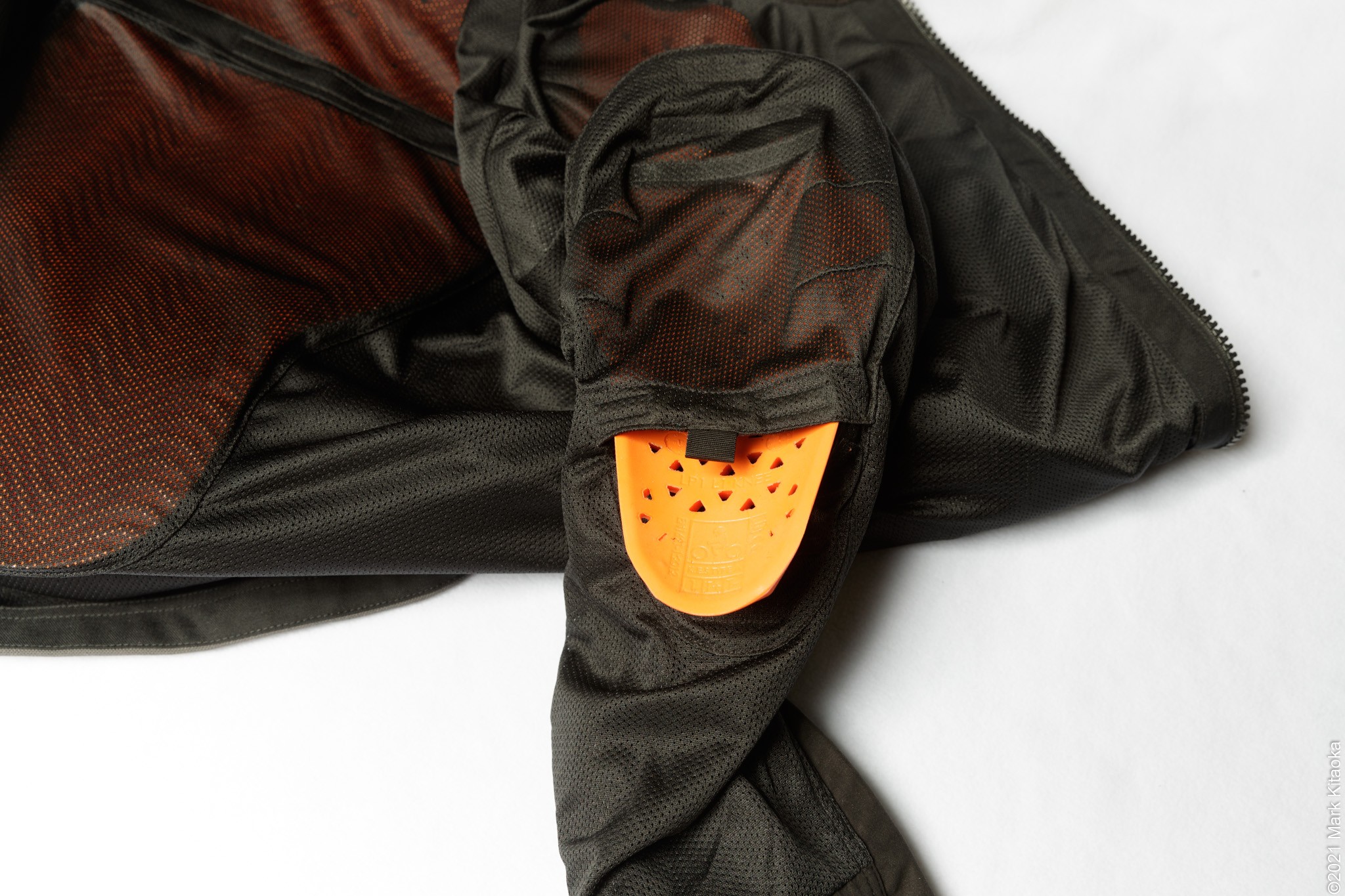 Two horizontal Velcro strips that attach to the garment's inner material allow us to adjust how far up or down the D30 sits into the sleeve. For me, I find that placing the armor beyond the uppermost Velcro strip suits my tastes the best. I believe that not attaching matching Velcro to the armor allows it to remain more solid during a crash.
I want to talk about something I mentioned in the Aesthetics portion of this review about the straps on each sleeve. These straps are designed to help keep the elbow armor in place in the event of a crash. So I tried it because I've never had these on any of my riding jackets.
No, I didn't 'get off' during a crash but simply tightened or loosened the straps and 'dove' onto Marley dance flooring to see if it keeps the armor in place. Guess what it does! So my suggestion is to adjust them to a tension that suits you.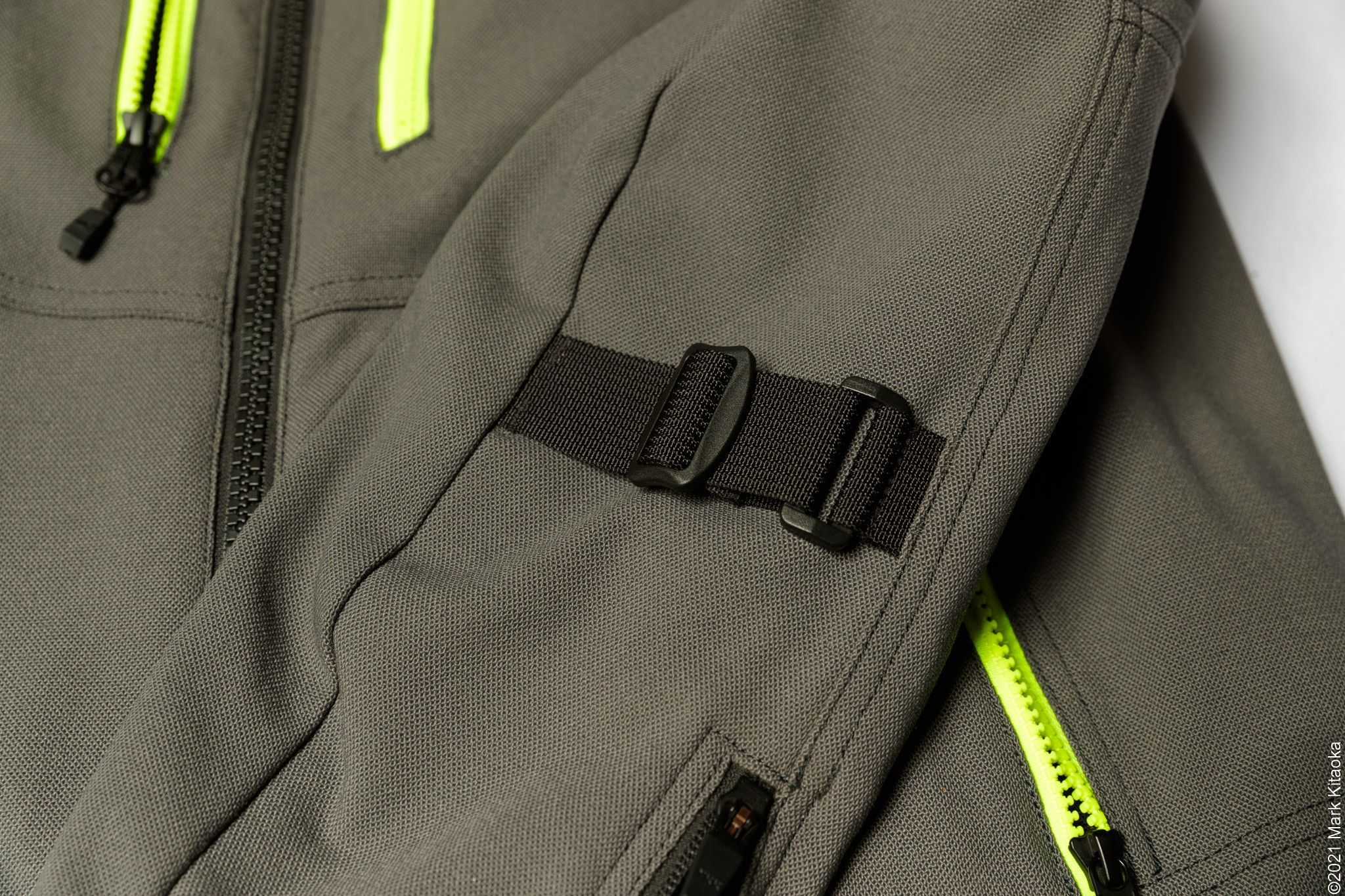 And finally, as I was writing this article I came upon a 'review' left on the KLIM site about a user's own crash experience with the Marrakesh:

Of course, you're thinking "Mark this is on KLIM's own website. Come on man are you stupid enough to believe it?!" Fair enough. Could be made up marketing, or it could be real. It's up to each person to decide but I personally don't believe much about crash worthiness unless I've crashed in something or one of my teammates has done so. Every crash is different even at the same spot and speed. But crashing is a much better test than assuming….
Verdict
OK, here we go again. I've gotta give this jacket at least a 9/10, if not 10/10.
Comfort means I'm gonna wear this one as much as I can. Construction is top-notch. Armor placement fits my body. Coolness provided by great design and material choices. Handsome to my eyes (and Christine's) $369.99 to me is a good deal. And why would I say "$369.99 is a good deal"?
I have a HWK jacket that only costs $59.99, is waterproof, has a liner, a kangaroo rear pocket and level 1 armor at all impact areas. I have an Aerostich Darien that costs $595.95 and has all of the armor and is waterproof. I have multiple leather jackets (mentioned before) that range anywhere from $450.00 to $600.00. I've not been down in any of my street gear, only in my $2500.00 custom racing leathers.
I've learned how important fit is to prevent acceleration of fabric/leather/armor against my skin. So having a jacket that is COOL in hot weather, yet fits snugly is an art form. Sure there are other jackets including ones I own that are more roomy, but trust me, EVERY SINGLE GARMENT I OWN for my motorcycles is for PROTECTION first. Otherwise, I'd ride nude and NO ONE wants to see that….but I'd like it!
Pros
Incredible comfort
Handsome
Excellent fit and finish
Level 1 armor at all potential impact zones including back protector
Flows air well
Washable (remove the armor)
Cons
Lacks a rear kangaroo pocket
Not waterproof, water resistant or bullet proof
Athletic fit (for those who don't have an athletic shape anymore…
Uh… I can try to make up more things….