Kawell Amber LED Light Bar Image Gallery
Let's face it, the motorcycle manufacturers are way, way behind the curve when it comes to adding conspicuity to our bikes.
I'm getting really steamed lately seeing the new cars that are loaded with high-powered LED daytime running lights.
And meanwhile, motorcyclists are left out in the cold, while we're the ones needing the high-powered auxiliary lighting.
Have you noticed it — how many new cars have highly visible LED Daytime Running Lights (DRLs) recently?
The motorcycle manufacturers should have been first out of the gate with all sorts of bright conspicuity lights, driving lights, fog lights and better brake lights.
And let's not forget headlights, most of which basically suck, to use the vernacular, on motorcycles.
Instead, we get wimpy technology designed to look cool but perform like it's the 6 Volt era.
Well, it's time for a revolution!
We all need to start hounding the motorcycle manufacturers to get on the ball. A motorcycle should be the most visible vehicle on the road, no question about it.
webBikeWorld has been pushing this issue since the beginning, over 16 years ago. We've published dozens of motorcycle lighting reviews and more are always on the way.
For example, just recently we added some cheap visibility lights to the 2015 Kawasaki Versys 650 LT Project Bike (Blog).
But since we're now getting overpowered by the DRLs on four-wheeled vehicles, I'm convinced that it's time to up the ante. Let's fight back!
Thus began the latest chapter in our quest for better, brighter and more powerful conspicuity lights…
Which started with a search for amber-colored LEDs, because my theory is that bright amber-colored lights will help a motorcycle stand out from the sea of white LEDs everyone else has.
Actually, the yellow project started a long time ago when I added dual yellow headlight bulbs (review) to the 1998 Triumph Tiger Project Bike.
I've already added a yellow headlight bulb to the 2015 Kawasaki Versys 650 LT (Blog) and the 2014 Suzuki V-Strom 1000 ABS (Blog) got the same yellow headlight bulb treatment.
Does it help? Well, no one really knows. But at least I can feel like I'm fighting back…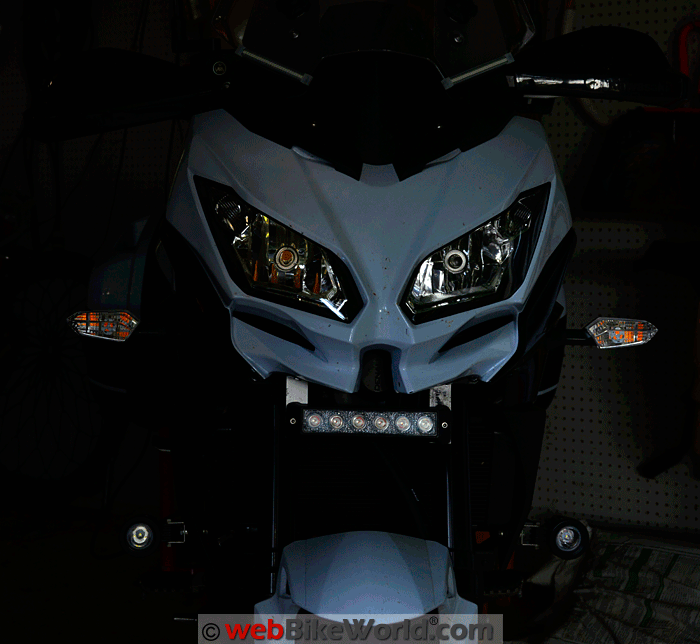 The Kawell Amber LED Light Bar
This time, I was looking for a horizontal light bar that would fit under the nose of the Versys and/or the 2007 BMW F800S (Blog).
It would be in addition to the amber AdMore LED light strips (review) and the inexpensive OZ LED Mini Trail Lights (review).
Searching around, I was surprised to find that there aren't many amber-colored LED lights to choose from. But I eventually found this 7.5″ wide version of the Kawell amber LED light bar.
Kawell is one of those semi-anonymous manufacturers who makes many different LED auxiliary lights.
Actually, I'm not sure if they make them or if they market lights made by some really anonymous factory somewhere in Asia.
No matter, because Kawell products are widely distributed around the world and regularly available without much hassle.
Kawell makes LED work lights, LED light bars and LED driving lights in many different shapes and sizes.
The LED light bars range from 12 Watts (a 4 LED version of the light bar I used) to massive 52″, 300 Watt light bars suitable for … I don't know what. And many of the Kawell light bars are available with amber LEDs.
I chose the Kawell K5-5018 (SKU: 55-AV042) 7.5″, 18 Watt amber LED light bar with the 60-degree wide pattern.
Most of their light bars are available in either 30-degree or 60-degree patterns and in white or amber. I figured the wider the better for motorcycle conspicuity.
Note that this light is not a driving light or fog light. It doesn't light up much of the road at all in front of you. It's pretty much a bright visibility light for conspicuity.
Why you'd use this on a car is beyond me, but it works fine for motorcycle visibility.
And by the way, as an indication that Kawell is actually a "real" company, they have a comprehensive website with all of the specifications listed for their various lights.
The reason I mention this is that many of these semi-anonymous (to motorcyclists, anyway) companies based in Asia don't even have a website, making it difficult to find information on their products.
The exact model I chose is this:
LEDs: Six 3 Watt Epistar brand (Taiwan) LEDs.
Lumens: 1,200 Lumens rating.
Lifetime Rating: 50,000 hours.
Power: 18W DC
Power Input Range: 9V to 32V
Current Draw: 1.5A at 12V
Light Temperature: 3000 Kelvin
Waterproof Rating: is IP67
Material: Aluminum cast housing with heat sink fins.
Paint: Powder-coated black.
Lens: Polycarbonate
Dimensions: 7.5″ long (190.5 mm), 1.7″ wide (43 mm), 1.4″ tall (35.5 mm).
Weight: 0.8 pounds (363 grams).
The 6-LED Kawell amber light bar with the 60-degree spread shown here has a very reasonable list price of $19.99, available here through the webBikeWorld Amazon.com store.
This one was on sale in the Amazon Warehouse Deals for $15.99, it had a crushed box. That's a certified steal!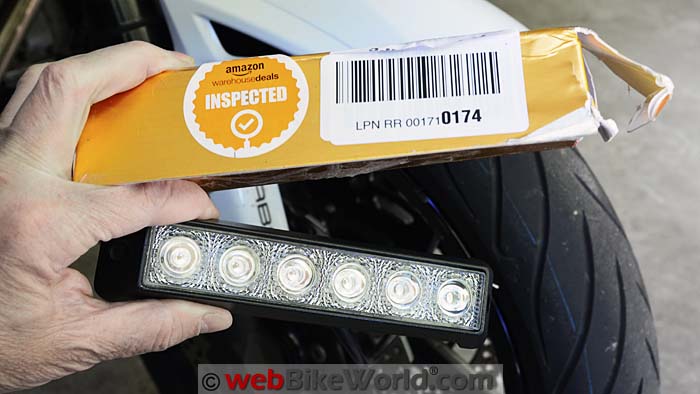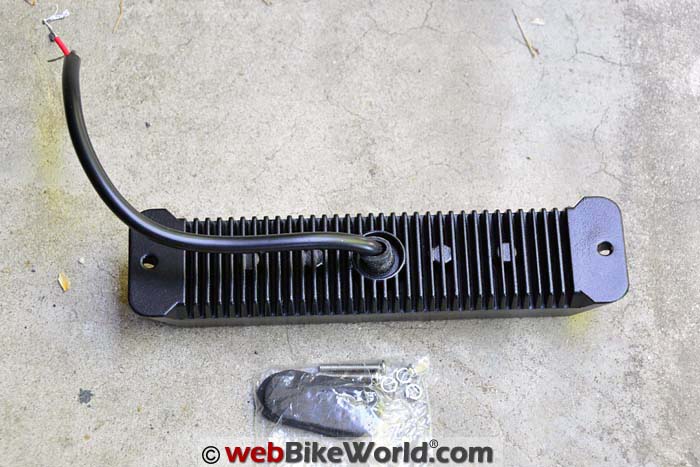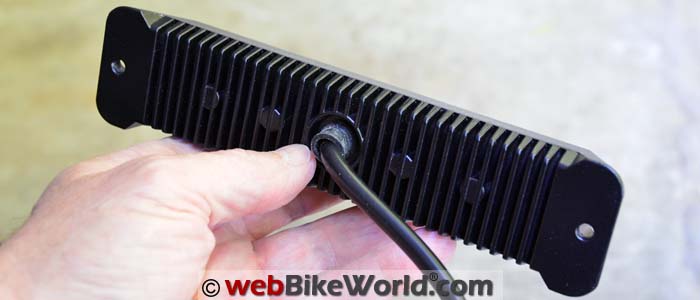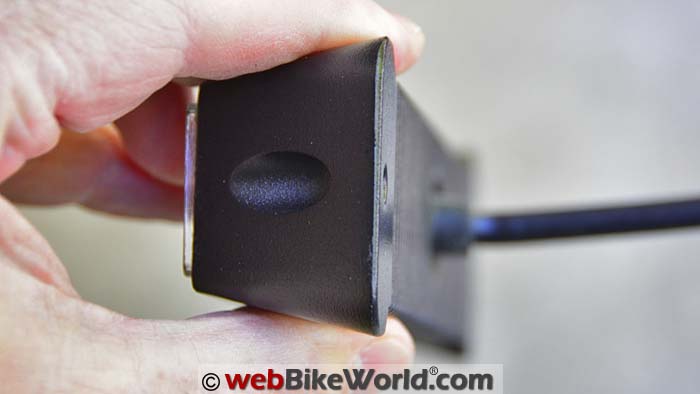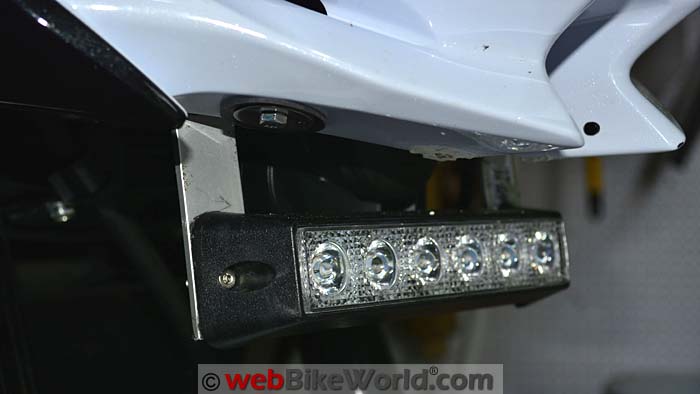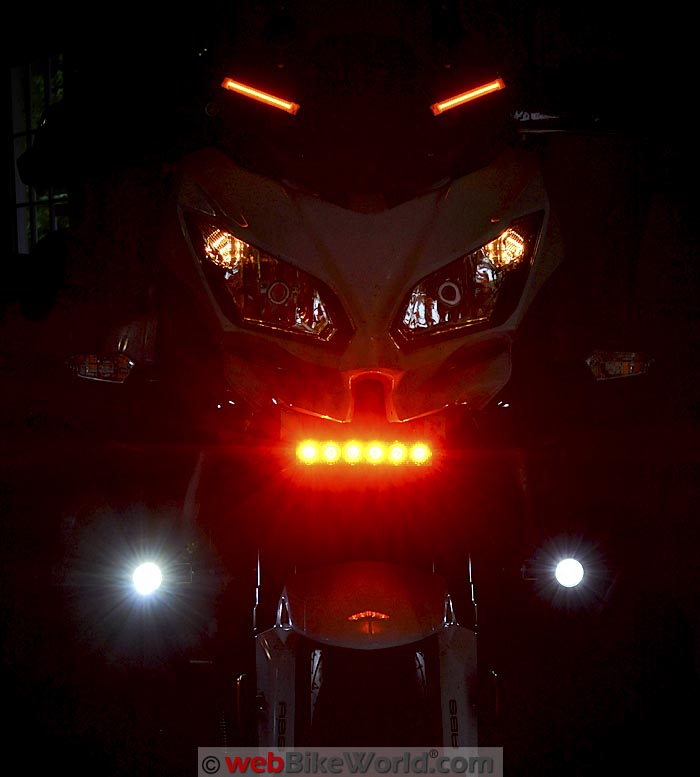 The Kawell Amber LED Light Kit
OK, so the price is cheap enough and the quality seems very good and the Kawell light is pretty robustly made and (hopefully) waterproof.
You knew there was a catch, right?
Well, you're on your own for mounting and wiring. The light comes with a couple of stainless steel Phillips-head screws and nuts. That's basically it.
And the wiring is a short length of sheathed cable with a red (power) and black (ground) that you can see in the photos above.
[UPDATE: Kawell confirmed that the wiring is tinned copper.]
I soldered an extra couple of feet of wire and then covered the whole thing in shrink tubing, then connected it to the on/off power switch for the OZ LED Mini Trail Lights (review)..
So my Kawell light uses the same wiring harness and fuse as the OZ lights and the Kawell light turns on and off with the OZ lights also. Maybe someday I'll add a separate on/off switch for the Kawell lights but so far, I'm happy with the way it works.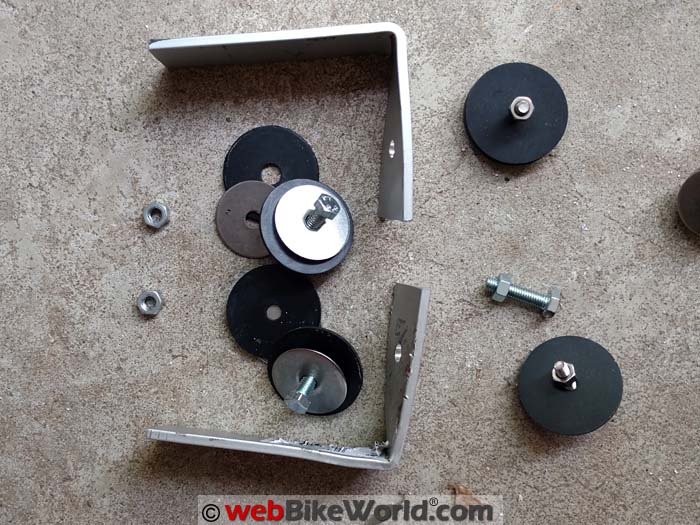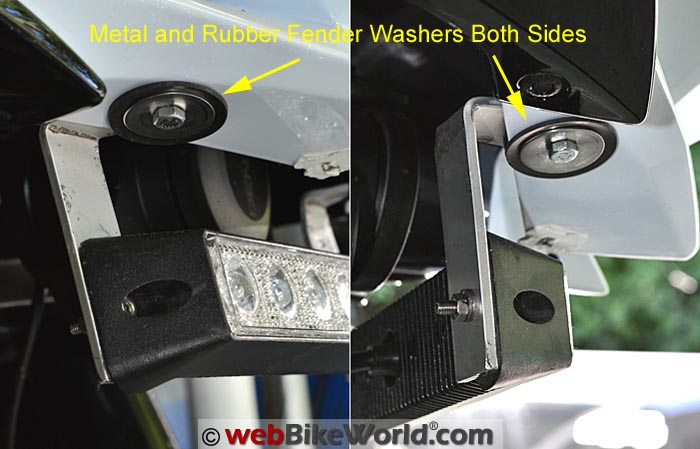 Mounting the Kawell LED Light Bar
The Kawell light is designed to be flush mounted to something like a car bumper or light bar on a Jeep. It has a hole on either side (powder coated all the way through) for the two very narrow 3 mm hex bolts.
On Versys (and the BMW F800S), the "nose" formed by the fairing has a relatively flat surface underneath.
I played around with the light to find a good location and decided to mount it so the top of the light bar is 25 mm from the bottom of the fairing.
This would mean making a pair of "L" brackets with a 50 mm long top and 75 mm long bottom. Also, I wanted the distance between brackets to line up so the edge of the bracket matched the outer edge of the Kawell light.
The bolt holes in the Kawell light are 175 mm between centers, so this means offsetting the drilled hole to mount the light on my home-made brackets.
I bought a length of 1/8″ aluminum bar stock at the local hardware store and cut two sections to length. If you use this method, be sure to add extra length for the radius bend of the elbow.
The idea was to bolt the top part of the "L" bracket so it was hidden on the inside of the fairing and then hang it out the back and down to mount the light.
Scrounging around in my nut and bolt box, I found some 4 mm bolts, nuts, Nord-Lock lock washers and I had some metal and rubber fender washers (wide flat washers with a small through hole) left over from some project.
Just by chance, the two holes I had drilled in the underside of the fairing for the Amber BikeVis Bullets (review) would work for the two brackets.
I did discover that since the Versys fairing is slightly angled outwards, I had to bend the aluminum brackets slightly so the lower vertical parts would hang straight (see photo above).
After that, it was easy. I added some black gasket sealant I had laying around in a tube to the back side of the Kawell light just for good measure and bolted it to the bracket lower halves.
I then used the metal and rubber fender washers on both sides of the fairing, with the rubber washers closest to the fairing to maybe help with vibration control and soften the impact against the plastic fairing.
After everything was bolted tight (not too tight), it was then time to connect the wiring.
By the way, I shaded the left side bracket 5 mm towards the left, with the thought that this would aim more of the light towards the left lane for U.S. riding, for added (hopefully) conspicuity.
Wiring the Kawell Light
The Kawell light has a red and black wire only for power and ground. You could probably splice these to a switched power and ground, like the power and ground going to the headlight, using aPosi-Tap that you purchased from webBikeWorld, of course!
I already had the OZ LED Mini Trail Lights (review) installed, so all I needed to do was to use a couple of Posi-Taps to connect the Kawell light wires to the switched wires of the OZ light harness, which runs off a relay and has its own on/off switch.
The Kawell light now turns on and off with the switch for the OZ lights.
I didn't even change the fuse in the OZ wiring harness; if I recall, it's a 5A fuse and it seems to work fine for the OZ lights plus the Kawell LED.
On the Road With the Kawell LED
When I first turned this thing on, I thought "Uh-oh, way too bright". But that was in the garage.
Out on the road, in the sunshine, it's bright — really bright. Between the Kawell and the OZ lights, they better see me coming.
I do have the OZ lights pointed slightly downwards to reduce oncoming glare.
And the Kawell lens makes the amber light look pixelated with a lot of diffusion. So it is definitely noticeable and I'd like to imagine that oncoming traffic is picking me up much sooner and at a greater distance.
I have noticed for the first time ever using any type of conspicuity lighting that cars far off in the distance that are pulling out of a driveway come to a quick stop suddenly, and I figure they've seen me coming.
Conclusion
With a little bit of home-brew effort, the very inexpensive but very nicely made Kawell amber LED light bar can add a lot of forward visibility to your ride.
w

BW

 Review: Kawell Amber LED Light Bar
Made In: Taiwan?
Colors: Amber
Sizes: Various Watts and Lengths
Review Date: June 2016
Note:
 For informational use only. All material and photographs are Copyright © webWorld International, LLC since 2000. All rights reserved. See the webBikeWorld® 
Site Info page
. Product specifications, features and details may change or differ from our descriptions. Always check before purchasing. Read the
Terms and Conditions
!
Owner Comments and Feedback
---
From "J.B." (October 2016): "In the introduction of this article, the point is made that some car have pretty good day light running lamps or conspicuity lights.
It reminds me that I have researched but never tried some actual car daylight running lamps,LEDay Flex II lamps from Hella.
Although not cheap, they are pretty efficient and could be applied to a motorcycle if someone had some creativity and fabrication skills.
For those not familiar with Hella, they are a major lighting supplier and make original equipment lamps for many automakers.
They usually have high quality products and the lamps in the link are likely a spin-off of lamps you have seen on a car before.
Each design has a string of 5 or more LEDs, each in their own enclosure. Also included in the kit is a control module for each string.
The rectangle version is lower power and lower brightness, but may still be useful on a bike with a weak alternator.
The rectangle version uses 3.6W (6 lamp string) for each string and costs $238.99 for the 5 lamp string. The round version is both brighter and needs more power at 15W per string.
The round version is priced at $275.99 for the 5 lamp string.
Based on my other experience with Hella lights, I'm confident that the LEDday Flex units will be well designed, heavily tested, and high quality units.
That said, most of us can't justify the difference in price between the Kawell and LEDay Flex, but somebody out there may want the placement flexibility.
I have no connection to Hella other than I have bought and used lamps from rallylights.com and made by Hella in the past. Good sources both for high quality stuff."
Editor's Note: Here's a somewhat similar set of LED flex lights for $59.99 from the webBikeWorld Amazon.com affiliate.
---
From "B.P." (August 2016): "I enjoyed your useful review of the Kawell lights. You prompted me to look into them, especially the smaller 12-watt, four-light, version.
I decided against ordering them because the housing is pretty large, and also because I couldn't find any data regarding the degree spread if the lights were mounted vertically — on engine guards, say — and possibly not exactly straight up and down.
And the offerings from Skene seem too exposed to road debris to me.
What you did do is convince me to change out the bulbs in my caliper-mounted Motolights. I bought this set of Motolights in 2006, for my Burgman 650.
A couple of years later, I replaced their stock halogen bulbs with MR16-based white LEDs. I did that to give my Burgman's alternator a 60-Watt break (2×35 vs. 2×5), as it was stressed at idle when I also had heated gear in use.
When I got my Victory Cross Country Tour (review), I bought new caliper brackets and bolts, and transferred the lights to that bike.
After being reminded by you in the Kawell article that amber is a better policy for conspicuity, I just replaced those two 5-watt white LEDs with two 3-watt amber LEDs.
I hardly ever ride at night, so sacrificing the Motolights' side-of-the-road fill-in capability was not an issue for me. I bought them for conspicuity, not as driving lights.
Your motorcycle lighting page has a plethora of better options for frequent night riders.
In any case, if any other Motolight owners are interested in this swap, I bought the "MR16 LED Bulb – 48 SMD LED Flood Light Bi-Pin Bulb – Amber".
For this project, I also ordered a pair of "Standard – 7W 12V MR16 LED – GU5.3 Base – Warm Amber – Flood – Dimmable". Those are brighter, look very well made, and more rugged, but the so-called "warm amber" color is basically white, with a barely noticeable hint of amber.
Having failed my color test, those bulbs are on the shelf now.
Attached are a couple of before and after pics."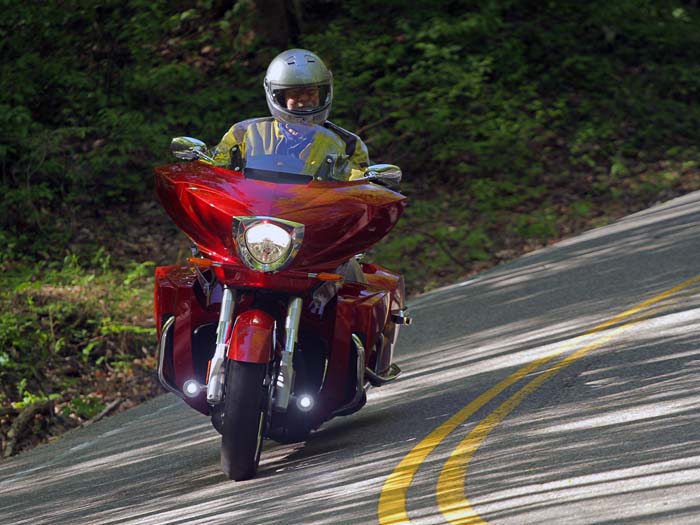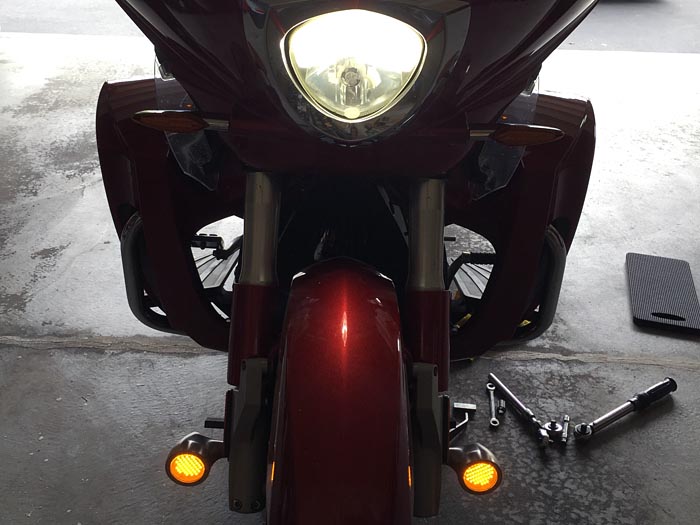 ---
From "T.S." (July 2016): "I actually found these before seeing them on wBW, but I came from the same direction — amber would stand out and differentiate.
I bought smaller 5″ (or thereabout) bars and mounted one on each side of my R1150GS, on the crash bars (I have Hepco and Becker bars). I welded mounting tabs on my crash bars for a secure attachment.
I thought I had some pictures but now they're eluding me. Anyway, the lights work great, and I thought they were a bargain."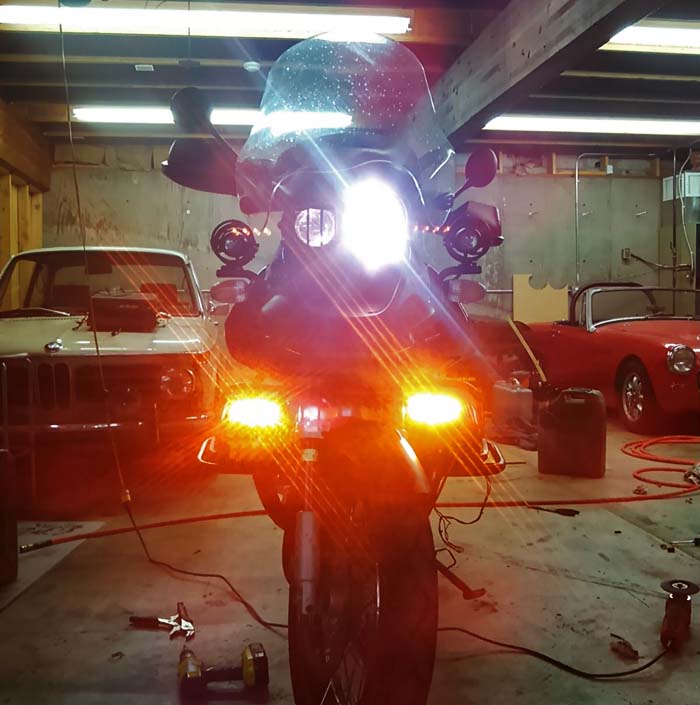 ---
From "F" (June 2016): "Thanks for your write-up on the Kawell LED. I can see where they add conspicuity — something I'm always intent on.
In that vein, I always ride with my Bandit 1250 hazard flashers on in an urban environment (but not on the highway).
On my bike, they flash both the turn signals and what I guess would be called running lights on either side of the headlight. It's very effective.
Although I have no idea as to the legality, other drivers have pointed out they're on and cops couldn't care less.
I'm thinking of adding a hazard flasher switch to my Vstar that doesn't have them, presumably a cheap and relatively easy install, with multiple benefits. Just a thought.
As always, thanks for your wonderful work.
P.S. Have you ever considered putting a $5 or $10 donation "button" on the home page? Make it easy and I'd certainly contribute for such a valuable resource…"
Rick's Reply: Thanks, I'm actually experimenting with a donation button but the best way to help is to always click through one of our affiliate ads whenever you buy any type of gear, whether it's the product advertised or not.
That is the main source of revenue to run the site, if everyone simply first clicked through one of our affiliate ads before buying anything, we'd be golden.
It takes a lot of money to keep this thing running and all the ad blocking has really caused a problem over the last year. So feel free to always click through a webBikeWorld affiliate ad to buy any and all of your gear, that will keep the site going!
Re. the lights, I'm pretty sure it's not legal in any state to ride with hazard flashers on.
I'm also thinking also that it may distract other traffic, they may think you're going slow or slowing down and/or as they're trying to figure out why the emergency flashers are on … BOOM! They run into you. So I would not advise doing this.
There are some kits that allow you to convert the 4 flashers to running lights with turn signals, this then gives nice and wide amber lights at nearly the widest part of the bike, which helps.
Also, we have a review coming of some auxiliary rear brake lights/running lights that help for the rear, which combine with the OZ lights and Kawell light we reviewed help for the front. That's probably the best way to go for added visibility.
---
From "K.E." (June 2016): "When anyone plans to add front lights above the fender they should look up their bike's front wheel suspension travel, say 6″ and lift the front tire off the ground then rotate the front forks and measure up 6″ all around to see how much room for lights they really have.
Often times the fairing is near the 6″ swing meaning the fender (etc.) just about hits the fairing on large bumps, hence no room for lights, but I see people do it all the time.
Are a lot of people smashing their lights, fairings and fenders? Or missing all the large bumps?"
Rick's Reply: Good point, I did roughly measure the suspension travel when I was figuring out where to mount the light. On the Versys, it's fairly easy because it has upside-down forks.
The specs say it has 5.9″ of travel in front and 5.7″ in the rear but that is absolute maximum, which in the real world I don't think I'd ever reach.
I measure about 4.5″ of distance below the Kawell light. Since I only ride on the road, I should be ok but I'll keep tabs on it.
I probably should have mounted the light so it was closer to the bottom of the fairing, but then forward visibility of the lights may have suffered.
The lights could be mounted elsewhere on the bike also if there is no fairing or if there isn't enough clearance.
---
From "E" (June 2016): "One big question that I think should be addressed in the review: is this legal? If the lights were white, then I would assume that they are of course legal. But they are amber and there are laws about what color lights are legal on the front and rear (and top!) of a vehicle.
Two smaller questions:
1) Why? Don't we all ride with our headlights on during the day — isn't that a DOT requirement of the manufacturers? And even better, have them set on "high" during the day?
And, even better, have a headlight modulator running during the day? I know unequivocally that people ahead of me see that.
2) I still don't get this: "By the way, I shaded the left side bracket 5 mm towards the left, with the thought that this would aim more of the light towards the left lane for U.S. riding, for added (hopefully) conspicuity."
That's 1/5th of an inch–that seems like a negligible horizontal offset for something 7.5″ wide with a diffuse light projection. Or did Rick mean a fore-aft offset so the whole bar is angled slightly to the left?
Either way, I don't see how that might help — my intuition is that you want non-directional LEDs facing straight forwards (not withstanding Rick's slightly downwards mounting angle of the light).
I do agree that, within the law, brighter is always better and many (most?) motorcycles have inadequate stock headlights (and horns!)."
Rick's Reply: As far as I know, amber lights are legal. Many fog lamps use amber lights and yellow headlight bulbs are legal also from what research I have done.
I know for sure in some U.S. states that amber lights are legal but I haven't checked all of the state laws.
Just a headlight isn't enough, not since cars started using DRLs and now have even brighter strips of DRL running lights on all the time. A motorcycle too easily gets lost in the "noise".
I never use high beam during the day, it can dazzle oncoming cars and cause them to miss the motorcycle's turn signals.
I also haven't used a modulator in many years, I suppose they help but I think that auxiliary DRLs placed at wide distances on the bike help more to increase oncoming car depth perception.
It is said that the narrow width of a motorcycle compared to other vehicles is one of the most serious issues for motorcycles.
When vehicles are turning into the motorcycle's path, the narrowness of the bike makes it seem like the motorcycle is farther away, so the driver doesn't understand how close the motorcycle is.
This is why motorcycle manufacturers should work to install DRLs on motorcycles in the widest location possible — usually at the ends of the handlebar.
Regarding the angle of the Kawell, I mounted it so the left side angles towards the left, it's just a guess on my part. The farther away from the bike you get, the more any small angle will increase in the distance. It may help or may not, who knows.