Kawasaki Australia has recalled the supercharged H2 SX super-tourer over an issue with the centre stand possibly falling off.
The official notice issued through the Australian Competition and Consumer Commission says "improper welding" between the centre stand spring mounting pin and left side centre stand bracket may cause the pin to shift or fall.
Centre stand issue
This could cause the centre stand spring detaching and allow the stand to fall off.
If this happens while the bike is being  ridden it "could affect the handling of the motorcycle and cause loss of control increasing the risk of injury or death" the notice says.
Owners are "obliged to return their affected vehicle" to an authorised Kawasaki dealer for a free repair.
The 65 bikes affected were sold from January 25 to March 15, 2018.
The VINs for these bikes are listed at the end of this article.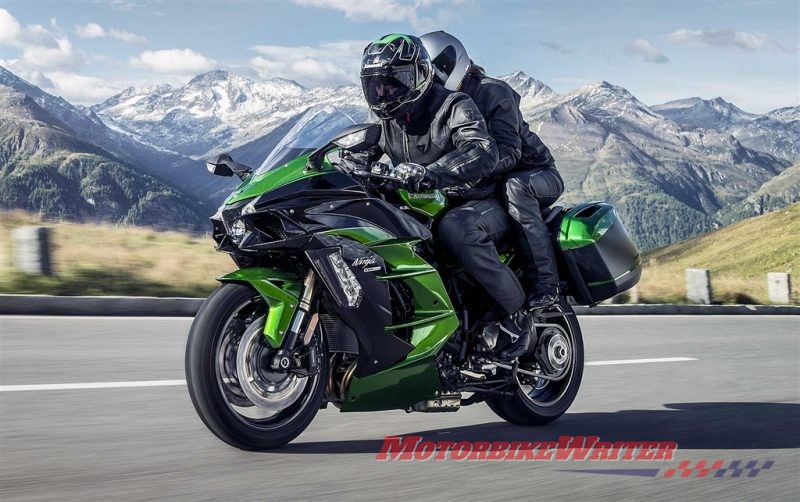 Even though manufacturers and importers contact owners when a recall is issued, the bike may have been sold privately to a rider unknown to the company.
Therefore, Motorbike Writer publishes all motorcycle recalls as a service to all riders.
While any recall is not good news for the manufacturer, it shows that they are largely diligent in fixing problems.
Despite hundreds of recalls by various automotive manufacturers, only the Takata airbag recall has ever been mandatory.  All others have been issued by the manufacturer.
If you believe there is an endemic problem with your bike that should be recalled, contact the ACCC on 1300 302 502.
To check whether your motorcycle has been recalled, click on these sites:
• USA
• Canada