Even before the supercharged Kawasaki Ninja H2 has been unveiled, the world's most powerful road-legal production bike has been customised.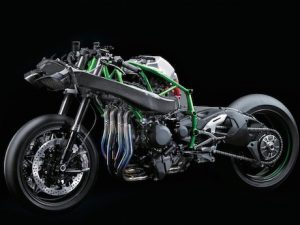 Hinter Schwarzenegg of Gannet Design in Switzerland has turned the futuristic Ninja H2 into a "naked" roadster called the Gannet H2. It's only an artist's rendering, but it shows what can be done.
"The idea was to create a 'de-Batmanised' design, but still keep a lot of attitude," he says.
"By taking off the original fairing of the Kawasaki, we could expose more of the technical elements and beautiful trellis chassis.
"We created a rugged design with some retro detailing, but at the same time modern surfaces and volumes. A  new designed tank and subframe for the tail section which integrates into the exposed main trellis frame. The underbelly fairing design is a loose reference to the vintage Kawasaki H2 racer from 1972 and gives the bike a good stance and visual stability."
 Ulfert Janssen says it is too soon to say if this design will be built, "because the new original Kawasali Ninja will be actually just presented at the EICMA beginning of November and then the production bike will be out in 2015…
But of course if people would be interested in this custom GANNET version we would be happy to get it on the street.
The H2 has a beautiful trellis frame and a naked version would be stunning."
The Ninja H2 has been much hyped with several teaser videos up to its release next week last the EICMA motorcycle show in Milan.
In the latest couple of videos they say the bodywork receives a special chemical treatment that basically turns the coating into "pure silver"! Not sure what they mean by that.
They've also shown some of the exotic components of the bike such as Brembo brakes and clutch, KYB racing suspension, Ohlins suspension steering damper, slipper clutch and dog-ring transmission.