Kawasaki Mojave 250 In-Depth Guide
The Kawasaki Mojave 250 all-terrain vehicle(ATV) was manufactured by Kawasaki Motors from 1987 until 2004. The 250 Mojave ATV is a sport ATV weighing 379lbs with a top speed of 55 MPH. Besides being easy to maintain the Mojave 250 is a sporty little ATV with great performance improvements and decent reliability.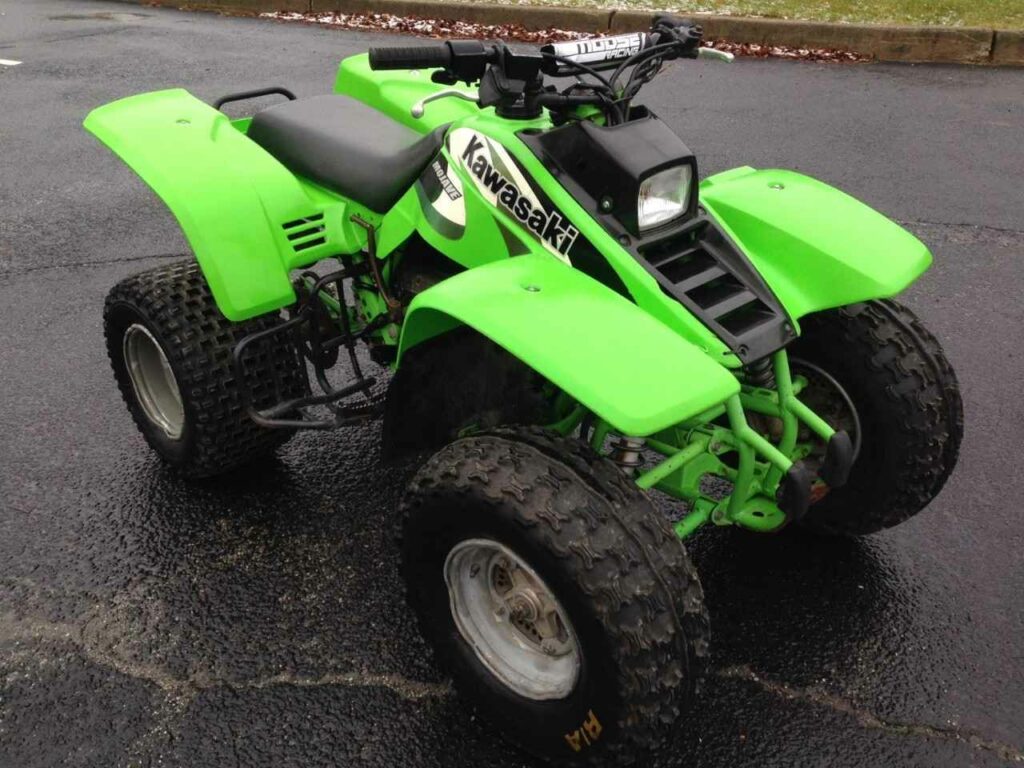 Kawasaki Mojave 250 Specs – Drive-train
The Mojave 500 ATV has a five-speed transmission with reverse gear. A manual, multi-disc wet clutch transfers power from the transmission to the wheels via chain. Front double A-arms with two shocks having 6.9 inches of travel and a rear swing arm with a single shock having 8.9 inches of travel take care of suspension duties. Kawasaki Mojave 250 seat height is 29.7 inches
Front and rear Mojave 250 disc brakes bring the front AT21 tubeless tires and rear AT22 7-10 tires to a stop. Total wheelbase is 44.3 inches and ground clearance is 8.5 inches(measured at the center of the chassis).
Kawasaki Mojave 250 Specs – Engine
The motor on 2004 Mojave ATVs has dual overhead cams in a four-stroke, single-cylinder liquid cooled configuration with kick start ignition. The compression ratio on the Mojave 250 is 11 to 1 with 249 cubic centimeters of total displacement. Mojave 250 cylinders have a bore of 74 millimeters and a stroke of 58 millimeters. A Kelvin CVK34 carburetor handles fuel delivery on the Mojave 250 from a 2.2 gallon capacity fuel tank.
Frequently Asked Mojave 250 Questions
Yes, the Mojave 250 can do wheelies. Wear a helmet.
Mojave KFX250 Ignition is via kick-start lever.
Kawasaki Mojave 250 seat height is 29.7 inches
The kick-starter turns clockwise(forward) on the right side.
Kawasaki Mojave 250 top speed is 55 MPH
During kick-starting hold down the left handle grip to pull the clutch in.
1st gear becomes reverse if you hold down the button on the left grip and turn the knob above the tank.
The motor has 4 valves and a double overhead cam.
Buying used? You'll want to learn a little about ATV carburetor adjustment.
No, don't run it without a fuel filter! It's tempting to bypass in that location, I know.
Won't start? Make sure you have the emergency kill switch lever in the proper direction.
Carb fuel leak and you can't find the right gasket? Try black RV silicone as a temporary fix.
Barn find? If the Mojave 250 has been sitting for years add fuel stabilizer to recondition the o-rings.
Not sure which year your Kawasaki Mojave 250 is? Decode the ATV VIN number to find the year.