The move for motorcycle companies to offer owners track days is growing. Honda, Ducati and Yamaha have been doing it for years, BMW joined the ranks after launching its S 1000 RR sportsbike, Aprilia recently announced owner's track days (read the story here) and now Kawasaki has entered the scene.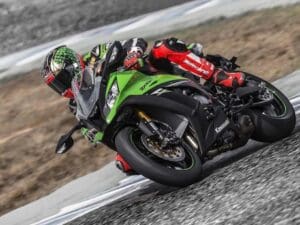 Track days give riders the opportunity to test themsleves, but also their machines to limits that cannot be explored legally on public roads. And with sports bike sales way down, manufacturers have to supply outlets for their owners. Kawasaki Team Green Australia (KTGA) will run its first track-day event on April 8 at Wakefield Park, near Goulburn south of Sydney. It's a great, free-flowing motorcycle track with only a couple of tight corners and a bit of rise and fall to make it interesting.
To celebrate the first event, registered members riding a Kawasaki can experience a "Come n' Ride" track day is being offered for at just $50. It includes six 15-minute sessions on the track. Members will also get a $25 food and drink voucher. Riders will be able to watch Kawasaki racer and 2013 Australasian Superbike and ASBK ProStock Champion Matt Walters in action, grab an autograph and maybe get some riding tips. Kawasaki technicians will also be on hand to assist with bike set-up and adjustments. Kawasaki will also have their latest Ninjas on display and there will be demonstration performances by the Whip Industries Freestyle MX Team performing.
Click here to go ton the Kawasaki website and become a Kawasaki Team Green Australia member. It's free to join!