Kawasaki displayed its electric project electric bike at the EICMA motorcycle show and now has released a teaser video showing it has manual four-speed transmission.
While electric motorcycles can be twist-and-go, Kawasaki believes manual transmission "not only allows a greater speed range, it also allows the rider to have greater input when operating the bike".
Manual transmission
That's nothing new. We already could see from the prototype electric at EICMA that it featured gears and a chain rather than direct drive or twist-and-go throttle like many other electrics.
Many electric motorcycles have manual transmission.
The Brammo (later Victory) Empulse TT electric I rode in the USA in 2015 had manual transmission which they believed would make it easier for riders of normal bikes to make the transition to electric.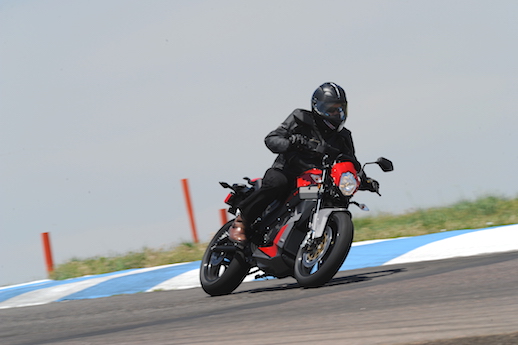 The new Kawasaki video doesn't reveal too much else about the project except that it's a Ninja-style sportsbike and it looks near to production.
It will be called the Kawasaki EV Endeavor.
However, with current record low petrol prices, we wonder whether there is much need for an electric Kawasaki at the moment!
The above video teaser is one of several about the Kawasaki EV Project appearing on YouTube.
This is the first official video from the company showing the work they put into the project.
They say it is mainly proof of their technology and intentions, but have not announced any timeline for a production bike.
It's been a long-time project for the green team.
Back in 2013, Kawasaki filed a patent for an electric version of its baby Ninja, but the patent has only been published this year.
The drawings showed the battery and motor to the left of the motorcycle to demonstrate how it can be pulled from the tubular frame of the machine.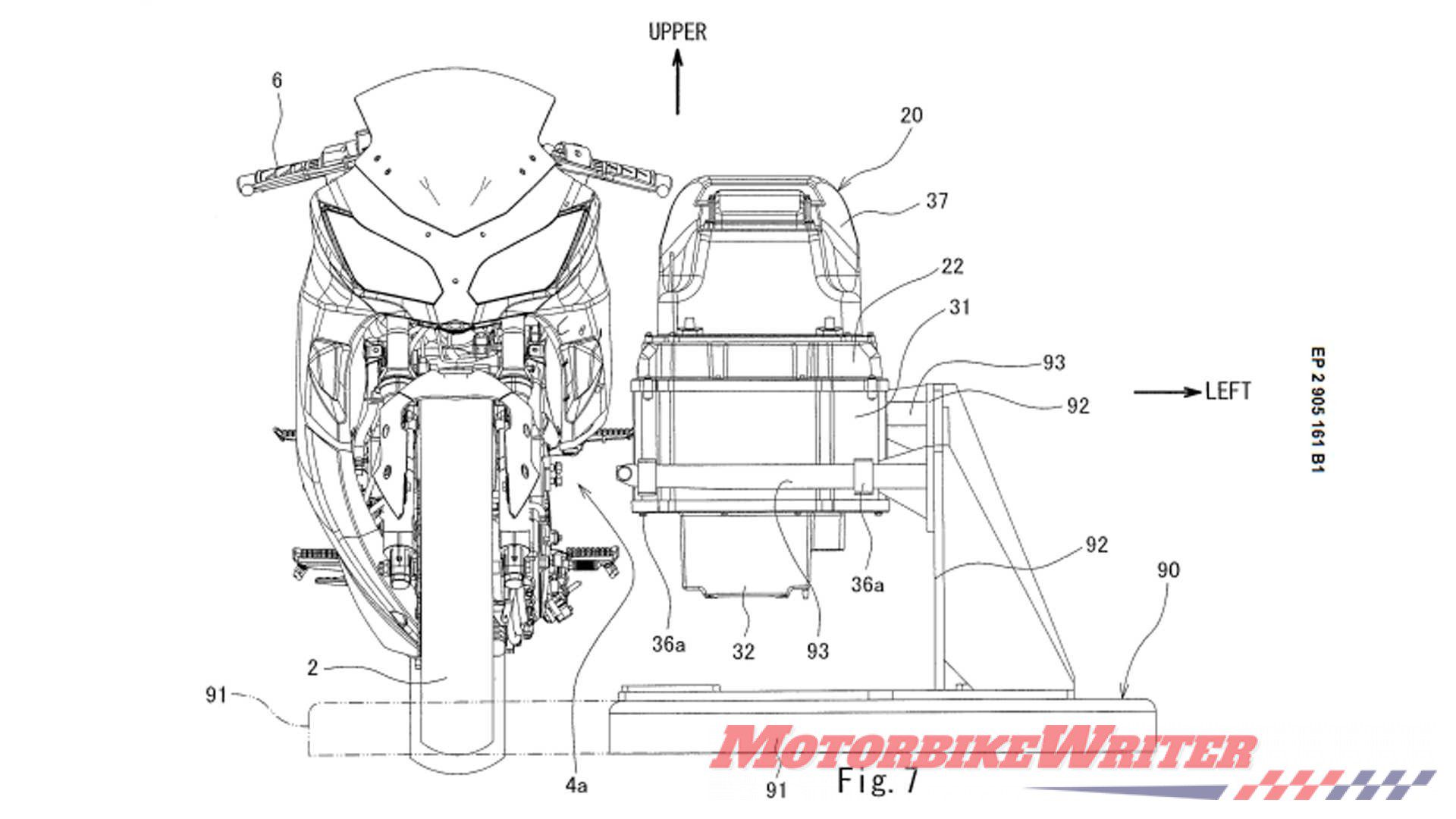 That seems strange because only the battery would need to be replaced, although it would make maintenance on the motor easier.
That's also strange as motor maintenance is not an issue with electric vehicles. They tend to be long-lasting and have low maintenance requirements.
However, it is believed the four Japanese companies are working on standardising electric motorcycles and probably batteries so they can be easily swapped when flat rather than waiting a long time to charge them up.
In 2015, Kawasaki filed patents in the US for as many as 10 electric motorcycle designs.
In other Kawasaki patent filing for electric motorcycles, one has a substantial cooling element with a radiator.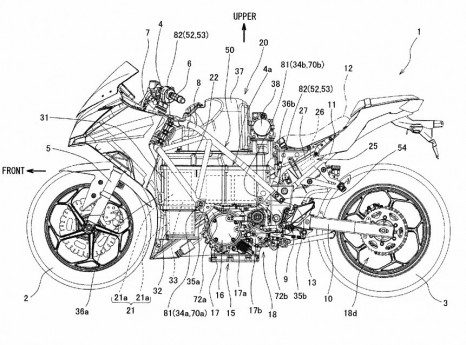 Heat is one of the biggest impediments to performance and battery life.
I drove an early Tesla Roadster around Queensland Motorway and the instruments flashed red alerts for the battery heat after just four "hot laps.
The oil-and-liquid cooling system in the Kawasaki patent drawings are certainly more substantial than we have seen on any other electric motorcycle so far.
That would not only provide more range, but also greater performance.