A Hollywood stuntman plans to complete the steam-powered "motorcycle" rocket jump across Snake River Canyon that motorcycle daredevil Evel Knievel so famously failed to do in 1974 (see the video above).
Evel fan Eddie Braun, 54, now hopes to finish the job on September 17, 2016, jumping 488m across Snake River Canyon in Idaho.
The original Skycycle X-1 was designed by a retired US Navy engineer Robert Truax, but it failed in testing and was replaced by the Skycycle X-2.
A design flaw in the parachute caused it to deploy too soon, halting the ascent and dropping Evel in the drink, nearly drowning him as millions around the world watched on live TV.
The designer blamed Evel for bailing out too soon and Evel blamed Robert for a mechanical flaw.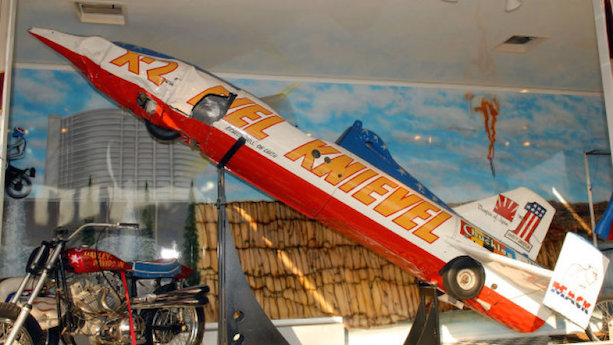 Since then, several stuntmen have said they were interested in completing the jump, but none has eventuated.
Now Eddie is working with the original designer's son, Scott, to recreate the Skycycle X-2.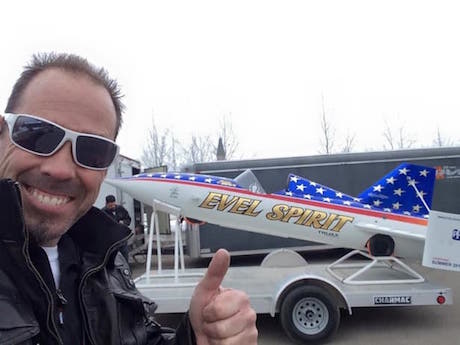 It is called the Evel Spirit in honour of Eddie's childhood hero and inspiration and will have the same steam-powered jet propulsion.
Both stunt vehicles are referred to as a "motorcycle rocket" because they have three wheels, although the wheels don't have much of a function as the launch pad is only slightly longer than the rocket.
Kids growing up in the '70s were in awe of Evel, now considered the godfather of motorcycle stunts.
He broke almost every bone in his body – sometimes several times – and performed some massive stunts on heavy motorcycles, mostly Harley Sportsters, in the days before lightweight, long-travel-suspension stunt bikes.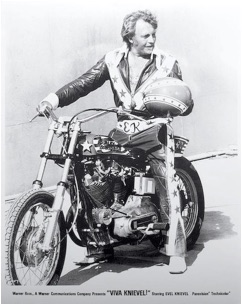 Among his most famous successful and unsuccessful stunts were jumping the Caesars Palace fountains in 1967 (unsuccessful), leaping over 13 buses at London's Wembley Stadium in 1975 (unsuccessful), 14 Greyhound buses in Ohio in 1975 (successful) and a 90-foot tank filled with sharks in 1977 (unsuccessful).
Aptly named Braun has performed stunts on The Avengers (2012), Two and a Half Men (2003) and Eagle Eye (2008).
"How many people get to fulfil the dreams of their hero?" Eddie says.
"It's kind of like touching Superman's cape. I'm hoping his spirit lands on the other side of the canyon."