Speedmaster Jacket Review Summary
The Joe Rocket Speedmaster jacket has good leather quality. It also has a decent amount of protection and the price is reasonable. Like many leather jackets however, it can be hot in warm weather and the buttons are a bit fussy to close.
I purchased this Joe Rocket Speedmaster jacket in 2002 as a leftover 2001 model. The jackets were new old stock on sale in the closeout bargain bin and this one was a great deal. The price was heavily discounted because this style was being discontinued in favor of the current style.
The 2001 jacket pictured here and the newer jackets are otherwise virtually identical, as far as I can tell. But I think the "speed hump" on the later models is a bit more pronounced.
Actually, I like this "outdated" style better than the newer Speedmaster jacket, but hey, you can't account for taste!
The Speedmaster Leather Jacket
The Speedmaster name is used for the top-of-the-line Joe Rocket leather clothing.
The lineup is designed for motorcycle racing and have some relatively sophisticated technology included in the designs.
But I'll be honest, I must say that I don't really wear this jacket very often.
I bought it for the occasional track day but I've discovered that the temperature has to fall within a certain range to feel comfortable wearing the Speedmaster.
The venting is pretty much non-functional, even though there are underarm vents and little scoops on the back of the shoulders that I guess are supposed to suck in air when leaned over.
Unfortunately, the Speedmaster jacket and pants are not available in a perforated version, so I recently purchased a Joe Rocket Blaster perforated jacket (review) to match.
So if it's a not-too-warm spring day, or a nice evening, the jacket will work. But when the temperature climbs, or if the air is humid, it can get pretty hot inside. Un-perforated leather really blocks the wind, and it can kind of feel sticky underneath all that cow skin.
The Speedmaster also comes in a perforated model, and I guess I should have purchased that one instead.
That's because my perforated Joe Rocket Blaster perforated pants (review) work really nicely on all but the very hottest of days, so the perforations do make a difference.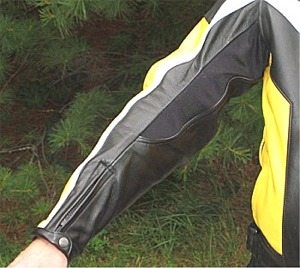 Details
Nevertheless, this is a nice jacket and it is certainly necessary for track days.
Most, if not all, of the Joe Rocket jackets and pants are designed to attach to each other, and the "race" jackets like this one have a "360 degree" zipper that attaches all the way around any matching Joe Rocket pants.
There's also a shorter, 8″ zipper that attaches to a matching length zipper on many Joe Rocket pants (e.g., the Blaster), which at least keeps the jacket from riding up your back.
The leather is 1.4mm cow hide, which is pretty thick.
In fact, the thickest leather I've seen used on motorcycle clothing made is 1.7mm, and it can get uncomfortably stiff at that thickness if it isn't processed correctly (and that type of processing can add $$ the overall price).
Protection
The Speedmaster is loaded with dual-density, plastic backed armor, which is near race quality.
You can remove the back armor from its pocket, but I'm not sure how you would remove the shoulder or elbow armor.
In any case, the armor seems like it's good enough quality that there should be no need to remove it anyway.
The arms have panels made from Schoeller Keprotec "Full Flex" stretch material. These are supposed to be breathable, but it's hard to tell if they help with ventilation or not.
The panels extend from the front of the arm above the elbow up under the armpit.
Zippers and Snaps
The sleeves also have about a 5″ zipper at the cuff to help ease the process of getting the jacket on and off.
There are some hefty metal snaps at the cuff also, but they can be tricky to get seated when wearing gloves.
You sort of have to make sure the male segment of the snap is exactly lined up with the female part and then push hard.
The Speedmaster has a quality YKK zipper up the front; it looks to me to be about a YKK #8, which is a nice, hefty zipper.
There's only a narrow 1.25″ wide leather backing behind the zipper to keep out any errant air.
At the neck, the jacket has two of the same hefty metal snaps on the collar, which provide some adjustability for securing the neck.
Below the snaps lives a small "hook and loop" flap (not sure if it's real Velcro) that can fasten the neck also.
I usually use this one only, as by time I'm ready to secure the neck, I'm wearing gloves and I just haven't been able to get the snaps to secure properly with gloved hands.
The "hook and loop" flap also has a nice touch: an oval-shaped reflective "Rocket" logo on the front that hides the fact that it's only a flap.
Also, the neck doesn't have any type of fabric liner, but the leather that does reside there is supple enough not to cause any "rope burn" on your neck.

Pockets
Inside the left breast flap is a "hidden" wallet pocket. The opening is about 5″ long, and it's fairly deep at about 7″, so it can hold a good sized wallet or sunglass case.
I don't like to carry any hard items in my riding jacket or pants, because if I do fall, I don't want something potentially breaking a rib or puncturing a kidney if I can avoid it, but the pocket does come in handy.
The Speedmaster is lined with a mesh liner with many "holes", so the liner certainly can't be blamed for impeding any air flow.
The jacket also comes with a nice quilted liner, although I've never actually used it for riding; I've been comfortable without it so far.
The stitching on the Speedmaster is nicely done, with some rolled edges and overlapping areas of leather in places that might see the most wear from a get-off.
By the way, there are also two zippered outer slash pockets.
They're OK for small stuff, like earplugs, but it would be hard to even stuff a pair of gloves in there.
They are a bit hard to reach, because the jacket is a bit stiff from the thick leather and the armor also inhibits lifting your arm up high enough to get into the pocket.
But I guess this will get better as the jacket gets broken in. Besides, you don't want anything in your pockets on the track anyway…
I'm not all that crazy about the big "Rocket" logo across the back, but at least it's reflective. There are also two smaller, oval-shaped Rocket logos up high on each arm.
The back of the Speedmaster comes down far enough to still protect your rear and lower back when in a bent over position, and the area under the logo is filled with some type of fairly stiff armor.
Also, the bottom of the jacket has two adjustment tabs, which allow expansion of the waist line (in my case!) or snugging it up if necessary.
There's also a padded "speed hump" on the back of the jacket. Thankfully, it's small enough to go mostly unnoticeable; I'm not sure how I would look with a full-on race hump walking in to my local 7-11 to buy gas!
Also, there are a couple of small vents up on the back of the shoulders, visible in the photo.
They are meant to increase air circulation down the back of the jacket, but they don't seem to do much — at least at the speeds I travel! Perhaps if you were headed down the back straight at 150 mph…
Bottom Line
Don't get me wrong – I like this jacket; I think the Joe Rocket products have greatly improved in quality over the last several years, and this is a heck of a product for the money, as are most Rocket garments.
A jacket and good quality matching pants are minimum requirements for most track days, so I look at it as something that's necessary, and nice to wear now and then on the street.
But it's probably more comfortable to wear good quality man-made materials for everyday riding.
Many riders prefer leather though, and from what I've seen on the market, you can end up spending a lot more money and I'm not sure how much more functionality you'd get than this jacket.
So in the end, if you desire a high-quality leather jacket, or if you'd like to have some assurance of protection in case of a get-off, the Joe Rocket Speedmaster may be for you.
w

BW

 Review: Joe Rocket Speedmaster Jacket
Manufacturer: Joe Rocket
List Price (2002): $449.99
Colors: Black with colors
Made In: Korea
Review Date: June 2002
Note:
 For informational use only. All material and photographs are Copyright © webWorld International, LLC since 2000. All rights reserved. See the webBikeWorld® 
Site Info page
. Product specifications, features and details may change or differ from our descriptions. Always check before purchasing. Read the
Terms and Conditions
!
Owner Comments and Feedback