Rocket Burner Gloves Review Summary
Rocket Burner Gloves Image Gallery
The Joe Rocket "Rocket Burner" gloves are new for the winter of 2014. These are textile gloves with a "stainless core heating system" pumping out 3 levels of near-instant heat where it counts — on top of the fingers and thumb. The gloves are also claimed waterproof, with a Hipora liner. But one didn't pass the webBikeWorld "Bucket Test", unfortunately.
It's important to note that the Rocket Burner gloves have no hard protection at all; in fact, they seem more like ski gloves in that regard. And besides the simple elastic in the wrist, there is no safety strap for security. And finally, the battery is stored inside the gauntlet where it takes up room, rather than outside where it should be.
But, they do keep your hands warm, there's no doubt about that. You probably won't need anything more than the first heat level, which should provide around 3 hours of neutral warmth. The price is right also, with a list of $159.99 and a street price around $145.00. So if warmth is your primary concern, these may do the trick.
Introduction
Wired gloves are yestertech. Who wants to mess with yet another wiring harness and controller? And as "Burn" has so aptly stated before, "Heated grips heat your grips; heated gloves heat your hands." True that and if you think about it, you're wearing winter gloves. Winter gloves are insulated. Insulation keeps cold — and heat from heated grips — from entering.
I know, I know — there are a few dual-chamber gloves like the Racer Advance gloves (review); the Olympia Commander gloves (review) and the Olympia Switch gloves (review) and others where you can slide your hand in an un-insulated section along the palm so you can feel heat from the grips.
But wireless battery heated gloves are the hot ticket, if you'll pardon the pun.
Unfortunately, the perfect pair has yet to arrive, although the unobtanium VQuatttro Squadra Gloves (review) that you'll also need a mortgage to buy are 99% of the way there.
And don't forget: there are plenty of non-heated winter gloves that do an excellent job of keeping your hands comfortable for most winter riding.
In other words, I could easily make an argument that if you really do need heated gloves for motorcycle riding, you're either scary hard core or living in the wrong place…


Joe Rocket "Rocket Burner" Gloves
Which brings us to the Rocket Burner gloves, brand-new for winter of 2014. I have to say, I was a little surprised when the gloves arrived to discover that they're not only all textile but they have zero hard protection as well.
It sure seems to me like Joe Rocket grabbed an off-the-shelf ski glove from an Indonesian supplier (that's where the gloves are made), plugged in a readily-available heating system (that's actually very good) and called it quits after buying a container load.
Now there's not necessarily a problem with subcontracting.
In fact, many of these brands are mostly marketing companies who contract with one of the completely anonymous glove/boot/clothing/helmet manufacturers in Asia to throw a label on an existing product.
From the motorcyclist's point of view, this usually results in decent gear at rock-bottom prices.
I did expect knuckle protectors, extra abrasion protection and some of the other features typically found on motorcycle gloves. I guess not. Fortunately, the Rocket Burner gloves are all about heat.
But I'm not too cool with the fact that they don't even have a wrist strap to keep the gloves on your hands in a fall. Heck, even skiers need that!
The gloves are not completely without protection I suppose, because the Thinsulate lining means they're somewhat thick — like you'd expect for winter gloves — and that thickness maybe provides some protection (and inherent warmth).
The gloves are also lightweight, at 116 grams each for the size large.
There's a little bit of leather under the tip of the forefinger and a few silicone stripes on the palm for grip, although some owners have complained that these can become slippery when wet. I haven't noticed that.
Bottom line: The Rocket Burner gloves are basically street/ski gloves with heat. I wouldn't be surprised to find these for sale with a different brand name in a SkyMall catalog or something.
Sizing, Fit and Comfort
The gloves shown here are a size large. They fit slightly bigger than expected, with some extra room in the fingertips, especially the thumb. They're roomy enough and very comfortable on the inside, with a soft lining.
The size large should fit about a 9.25″ to 9.75″ circumference hand, measured around the widest part of the palm.

Let's Talk Heat
Besides the all-textile chassis, the clue that these are COTS (Commercial Off-The-Shelf) gloves is the heating system. I've seen this system before; in fact, it's used in the European 30SEVEN brand heated gloves from Belgium.
Fortunately, it's a proven, easy-to-use heating system with a relatively thin battery and it works.
And in case you're wondering, the 30SEVEN gloves cost a lot more than the Rocket Burner, for more or less the same thing.
The heating system uses a 7.4V, 2200 mAh battery in each glove. It's a bit crude looking, wrapped in blue plastic. Each battery measures 75x14x44 mm (not counting the connector) and weighs 103 grams.
2200 mAh is about the same amount of kick in your smartphone battery and it gives the gloves anywhere from about 2.5 to 4.0 hours of heat, depending on the setting.
There are 3 of those settings: low, medium and high.
As you press the ON/OFF button, it cycles through the settings to off, then press once more and it's back on. Simple.
Be careful though — for some reason, when you first connect the battery, the system turns on automatically to the first level. I didn't realize this the first time I charged the batteries (outside of the gloves) and connected them.
I didn't wear the gloves right away and came back a few hours later to discover that the lights were on.
The "stainless core heating system" wires are above the fingers and thumb, just where you need the heat. Fire 'em up and you'll feel the heat within a few seconds.
Remember that with heated gloves, you don't need fireplace-like warmth.
For best results, set the gloves to the minimum heat level that will just keep your hands at a "neutral" temperature; that is, so that your hands are neither getting cold or hot. If you're constantly feeling the heat, you have them set too high and you're basically wasting juice.
So no problems at all with the amount and type of heat the Rocket Burner gloves put out. In fact, I wish I could yank the system out and install it in, say, the Rukka Imatra gloves (review). Now we'd be cooking with gas! (Although we'd need to visit the bank to refinance that mortgage again…).

Battery Storage Location
[asa2 tplid="6″]B00NLQXAG6[/asa2]
There is a problem though with where the batteries are stored. This is another clue that the heating system was adapted to the Rocket Burner gloves, because the heating system is probably modular, with a liner that anyone can sew into a pair of gloves of their choosing.
We've noted this before in webBikeWorld reviews, but battery heated gloves should always have the battery stored outside the glove, not inside; inside takes up room that you need for hands.
The batteries in the Rocket Burner gloves are stored in a pocket under the wrist.
While this actually isn't too cumbersome and the battery is relatively flat, it does take up some room inside the glove, which means that it can be difficult to get the gauntlet over some bulky winter jacket sleeve cuffs.
Until batteries get wafer-thin (unlikely), the battery storage location is a make-or-break feature heated gloves.
The pair of gloves comes with the two batteries and a wall charger. By the way, you can buy an extra set of batteries for around $40.00 for the pair and keep them charged as spares if you'd like. An extra charger costs $17.99.
Waterproof?
The Rocket Burner gloves are also claimed waterproof by way of a Hipora membrane liner.
As we've also noted before, the key here is to get the waterproof membrane sewn into the complex glove shape without sticking a needle through the membrane, which immediately compromises the waterproof integrity.
They missed the mark at the supplier factory on one of the gloves, because the thumb of the left glove on this pair leaked within a minute in the webBikeWorld "Bucket Test" (wearing the gloves whilst immersed in a bucket full o' water). However, the right glove is fine.
Back in the real world, a leaking thumb probably won't make that much of a difference, because it would have to be pouring buckets (literally) before enough water seeped in through a thumb curled around a hand grip.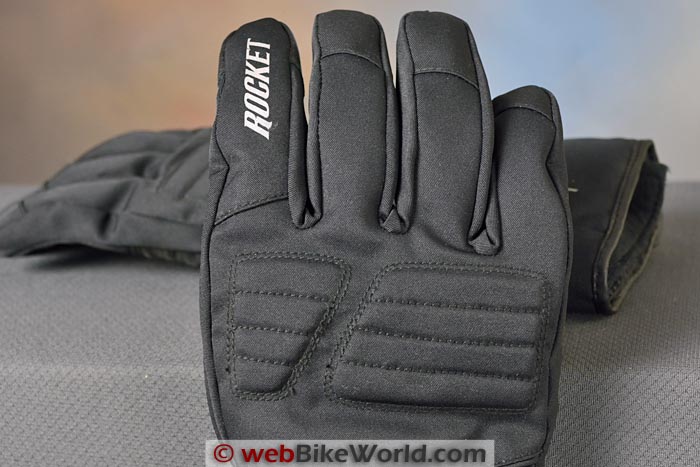 Gauntlet and Safety
I noted the problem earlier with the battery taking up needed space in the gauntlet.
This makes the Rocker Burner gloves difficult to fit over a thick winter jacket sleeve cuff, so you may have to wear them inside the cuffs, which is probably better for the battery anyway.
The battery pocket closes with hook-and-loop along the top, towards the outside of the gauntlet, so water could theoretically enter and water + electricity doesn't mix.
Unfortunately, besides the absence of any hard protectors on the Rocket Burner gloves, there's no wrist strap either.
These gloves can be easily pulled off the hand and that's not good for motorcycle gloves, which at the very least must stay in place to offer any type of protection at all in case of a crash.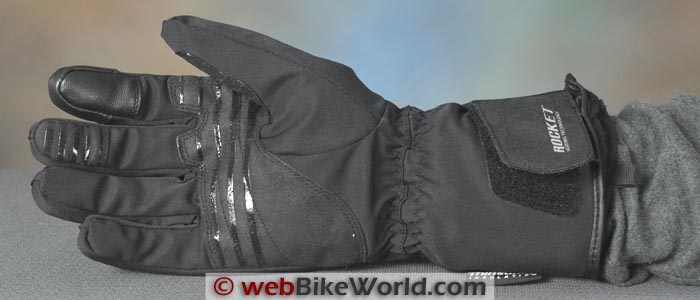 Conclusion
The Joe Rocket Rocket Burner gloves have a very good heating system that provides a lot of nice, even heat over the back of the fingers and thumb.
The system is very easy to use and the gloves come with a pair of batteries and a wall charger.
If Joe Rocket would have added some hard knuckle protectors and a wrist strap for security, these could be nearly the perfect battery heated motorcycle gloves.
They have a way to go though; hopefully they'll update them for next year.
Even if they had to raise the price another $25 to $50, the gloves would still be a bargain with those fixes.
In the meantime, if you can get over the fact that these are basically ski gloves — and in fact, that might even be a bonus for some owners — that give you good warmth with not-so-much motorcycle protection, then you'll be happy.
UPDATE: Warmthru Heated Motorcycle Gloves Review
wBW Review: Joe Rocket Rocket Burner Heated Gloves
List Price (2014): $159.00
Made In: Indonesia (Gloves). China (Battery).
Review Date: December 2014
Note:
 For informational use only. All material and photographs are Copyright © webWorld International, LLC since 2000. All rights reserved. See the webBikeWorld® 
Site Info page
. Product specifications, features and details may change or differ from our descriptions. Always check before purchasing. Read the
Terms and Conditions
!
Owner Comments and Feedback
---
From "J.L." (October 2015): "I purchased a pair of Joe Rocket Burner gloves earlier this year. I generally agree with your comments regarding the fit, finish and operation of these gloves. They provide adequate warmth down to about 45 degrees.
My motorcycle (Triumph S3) has no heated grips, fairing, or any other device to block the wind. At the colder settings I usually use level 3, the highest heat setting.
My commute to and from work is a little over an hour, so the battery life has proven to be adequate for my needs.
Now for the problems. You note that glove manufacturers need to develop a better method for placing the batteries in the gloves.
In my case, one of the batteries simply fell out. I observed it flailing around but before I could pull off of the highway it disappeared. I can only hope that it got the windshield of the car that was tailgating me when this occurred.
I was able to find a replacement online, but it should be noted that Joe Rocket's customer support line was no help.
Now the right glove has ceased to function altogether. This is after only a few weeks of use.
It seems that the wiring has come loose where it attaches to the control switch. This is probably due to the generally flimsy nature of the battery installation and its connecting wires.
Based on my previous experience I will not bother to try to get any sort of warranty or repair from Joe Rocket. Based on my experience, I can not recommend these gloves.
For my next pair, I will go back to Gerbing. I have used Gerbing gloves and jacket liners in the past. They work well, and when one of the gloves quit heating, Gerbing repaired it at no cost. Too bad they are not in Olympia (where I live) any longer.
As far as battery powered vs. plug in electric gloves, my motorcycle's alternator will not support the current loads required by electrically heated gear. It has taken three replacement alternators for that message to sink in.
For me the battery powered gloves are not only more convenient, but they are a necessity if I am to ride in cold weather."
---
From "A.D." (December 2014): "I just bought the Rocket gloves based on your review of same. Your review said "These are textile gloves with a "stainless core heating system" pumping out 3 levels of near-instant heat where it counts — on top of the fingers and thumb."
"Near-instant heat"? Wearing the gloves indoors it took at least 5 minutes on the highest setting to make the glove feel nice and warm. On the lowest setting, after ten minutes the warmth was barely discernible.
So much for 'Near-instant heat". Your review said "But, they do keep your hands warm, there's no doubt about that. You probably won't need anything more than the first heat level, which should provide around 3 hours of neutral warmth."
This statement is absurd, the lowest level is useless.
Your review said "The "stainless core heating system" wires are above the fingers and thumb, just where you need the heat. Fire 'em up and you'll feel the heat within a few seconds." Another absurd observation.
I went for a short ride when the temperature was 32 degrees. I did not exceed 40 mph except for brief periods. I did not ride on the Highway. I waited until I could feel heat in both gloves (on the highest setting) before starting.
After about 5 miles, there was no discernible heat in either glove and my thumbs were starting to get cold. Both batteries were fully charged. After about an hour of use, it took about an hour to fully re-charge them.
At 40mph with a temperature of 32 degrees, the wind-chill is 15.81 degrees.
These gloves are just totally incapable of maintaining heat in the real world. I have followed your website for several years. After this experience I will find it difficult to believe anything you write.
I strongly believe that you should review the gloves in the real world with temperatures in the low thirties and publish the results.
I occasionally spend considerable time at Interstate speeds. I predict that the gloves will be totally useless at such speeds. You do your readers a disservice by publishing such grossly inaccurate reviews."
Editor's Reply: I'm not sure why your gloves aren't performing; it sounds to me like they are faulty and you should return them for an exchange or refund.
All we can do on this end is report our findings after using the products for several weeks with multiple rider evaluators and our pair of the gloves perform exactly as described in the review.
It is possible that with relatively inexpensive products like this that are made under contract (for Joe Rocket) in Asia from a generic brand that the build quality or performance will vary with different items in the production run.
Our review is not inaccurate at all, in that it describes exactly what we found. Sounds to me like your gloves may be faulty and you might want to see if you can exchange them or get a refund.
Just for grins, I went to the RevZilla Joe Rocket Rocket Burner Gloves page to read the owner comments. Here are 3 that I pulled that confirm our review:
"The heat is almost instant as with other battery gloves. The batteries have been lasting as advertised, I have run the gloves on high for 2 hours several times now and not had a drop in power. When using the gloves in temps below 37 degrees I have had to run them on high to keep my hands from going numb. Above that temp medium seems to work fine."
"I've ridden with them twice now in temperatures ranging from the upper 30's to low 40's, and on my 15 minute commute they kept my hands warm enough. I'm glad I did; they're good gloves and keep my hands very warm. I'll be happy wearing them this winter. I've ridden in temps right at and just above freezing and my hands didn't get cold at all. The gloves are pretty warm even without the elements, but with them they're fantastic."
"I wore these on a 60 mile ride, temps were high 30s. I only used the low setting most of the ride and my hands were comfortable. I actually have a circulation problem in my hands so that was a good sign. As far as keeping my hands warm, so far so good."