Rocket Phoenix Jacket Review Summary
Phoenix Jacket Image Gallery
The Joe Rocket Phoenix 5.0 jacket is, as its name implies, the fifth generation of what was once a ground-breaking design. But time has moved on and the Phoenix jacket hasn't really improved as much as I'd hoped and expected. It still flows a huge amount of air. And the price is right. But the fit and some of the details are in need of an upgrade.
It seems like the colors and styling have been modified over the years, but not much more. The Phoenix 5.0 mesh jacket is still a good choice but there are many more mesh jackets available now than there were when the Phoenix was first introduced, so shop around first.
The original Joe Rocket Phoenix jacket (review) was introduced back in…when was it? Around 2002 I think? It was so long ago, we weren't yet adding dates to the reviews. But I distinctly remember buying it, at the original Speed's Cycle in Baltimore.
I was poking around in the garage/shop and Speed had two Phoenix jackets hanging on a rack. In what is now called an impulse buy, I grabbed it, paid the $120.00, put it on and hopped on the bike for the ride home. I remember how amazed I was at how much air flowed through the thing. 2002 may not seem that long ago (to me anyway), but motorcycle jackets were different then and textile mesh was a new concept.
Riding with the Phoenix was like wearing no jacket at all — in fact, there was so much air flowing through the Phoenix at 60 MPH that the early summer day suddenly felt like winter!
The original version of the Phoenix was rather shapeless, but it was all about the ventilation. Time marched on and, to Joe Rocket's credit, they continued the Phoenix jacket line with variations over the years.
I bought another — the Joe Rocket Phoenix 4.0 jacket (review) — in 2007 and it was used quite frequently during the hot and humid Mid-Atlantic summers.
But the competition caught on and now any motorcycle clothing manufacturer worth its salt has some type of mesh, hybrid or otherwise ventilated jacket in their lineup. Heck, there's even a 3/4-length mesh jacket, like the Alpinestars Capetown jacket I reviewed last month.
So I decided to try the latest version of the Phoenix — the Phoenix 5.0 jacket — to see what has changed. This is my report.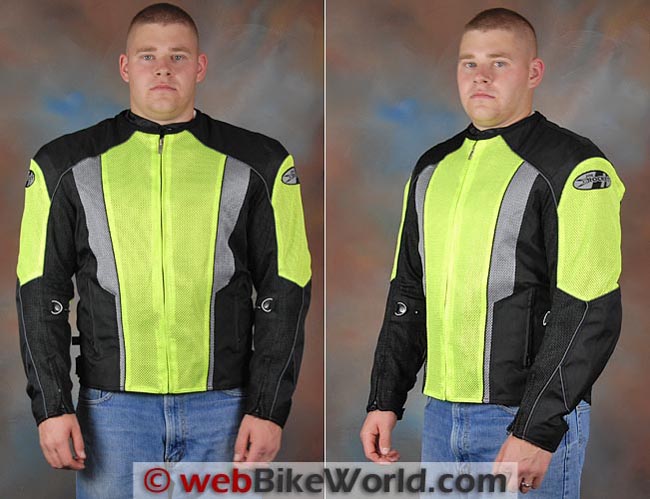 Phoenix 4.0 vs. 5.0 Differences and Gripes
There doesn't seem to be as much difference between the Phoenix 5.0 jacket and the Phoenix 4.0…at least not as much as there was between the original Phoenix and version four.
In fact, other than styling and a couple of new colors, there's barely any difference at all. And that, I think, is the core of the problem.
At one time, the Phoenix was the champ of the textile mesh jacket wars.
I'd guess that it still outsells whatever is number two by a huge margin…but I'm still surprised that I didn't find more improvements in the 5.0 version.
My gripes are threefold. First is the fit. The original Phoenix was a baggy mess, but that could be overlooked because when the jacket was introduced, mesh was new and different and, well, it worked.
The Phoenix 4.0 was slightly trimmer (and I was a bit plumper at the time), but look at the arms in the photos in the review and you'll see they look too big for the jacket size.
The Phoenix 5.0 also has a bit of a sizing issue (as does most Joe Rocket clothing, in my opinion) and by 2012, well, I would have thought that this would have/could have/should have been worked out.
The size large shown here fits much better on the model in the photos, who is an XL-sized paramedic and firefighter with, shall we say, much more muscle mass than yours truly. This size large Phoenix 5.0 fits him — perhaps it's just a touch (1/2 size) small — but it feels one size too big on me, and I usually take a size L.
Perhaps I should have tried a size M, but the point is that after five versions, you'd think Joe Rocket would have the proportions figured out.
The body isn't as bad as the arms; I have to put the single snap on each arm adjuster into its tightest position to get the sleeves to fit around my "normal" sized arms, and even then there's too much bulk in the bicep area.
The other issues have to do with the zippers. The big nylon front YKK zipper is fine and it locks. But there's no neck strap at the top and no neck adjuster. So what you see is what you get.
Finally, the zippers on the sleeve cuffs do not have locking pulls. After all these years of evolving the Phoenix jacket, this is still a miss. I have a Joe Rocket Blaster perforated jacket (review) in leather, purchased in 2005, that has the same problem.
The absence of a simple locking zipper pull means that the sleeve cuff zippers are constantly opening up, which is annoying.
Note to Joe Rocket: spend the extra five cents and get the locking version of the YKK sleeve cuff zippers already!
That they would still be doing this after 5 versions of the jacket spanning 10 years is both amazing and very disappointing.
Other that that…the Phoenix still flows as much air as you can handle and I'd say it does it better than any other mesh jacket on the market. The price hasn't changed all that much and the styling is a modest improvement.
Joe Rocket Phoenix Jacket Details: Jacket Shell
I'm not familiar with versions 2.0 and 3.0 of the Phoenix jacket, but the main difference between the 4.0 and the 5.0 seem to be the shoulders and lower arms, which are now covered in a basic non-perforated black textile.
That styling change alters the looks a bit and some minor cleaning up of the vertical fabric sections help give the Phoenix 5.0 jacket a cleaner look than earlier versions.
The mesh used in the jacket shell appears to be the same type of heavy-duty, very open mesh design that Joe Rocket has used in the past.
This is what makes the Phoenix flow more air than about anything I can think of; the 2 mm diameter pattern leaves a lot of room for air to flow through.
If memory serves me correctly, the original Phoenix jacket was the all-time air flow champ because it didn't have any solid textile at all.
The Phoenix 5.0 design does seem to reduce the major ventilation just a bit, but for the most part, it works and it's a definite noticeable improvement in ventilation over any of the competitors.
These include jackets like the Dainese Air Frame (review), the Dainese Aspide (review) and perhaps the Dainese Shotgun jacket (review) for max air flow.
However, the Dainese jackets have a better fit that is more proportional than the Phoenix 5.0 and the ventilation isn't that much different (and the styling is nicer to my eyes), which means they would end up as my choice for hot-weather riding.
How and when textile mesh will protect the rider better than other materials is still open to discussion, but the bottom line is that if you're going to do some pavement sliding, wearing a Phoenix 5.0 jacket has to be better than wearing a T-shirt, no two ways about it.
I still don't know how these guys (and gals) do it in T-shirts and shorts. I've been hit by bees and bugs at 50 MPH that hurt even when I'm wearing a jacket and armor.
I'm also constantly getting pelted by bugs, flies, dirt and even nuts and acorns falling from trees. No way would I want those to hit my bare skin…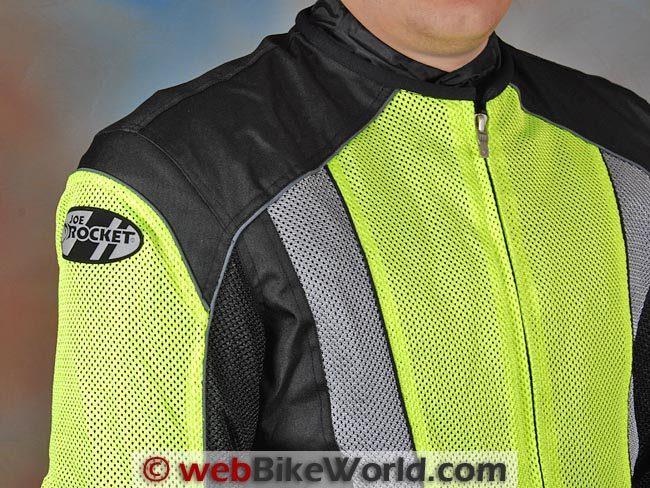 Not much has changed here between the Phoenix 4.0 and Phoenix 5.0 jackets. As I mentioned in the Intro, the sleeves have a single adjuster at the forearm, just below the elbow.
I have to put mine in the tightest of three positions and this leaves a bit too much fabric at the upper arms. Ideally, the arms would be thinner; as it is, it seems like XL or even XXL arms have been fitted to a size L jacket.
I wonder if this is the case with other sizes of the Phoenix 5.0 jacket?
The jacket has waist adjusters on either side along the hem. Located just above these on either side are three chevrons of sewn-in padding, so tightening the waist sort of bunches the sides.
That's it for adjustments; there aren't any others. Adjusters can help tailor a jacket, but after a certain point, they can't make up for a sizing and fit issue. This is the biggest difference we have noticed (and noted) that is the difference between lower-priced and "premium" motorcycle clothing.
More expensive clothing usually has a much better fit that is tailored to human shapes.
I'd guess that the cost pressures of making a jacket or pants to sell at a lower price point mean re-using sleeve or shell forms for other sizes, where the more expensive gear uses individual sections cut and tailored for each size.
The problem is that once you wear clothing that fits correctly, it's hard to go back to clothing that doesn't! Sometimes, it's worth the cost difference and sometimes you get what you pay for…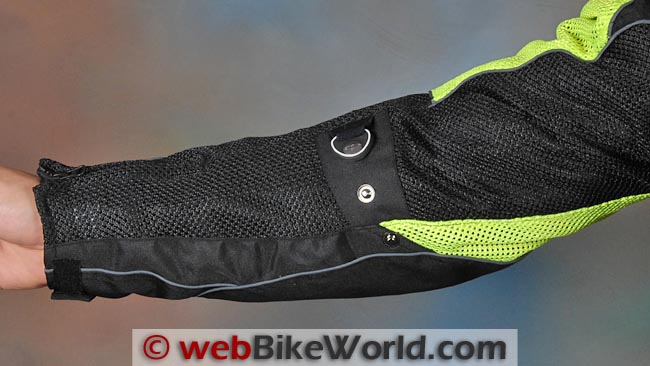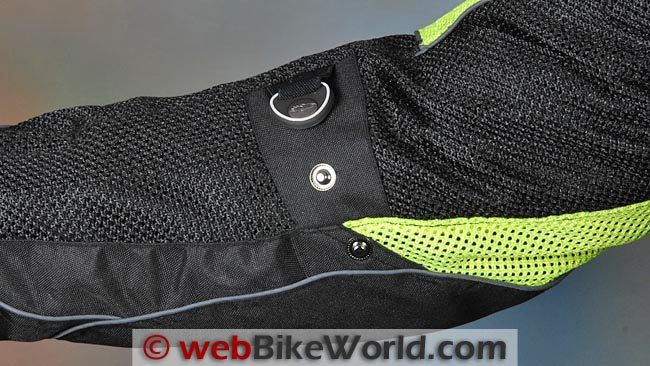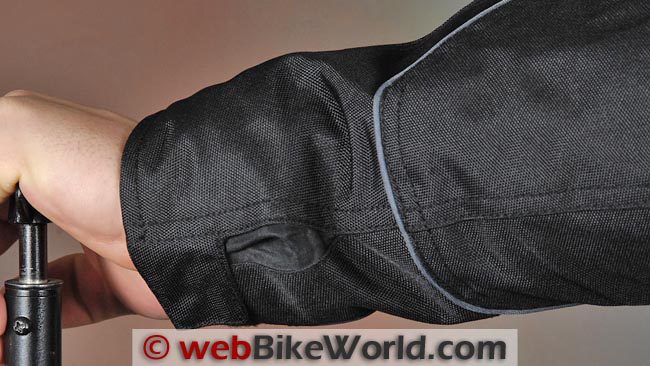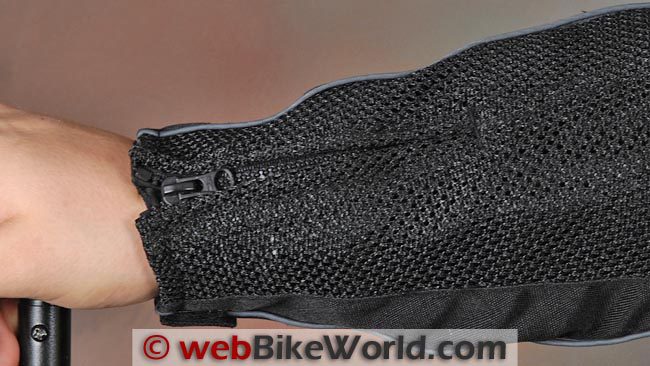 Pockets, Vents and Zippers
The Phoenix 5.0 has the typical two external hand pockets, closing with YKK zippers. The pockets are not waterproof and they're lined with a mesh fabric.
Inside, the Phoenix 5.0 jacket now includes a nice key chain hook holder on the inside of the upper right placket. There's a hook-and-loop covered slash pocket in the left placket, labeled with a sunglasses icon.
This pocket is a bit narrow, too small perhaps for some wallets. I prefer storing my wallet in an inside placket pocket.
Zippers are YKK throughout, with a nice, big version as the main entry zipper and it has a locking pull. The YKK zippers on the sleeve cuffs do not have locking pulls and they need them, as I mentioned earlier.
The jacket has a short mating zipper inside to attach to Joe Rocket pants.
Detachable Liner Details
The Phoenix 5.0 jacket comes with an easily-detachable waterproof (claimed) liner. It's easy enough to use; it attaches inside the sleeve cuffs and with a snap at the neck and zippers in the front to connect to the jacket shell.
I'd guess that most of the time, the owner will have the liner removed, but it's light and small enough to be packed in a pocket in case it gets cold or you're caught out on a cool night or in the rain.
I wouldn't want to ride very far or very long in the rain with it, but it's definitely better than nothing at all.
An easy way to use the liner is to keep it detached at the neck and cuffs but use the zippers in front to keep it secured to the shell. This makes for a quick and easy on/off whenever you want to use or remove the liner.
It also works very nicely as a windbreaker when worn under the shell. It's not quite a street windbreaker but it will do in a pinch and it actually has mating snaps at the cuff to keep the attachment straps from flopping around, so you can wear the liner without looking too dorky.
The liner has no pockets, presumably to help maintain its waterproof integrity.
Armor and Padding
The Phoenix 5.0 jacket comes with CE-rated (claimed) elbow and shoulder protectors. They actually feel pretty good compared to other inexpensive jackets. The padding/armor is removable.
Continuing a Phoenix tradition, the 5.0 jacket also comes with a better-than-average back protector. Joe Rocket says it's a "spine protector" that can be removed and replaced with a CE-rated version.
We also found that the SAS Tech back protector described in the Furygan leather jacket review will fit.
The addition of solid textile (nylon Cordura-like material) over the elbows and shoulders could theoretically help the jacket slide, rather than catch, if the rider falls, but Joe Rocket does not make any abrasion resistance claims for the fabric.
Bottom line is that the jacket seems to have an acceptable level of basic padding for this type of garment. Again, it's certainly better than just a T-shirt…
As mentioned above, the size large Phoenix 5.0 jacket shown here is rated to fit a size 42-44″ (U.S.) chest and 34-36″ waist, with a 34″ sleeve length, according to the Joe Rocket sizing charts.
I think the jacket would be too big for a 42″ chest size; I have a 43″ chest measurement and it feels a bit big on me — don't forget, most of the time, this jacket will probably be worn over a T-shirt, which minimizes bulk and sizing underneath.
But I could live with the body size if the arms didn't feel so big, especially at the biceps.
The biceps are just too big and there's no way to snug them up. The proportions just seem a bit off and not tapered or fitted as I'd like.
Reflectivity
There isn't much reflective surface area on the Phoenix 5.0. A thin strip of reflective gray-colored piping along the upper back is all there is.
There is some matching gray piping that looks identical along the sleeves, but in an apparent attempt at cost savings, this doesn't appear to be reflective, either when illuminated with a flashlight or the camera flash.
More reflective surface area would be appreciated.

Conclusion
This review may seem rather harsh but after 10 years or so of evolution, the Joe Rocket Phoenix 5.0 jacket should be near to perfection, yet there are a few important and easily resolved details that just haven't been addressed.
Ten years ago, this didn't matter, but since that time, many new mesh jacket competitors have been launched and the overall quality, cut, fit and detailing of motorcycle clothing has made tremendous strides.
While the Phoenix 5.0 jacket still is among the leaders when it comes to air flow (as long as they don't "improve" it by adding any more solid fabric surface area), and it's still a relative bargain, it's no longer my go-to jacket for hot weather.
w

BW

 Review: Joe Rocket Phoenix 5.0 Jacket
List Price (2012): $169.99
Made In: China
Colors: Black, red, blue, white, yellow, high-visibility yellow, gray, gold panels with black trim.
Sizes: S-3XL. Gray in M Tall to 3XL Tall.
Review Date: September 2012
Note:
 For informational use only. All material and photographs are Copyright © webWorld International, LLC since 2000. All rights reserved. See the webBikeWorld® 
Site Info page
. Product specifications, features and details may change or differ from our descriptions. Always check before purchasing. Read the
Terms and Conditions
!
Owner Comments and Feedback
---
From "G.K." (July 2013): "I am from Canada and was searching locally for this jacket and discovered that it does not exist in Canada. Rather, Joe Rocket offers the Phoenix 11.0. It is essentially the same jacket with a few minor modifications.
It includes a Rear Storage Pouch, Kinetic Cuff (i.e., Velcro instead of a zipper), Sure Fit Sleeve Adjusters, Sure Fit Waist Adjusters, 8″ zipper For Pant Attachment and Belt Loops for Pant Attachment (a nice feature). There is only one interior pocket.
The fit seems similar to what is described in your review. I am 6 feet and 165 lbs. and ordered a size Medium, which fits well even with the liner in. I have not ventured out in the rain yet but have my doubts that I will stay dry."
---
From "E.A." (October 2012): "I wouldn't consider version 5.0 an abject failure, however I do have a few things to add to the other comments.
Sizing: I originally planned on ordering a size 2XL based on the Joe Rocket sizing chart. However based on your review I ordered a standard old XL. I should have gone with my gut instinct (pun intended).
With a normal coat size of 46 but waist of 41″, version 5.0 is a bit snug in the belly with either the liner in or out. With the arm snaps all the way out, the sleeves are snug for my somewhat scrawny arms.
On a positive note, in addition to the pants to jacket zipper there are four snap loops just above the bottom of the jacket for securing it a wearers belt. No reviews about this jacket that I've found mentioned these loops which I think are a neat little feature."
---
From "J.Z." (October 2012): "As someone who was recently in the market to replace an old, worn-out mesh jacket, I'd like to offer a personal comment regarding the 5.0 version of the Joe Rocket Phoenix jacket.
While perhaps not a huge issue with most colors, Joe Rocket seems to have forgotten that the purpose of a "Hi Viz" jacket is visibility. They added so much black to the Phoenix 5.0 that I think they seriously compromised the safety aspects of the Hi Viz color.
In both photos and in the store the jacket simply doesn't jump out at me anymore because there isn't enough Hi Viz color on it (not to mention, as a pre-dawn commuter, the lack of any meaningful reflective material was also very disappointing).
If the goal was to make the Hi Viz version of the jacket invisible then Joe Rocket succeeded admirably — otherwise, to me, the 5.0 is an abject failure."
---
From "M.D." (September 2012): "It wasn't to long ago that I was in a horrible motorcycle accident on highway 80. Minding my own business when a man in a Corvette that had been all soupped up attempted to race me.
Being that I was on my Gixxer 1000, I didn't' t even bother.
Trying to show off he was racing in and out of tight traffic, slammed on his brakes suddenly, fish tailed and knocked me off my bike.
When the ambulances had arrived they had to cut my jacket off (which was my Joe Rocket jacket). They claimed that my Arai helmet saved my life and that my jacket had saved my flesh.
So I guess I really just wanted to say thank you to Joe Rocket for taking the time to make such quality material and keeping riders like me safe every day."
---
From "M.S." (September 2012): "July 2010: Breaking in my new 2010 Triumph Daytona 675 SE while wearing my Joe Rocket Phoenix jacket and Blaster pants, I met a decreasing radius turn that my skill level was not prepared for. I lowsided between 30-35 mph, pancaked onto my left side onto the asphalt.
My good fitting Phoenix jacket, while absorbing the initial hit, did nothing to prevent some nasty abrasions on my shoulder and elbow. It's textile material seemed to have minimal abrasion resistance.
I also abraded both knees and bruised my left calf and left hip despite wearing Joe Rocket Blaster pants.
Since then, I've been wearing Motoport Air Mesh Kevlar jacket (review) and pants. I had another 35 mph crash 3 months after the Joe Rocket incident when a Corvette pulled in front of me and slammed its brakes.
In contrast to the Joe Rocket incident, I only had a tiny rug burn on my left knee…and nothing else.
Joe Rocket is better than T-shirt and jeans, but that's about it. (Since then over the past 2 years, I have had extensive track day experience and on track coaching.
Now in the advanced group, I have done 31 track days with my trusty 675. So something good came out of those crashes.)"
---
From "M.G." (September 2012): "Some counter points to your review or the Phoenix 5.0 jacket. Your issue of the fit, well my understanding is that a 42″ barrel chested guy couldn't zip up the the older versions of this jacket (over his belly) in his size because of the taper from chest to waist.
I personally am a solid 44 chest a 34 waist and a large fits me perfectly in the body and I actually find the sleeves a little tight especially with the liner in (which is 100% waterproof as tested by me when I got caught in a passing shower). I've never had the zippers open up on me ever.
The armor is CE. All you had to do is pull it out, its stamped right on it.
Joe Rocket also offers a CE rated back protector that is the same shape as the dual density  Joe Rocket also offers a CE rated back protector that is the same shape as the dual density and fits right in the armor pocket.
The sleeve adjusters are there to keep the armor in place and do a great job at that.
The collar? Really, your complaining about the collar? its an open roll designed for more comfort. It doesn't need a snap closure. I've been through 3 different versions of these jackets myself. This is by far the best yet and still one of the best for the money overall."
Rick's Reply: Too many companies stamp a "CE" on their padding or armor and don't actually get it tested, certified and approved. I'm not saying this is the case with Joe Rocket and, in fact, I'd be surprised if it the armor is fake because of the company's reputation.
But there was no CE approval paperwork with the jacket, like there is with many of the European brands…and like there was with the Dainese jackets I used as a comparison.
So to be accurate, I used the word "claimed" for Joe Rocket's claim that the armor is CE rated. Nothing wrong with that…
By the way, saying "CE rated" doesn't necessarily mean it's been tested and approved. The term is meaningless.
---
From "B.S." (September 2012): "Wife's had a 2.0, and I have the Alter Ego jacket. I don't get why they could have the arm cinches right on the Alter Ego, where you can work them with or without gloves in a second, and have them so wrong on the Phoenix…where you have to try and work snaps to get it going.
It's been a pretty "meh" jacket for her.
They also come with a joke of a rain liner, which forces you to wear it under the jacket. So now your hot, sweaty and have a soaking wet jacket. I liked their gloves, and I like some of the jackets… but it looks pretty stale to me. Thanks for the update."
---
From "D.W." (September 2012): "Thank you for an honest evaluation, I agree with both the good and the bad. The loss of the waterproof pocket for MP3/Cellphone sucks, and the yellow works at my base for "Hi-Vis", but I agree it isn't really.
I don't want to wear another layer (vest), but am having trouble finding anything mesh for SoCal. Have you tried anything that you would consider a replacement (especially fit-wise)?"
Rick's Reply: The Dainese Air Frame (review), the Dainese Aspide (review) and the Dainese Shotgun jacket (review) have a more tailored fit for me. Also, the Rev'it Tornado high-viz mesh jacket has a better fit.