Rocket Blaster Jacket Review Summary
The Joe Rocket Blaster perforated leather jacket is relatively inexpensive. It also mates to all current Joe Rocket pants. But the loose sleeve cuff zippers don't stay put and the leather feels a bit stiff.
It's comfortable and flows lots of air, so it's a good replacement for a Phoenix mesh jacket for hot-weather riding. It also works well with the Blaster perforated pants. Note that the Blaster jacket has just an 8″ zipper in the rear for pants attachment however. I've long ago given up on finding the perfect all-season motorcycle riding outfit. I'm sure we'll see it some day, when fabric technology evolves to Star Trek levels.
How about some type of lightweight, form-fitting, comfortable do-it-all garment that keeps us warm in the winter, cool in the summer and wrapped in a protective cocoon? Dream on… In the meantime, niche garments are basically the only way to go. Sure, there are a few outfits that will work in a wide range of temperatures, but it's the extremes that blow the plan.
An outfit that works in very hot weather is not going to work when the snow flies. Something that keeps you dry in a downpour is probably going to make you sweat any time it's not raining. It kind of follows the classic bell-shaped curve; there are many combinations of jackets and pants that will work for the most common riding temperatures, covering a range of about 65 degrees Fahrenheit to 80 or so.
But for the extreme outliers — the 3+ sigma tails in the normal distribution — only specialized clothing will do. Most of the problem can be traced to the seemingly incompatible goals and the tradeoff necessary to physically protect the body during a fall with keeping the body comfortable in a variety of environmental conditions.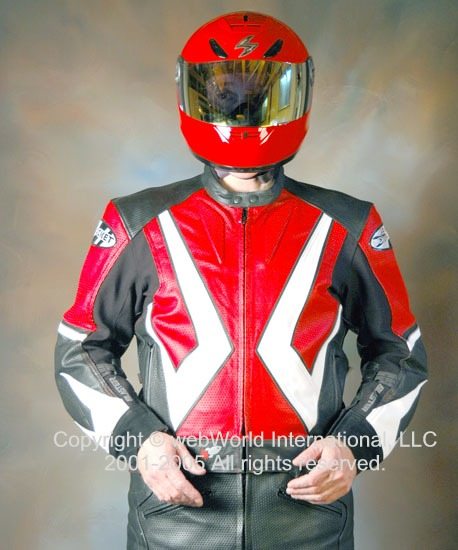 Joe Rocket Blaster Jacket
No doubt about it — motorcycle clothing has come a long, long way in the past couple of decades, but we're still not there.
We've reviewed some of the combinations that work well in the widest variety of conditions, such as the Joe Rocket Alter Ego Jacket & Pants (review) and the Tourmaster Cortech GX Jacket and Pants (review).
We've also reviewed many different alternatives for summer and winter riding; see the wBWReview Index for more information.
Most of the compromises seem to be necessary as the ambient temperature rises.
It's relatively easy to have a winter riding outfit that will work with layers or even electrically heated clothing to provide comfort in cold weather. It's the riding gear that works in hot weather that's the most difficult to find.
My personal opinions regarding motorcycle clothing have been changing over time.
I'm much more inclined lately to look for the best protection possible and to suffer, if necessary, in the heat. I originally went from leather to textiles, such as the ubiquitous Cordura, but now I'm back again to leather.
Thick leather, proper stitching and good padding still offers the best levels of protection, so I've been on a mission to find the best combination of leather motorcycle riding gear I can find.
I was fascinated by the summer mesh clothing that made its appearance a couple of years ago, but since then, I've found perforated leather to be almost identical in its ability to flow air, while offering theoretically better protection.
We reviewed the Joe Rocket Blaster perforated pants and textile mesh Phoenix jacket a while back, and that combo was my preferred hot-weather riding outfit.
I still really like the Blaster perforated pants, but I've added the Blaster perforated leather jacket shown here in place of the Phoenix jacket.
Fit Issues
The Phoenix jacket has a fit that is too loose, in my opinion, to keep the relatively soft padding in place during a fall.
It's very rare to find motorcycle riders wearing full leather outfits in the U.S.A., but those that do almost invariably are wearing inexpensive leathers that do not fit properly.
Motorcycle jackets and pants must fit tight.
That's not only to keep the armor or padding in place during a crash but also to help prevent the loose folds from catching on the street or other surfaces as the body slides along, causing a tumble which can result in broken bones.
Leather has a wonderful built-in quality that allows it to break in and conform to the body over time.
Leather motorcycle garments may feel tight and uncomfortable at first, especially to those riders who have never worn leather before.
But after a while, the leather will start to feel like a second skin, and anything else feels too loose, too flimsy and too insecure.
The Blaster 2.0 perforated jacket is not perfect by any means.
Our perforated Blaster pants were purchased a couple of years ago, and the leather in the pants seems much thicker than the 1.4 mm thick leather in the new Blaster jacket. Perhaps they're trying to cut costs?
Joe Rocket's Blaster line seems to be marketed as the mellow version of their Speedmaster clothing line, which is the "top of the line" offering at Joe Rocket and is aimed at motorcycle racers and track day fiends.
The Speedmaster line uses hard-backed armor and other high-end features, while the Blaster jacket and pants make do with padding.
Unfortunately, Joe Rocket doesn't offer a perforated Speedmaster jacket or pants, and non-perforated leather, whether from Joe Rocket or not, is hot, hot, hot in the summer.
The Blaster jacket has removable elbow and forearm padding, shoulder padding and a thinner section of padding covering the back.
Non-removable padded sections are sewn on to a couple of small external areas on the chest and the back, and are more for show than go.
Blaster Jacket Fit
This Blaster jacket is very comfortable, and the men's size 46 fits me perfectly.
I normally take a size 44 street jacket, and I've found that the Joe Rocket jackets run one size small, while the pants seem to run true to size.
The Blaster's perforations allow just about as much air to flow through as the Phoenix jacket, so other than price, it doesn't make sense to me to use the Phoenix when I could be using real leather instead.
The quality and type of padding, however, seems to be about the same in both jackets. It's my understanding that Joe Rocket offers an optional hard-backed armor kit that can be fitted into many of their jackets, and I may order it one of these days.
Joe Rocket has been really good about continually updating their clothing lineup by adding new features first piloted with their motorcycle racing stars.
New on the Blaster jacket is a suede-type cuff that uses only a zipper as a closure.
It's simple and streamlined and works very well. Simple is better!
The cuffs also fit very nicely inside of a variety of gauntlet gloves, which is exactly as it should be. They have a Velcro adjuster that's semi-hidden on the back of the cuff and out of the way.
Just above the cuff on the forearm is a two-position cinch adjuster. These are necessary to keep the armor snug against the forearm and elbow.
They have two snaps and a section of elastic strap that allows a wider range of adjustment than normally found with this type of system.
The jacket also has a simple waist cinch strap and a fairly wide wrap-around section covering the tailbone that uses very light padding.
The sleeves also include Joe Rocket's "Full Flex" panels, which have modest levels of flexibility but also allow some air to pass through. The panels are used under the arm and other places not likely to be affected during a slide.
Jacket Weight and Details
The Blaster weighs a reasonable 5 pounds (2.3 kg), which is more than the Phoenix jacket, but the weight isn't really noticeable because of the comfortable fit.
The jacket has a mesh taffeta lining and the collar uses an upper section of the same type of suede material that feels like a rougher version of neoprene.
For some reason, I find the Blaster's collar to be uncomfortable, and I can't figure out why.
It shouldn't cause any problems, but it seems to chafe my neck.
Possibly it's because when it's hot enough to wear the jacket, I'm wearing a T-shirt underneath and not my usual turtleneck, which protects my neck from chafing.
The only real problem I have with the jacket is that it only has an 8″ zipper in the back to connect to the Joe Rocket Blaster or Speedmaster pants. I'd much prefer a full-length zipper to attach to my Blaster pants.
I can reach up or stretch when wearing the Blaster 2.0 jacket and the jacket lifts away very easily from my waist, exposing my stomach and sides.
This does not bode well for protection in case of a crash. It would have been nice to at least include some type of Velcro system for securing the front to a pair of pants.
Conclusion
The Blaster perforated jacket is comfortable and affordable and makes a nice hot weather riding outfit when combined with Joe Rocket's Blaster perforated pants.
There's absolutely no excuse for wearing non-protective clothing when riding a motorcycle in hot weather when perforated garments like this are available.
Even though I worry about the inability to fully connect the Blaster jacket to my Blaster pants, this is definitely my current favorite as a warm-weather riding outfit.
Stay tuned though – I've been thinking about ordering a custom-fitted, perforated kangaroo hide one-piece riding suit!
w

BW

 Review: Joe Rocket Blaster 2.0 Perforated Jacket
Manufacturer: Joe Rocket
List Price (2005): $179.99
Colors: Black, Blue, Yellow, Red, Gunmetal combinations.
Made In: China
Review Date: May 2005
Note:
 For informational use only. All material and photographs are Copyright © webWorld International, LLC since 2000. All rights reserved. See the webBikeWorld® 
Site Info page
. Product specifications, features and details may change or differ from our descriptions. Always check before purchasing. Read the
Terms and Conditions
!
Owner Comments and Feedback