Jett Battery Heated Vest Review Summary
Jett Battery Heated Vest Image Gallery Image Gallery
Jett Battery Heated Vest: Take 2
We reviewed the original Jett battery heated vest in October 2006. Jett made a few changes to the 2007 version so we decided to post this report.
The original Jett heated vest was a breakthrough.
It allowed motorcyclists to stay warm without wires!
We've been predicting the eventual dominance of battery heated motorcycle clothing ever since.
There are two advantages to battery heated clothing.
The first and most obvious is the elimination of the wiring harness and controller necessary for traditional heated garments.
The absence of a wiring harness gives a sense of freedom and no worries about having to install yet another electrical device on an overloaded charging circuit.
It also prevents absent-mindedly walking away from the bike with the heated garment still connected.
The other real-world advantage is the portability of battery heated garments.
They can be used on multiple bikes without having to add a second harness.
Also, a battery heated vest can also be used off the bike, both indoors and out, for general comfort, working in the yard, going to a sporting event, riding a bicycle or whatever.
I've become a huge fan of my original Jett battery heated vest, but I guess that makes me biased.
So when the updated vest shown here arrived from Jett, I gave it to Kim, who hadn't used one before.
I figured this would give us a sort second opinion double-check on last year's report.
Jett Battery Heated Vest for 2007
Jett made a few minor changes to the 2007 model. The battery pocket on the original was a weak point, so the new vest has a reinforced design and adds some "hook and loop" to hold the controller in place.
But the main difference is the battery pack itself, which is slightly thinner and 22% lighter.
Lighter is better, because the older style battery did make the original vest feel a bit lopsided and slightly bulky when the vest was worn alone, and the weight eventually tore the fabric.
Here's a chart comparing the differences:
| | Original Battery | Updated Battery |
| --- | --- | --- |
| Length | 170 mm | 170 mm |
| Width | 60 mm | 50 mm |
| Height | 12 mm | 10 mm |
| Weight | 90 g (3.2 oz.) | 70 g (2.5 oz.) |
| Amps | 2.8 | 2.5 |
The amperage has been slightly reduced on the new model, but not by much.
The advertised "burn" time (probably not the best choice of words for an electrically heated vest!) on the original was 7 hours, compared to 6 hours on the updated battery.
Remember that the heating time will depend upon the controller settings used by the rider. Extra battery packs can be purchased also.
Every time we publish and article on battery heated clothing, we get a few emails from non-believers.
A couple of visitors wrote very long and detailed technical narrations that "proved" that battery heated clothing can't possibly work.
I wrote back and asked them if they tried one, and the answer was "no". Amazing…
All I can say is that I've been using the Jett vest for two seasons and it works for me.
Sure, it doesn't put out as much overall heat as, for example, the Tourmaster Synergy vest we reviewed recently, but that vest is too hot for me anyway, believe it or not, and I have to fuss with it to cycle it on and off to the "low" position to stay comfortable.
I also do not care at all for the feeling of heat on my chest — it makes me feel short of breath, and I wonder if it's dangerous.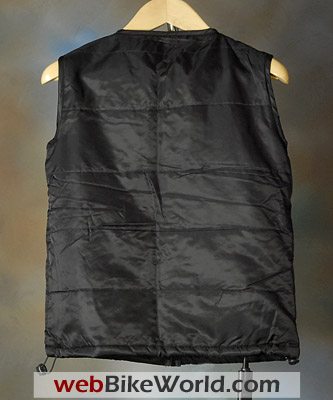 Wireless Heat
The Jett vest radiates heat along the lower back, which is just where I need it, and it keeps me nice and comfy.
All I need to do is wear it under a decent 3/4-length jacket and I'm all set.
Note that it is important with any heated garment to keep the material close to your body.
I usually wear a cotton T-short under a cotton turtleneck, then the vest, and sometimes I'll put a thin polar fleece sweater or windproof shirt over the top of the vest to keep it snug.
Note that it is not necessary to feel the heat all the time — you just don't want to feel cold. Experienced heated clothing owners know that they only need to dial in just enough heat to feel "neutral"; i.e., not too hot and not too cold.
This also maximizes battery life and this strategy works for heated vests, gloves and any other type of heated clothing.
Controls
To recap, the Jett battery heated vest is rechargeable and has a controller that hangs down from the right side.
The controller has 3 levels: low, medium and high. A green light indicates low (40 C or 104 F), orange is medium (50 C or 122 F) and red is high 60 C or 140 F). The vest comes in sizes XS through 4XL.
I usually wear the vest under another garment, such as a light sweater, but I think Jett recommends that the vest is worn as a top layer.
The current model does not have elastic on the sides, so it's important to follow the instructions for fitting on the Jett website to get the correct size. As with any heated garment, it's important to keep it close to the skin to transfer the heat.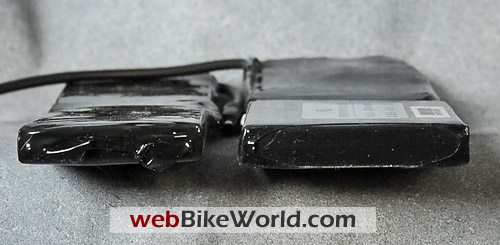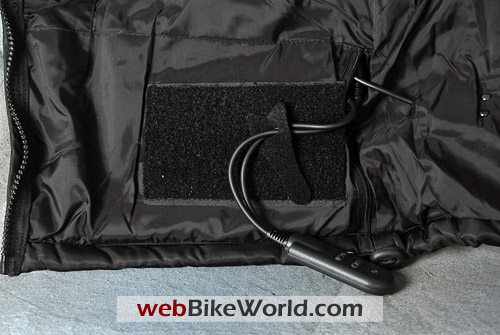 Kim's Riding Impressions
I felt the heat from the vest within the first minute of turning it on, although I didn't feel heat on the low setting.
The medium setting worked best for me. While sitting on the couch, working on the REV'IT! women's winter pants, underwear and boots review (coming soon!). Quite comfortable temperature.
The high setting was too hot for indoors. I was leaning against the back of the couch and the heat became to intense and I had to back it down. I can see how the high setting would be useful in outdoor activities. Too much for indoors with the house temperature set at 73 degrees.
When changing temperatures the change can be felt within a few seconds, which is very nice.
The instructions are also easy to understand. And the vest came out of the box charged and ready for use – instant gratification!
The two lower front pockets are nice but on the small side. With regards to battery life, I put on the vest at 8:20 am and it was still going strong at 11:30. At 12:00 I noticed a lack of heat, so I took a look at remote and it had turned itself off.
The battery needed to be recharged; the specs indicate 240 minutes; the vest was mostly set on medium during this time.
The specifications indicate that it takes 4 hours for a full charge. I started the charge at 12:03 and it was fully charged at 4:30.
With regards to sizing, the unisex XXS fits nicely; I typically take a size 2 – 4 or ladies small. The vest has a cinch at the lower hem and waist and a Velcro patch to hold the controller.
The control has an easy two button on/off — the off button is used to cycle through the low, medium, high heat settings.
There is now zipper access to the battery pack.
The 14.8 V rechargeable battery is about 7inches long and 2 inches wide. The lower battery weight makes it comfy; I forget the battery is there after a few minutes when sitting.
When I'm walking, I know the battery is there and can feel a little extra weight, but it's not uncomfortable, although I can notice the battery against my leg.
Couple of notes: the instructions recommend unplugging the battery from the control when not in use. The vest is hand washable (30 degrees C, 86 degrees) after removing the battery and remote and they recommend hang drying.
More: Original Jett Battery Heated Vest Review
More wBW Heated Clothing Reviews  |  Motorcycle Glove Reviews
w

BW

 Review: Jett Battery Heated Vest
Manufacturer: Jett Performance Products Pty Ltd
List Price (2007): Contact Jett for latest pricing.
Colors: Black
Made In: Australia
Review Date: December 2007
Note:
 For informational use only. All material and photographs are Copyright © webWorld International, LLC since 2000. All rights reserved. See the webBikeWorld® 
Site Info page
. Product specifications, features and details may change or differ from our descriptions. Always check before purchasing. Read the
Terms and Conditions
!
Owner Comments and Feedback
---
From "D.H." (November 2012): "I purchased a Jett vest shortly after your original review was published. Not much to add: between your review and the reader comments everything has been thoroughly discussed.
I agree 100% about the battery and controller placement, although neither is a deal-breaker for me (these niggles may have been corrected in Jett's new "Riding Vest"; I hope WBW gets one to test).
I ride all winter unless the roads are too icy, and use the Jett on the very coldest days — from about 30F down to the single digits. With proper insulating and windproof layering, the vest supplies a surprising amount of heat.
The vest and its connectors and battery pack are still working as new, and the battery holds a charge for an amazing length of time.
With winter approaching, I recently fished the Jett out of the closet for the first time in 7-8 months. Prior to charging the battery, I decided it would be a good idea to fully discharge it first, something I thought would take maybe 10 minutes.
Even set to High, it took a couple of hours to drain the battery!"
---
From "M.H." (12/09):  "I recently switched from a BMW/Widder wired heated vest to a Jett battery powered unit. I gave up on the wired unit due to ongoing issues with the wires coming unfastened.
I also wasn't all that crazy with the simple on/off mode, which called for constant fiddling with the switch (which is a dangerous distraction while driving).
I'm really quite pleased with how well the Jett vest works. Dressed in my 3/4 coat with only a t shirt and the Jett vest underneath, and light gloves I was out early this morning in damp 40 degree weather, riding across the metro area at freeway speeds.
At just the low setting I was quite comfortable.
Without the vest I would have been wearing a heavy wool sweater and possibly a balaclava, and feeling very bulky. The Jett vest is noticeably thinner and lighter than the wired vest.
I don't mind that the vest is long, it stays tucked into my riding pants instead of leaving a gap at my lower back.
I have mixed feeling about the low neckline: on one hand, it would be nice to have a collar (as does the Widder), and on the other hand, less bulk plus it doesn't get wet and wick moisture the way a collared garment does. Great product!"
---
From "T.M.":  "I bought a Jett Battery Heated Vest based on the reviews on your site and am more than satisfied.
I am a year round rider in all weathers and predominantly use the bike to commute to and from central London.
Having been run over recently by a foreign driver apparently unaware of the fairly universal 'red means stop' protocol at traffic lights and having damaged my hand when it got caught in the handlebar cables when I hit the deck and bounced, I have a slight aversion to wires.
My criteria were obviously, that I wanted no physical connection to the bike so it had to be battery and had to have a fairly good battery life.
The Jett vest is phenomenal. I couldn't say if wired products get hotter as I have not used any.
I can say it is more than hot enough to keep me nicely warm during zero degree commutes at 4 in the morning in the middle of winter.
The battery seems to last for a good healthy 6 – 8 hours on the medium setting which is ample for a few days at a time. The heat in the lower back really is effective at warming me all over. It's simplicity in itself to plug in and recharge.
I have read comments about the size of the battery pack but it's not much bigger than a fag packet and weighs no more than a phone in reality.
The remote hangs down below the vest and sits nicely in the front pocket of my trousers. I think I should really have brought a size smaller but again, with a winter riding jacket over the top and the straps done up that all seems to press it nicely against me anyway.
Amazingly, it took exactly 7 days for it to be sent from Oz to the UK and it arrived fully charged and ready to go.
It's a phenomenal piece of kit and there is something quite pleasant about being warm when you leave your house before you even reach and start your bike.
Also when shopping in the cold you can take the warmth with you which seems to make much more sense than a wired jacket / vest.
Many thanks for the superb standard of review!!"
---
From "P.A.":  "Aloha, I currently own the JETT heated vest that WebBikeWorld reviewed. I like it but I do have some issues with it. I think that the vest is too long going down past my belt which makes getting to belt mounted items difficult.
Also the zipper is on the left side, Aussie thing maybe. These minor issues aside, it was worth the investment.
I did come across a Carbon Fiber Heated Vest while shopping for gifts and thought that it might be of interest to review as it is also wireless.
Keep them great reviews coming!"
Other WebBikeWorld Clothing Posts