Former long-time Tonight show host and "petrol-head" Jay Leno has returned to TV with his Jay Leno's Garage show, featuring many motorcycles.
The Television Hall of Famer hosted his last episode of The Tonight Show on February 6, 2014, and since then he has been airing Jay Leno's Garage as a YouTube feature and on America's CNBC-TV.
Jay Leno's Garage is based around his personal collection of bikes and cars kept and maintained in a purpose-built garage named Big Dog Garage, where the show is often filmed.
While there have been comparisons with the UK's Top Gear, the main difference is the UK show rarely features motorcycles. In fact, former frontman Jeremy Clarkson actually hates bikes, while James May and Ricard Hammond are bike fans.
They have now left the show and it is yet to be seen whether the new show will give bikes more exposure.
There are no such qualms with JLG.
Jay actively endorses the use of motorcycles and often gets big-name friends and stars who also love bikes to join him on the show.
The Matrix star Laurence Fishburne features in the first episode of the new season.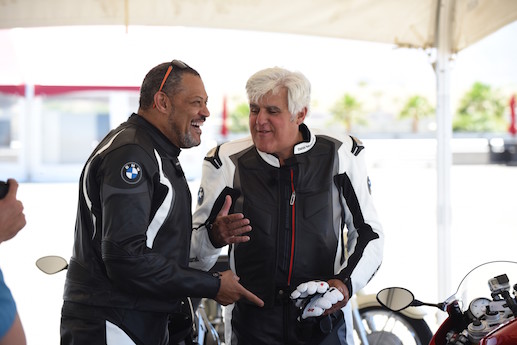 He is just one of many widely known actors linked to the Guggenheim Motorcycle Club – a bike club whose members are rich, famous and enjoy bikes.
In the first episode, Laurence and Jay receive a lesson in BMW Motorrad's history from classic Motorrad historian and collector Peter Nettesheim and ride two S 1000 RR superbikes on track.
While the JLG show was only shown across American TV provider networks, it is available to see again in the USA via on-demand broadcasts.
For the rest of the world, you can subscribe to Jay's YouTube channel or the JLG Facebook page.