Children's Motorcycle Jacket Review Summary
Children's Motorcycle Jacket Image Gallery
Ixon is one of the few manufacturers who have addressed the need for children's motorcycle clothing. Their children's motorcycle clothing line is pretty small, if you'll pardon the pun.  It consists of the Los Angeles jacket for boys and the very unfortunately named "Lolita" jacket for girls.
They also make two different types of motorcycle gloves for youngsters: the "RS Teen" gauntlet glove and the "RS Bike" short off-road style glove.  The RS Teen glove is made from a combination of polyester and goat leather, while the RS Bike glove is made entirely from synthetic materials. The Los Angeles children's motorcycle jacket is also made from 100% polyester in and out.  It does not include leather, Kevlar or other high-tech materials for abrasion protection or wear points; indeed, the polyester isn't really much different than might be found in a children's street jacket.
But the fabric does seem thicker and more robust than a non-motorcycle specific nylon or textile jacket, and the Los Angeles jacket also includes soft padding in the elbows, shoulders and back.
The padding is removable, so it can be replaced with more protective armor if desired.  The back pad can also be replaced with a children's sized protector.
And how about this: Dad (or Mom) can buy the Ixon "Magic" paddock jacket, which is an exact duplicate of the children's Los Angeles jacket shown here, and father and son, Mom and daughter can wear their matching jackets for riding or other adventures.  Pretty cute, eh?  I want one, and I don't even have children!  The Magic adult jacket is available in sizes ranging from XS to XXL.
The Los Angeles jacket is claimed waterproof, and it has a permanently attached mesh liner inside to allow some air flow between the child's body and the polyester shell.  It also includes a zip-out insulating liner that includes a pocket on each side, and the shell has two hand warmer pockets in front.
The jacket is available in children's size S to XL.  This example is a size XL and it just a touch large for this 10-year-old model, who weighs 35.4 kg (78 lbs.) and is 142 cm (56″) tall.  But, I'm sure that within the blink of an eye, he'll grow into it!
Now we adults may wish we had a jacket like this when we were kids, but the real question is, what do the kids think?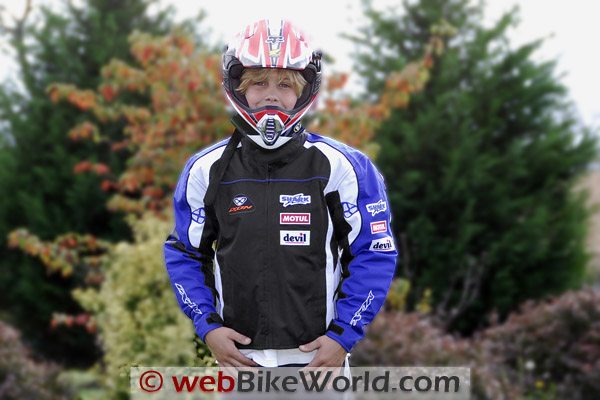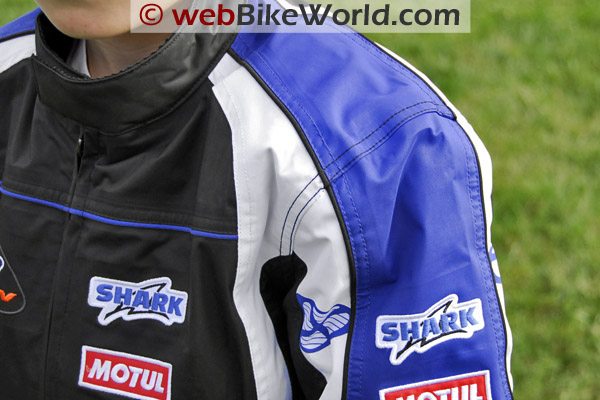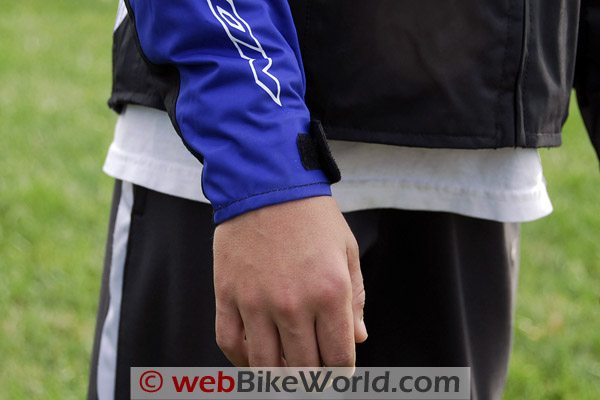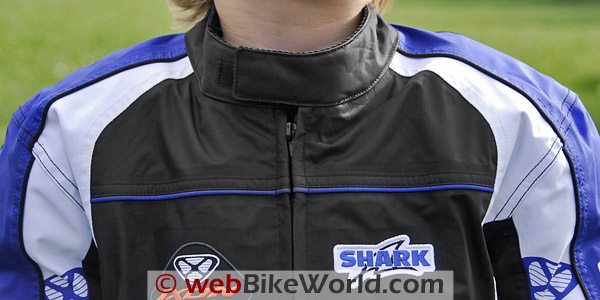 Ixon Los Angeles Jacket – 

w

BW Lightbox – Click photo to view.
Collar Close-up

Mesh Lining

Front View
Rear View
Insulating Liner
Well, if this youngster is anything to go by, the Los Angeles jacket is a huge hit.  From what I understand, jacket and boy have been inseparable from day one.  Asked about the fit, he said that he thinks it "fits good and he really likes the way it looks".
He also likes all the different logo patches that are sewn on, even though these names may be unfamiliar in North America.  Ixon, a French company, obtained the sponsorship of three other French companies for the logos: Shark Helmets, Motul Oil and Devil Exhaust.
The logo patches are a perfect match for the jacket colors.  In fact, it's possible that the very rarity of the brands makes the jacket more appealing.
Our model likes the way the jacket looks and doesn't want to change a thing; he wouldn't want more logos, because that might look "too fancy".   He likes the blue color and says that it goes great with his jeans.  Asked if there was anything he would change on the jacket, the short answer was "not a thing".
I asked him what his friends thought of it and he jokingly told me that his friends were trying to steal the jacket because they liked it so much.  The liner and the outer windproof shell keep him warm, and he really likes the way the liner feels.
He thinks the optimal temperature for the jacket with the liner ranges from about 4 to 15 C (40 to 60 F) and about 21 to 27 C (70 to 80 F) without the liner.  He also likes the neck and the comfort of the jacket when the neck is zipped all the way up.  The jacket also has cuffs that can be closed with the hook-and-loop attachment.
So there you have it: the Ixon Los Angeles children's motorcycle jacket is a hit with this 10-year old and all of his friends.  While it may not have ultimate abrasion protection, it's a good way for a youngster to learn about and become accustomed to wearing motorcycle-specific clothing, which may help develop safe riding habits later on.
There's only one downside — the jacket is relatively expensive at 99 €, although the U.S. dollar has just strengthened over the past few weeks so that the Euro now "only" costs $1.30, making the list price of the Los Angeles jacket about $130.00.
But the holidays are coming, or maybe a birthday, so on behalf of all the kids out there, how about it, Mom and Dad?
wBW Ixon Clothing Reviews:  Ixon Courageous Jacket  |  Ixon Climber Pants  |  Ixon Ambitious Pants  |  Ixon RS King Gloves Review  |  Ixon Los Angeles Children's Motorcycle Jacket  |  wBW Reviews Index
Product Review:

  

Ixon Los Angeles Children's Jacket
Available From:  Ixon
UK Distributor:  Thunderchild
Canadian Distributor:  Clary Sports
List Price:  99 €
Colors:  As shown.  Sizes:  XS to XL Youth
Made in:  China
Review Date:  October 2008
Note:  For informational use only.  All material and photographs are Copyright © webWorld International, LLC – 2000-2011.  All rights reserved.  See the webBikeWorld® Site Info page.  NOTE:  Product specifications, features and details may change or differ from our descriptions.  Always check before purchasing.  Read theTerms and Conditions!
Owner Comments and Feedback
Comments are ordered from most recent to oldest.
Not all comments will be published (
details
).  Comments may be edited for clarity prior to publication.