If you love the sight and sound of a small-capacity Italian motorcycle rasping along in a conga line through beautiful countryside, check out the seventh annual Moto Giro rally next week.
The national event is being staged around Boonah and Woodford in the Brisbane hinterland from August 12-16.
Organisers Peter Morrow and Trevor Fryer started the event seven years ago to mirror the similar Moto Duro d'Italia.
"We just decided to create one here as we didn't have the time and money to go over," Pete says.
"We cherry picked our own rules so it's Italian bikes only and small capacities with a maximum of 500cc."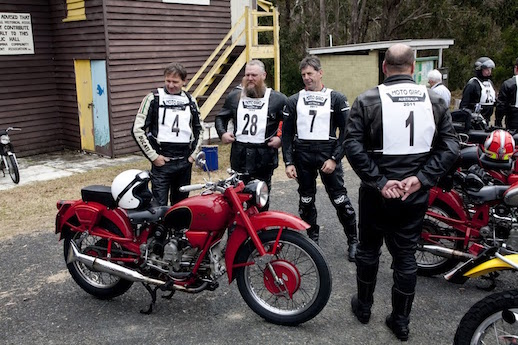 Pete says the Italian motorcycle rally has attracted more than 30 riders with some rare machines from as far as Perth and Townsville.
"The primary aim is to get them out of the sheds and being used," he says. "A lot are more than 45 years old now and chances are you won't get another chance to see them out on the road."
While most of the bikes are worth in the $20,000s, they have attracted some rare bikes in past years such as an Aermacchi Ala d'Ora road bike and a Gilera Saturno race bike worth up to $40,000.
"It's a lot of money to have sitting in a shed," he says. "It's important to dust them off and give them an opportunity to have a run. If these bikes are sitting around, seals get hard and all sorts of things deteriorate.
"They are designed to be ridden and ridden hard. To keep on top of their longevity they need to be ridden regularly."
Pete says the Moto Giro has prompted a lot of restorations and rebuilds and encouraged riders to buy old bikes just to participate.
"People love the fact that it's old-school riding. We normally ride on less-trafficked back roads where we can give the bikes their head.
"It's not competitive, just a rally, but we make up some awards for distinguishing things in the rally and just their participation."
If you'd like to see the bikes, the riders are staying in Boonah on Tuesday and Wednesday night, then move to Woodford for the remainder of the rally.
Each day the riders will participate in 200-300km loops around the region.