Just 10 days after BMW Motorrad unveiled a maintenance-free X-ring chain, Italian company Regina has announced they will launch a similar Z-Ring High Performance Endurance chain that eliminates the need for periodic lubrication.
The BMW M Endurance chain in 525 pitch is available on the latest S 1000 RR Race, S 1000 RR M Sport, S 1000 XR Sport as standard and as an option on the S 1000 XR Tour.
It will also be available as an aftermarket item for any bike with a 525-pitch chains for about $A160.
That compares with standard chains costing as little as $A40 and gold chains of about $A200.
There is no word on the price of the Regina Z-ring chain when it hits the market in January 2021.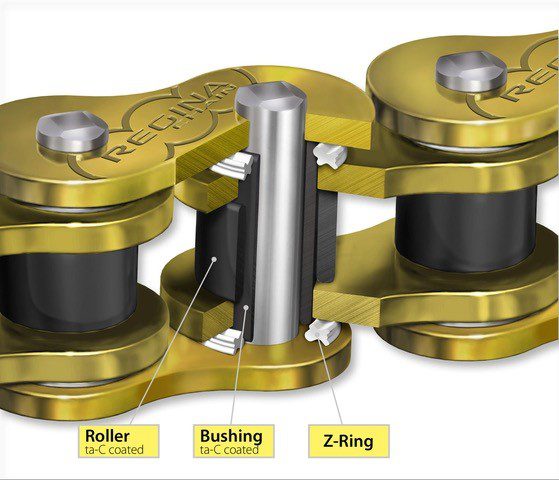 Both the BMW and Regina chains feature an extremely hard "industrial diamond (tetrahedrally amorphous carbon) coating on the bushings and rollers.
The ta-C coating reduces energy dissipation and increases efficiency in the secondary transmission, combining the very high hardness of the coated surface with a low coefficient of friction.
Regina and BMW promise a greater life than the traditional chains, without the need for lubrication or coated front and rear sprockets.
It also eliminates messy lubricant spatter and the need for regular chain cleaning, minimising environmental impact.
While Regina CEO Paolo Garbagnati says the technology is "unparalleled", clearly it is not.
And we expect more chains will soon be offered with ta-C coating.