It might not have the power and capacity of the late V-Rod family, but the new 750cc Harley-Davidson Street Rod has a familiar V-Rod feel.
Harley-Davidson Australia has asked me to ride a Street Rod straight out of the crate, run it in and ride it around for three months to get a good feel for this bike.
Click here to read my 2017 launch review.  Click here to read my running-in review.
Break from tradition
The water-cooled Street family is the Milwaukee company's break from tradition just as the original V-Rod was back at the start of this millennium.
I have now run in the bike over its first 800km and the engine is starting to loosen up a little and improve efficiency.
It returned excellent fuel economy figures of 4-4.4L/100km on a recent three-day ride through the South East Queensland hinterland.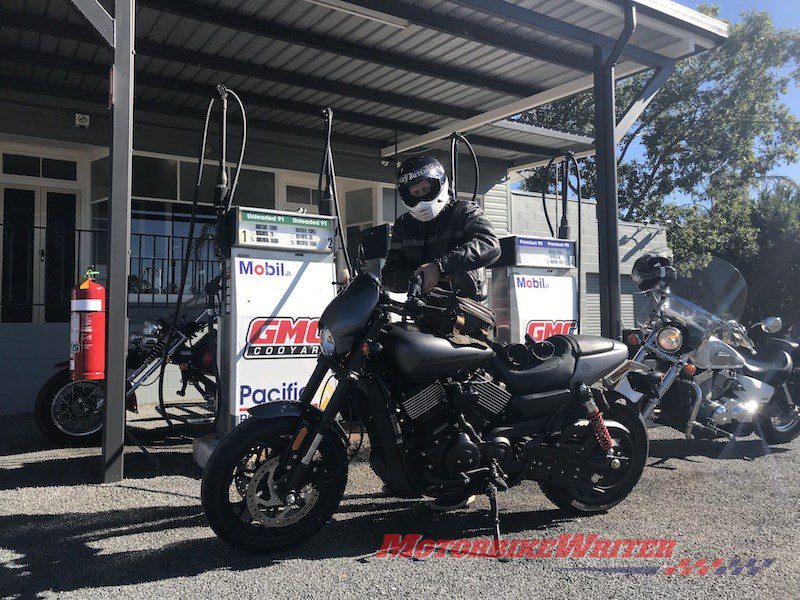 The one recurring feature of the bike so far is the feel of the engine.
It has that familiar V-Rod rubberised throb and makes its power in a similar way, although it is breathless up top and could do with some internal tinkering.
Flat Track promo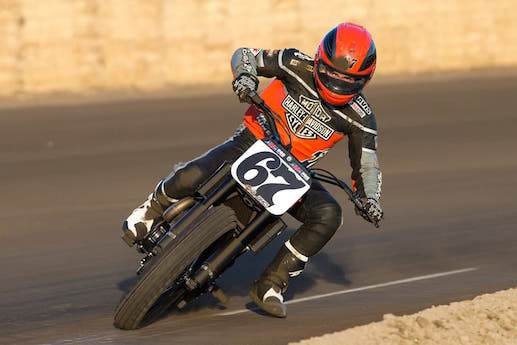 No doubt many will and that could be why Harley is racing them in the American Flat Track series.
However, that experiment is not doing the Street Rod any favours.
Indian Motorcycle blew Harley away last year in the series and so far this year has humiliated HD with its Wrecking Crew riders Jared Mees, Brad Baker and privateer Henry Wiles dominating the podium in the first two rounds.
Harley must be wondering whether their flat track campaign is a good promotional tactic to target younger riders or whether it's backfiring.
Perhaps they are looking at the long game, a bit like Indian Motorcycle who are racing their FTR750 Scout. We believe it is just a portent to a production version of their FTR1200 Scout concept.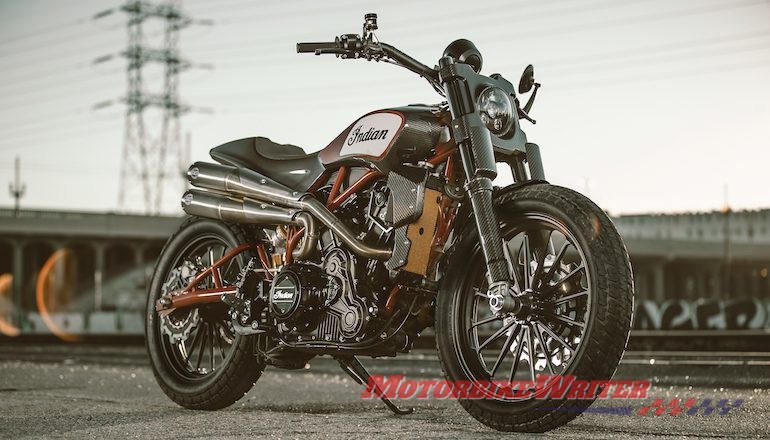 Similarly, Haley may be using the race series to pave the way for a 1200cc Street version. Now that truly would be a replacement for the venerable V-Rod!
Long test ride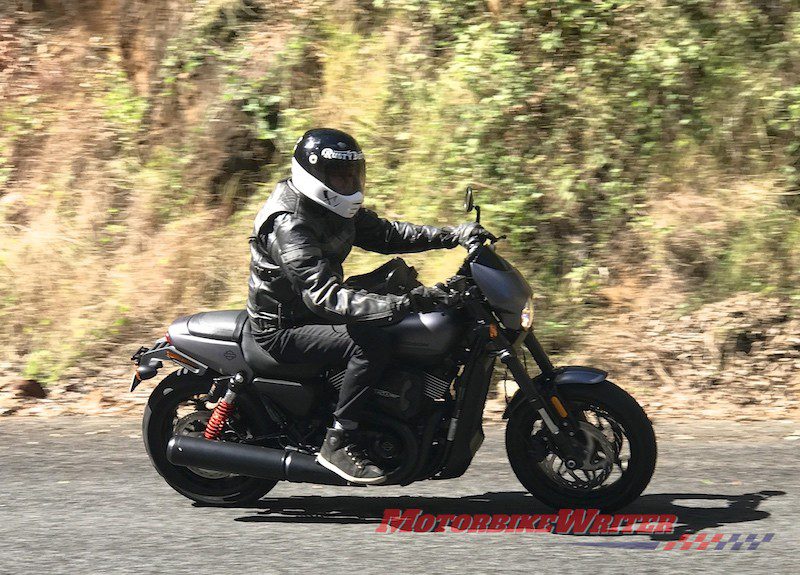 Meanwhile, a far better tactic than flat track racing might be to just let riders take the Street Rod for a long test ride.
It's a striking looking bike, especially from its rear three-quarters view, and it attracts a lot of favourable comment from young riders.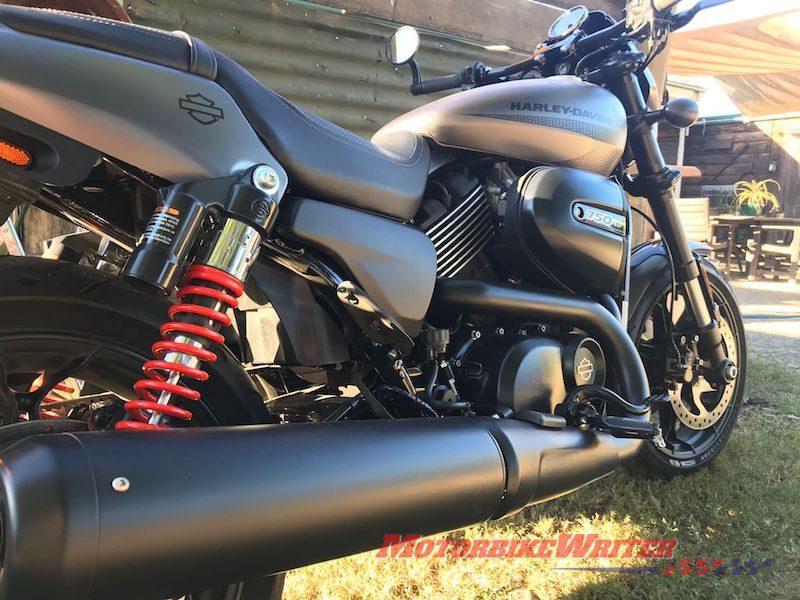 But a quick test ride on the bike might not reveal its full flavour.
My initial impressions were not great because of the unusual riding position with your knees above the tank, the heat coming off the engine and its choked feeling.
Now that I've had the bike for a couple of weeks, I'm starting to appreciate its athletic abilities.
As I get used to its performance attributes I'm starting to push its abilities further and further.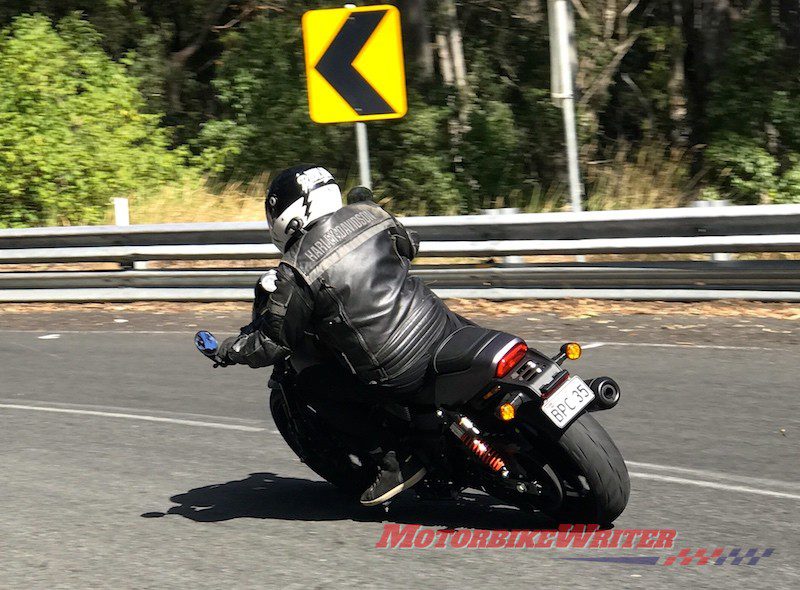 It has the best lean angle of any Harley with 40.2 degrees on the left and 37.3 on the right.
That's because the right peg sits above the exhaust and it actually feels strange with your right foot slightly higher than the left.
As a result, I've been scraping the left hero blob away. On the right, it's actually rubbing the bottom of the exhaust along the ground.
At this point I should say these scars are physical proof of the amount of fun I'm having on this bike.
And even though it's not a tourer, I quite enjoyed its company on my recent three-day ride with a small magnetic bag on the tank.
I'll be racking up more kilometres over the next couple of weeks and then it should be due for its first 1600km service. Let's see how "V-Rodish" it feels then!
Harley-Davidson XG750A Street Rod tech specs
Price: $12,995 rideaway ($13,995 New Zealand)

Engine: 749cc, liquid-cooled, Revolution X V-twin

Transmission 6-speed constant mesh spur gear

Torque: 65Nm @ 40000rpm

Length: 2130mm

Width: 870mm

Seat: 765mm

Clearance: 205mm

Lean angle: 37.3 degrees (right), 40.2 (left)

Wheelbase: 1510mm

Wheels: 17-inch

Fuel: 13.1 litres

Wet weight: 238kg

Colours: vivid black, charcoal denim, olive gold