Insta360 X3 Action Camera Review Summary
Review Summary
The Insta360 X3 action camera is described as the most powerful camera you can carry in your pocket. The X3 has ½" 48 MP sensors and a 2.29" touchscreen capturing 5.7L 360 video with active HDR and the invisible selfie stick effect. You can take 72MP photos or just have the X3 as a standard action camera with single lens mode upgraded to sharp ultra wide 4K. For editing your pictures/videos, the Insta360 app is an AI powerhouse with intuitive reframing tools, you have a lot of technology at your fingertips.
Pros
The X3 is compact in design and really can fit into your pocket
Very user friendly, easy to navigate your way around the functions
You can turn the record feature on/off whilst riding along wearing motorbike gloves (most of the time)
Option of 360 video or single lens mode
Using the app on your mobile to edit your shots is user friendly with the option of the app editing the shots for you or you doing your own editing
Cons
When the selfie stick is mounted to the motorbike and extended this wobbles around due to the length and leverage so I just used an extra tie to keep the stick in place, just in case, although it does have stabilization so this does not affect the picture.
Sometimes whilst wearing motorbike gloves, the on/off feature is hard to operate
Insta360 X3 Action Camera Image Gallery
Review Summary
Priced at $594, the Insta360 X3 has a fantastic range of customisation available to you.
Not just an action video camera, you can also take photos too.
The Insta360 app will do the editing for you or you can edit your own shots.
1800 mAh battery offers plenty of life and up to 81 minutes of recording time.
Small and compact and nicely fits into your pocket when not using it.
Insta360 X3 Hardware Specifications
For a complete spec list, visit Insta360 X3.
General
2.29" tempered glass touchscreen
4 buttons to make it easy to control your shot even with gloves on
Wi-Fi and Bluetooth capable
Six axis gyroscope and FlowState stabilization keeps your video ultra stable
Waterproof to 33ft (10m)
Weight: 180 g (0.39 lb)
Camera
Dimensions W x H x D: 114 x 46 x 33.1 mm
Aperture: F1.9
35mm Equivalent Focal Length: 6.7 mm
Photo Format: INSO (can be exported via mobile app or desktop studio), DNG, RAW
Video Format: Single Lens: MP4; 360: INSV
Photo Modes: Standard, HDR, Burst, Interval, Starlapse
Video Modes: Standard, Active HDR, Timelapse, TimeShift, Bullet Time, Loop Recording
Live Streaming: 360 Live, Reframe Live (streamer sets a fixed perspective)
Video Resolution 360 Mode:
5.7K: 5760×2880 @ 30, 25, 24 fps
4K: 3840×1920 @ 60, 30 fps
(PAL) 1080P @100, 50, 25, 24fps and (NTSC) 1080P @120, 60, 30, 24fps
Video File Format: MOV, MP4
Video Resolution Single Lens Mode:
4K: 3840×2160 @ 30, 25, 24 fps
3.6K: 3584 x 2016 @ 60, 50, 30, 25, 24 fps
2.7K: 2720×1530 @ 60, 50, 30, 25, 24 fps
1080p: 1920×1088 @ 60, 50, 30, 25, 24 fps
Battery
Type: Removable 1800 mAh lithium-ion
Charging Time: 90 mins
Charging Method: Type-C USB
Running Time: 81 mins (5.7K @30fps)
Operating Temperature: -20 degrees C to 40 degrees C
Design and Features
The Insta360 X3 has a 2.29" tempered glass touchscreen and can be held easily in one hand.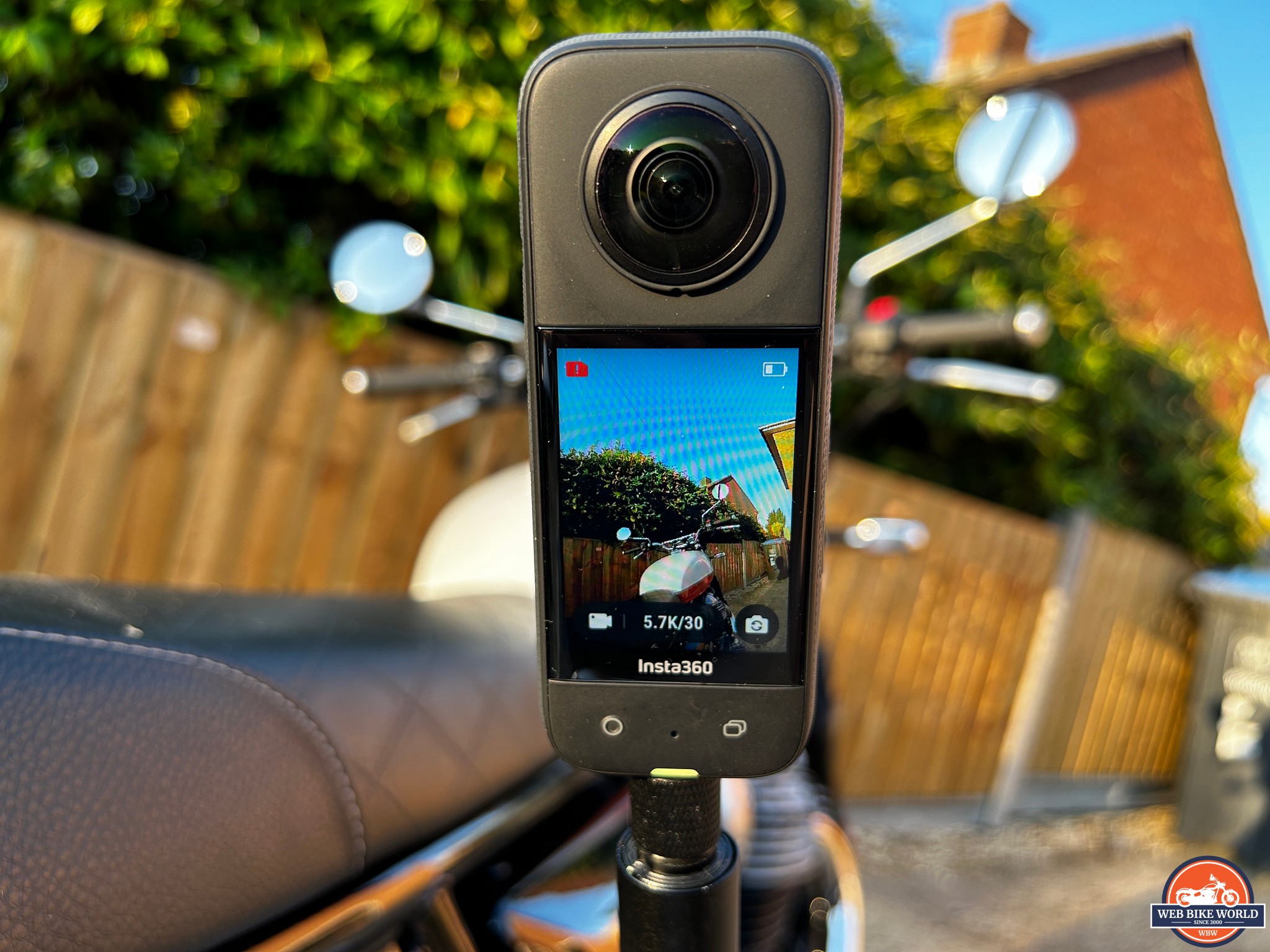 There are two buttons underneath the touchscreen, the right hand button is to start/stop recording, the right hand button switches the lens from inner single lens; outer single lens; 360 mode.
On the screen itself, touch the camera icon to change the lens to selfie or outward mode.
Touch the film icon and scroll through the menu to see:
Video
Video active hdr; Timelapse; Timeshift; Bullet time; Loop recording; Starlapse; Burst; Interval; Hdr photo
Photo
Single lens; Video; Me mode; Loop recording; Photo; Video
Right Side
On/off button; Q (customize features)
Left side
Battery and Micro SD card compartment; Charging port
360 Mode
In 360 mode you can capture 360 degree footage and then you decide when editing what you want to see, zoom in/out etc.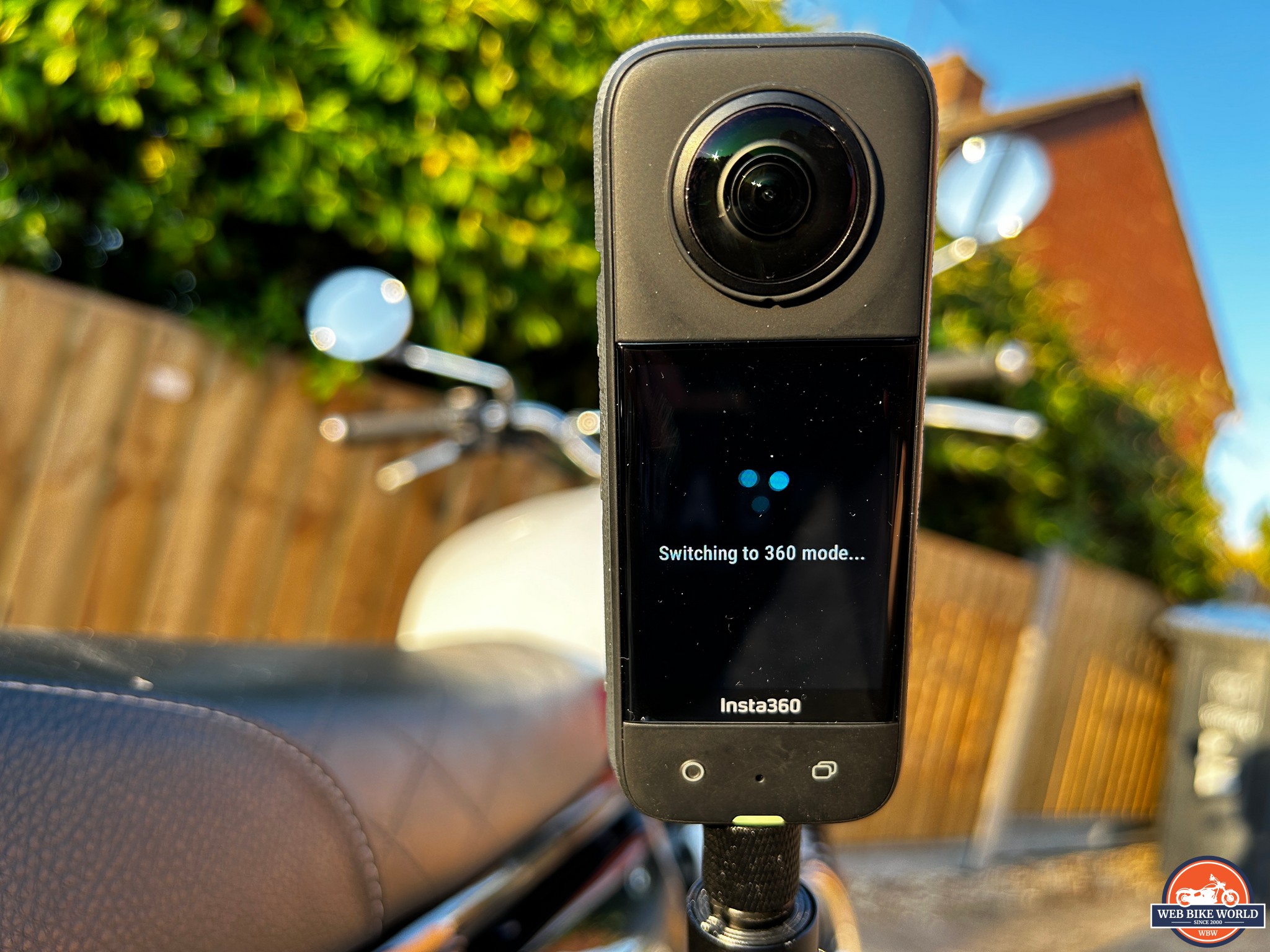 Although it has a number of features and options it is very easy to use – simply mount the camera to your helmet, bike, motorbike etc. and press record. After recording, you choose the best angle using the reframing tools in the AI powered Insta360 app on your phone or tablet. You can then share this directly from your phone/tablet to any social media platform without losing any image quality.
The X3 has dual ½" 48MP sensors which have more pixels for greater clarity and detail even if the light is low.
The X3 has the most megapixels in a 360 action camera, you can take 72MP 360 photos with more detail than before.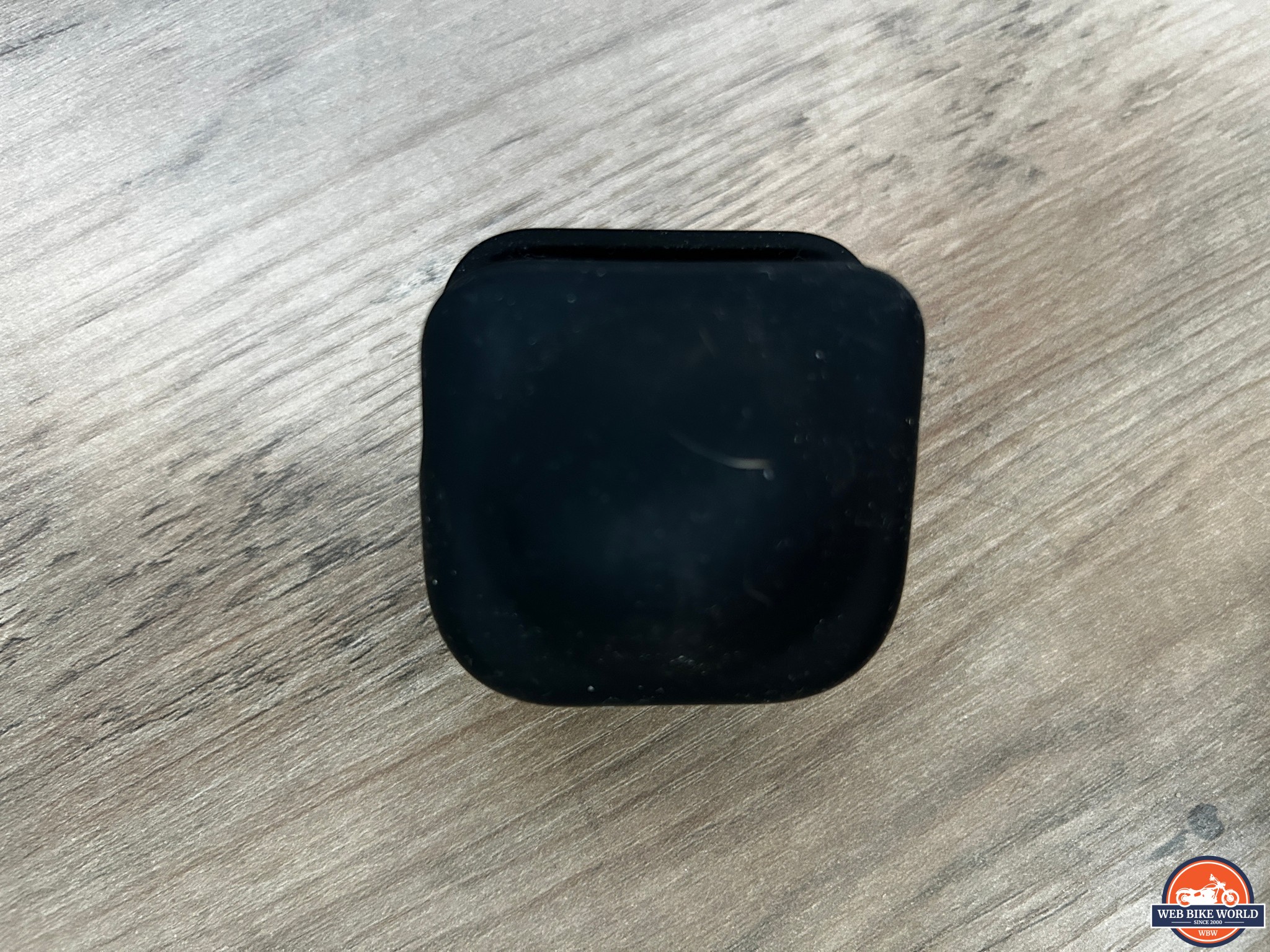 The camera has 360 HDR mode which gives you stabilized action videos which work even in tough lighting conditions keeping the details in highlights and shadows.
Single Lens Mode
In single lens mode you can shoot first person view in wide angle just like a single lens action cam with maximum resolution with 4K30fps or an extremely wide 170 degree field of view with 2.7K MaxView.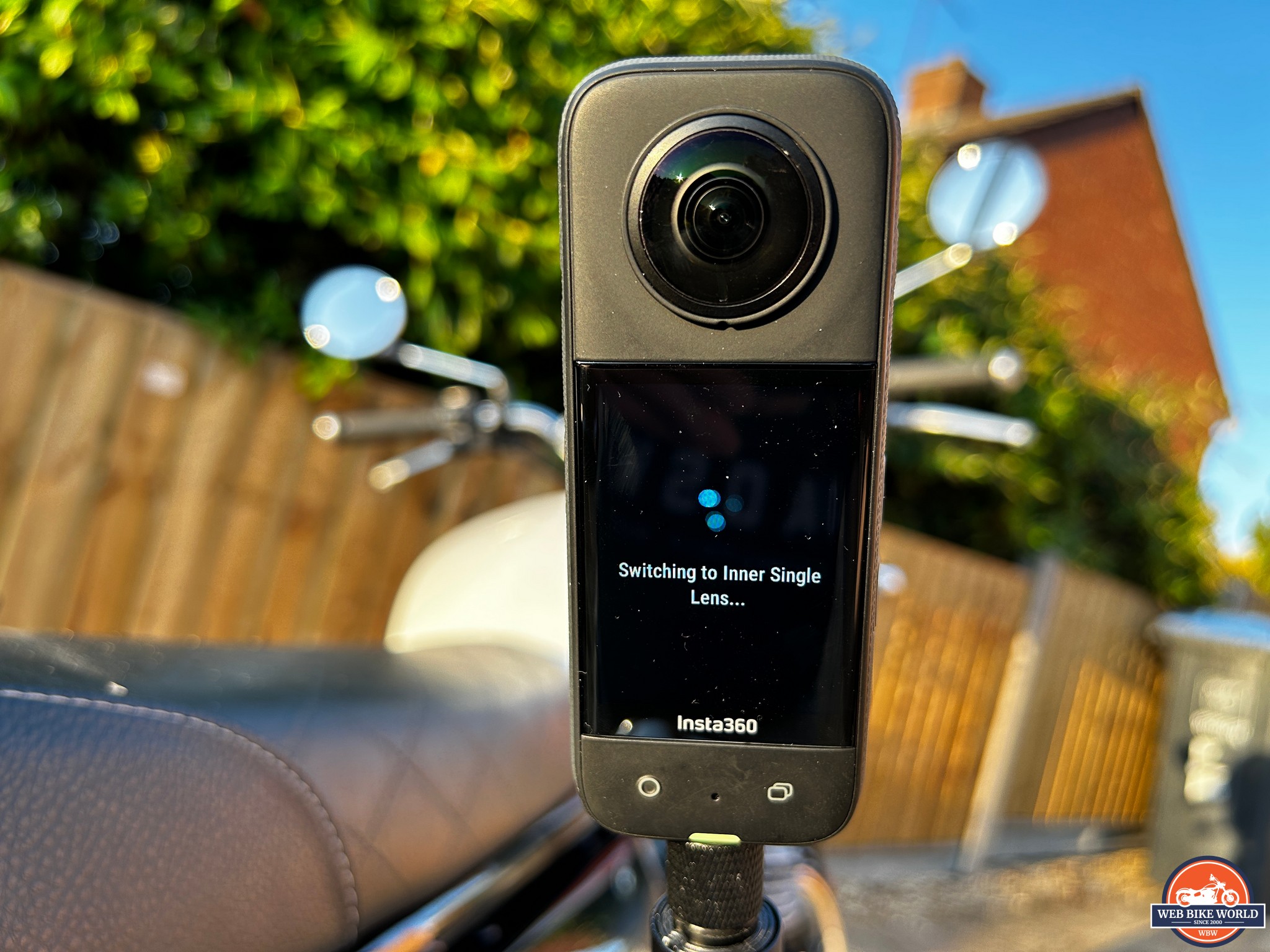 Features
The Me Mode fixes the frame to focus only on you. Incredibly the selfie stick does not appear in your footage. The invisible selfie stick disappears in your edit enabling you to capture aerial angles and third person perspectives, which is so clever and also a great feature.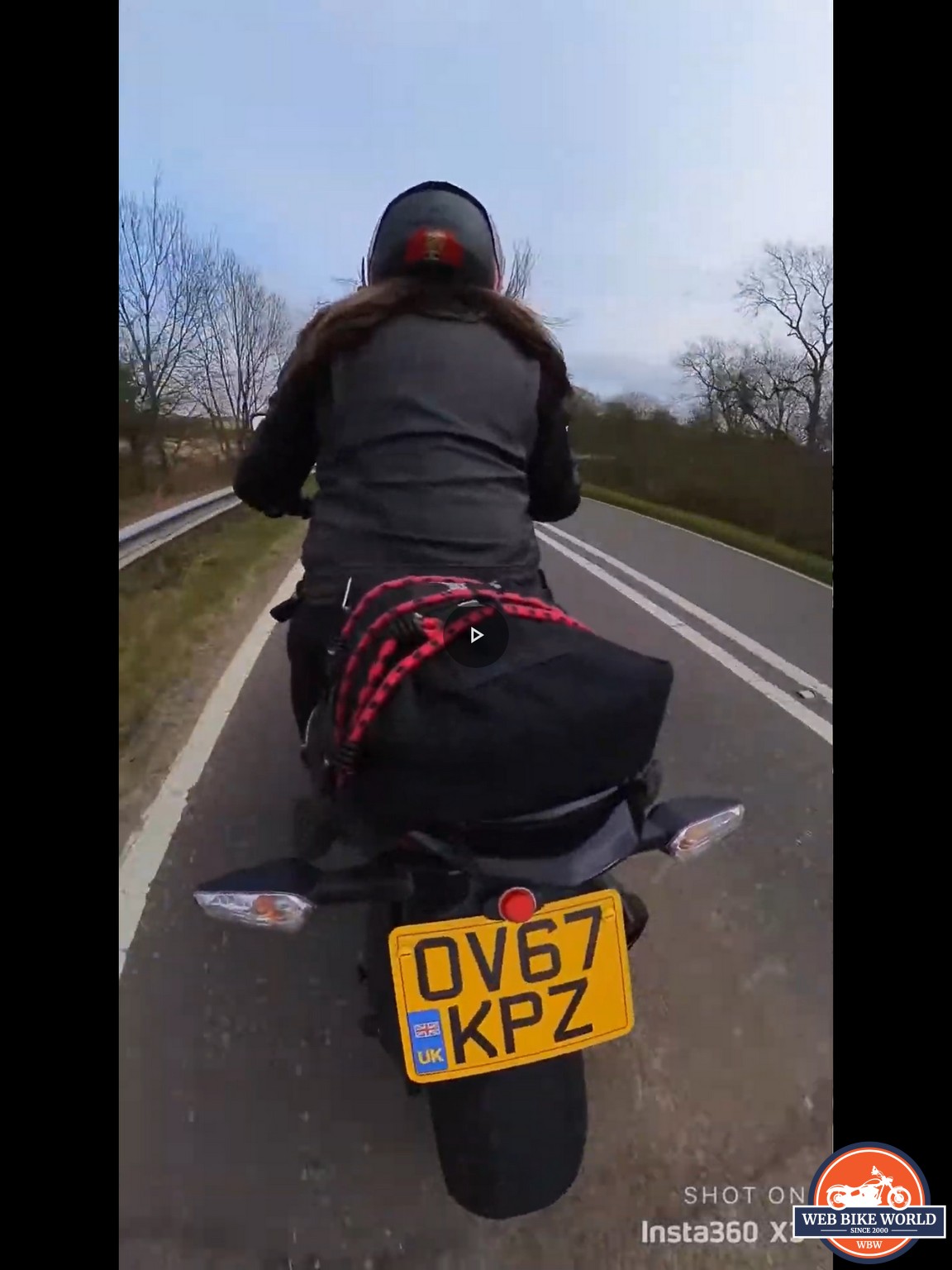 The X3 features very good stabilization which keeps your videos smooth regardless of the camera shake and vibration from the bike.
With 360 horizon lock, no matter if you are a motorcycle racer taking the twists and turns of a GP circuit, on a rollercoaster or doing acrobats in your airplane, whatever angle you have the camera or how much you lean the bike, the horizon lock will always keep your video level.
With the new larger sensor over the previous X2 model, with the time lapse feature you can speed up time in 8K quality.
With 4K 120FPS or 3K180fps Bullet Time you can go into slow mo effect but with even higher resolution and frame rates.
The X3 is waterproof down to 33 ft or 10 meters but if you were not impressed at that then grab yourself the Dive Case and you can go down to 164 ft or 50 meters!
Thoughts on the Insta360 X3
Wow! That sure is a lot of technology in one piece of equipment that you can fit neatly into your hand.
If you are like me, ie. the least techy person there is, a lot of that information has probably gone way over your head. I know at first it did mine.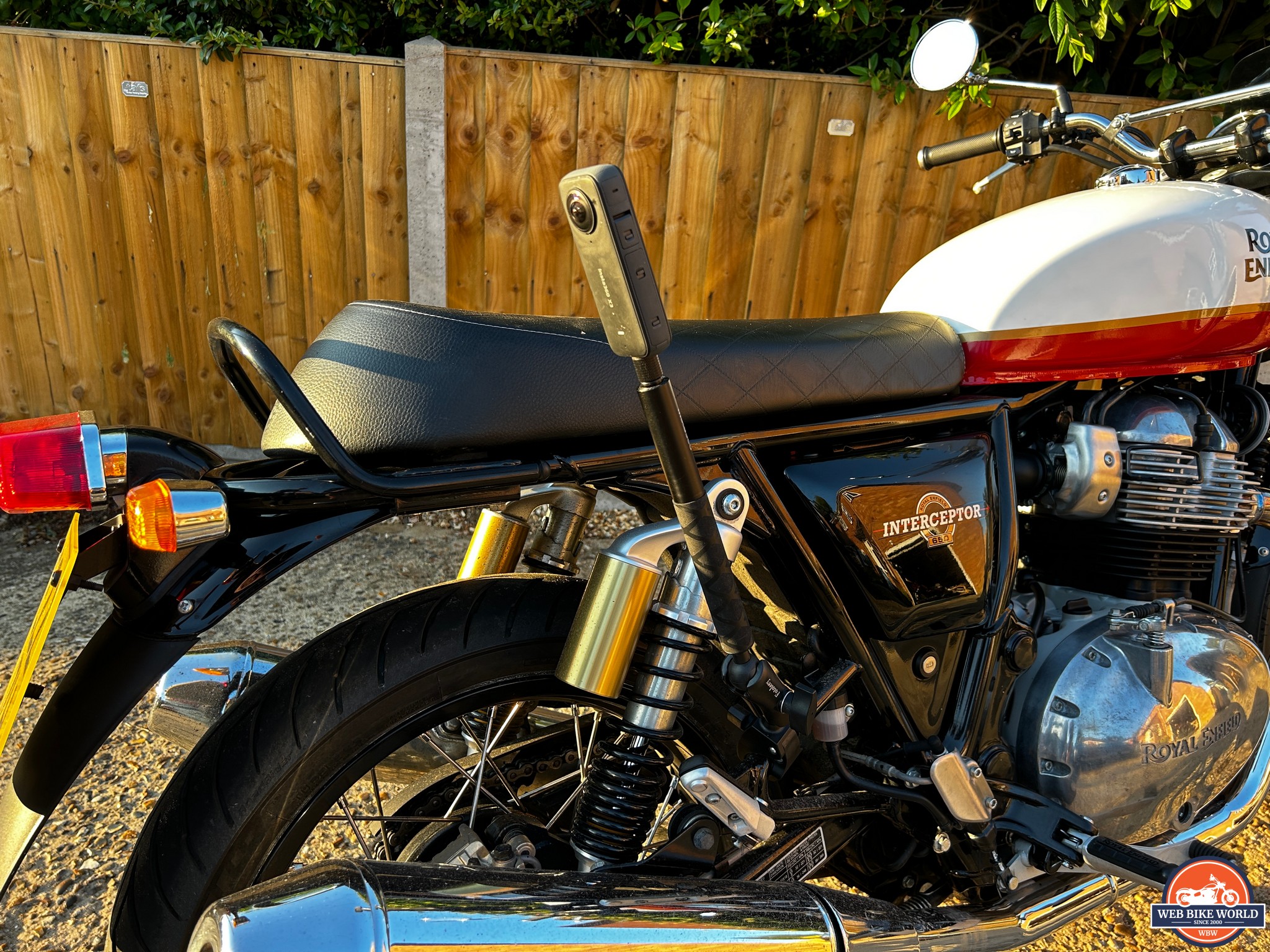 I have another make of action cam and really dread using this as it is so complicated to use, set up, edit etc. that I am less inclined to use it and in fact I have not used it since the X3 arrived!
The X3 has a built-in microphone that works really well but for vlogging and commentating while riding. There is a very simple plug in microphone adapter that just has a 3.5mm jack socket, you can plug a microphone into that which you can then have in your helmet.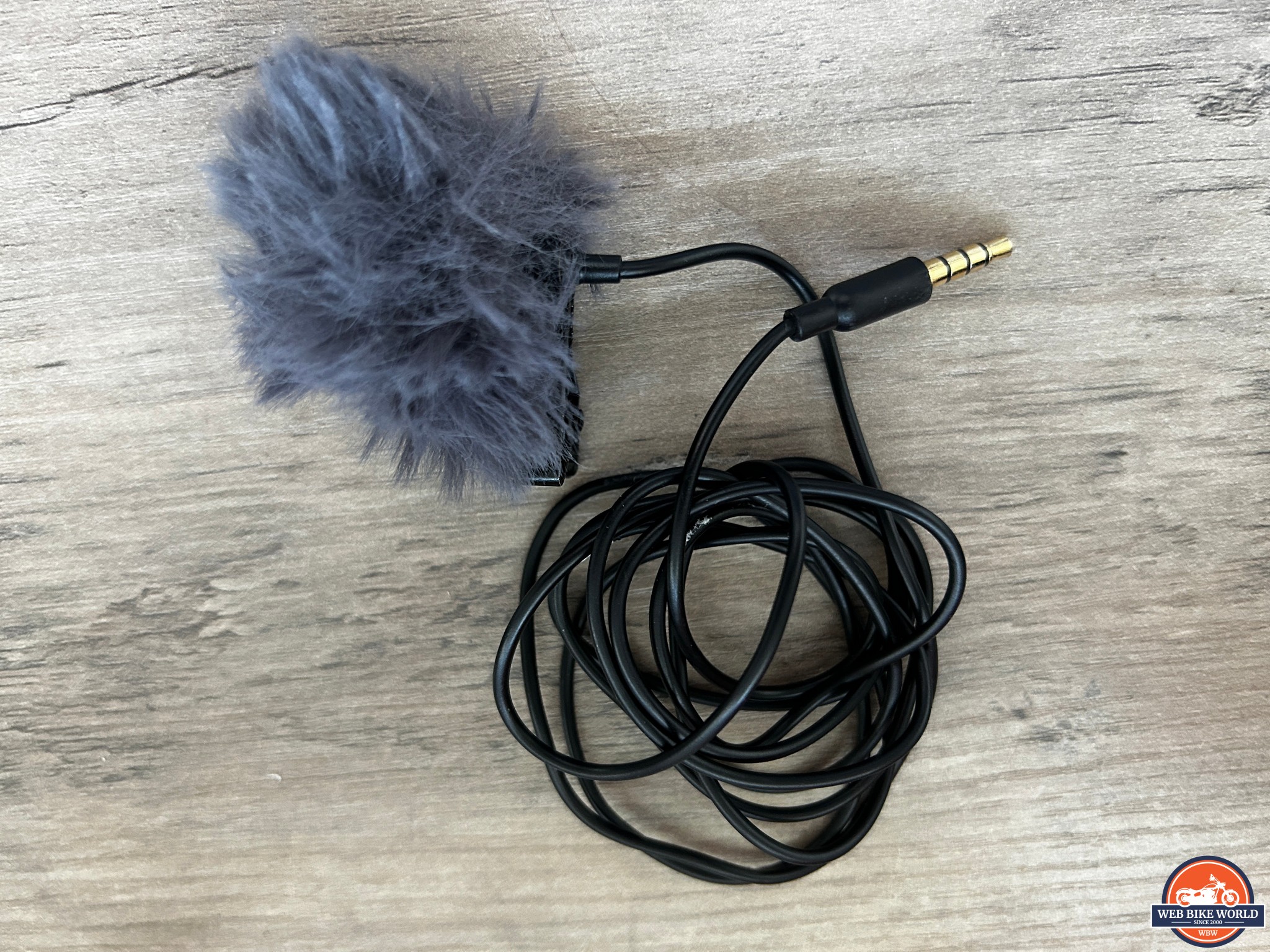 The Insta360 X3 however, is a whole new ball game for me. I absolutely love the fact that I can fit the camera onto my motorbike, press record and ride. That is it. All I need to know about the X3 is that it takes amazing videos and photos and then the editing software in the app does what it needs to do to make my videos and me look fabulous.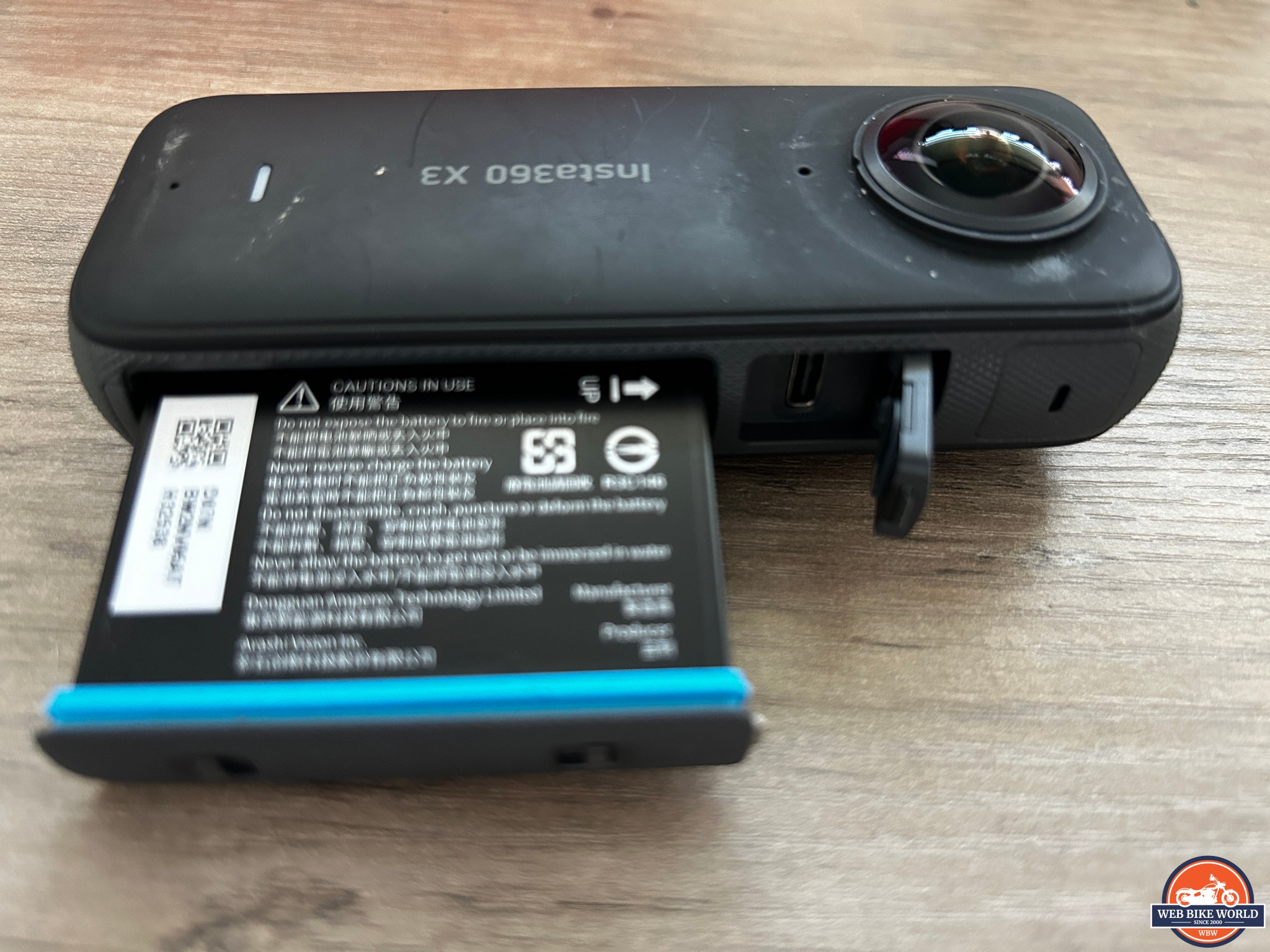 The 360 image allows endless editing opportunities making it appear if the camera is rotating. It also gives so many options for different mounting places on the bike and you can, for example, take tracking shots of another bike so easily.
When it comes to the editing, that is made so much easier by the Insta360 App that I have downloaded onto my phone.
Creating Content
So you now have footage that you need to do something with. The Intsa360 App which is AI powered is available to download from the app store. Simply download the Insta360 app, register and you are ready to go. Simple. I like simple.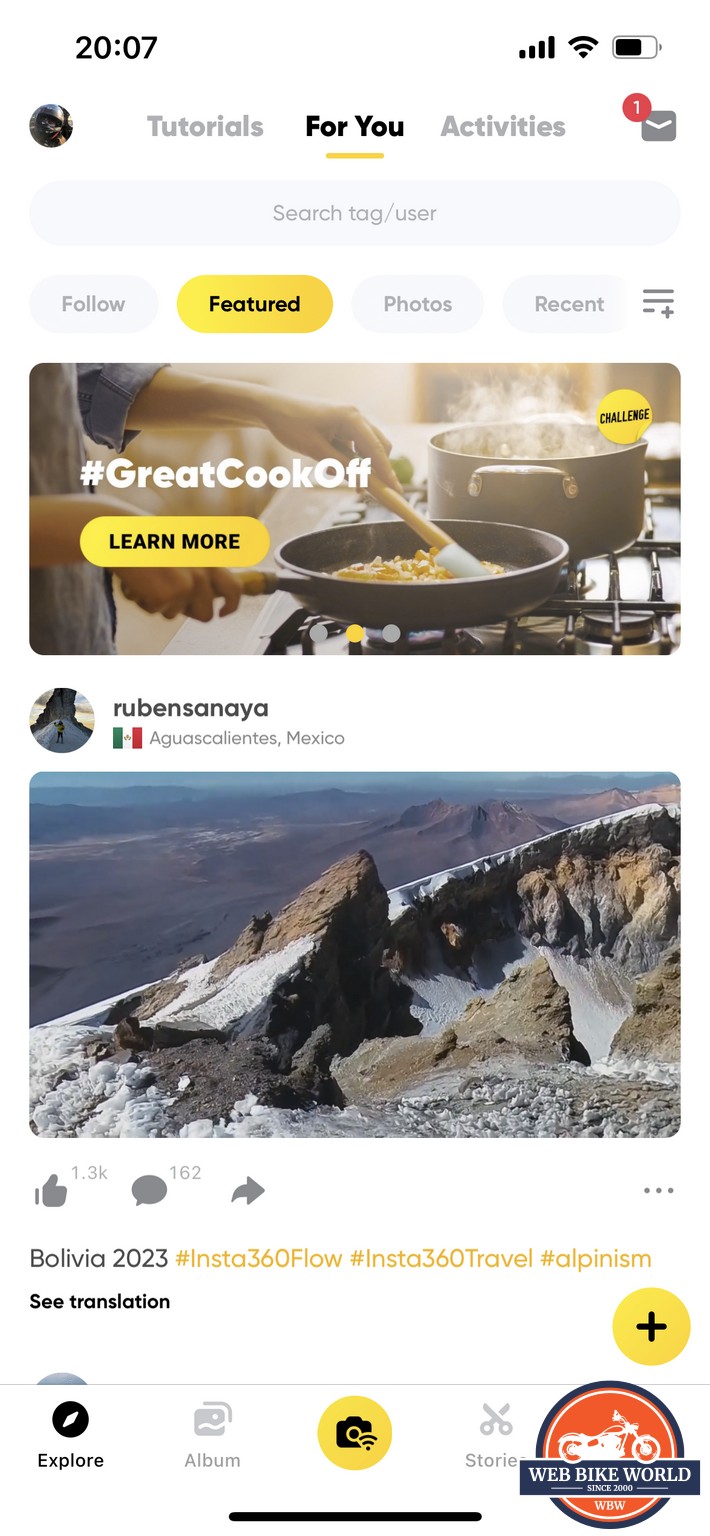 To edit your footage, simply click on the camera icon on the bottom of the screen, pair your phone with your X3. That is it, you are now ready to edit your footage.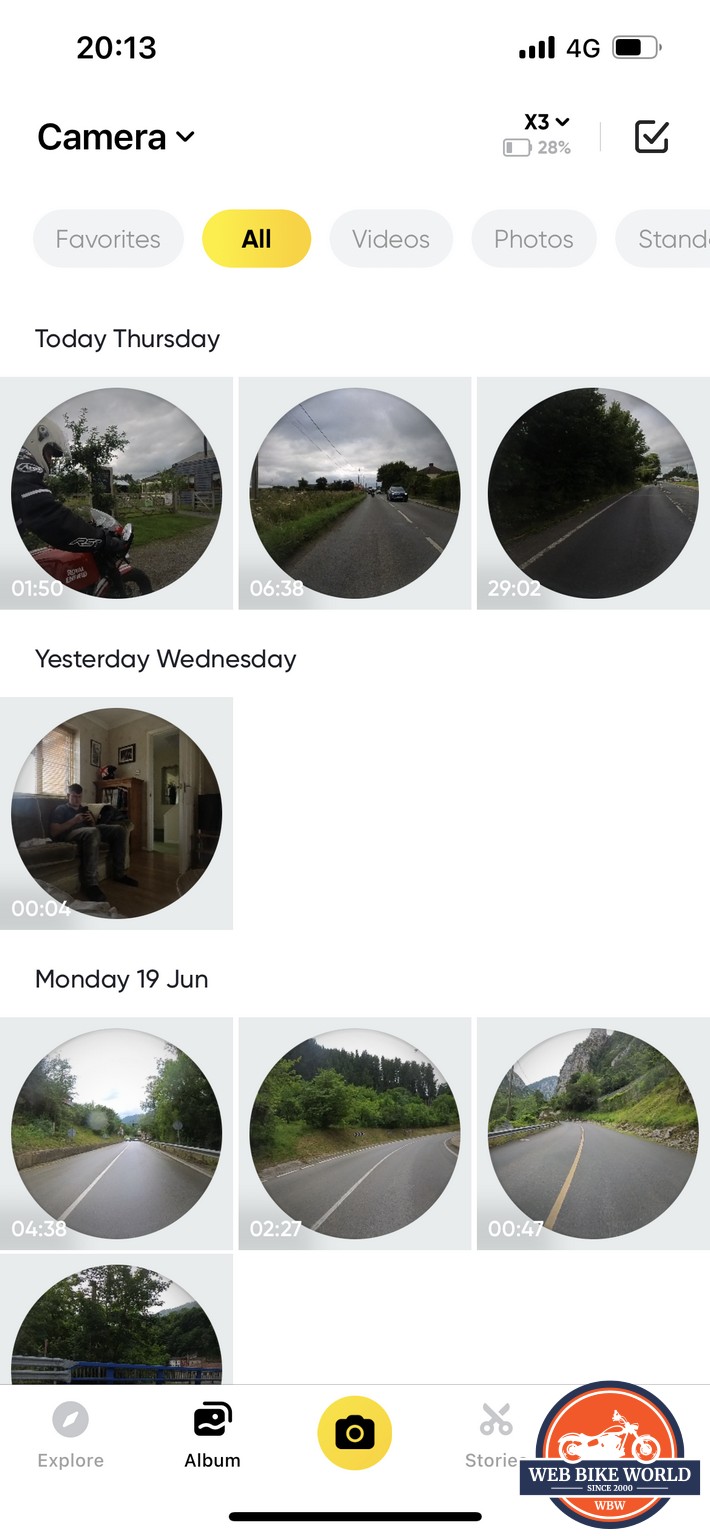 As you would expect, there are numerous editing options available to you. You can choose the length of footage that you wish to use with the Trim feature and can easily cut out the bits you don't want and paste them together with the Jump Cut feature. Then using your fingers on your touchscreen phone, you change the angle of the shot you wish to see, as if swiveling the camera around and zoom in and out. You can add a small screen in the corner of your video showing you a selfie or have it as a split screen.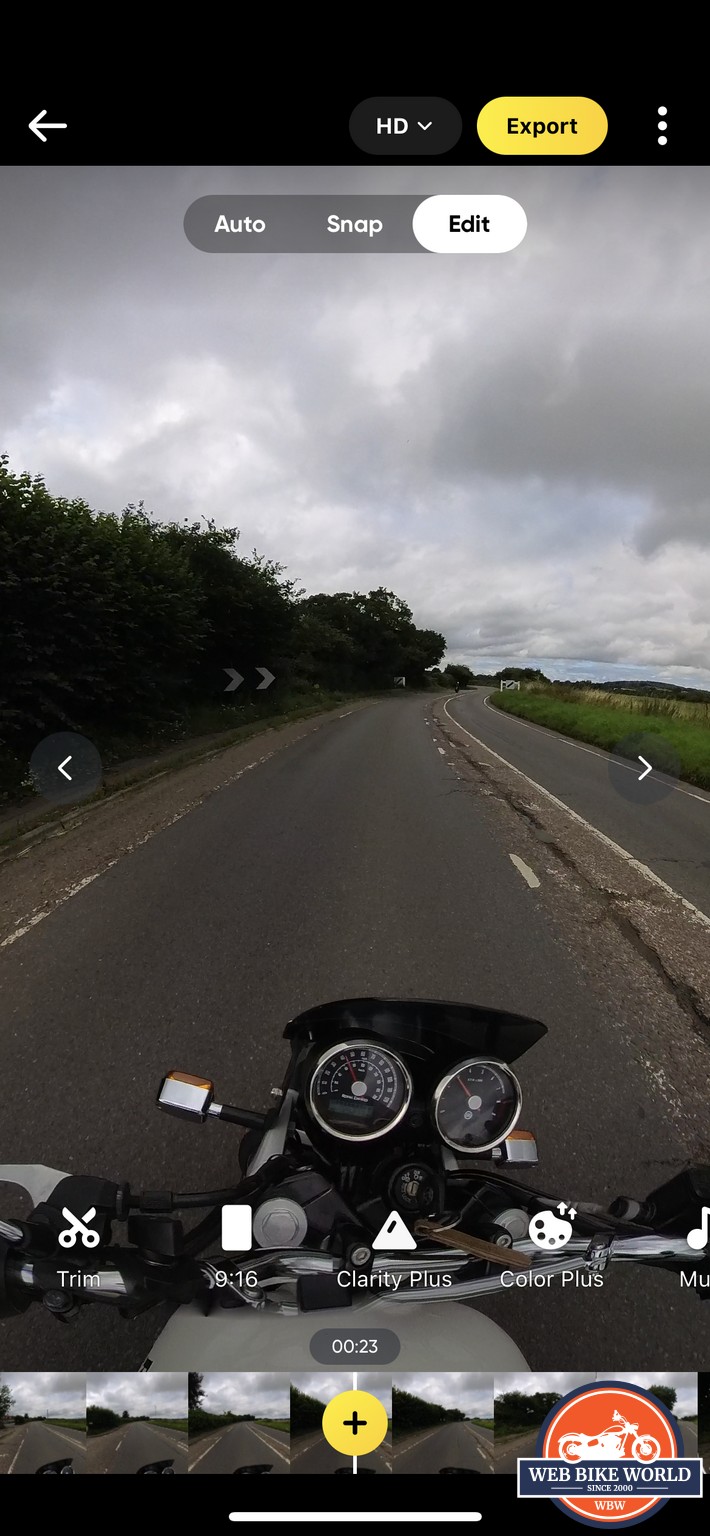 You can speed up or slow down the footage, add sound to your video from a selection of free to use music, text etc. Honestly, the options are numerous but I am sure you get the gist of what I am saying.
Once you are happy with your footage, you can then share it directly from the app to your social media or just save it to your photos on your phone.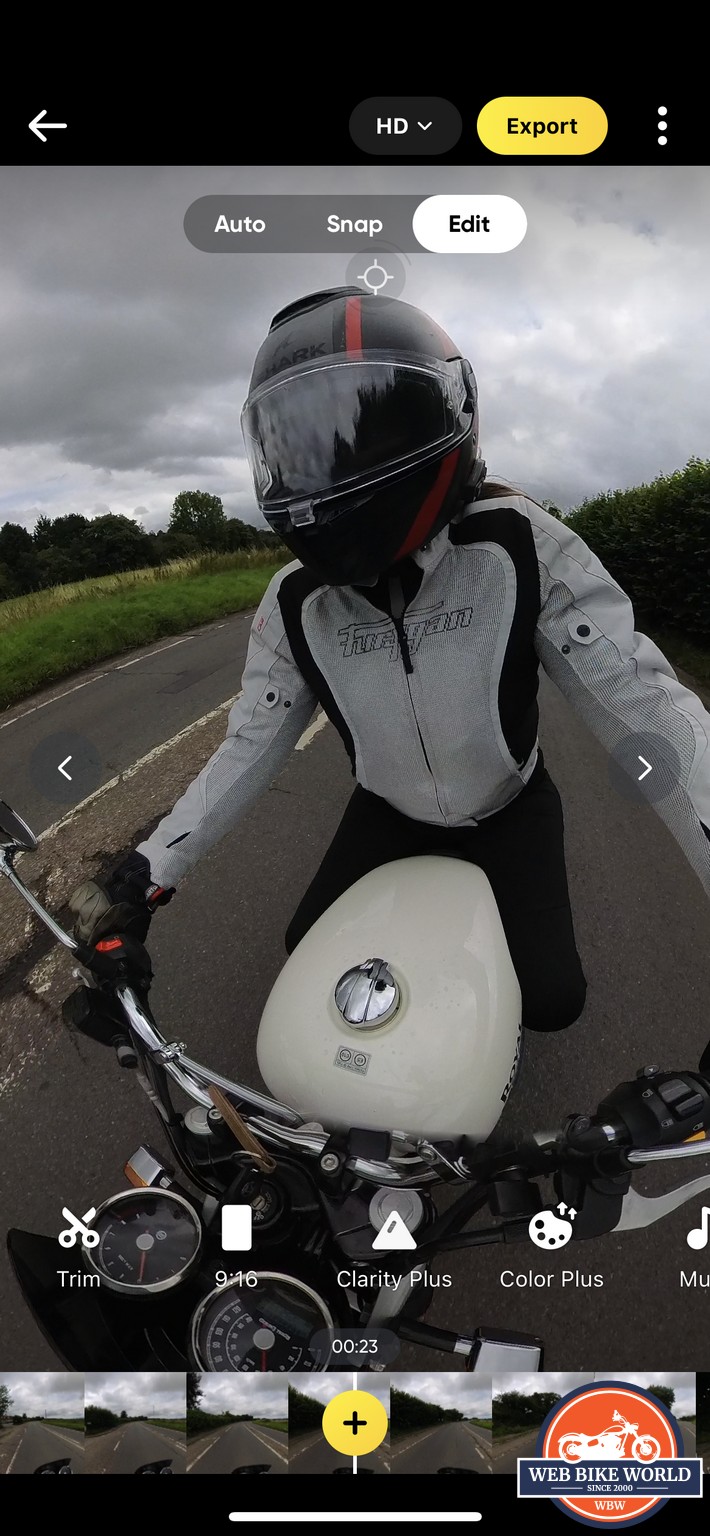 That is it. So simple and as you know I like simple.
For even more simple, if you do not wish to edit the footage yourself, the app will do all this for you. It will put together a piece of footage from your content and prepare a video for you. You decide how long you want your video to be and it does the rest.
You really cannot get easier than that.
Insta360 X3 Video Samples
Other Accessories You May Need With The Insta 360 X3
Motorcycle kit $41 which includes:

Claw mount to attach the X3 to my bike with 2 ball heads which is universal and rotatable
Adhesive helmet mount with 16 cm aluminum rod; the adhesive mount can be attached on skateboard, dashboard, windows and other flat or curved surface
4 quick release buckle bases mounts, 2 adhesives, 2 base mounts for helmets, 2 thumbscrews, 2 1/4 camera adapters, 1 adapter for GoPro and 1 wrench

Invisible selfie stick: $34
Lens cap: $11
MicroSD Card: $23
External Mic adaptor: $25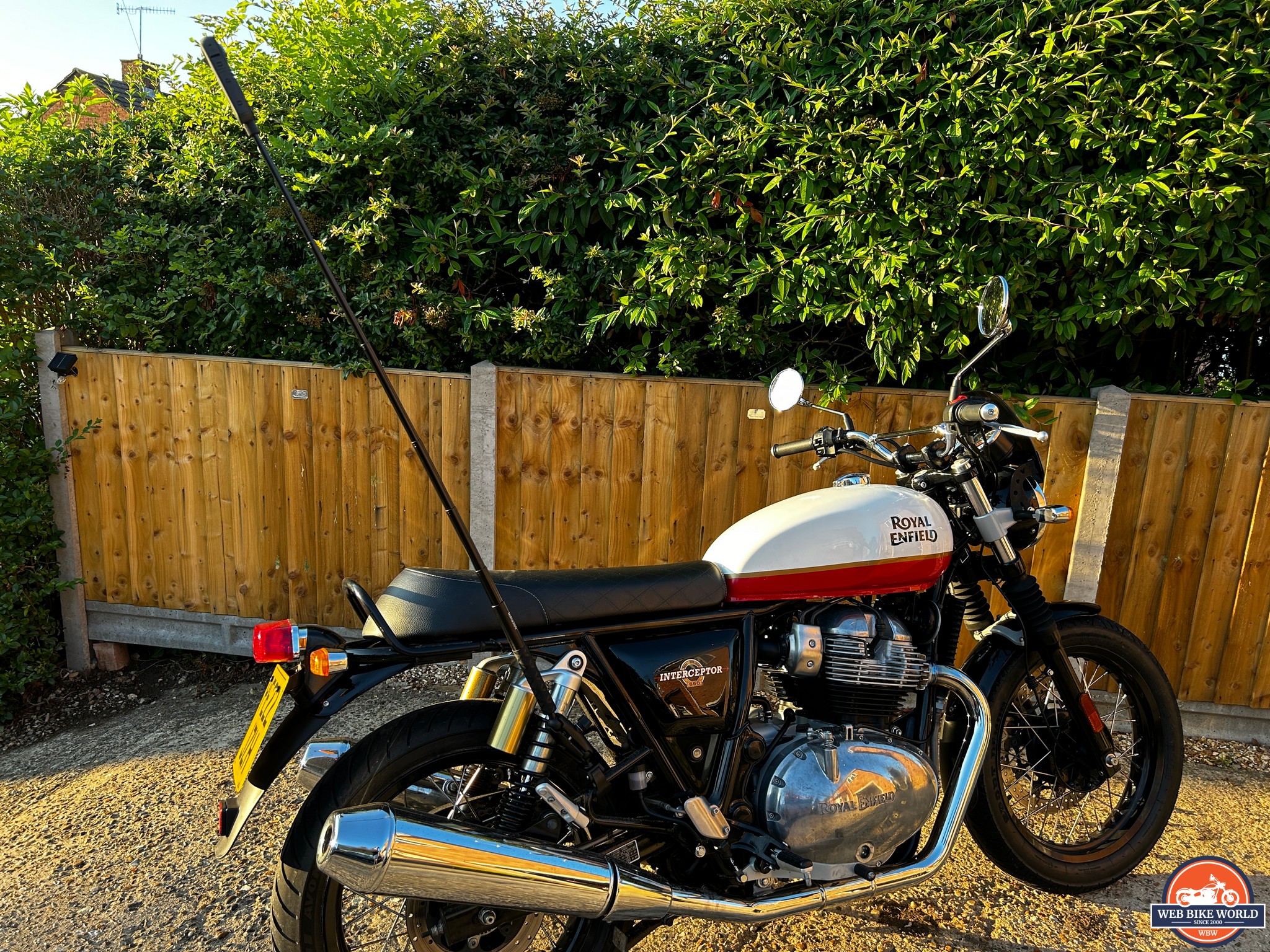 The claw mount is easy to attach to my bike and I can attach this to the handlebars, frame etc. and the gimble can be moved to get the X3 in the right place for your footage.
The external mic adaptor is easy to connect to the X3 – simply take off the side cover (do remember to keep this safe) and plug the mic in. Attach the microphone using the crocodile clip inside your helmet. There is no wiring into the bike needed.
You must remember that if an external mic is connected, then the X3 is not waterproof as you have taken off one of the side covers so if it starts to rain you will need to bear this in mind.
What I Like About The Insta360 X3
Even though the X3 has an amazing amount of technology at your fingertips in a device that will fit in the palm of your hands, it is incredibly user friendly so for those of us that are technologically challenged, the X3 will create some amazing content that makes you look clever (I need all the help I can get there!)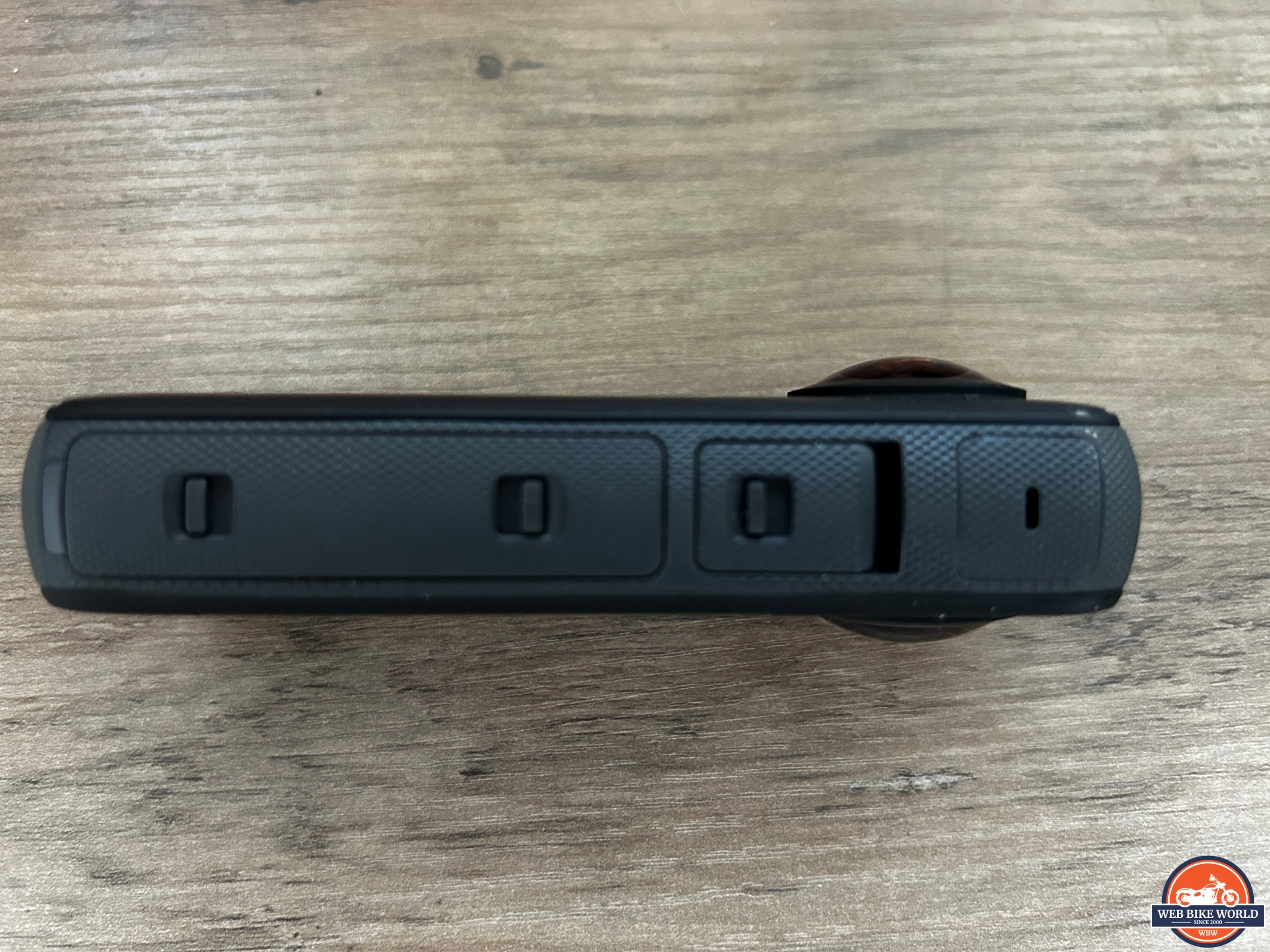 The X3 is light and small enough to put into a pocket when you are off the bike (or whatever it is you are on/in) and has an incredible amount of modes available to you.
The basic price of the X3 is $594 so probably at the higher end of the Helmet & Motorcycle Action Cameras market but I, personally, think it is a great piece of kit that takes some incredible footage and will even edit it for me. You really can create some amazing content with the X3.
What I'd Change About The Insta360 X3
When wearing motorcycle gloves, I did sometimes have difficulty in operating the start/stop button which was frustrating at times when riding along. It is not always convenient to stop when riding and when I could not get the X3 to start recording, I missed some scenery that I would have liked to have captured.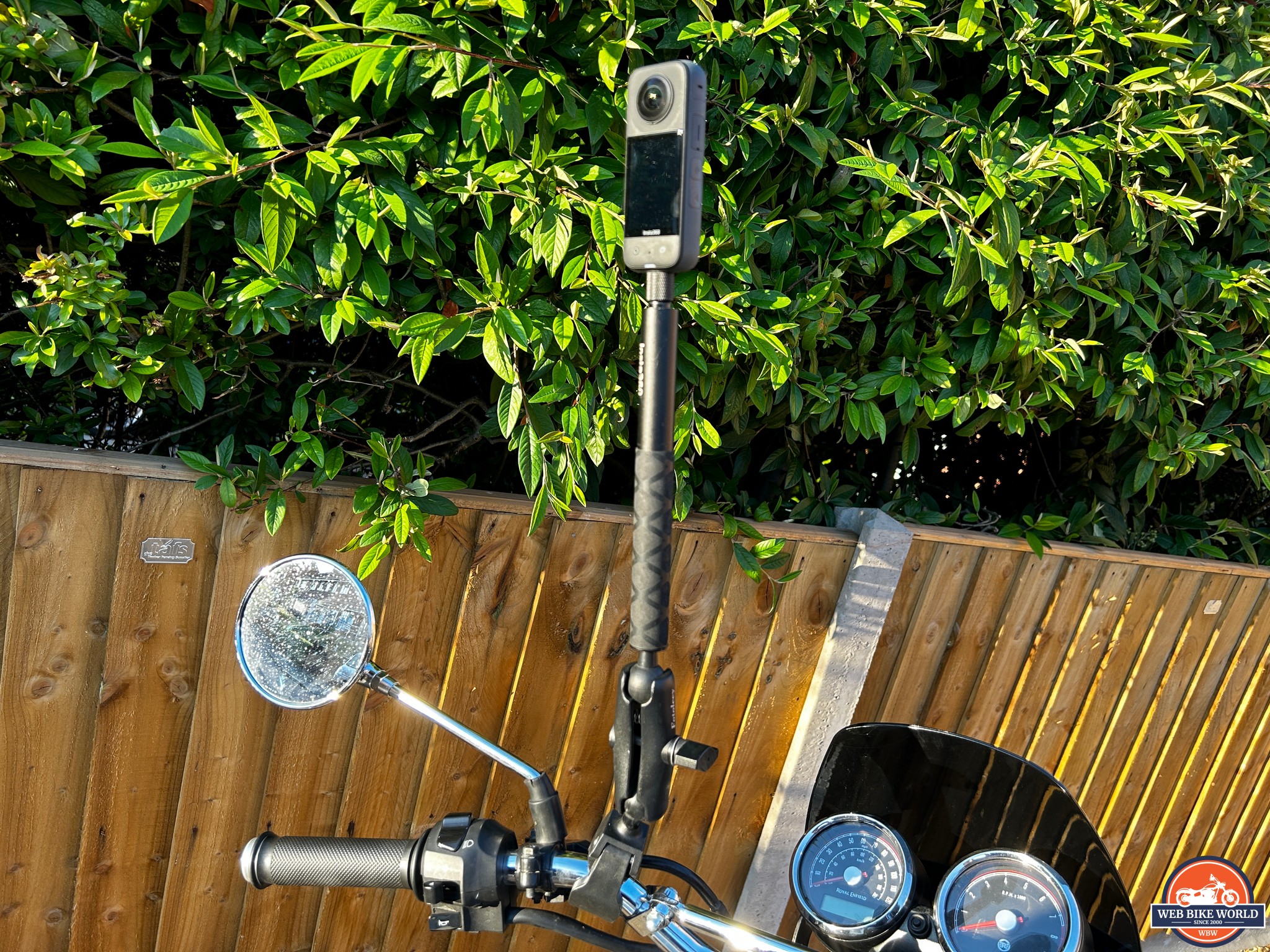 I would like to see the lens cover come as standard with the X3 itself. You literally just get the device, everything else is extra.
Pros
The X3 is compact in design and really can fit into your pocket
Very user friendly, easy to navigate your way around the functions
You can turn the record feature on/off whilst riding along wearing motorbike gloves (most of the time)
Option of 360 video or single lens mode
Using the app on your mobile to edit your shots is really user friendly with the option of the app editing the shots for you or you doing your own editing
Cons
When the selfie stick is mounted to the motorbike and extended this wobbles around so I just used an extra tie to keep the stick in place, just in case
Sometimes whilst wearing motorbike gloves, the on/off feature is hard to operate
Not waterproof with mic adaptor plugged in
Specs
Manufacturer: Insta360
Price: (When Tested) $594 USD
Memory Type: Micro SDXC
Colors: Black
Screen size: 2.29 inches
Review Period: April – August 2023
Important Links / Where to Buy
Product Page: Insta360 X3