Indian has fixed the problem with their brown leather seats and luggage fading in the harsh Australian sun and is offering owners free re-treatment.
As reported back in August at the unveiling of the new Scout and Roadmaster, Indian has acknowledged the problem of its fading brown leather and found a solution.
Indian and Victory Motorcycles Asia-Pacific and Latin Americas director Ross Clifford says all new model Indians with brown leather now have a dual polyurethane treatment which has 40 times more fade resistance to UV rays than the previous "distressed" leather.
He was speaking at the launch of the new Indian Scout which comes standard with a solo brown leather seat. They also had a fully accessorised Scout on display accessorised with a pillion seat, padded sissy bar and saddlebags – all in the new fade-resistant brown leather.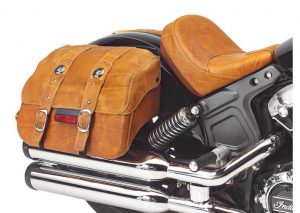 "The original leather treatment was waxed for a pure leather feel," Ross says. "But it faded in the sun from the UV rays and frankly wasn't up to our standard."
"All 2014 and current models have a polyurethane treatment which is not just one coat but two coats so it still looks like authentic leather."
READ OUR FIRST RIDE ON ROADMASTER
He says all current owners can have their seats retreated for free and there is no time limit on when they want it done. However, some riders actually like the weathered and faded look of the seats.
Ross says the leather supplier is still the original Mills Co, but the leather has better treatment.
Meanwhile, Polaris has also bought a new paint facility to improve the quality of paint and offer more choices. It is believed custom factory paint will be offered in the 2015 model Victory line-up.